Abstract
Only few scientific investigations have been carried out, to our knowledge, on phytoplankton in Mediterranean temporary ponds. To test the hypothesis that climate forcing is the main factor affecting dynamics and structure of planktic algae in these peculiar ecosystems, and to assess the importance of human impacts on this basic component of the aquatic biota, phytoplankton structure and dynamics were analysed in two temporary, long lasting (9 months), ponds, and in a permanent one. The three studied water bodies can be classified as meso-eutrophic, which show extended macrophyte beds and are subjected to one or more human impacts, such as eutrophication, fish and plant introduction, and garbage pollution. Phytoplankton samples were collected monthly over two different periods in each pond. The identified phytoplankton taxa were grouped in functional coda and non-parametric ordination methods were used to analyse their annual patterns. Results showed a well-defined sequence of coda, which followed a common seasonal pattern in all the studied ponds, when the ordination techniques were applied to a singular water body. This pattern was overlapping in the three studied environments without apparent influence exerted either by the environmental typology (e.g. permanent or temporary) or by human impacts. However, when the analyses were carried out by means of a single matrix containing the coda shared by all the studied environments, they formed a cluster separating the single ponds rather than following common/overlapping seasonal patterns. The results suggest that local effects, particularly the specific composition and richness of phytoplankton assemblages, are as important as climate constraints.
Access options
Buy single article
Instant access to the full article PDF.
US$ 39.95
Tax calculation will be finalised during checkout.
Subscribe to journal
Immediate online access to all issues from 2019. Subscription will auto renew annually.
US$ 119
Tax calculation will be finalised during checkout.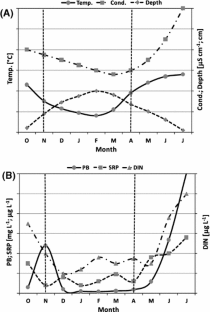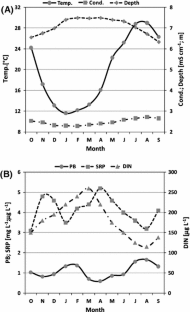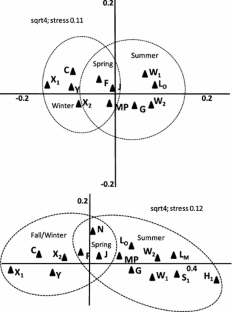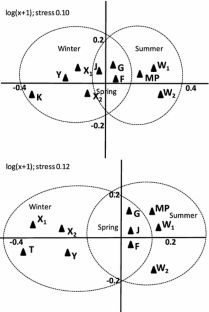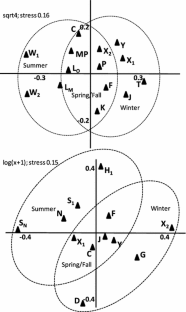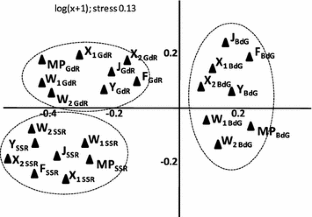 References
Amalfitano, S., S. Fazi, A. Zoppini, A. Barra Caracciolo, P. Grenni & A. Puddu, 2008. Responses of benthic bacteria to experimental drying in sediments from Mediterranean temporary rivers. Microbial Ecology 55: 270–279.

Barone, R., G. Castelli & L. Naselli-Flores, 2010. Red sky at night Cyanobacteria delight: the role of climate in structuring phytoplankton assemblage in a shallow, Mediterranean lake (Biviere di Gela, southeastern Sicily). Hydrobiologia 639: 43–53.

Battle, J. M. & T. B. Mihuc, 2000. Decomposition dynamics of aquatic macrophytes in the lower Atchafalaya, a large floodplain river. Hydrobiologia 418: 123–136.

Borics, G., B. Tóthmérész, I. Grigorszky, J. Padisák, G. Várbíró & S. Szabó, 2003. Algal assemblage types of boglakes in Hungary and their relation to water chemistry, hydrological conditions and habitat diversity. Hydrobiologia 502: 145–155.

Cancela da Fonseca, L., M. Cristo, M. Machado, J. Sala, J. Reis, R. Alcazar & P. Beja, 2008. Mediterranean temporary ponds in Southern Portugal: key faunal groups as management tools? Pan-American Journal of Aquatic Sciences 3: 304–320.

Céréghino, R., J. Biggs, B. Oertli & S. Declerck, 2008. The ecology of European ponds: defining the characteristics of a neglected freshwater habitat. Hydrobiologia 597: 1–6.

Chrisostomou, A., M. Moustaka-Gouni, S. Sgardelis & T. Lanaras, 2009. Air-dispersed phytoplankton in a Mediterranean river-reservoir system (Aliakmon-Polyphytos, Greece). Journal of Plankton Research 31: 877–884.

Cunha Pereira, H., N. Allott & C. Coxon, 2010. Are seasonal lakes as productive as permanent lakes? A case study from Ireland. Canadian Journal of Fisheries and Aquatic Sciences 67: 1291–1302.

De Meester, L., S. Declerck, R. Stoks, G. Louette, F. van De Meutter, T. De Bie, E. Michels & L. Brendonck, 2005. Ponds and pools as model systems in conservation biology, ecology and evolutionary biology. Aquatic Conservation: Marine and Freshwater Ecosystems 15: 715–725.

Dimitriou, E., E. Moussoulis, F. Stamati & N. Nikolaidis, 2009. Modelling hydrological characteristics of Mediterranean temporary ponds and potential impacts from climate change. Hydrobiologia 634: 195–208.

Fazi, S., S. Amalfitano, C. Piccini, A. Zoppini, A. Puddu & J. Pernthaler, 2008. Colonization of overlaying water by bacteria from dry river sediments. Environmental Microbiology 10: 2760–2772.

Foissner, W., 2006. Biogeography and dispersal of micro-organisms: a review emphasizing protists. Acta Protozoologica 45: 111–136.

Genitsaris, S., M. Moustaka-Gouni & K. A. Kormas, 2011. Airborne microeukaryote colonists in experimental water containers: diversity, succession, life histories and established food webs. Aquatic Microbial Ecology 62: 139–152.

Grillas, P., L. Rhazi & M. Rhazi, 2009. The vegetation of temporary pools: adaptation and opportunism. In: Fraga I Arguimbau P. (ed.). International Conference on Mediterranean Temporary Ponds. Consell Insular de Menorca. Recerca 14. Maó: 111–129.

Gross, E., S. Hilt, P. Lombardo & G. Mulderij, 2007. Searching for allelopathic effects of submerged macrophytes on phytoplankton – state of the art and open questions. Hydrobiologia 584: 77–88.

Hammer, O., D. A. T. Harper & P. D. Ryan, 2001. Past: paleontological statistics software package for education and data analysis. Palaeontologia Electronica 4: 4–9.

Hillebrand, H., C. D. Dürselen, D. Kirschtel, U. Pollingher & T. Zohary, 1999. Biovolume calculation for pelagic and benthic microalgae. Journal of Phycology 35: 403–424.

Krasznai, E., G. Borics, G. Várbíró, A. Abonyi, J. Padisák, C. Deák & B. Tóthmérész, 2010. Characteristics of the pelagic phytoplankton in shallow oxbows. Hydrobiologia 639: 173–184.

Kruskal, J. B. & M. Wish, 1978. Multidimensional Scaling. Sage Publications, London: 96 pp.

Marrone, F. & L. Naselli-Flores, 2011. Primo reperto di una lenticchia d'acqua alloctona in Sicilia: Lemna minuta Kunth (Araceae, Lemnoideae). Il Naturalista Siciliano 35: 179–185.

Marrone, F., R. Barone & L. Naselli-Flores, 2006. Ecological characterization and cladocerans, calanoid copepods and large branchiopods of temporary ponds in a Mediterranean island (Sicily, southern Italy). Chemistry and Ecology 22(Suppl. 1): 181–190.

McGill, B. J. & J. S. Brown, 2007. Evolutionary game theory and adaptive dynamics of continuous traits. Annual Review of Ecology Evolution and Systematics 38: 403–435.

Moyá, G. & V. Conforti, 2009. Cyanobacteria and microalgae communities in temporary ponds. In: Fraga i Arguimbau, P. (ed.). International Conference on Mediterranean Temporary Ponds. Proceedings & Abstracts. Consell Insular de Menorca. Recerca, 14. Maó, Menorca: 95–106.

Mozley, A., 1944. Temporary ponds, neglected natural resource. Nature 154: 490.

Myerson, R. B., 1997. Game Theory: Analysis of Conflict. Harvard University Press, Cambridge: 600 pp.

Naselli-Flores, L., 2003. Man-made lakes in Mediterranean semi-arid climate: the strange case of Dr Deep Lake and Mr Shallow Lake. Hydrobiologia 506–509: 13–21.

Naselli-Flores, L. & R. Barone, 1994. Relationship between trophic state and plankton community structure in 21 Sicilian dam reservoirs. Hydrobiologia 275(276): 197–205.

Naselli-Flores, L. & R. Barone, 2002. Limnology of a small, temporary pond: the Pond of Santa Rosalia (Sicily, Italy). Verhandlungen des Internationalen Verein Limnologie 28: 1673–1677.

Naselli-Flores, L. & R. Barone, 2005. Water-level fluctuations in Mediterranean reservoirs: setting a dewatering threshold as a management tool to improve water quality. Hydrobiologia 548: 85–99.

Naselli-Flores, L. & G. Rossetti, 2010. Santa Rosalia, the icon of biodiversity. Hydrobiologia 653: 235–243.

Naselli-Flores, L., R. Barone, I. Chorus & R. Kurmayer, 2007. Toxic cyanobaterial blooms in reservoirs under a semiarid Mediterranean climate: the magnification of a problem. Environmental Toxicology 22: 399–404.

Oertli, B., J. Biggs, R. Céréghino, P. Grillas, P. Joly & J.-B.- Lachavanne, 2005. Conservation and monitoring of pond biodiversity: introduction. Aquatic Conservation: Marine and Freshwater Ecosystems 15: 535–540.

Oertli, B., R. Céréghino, J. Biggs, S. Declerck, A. Hull & M. R. Miracle (eds), 2010. Pond Conservation in Europe. Developments in Hydrobiology 210. Springer, Dordrecht: 386 pp.

Padisák, J., 1992. Seasonal succession of phytoplankton in a large shallow lake (Balaton, Hungary) – a dynamic approach to ecological memory, its possible role and mechanisms. Journal of Ecology 80: 217–230.

Padisák, J., L. Crossetti & L. Naselli-Flores, 2009. Use and misuse in the application of the phytoplankton functional classification: a critical review with updates. Hydrobiologia 621: 1–19.

Padisák, J., É. Hajnal, L. Krienitz, J. Lakner & V. Üveges, 2010. Rarity, ecological memory, rate of floral change in phytoplankton – and the mystery of the red cock. Hydrobiologia 653: 45–64.

Podani, J., 2000. Introduction to the exploration of multivariate biological data. Backhuys, Leiden: 407 pp.

Reynolds, C. S., V. L. Huszar, C. Kruk, L. Naselli Flores & S. Melo, 2002. Towards a functional classification of the freshwater phytoplankton. Journal of Plankton Research 24: 417–428.

Ribeiro Rodrigues, L. H., E. Bertazzo Canterle, V. Becker, V. Gazulha, A. Hamester & D. da Motta Marques, 2011. Dynamics of plankton and fish in a subtropical temporary wetland: rice fields. Scientific Research and Essays 6: 2069–2077.

Robarts, R. D., M. T. Arts & D. B. Donald, 1995. Phytoplankton primary production of three temporary northern prairie wetlands. Canadian Journal of Fisheries and Aquatic Sciences 52: 897–902.

Scheffer, M., 1998. Ecology of Shallow Lakes. Chapman & Hall, London: 357 pp.

Tartari, G. A. & R. Mosello, 1997. Metodologie analitiche e controlli di qualità nel laboratorio chimico dell'Istituto Italiano di Idrobiologia. Documenta dell'Istituto Italiano di Idrobiologia 60: 1–160.

Van Donk, E. & W. J. Van de Bund, 2002. Impact of submerged macrophytes including charophytes on phyto- and zooplankton communities: allelopathy vs other mechanisms. Aquatic Botany 72: 261–274.

Wilbur, H. M., 1997. Experimental ecology of food webs: complex systems in temporary ponds. Ecology 78: 2279–2302.

Williams, D. D., 2006. The Biology of temporary waters. Oxford University Press, Oxford: 337 pp.
Additional information
Guest editors: N. Salmaso, L. Naselli-Flores, L. Cerasino, G. Flaim, M. Tolotti & J. Padisák / Phytoplankton responses to human impacts at different scales: 16th workshop of the International Association of Phytoplankton Taxonomy and Ecology (IAP)
Electronic supplementary material
Below is the link to the electronic supplementary material.
About this article
Cite this article
Naselli-Flores, L., Barone, R. Phytoplankton dynamics in permanent and temporary Mediterranean waters: is the game hard to play because of hydrological disturbance?. Hydrobiologia 698, 147–159 (2012). https://doi.org/10.1007/s10750-012-1059-3
Received:

Accepted:

Published:

Issue Date:
Keywords
Mediterranean temporary pond

Functional classification

Coda

Metaphyton

Rare species