Abstract
Quasi-synoptic surveys along the east coast of Australia between 28 and 34°S show that the heterotrophic dinoflagellate, Noctiluca scintillans, occurs along this entire stretch of the coast. Areas of relatively high abundance of Noctiluca were observed downstream of regions predisposed to current-induced upwellings as a consequence of alongshore topographic variations. High-resolution temporal and spatial sampling of upwelling events showed that Noctiluca was abundant (up to 28 cells l−1) within mature upwelled waters. A high proportion (>80%) of fed Noctiluca cells (cells with prey in their vacuoles) was observed in the mature upwelled waters indicating that the observed increase in abundance of Noctiluca was associated with increased feeding activity. The absolute abundance of Noctiluca in upwelled waters was, however, found to vary from one upwelling location to another and between seasons. In particular, highest abundances of Noctiluca were recorded south of 31.5°S, where the East Australian Current (EAC) characteristically separates from the coast. The high abundances partly arise from southward advection and retention of the Noctiluca cells, and partly from upwelling inshore of the separated EAC driven by cross-shelf boundary layer fluxes. The temperature of the EAC was also found to influence absolute abundances. Surface water temperatures during our summer cruise were anomalously high due to a strong La Niña phase, and up to 4°C warmer than during our spring cruise. We found that the warmer surface water temperatures were associated with relatively lower average abundances of Noctiluca in the near shore zone.
This is a preview of subscription content, log in to check access.
Access options
Buy single article
Instant access to the full article PDF.
US$ 39.95
Tax calculation will be finalised during checkout.
Subscribe to journal
Immediate online access to all issues from 2019. Subscription will auto renew annually.
US$ 119
Tax calculation will be finalised during checkout.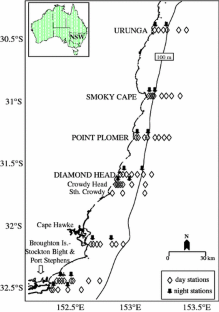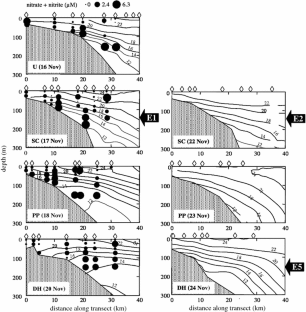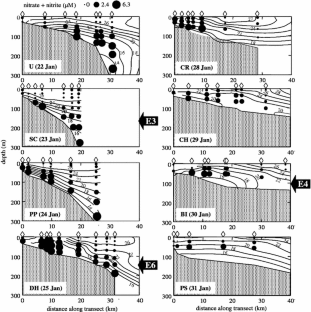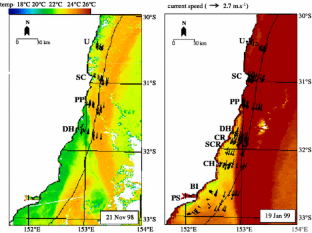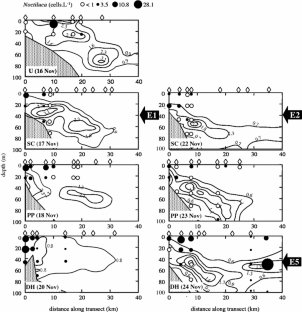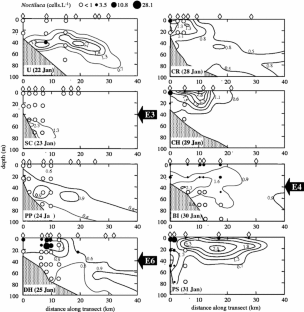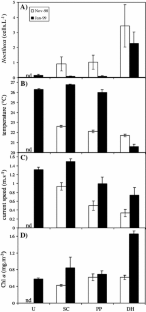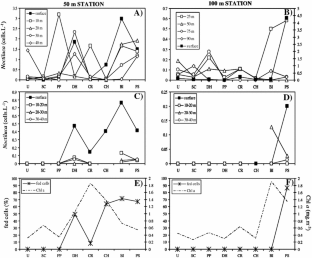 References
Ajani, P., G. M. Hallegraeff & T. R. Pritchard, 2001. Historic overview of Algal blooms in marine and estuarine waters of New South Wales, Australia. Proceedings of the Linnean Society of New South Wales 123: 1–22.

Albinsson, E. (2005). The effects of Noctiluca scintillans on selected harmful algae of south eastern Australia. Honours thesis, University of Kalmar, Sweden.

Berkelmans, R. & J. K. Oliver, 1999. Large-scale bleaching of corals on the Great Barrier Reef. Coral Reefs 18: 55–60.

Buskey, E. J., 1995. Growth and bioluminescence of Noctiluca scintillans on varying algal diets. Journal of Plankton Research 17(1): 29–40.

Church, J. A. & G. R. Cresswell, 1986. Oceanographic features of Southeast Australian Waters. CSIRO Marine Laboratories Internal Summary Report. CSIRO Marine Research, Tasmania, Australia.

Dela-Cruz, J., P. Ajani, R. Lee, T. Pritchard & I. Suthers, 2002. Temporal abundance patterns of the red tide dinoflagellate, Noctiluca scintillans, along the south-east coast of Australia. Marine Ecology Progress Series 236: 75–88.

Dela-Cruz, J., J. Middleton & I. Suthers, 2003. Population growth and transport of the red tide dinoflagellate, Noctiluca scintillans, near Sydney Australia, using cell diameter as a tracer. Limnology and Oceanography 48(2): 656–674.

Elbrachter, M. & Y.-Z. Qi, 1998. Aspects of Noctiluca (Dinophyceae) population dynamics. In Anderson, D. M. & A. D. Cembella & G. M. Hallegraeff (eds), Physiological Ecology of Harmful Algal Blooms, NATO ASI Series, Vol. G 41. Springer-Verlag, Berlin: 315–335.

Godfrey, J. S., G. R. Cresswell, T. J. Golding, A. F. Pearce & R. Boyd, 1980. The separation of the East Australian Current. Journal of Physical Oceanography 10(3): 430–440.

Fonda-Umani, S., A. Beran, S. Parlato, D. Virgilio, T. Zollet, A. De Olazabal, B. Lazzarini & M. Cabrini, 2004. Noctiluca scintillans MACARTNEY in the Northern Adriatic Sea: long-term dynamics, relationships with temperature and eutrophication, and role in the food web. Journal of Plankton Research 26(5): 545–561.

Hallegraeff, G. M., 1993. A review of harmful algal blooms and their apparent global increase. Phycologia 32: 79–99.

Hallegraeff, G. M. & S. W. Jeffrey, 1993. Annually recurrent diatom blooms in spring along the New South Wales coast of Australia. Australian Journal of Marine and Freshwater Research 44: 325–334.

Heil, C. A., M. J. O'Donahue, C. A. Miler & W. C. Dennison, 1998. Phytoplankton community response to a flood event. In Tibbetts, I. R., N. J. Hall & W.C. Dennison (eds), Moreton Bay and Catchment. School of Marine Science, University of Queensland, Brisbane, Australia: 569–584.

Huang, C. & Y. Qi, 1997. The abundance cycle and influence factors on red tide phenomena of Noctiluca scintillans (Dinophyceae) in Dapeng Bay, the South China Sea. Journal of Plankton Research 19(3): 303–318.

Jeffrey, S. W. & G. F. Humphrey, 1975. New spectrophotometric equations for determining chlorophylls a, b, c 1 and c 2 in higher plants, algae and natural phytoplankton. Biochemie und Physiologie der Pflanzen 167: 191–194.

Kang, J.-H., W.-S. Kim, K.-I. Chang & J.-H. Noh, 2004. Distribution of plankton related to the mesoscale physical structure within the surface mixed layer in the southwestern East Sea, Korea. Journal of Plankton Research 26(12): 1515–1528.

Kesseler, H., 1966. Beitrag zur Kenntnis der chemischen und physikalischen Eigenschaften des Zellsaftes von Noctiluca miliaris. Veroeffentlichungen Institut fuer Meeresforschung Bremerhaven 2: 357–368.

Kiorboe, T., P. Tiselius, B. Michell-Innes, J. L. S. Hansen, A. W. Visser & X. Mari, 1998. Intensive aggregate formation but low vertical flux during an upwelling induced diatom bloom. Limnology and Oceanography 43: 104–116.

Lee, J. K. & K. Hirayama, 1992. Effects of salinity, food level and temperature on the population growth of Noctiluca scintillans (Macartney). Bulletin of the Faculty of Fisheries Nagasaki University 71: 163–167.

Lorenzen, C. J., 1967. Determination of chlorophyll and pheo-pigments: spectrophotometric equations. Limnology and Oceanography 12: 343–346.

Liu, X. J. & C. K. Wong, 2006. Seasonal and spatial dynamics of Noctiluca scintillans in a semi-enclosed bay in the northwestern part of Hong Kong. Botanic Marina 49(2): 145–150.

Middleton, J. H., D. Cox & P. Tate, 1997. The oceanography of the Sydney region. Marine Pollution Bulletin 33(7): 124–139.

Miyaguchi, H., T. Fujuki, T. Kikuchi, V. S. Kuwahara & T. Toda, 2006. Relationship between the bloom of Noctiluca scintillans and environmental factors in the coastal waters of Sagami Bay, Japan. Journal of Plankton Research 28(3): 313–324.

Murray, S. & I. M. Suthers, 1999. Population ecology of Noctiluca scintillans Macartney, a red-tide-forming dinoflagellate. Marine and Freshwater Research 50: 243–252.

Oke, P. R. & J. H. Middleton, 2000. Topographically induced upwelling off Eastern Australia. Journal of Physical Oceanography 30: 512–531.

Oke, P. R. & J. H. Middleton, 2001. Nutrient enrichment off Port Stephens: the role of the East Australian Current. Continental Shelf Research 21: 587–606.

Omori, M. & W. M. Hamner, 1982. Patchy distribution of zooplankton: behaviour, population assessment and sampling problems. Marine Biology 72: 193–200.

Painting, S. J., M. I. Lucas, W. T. Peterson, P. C. Brown, L. Hutchings & B. A. Mitchell-Innes, 1993. Dynamics of bacterioplankton, phytoplankton and mesozooplankton communities during the development of an upwelling plume in southern Benguela. Marine Ecology Progress Series 100: 35–53.

Ridgway, K. R. & J. R. Dunn, 2003. Mesoscale structure of the mean east Australian current system and its relationship with topography. Progress in Oceanography 56: 189–222.

Rochford, D. J., 1975. Nutrient enrichment of east Australian coastal waters. II Laurieton upwelling. Australian Journal of Marine and Freshwater Research 26: 233–243.

Rochford, D. J., 1984. Nitrates in eastern Australian coastal waters. Australian Journal of Marine and Freshwater Research 35: 385–397.

Roughan, M. & J. H. Middleton, 2002: A comparison of observed upwelling mechanisms off the east coast of Australia. Continental Shelf Research 22: 2551–2572.

Sahayak, S., R. Jyothibabu, K. J. Jayalakshmi, H. Habeebrehman, P. Sabu, M. P. Prabhakaran, P. Jasmine, P. Shaiju, G. Rejomon, J. Thresiamma & K. K. C. Nair, 2005. Red tide of Noctiluca miliaris off south of Thiruvananthapuram subsequent to the 'stench event' at the southern Kerala coast. Current Science 89(9): 1472–1473.

Tiselius, P. & T. Kiorboe, 1998. Colonization of diatom aggregates by the dinoflagellate Noctiluca scintillans. Limnology Oceanography 43(1): 154–159.

Uhlig, G. & G. Sahling, 1982. Rhythms and distributional phenomena in Noctiluca miliaris. Annales de l'Institut Oceanographique Paris 58: 277–284.

Uhlig, G. & G. Sahling, 1990. Long-term studies on Noctiluca scintillans in the German Bight population dynamics and red tide phenomena 1968–1988. Netherlands Journal of Sea Research 25(1/2): 101–112.

Uhlig, G. & G. Sahling, 1995. Noctiluca scintillans: Zeitliche Verteilung bei Helogand und raumliche Verbreitung in der Deutschen Bucht (Langzeitreihen 1970–1993). Ber Biol Anst Helogand 9: 1–127.

Uysal, Z., 2002. On the formation of net phytoplankton patches in the southern Black Sea during the spring. Hydrobiologia 485: 173–182.

Yin, K., 2003. Influence of monsoons and oceanographic processes on red tides in Hong Kong waters. Marine Ecology Progress Series 262: 27–41.
Acknowledgements
The authors thank the crew and captain of the RV Franklin, and the scientific crew from the Commonwealth Scientific and Industrial Research Organisation, for providing us with their relentless and enthusiastic support in the collection of this data. We also thank the scientific crew members from the University of New South Wales and the New South Wales Environment Protection Authority, especially Moninya Roughan, Augy Syahailatua, Richard Piola, Greg Nippard, David Ghisolfi, Anne-Marie Wong and Penny Ajani. We thank Steve Rutten and Matthew Taylor for their assistance in the analyses of field samples. This project was funded by the Australian Research Council through grants to Iain Suthers and Jason Middleton, and by an Australian Postgraduate Award (Industry) to Jocelyn Dela-Cruz.
Additional information
Handling editor: J. Padisak
About this article
Cite this article
Dela-Cruz, J., Middleton, J.H. & Suthers, I.M. The influence of upwelling, coastal currents and water temperature on the distribution of the red tide dinoflagellate, Noctiluca scintillans, along the east coast of Australia. Hydrobiologia 598, 59–75 (2008). https://doi.org/10.1007/s10750-007-9140-z
Received:

Revised:

Accepted:

Published:

Issue Date:
Keywords
Noctiluca

Upwelling

East Australian Current

Red tides

La Niña