Abstract
Helleborus species are members of the family of the Ranunculaceae. These popular perennials are all diploids (2n = 2x = 32). This study investigates polyploidy induction by different antimitotic agents. Colchicine, oryzalin and trifluralin were tested in vitro on shoots of Helleborus niger, H. orientalis and H. × nigercors. Furthermore the effect of the antimitotic agents on the viability and the multiplication rate of cultured plantlets were analyzed. Flow cytometry demonstrated that polyploidisation was genotype dependent: using H. niger, tetraploids were obtained using either oryzalin (3 μM) or trifluralin (3 or 10 μM), whereas for H. × nigercors only trifluralin (3 or 10 μM) induced polyploidisation. For H. orientalis neither treatment was effective to produce tetraploids or mixoploids. For these three species, colchicine (100 μM) was ineffective. The polyploidisation events in H. niger and H. × nigercors were confirmed by chromosome counts of mounted nuclei derived from root tips (2n = 4x = 64).
Access options
Buy single article
Instant access to the full article PDF.
USD 39.95
Price excludes VAT (USA)
Tax calculation will be finalised during checkout.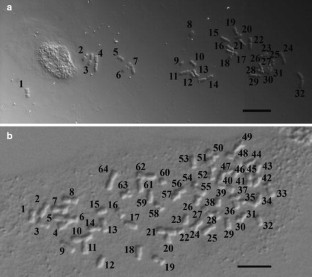 Abbreviations
BAP:

6-Benzylaminopurine

DAPI:

4′,6-Diamidino-2-phenylindole

IBA:

Indole-3-butyric acid

NAA:

1-Naphtaleneacetic acid

NOA:

Naphthoxyacetic acid
References
Adams KL, Wendel JF (2005) Polyploidy and genome evolution in plants. Curr Opin Plant Biol 8:135–141. doi:10.1016/j.pbi.2005.01.001

Allum JF, Bringloe DH, Roberts AV (2007) Chromosome doubling in a Rosa rugosa Thunb. hybrid by exposure of in vitro nodes to oryzalin: the effects of node length, oryzalin concentration and exposure time. Plant Cell Rep 26:1977–1984. doi:10.1007/s00299-007-0411-y

Bajer AS, Molebajer J (1986) Drugs with colchicine-like effects that specifically disassemble plant but not animal microtubules. Ann N Y Acad Sci 466:767–784. doi:10.1111/j.1749-6632.1986.tb38458.x

Benett MD, Smith JB (1976) Nuclear DNA amounts in angiosperms. Philos Trans R Soc 274:227–274. doi:10.1098/rstb.1976.0044

Chauvin JE, Label A, Kermarrec MP (2005) In vitro chromosome-doubling in tulip (Tulipa gesneriana L.). J Hortic Sci Biotechnol 80:693–698

Cohen D, Yao JL (1996) In vitro chromosome doubling of nine Zantedeschia cultivars. Plant Cell Tissue Organ Cult 47:43–49. doi:10.1007/BF02318964

Dart S, Kron P, Mable BK (2004) Characterizing polyploidy in Arabidopsis lyrata using chromosome counts and flow cytometry. Can J Bot 82:185–197. doi:10.1139/b03-134

Dhooghe E, Van Labeke MC (2007) In vitro propagation of Helleborus species. Plant Cell Tissue Organ Cult 91:175–177. doi:10.1007/s11240-007-9280-x

Galbraith DW, Harkins KR, Maddox JM, Ayres NM, Sharma DP, Firoozabady E (1983) Rapid flow cytometric analysis of the cell cycle in intact plant tissues. Science 220:1049–1051. doi:10.1126/science.220.4601.1049

Griesbach RJ (1990) A fertile tetraploid Anigozanthos hybrid produced by in vitro colchicine treatment. Hortscience 25:802–803

Gu XF, Yang AF, Meng H, Zhang JR (2005) In vitro induction of tetraploid plants from diploid Zizyphus jujuba Mill. cv. Zhanhua. Plant Cell Rep 24:671–676. doi:10.1007/s00299-005-0017-1

Hilu KW (1993) Polyploidy and the evolution of domesticated plants. Am J Bot 80:1494–1499. doi:10.2307/2445679

Hugdahl JD, Morejohn LC (1993) Rapid and reversible high-affinity binding of the dinitroaniline herbicide oryzalin to tubulin from Zea mays L. Plant Physiol 102:725–740

Kermani MJ, Sarasan V, Roberts AV, Yokoya K, Wentworth J, Sieber VK (2003) Oryzalin-induced chromosome doubling in Rosa and its effect on plant morphology and pollen viability. Theor Appl Genet 107:1195–1200. doi:10.1007/s00122-003-1374-1

Khosravi P, Kermani MJ, Nematzadeh GA, Bihamta MR, Yokoya K (2008) Role of mitotic inhibitors and genotype on chromosome doubling of Rosa. Euphytica 160:267–275. doi:10.1007/s10681-007-9571-7

Liu G, Li Z, Bao M (2007) Colchicine-induced chromosome doubling in Platanus acerifolia and its effect on plant morphology. Euphytica 157:145–154. doi:10.1007/s10681-007-9406-6

Lu C, Bridgen MP (1997) Chromosome doubling and fertility study of Alstroemeria aurea × A. caryophyllaea. Euphytica 94:75–81. doi:10.1023/A:1002911522748

Morejohn LC, Bureau TE, Molebajer J, Bajer AS, Fosket DE (1987) Oryzalin, a dinitroaniline herbicide, binds to plant tubulin and inhibits microtubule polymerization in vitro. Planta 172:252–264. doi:10.1007/BF00394595

Morejohn LC, Bureau TE, Tocchi LP, Fosket DE (1984) Tubulins from different higher-plant species are immunologically nonidentical and bind colchicine differentially. Proc Natl Acad Sci USA 81:1440–1444

Murashige T, Skoog F (1962) A revised medium for rapid growth and bioassays with tobacco tissue cultures. Physiol Plant 15:473–497. doi:10.1111/j.1399-3054.1962.tb08052.x

Osborn TC, Pires JC, Birchler JA, Auger DL, Chen ZJ, Lee HS et al (2003) Understanding mechanisms of novel gene expression in polyploids. Trends Genet 19:141–147. doi:10.1016/S0168-9525(03)00015-5

Otto F (1990) DAPI staining of fixed cells for high-resolution flow cytometry of nuclear DNA. In: Darzynkiewicz Z, Crissman HA (eds) Methods in cell biology, vol 33. Academic Press Inc, New York, pp 105–110

Otto SP, Whitton J (2000) Polyploid incidence and evolution. Annu Rev Genet 34:401–437. doi:10.1146/annurev.genet.34.1.401

Petersen KK, Hagberg P, Kristiansen K (2002) In vitro chromosome doubling of Miscanthus sinensis. Plant Breed 121:445–450. doi:10.1046/j.1439-0523.2002.738314.x

Petersen KK, Hagberg P, Kristiansen K (2003) Colchicine and oryzalin mediated chromosome doubling in different genotypes of Miscanthus sinensis. Plant Cell Tissue Organ Cult 73:137–146. doi:10.1023/A:1022854303371

Reheul D (1987) Een halve eeuw polyploidie in de plantenveredeling - Theorie en praktijk 2 Praktisch belang van polyploide gewassen. Landbouwtijdschrift 6:1423–1431

Rice G, Strangman E (1993) The gardener's guide to growing Hellebores. David & Charles, Devon

Sparnaaij LD (1979) Polyploidy in flower breeding. Hortscience 14:496–499

Stanys V, Weckman A, Staniene G, Duchovskis P (2006) In vitro induction of polyploidy in japanese quince (Chaenomeles japonica). Plant Cell Tissue Organ Cult 84:263–268. doi:10.1007/s11240-005-9029-3

Tambong JT, Sapra VT, Garton S (1998) In vitro induction of tetraploids in colchicine-treated cocoyam plantlets. Euphytica 104:191–197. doi:10.1023/A:1018609020397

Väinölä A (2000) Polyploidization and early screening of Rhododendron hybrids. Euphytica 112:239–244. doi:10.1023/A:1003994800440

Zhang Z, Dai H, Xiao M, Liu X (2008) In vitro induction of tetraploids in Phlox subulata L. Euphytica 159:59–65. doi:10.1007/s10681-007-9457-8

Zlesak DC, Thill CA, Anderson NO (2005) Trifluralin-mediated polyploidization of Rosa chinensis minima (Sims) Voss seedlings. Euphytica 141:281–290. doi:10.1007/s10681-005-7512-x

Zonneveld BJM (2001) Nuclear DNA contents of all species of Helleborus (Ranunculaceae) discriminate between species and sectional divisions. Plant Syst Evol 229:125–130. doi:10.1007/s006060170022
Acknowledgements
The authors thank the research center ILVO - Plant Unit (Melle-Belgium) and especially H. Carlier for the flow cytometric measurements. Special thanks also go to T. Versluys for the technical supports and to Dr. Ryan Whitford for critical reading of the manuscript.
About this article
Cite this article
Dhooghe, E., Grunewald, W., Leus, L. et al. In vitro polyploidisation of Helleborus species. Euphytica 165, 89–95 (2009). https://doi.org/10.1007/s10681-008-9763-9
Received:

Accepted:

Published:

Issue Date:

DOI: https://doi.org/10.1007/s10681-008-9763-9
Keywords
Colchicine

Flow cytometry

Helleborus

Oryzalin

Polyploidisation

Ranunculaceae

Trifluralin