Abstract
Ever growing population constantly puts pressure on natural resources to manage the demands for their survival. This is particularly true with the agriculture sector concerning food and cash crops. Pesticides have become an inseparable part of the current agriculture and horticulture system but at the same time are adding adverse impacts on the human health and entire ecosystems. A Cross-sectional study was conducted on 500 farmers to appraise the association of pesticide toxins and self-reported health status among the farmers by using suitable statistical and mathematical techniques. In the study, most frequently reported symptoms of health issues among the respondents were related to eye illness (blurred vision, irritation), among both sprayers (43.1%) and (11%) in non-sprayers, with relatively high risk rate (RR = 3.9), followed by illnesses such as nervous disorders (headache, dizziness), 39% (sprayers) & 21.5% (non-sprayers) and skin illnesses i.e. skin itching and allergies. Chi-square analysis and odds ratios show a significant association between the farmer's education, use of safety measures and pesticide poisoning. The study hence, revealed the role of educational and training interventions on pesticide handling at the community and panchayat level.
Access options
Buy single article
Instant access to the full article PDF.
USD 39.95
Price excludes VAT (USA)
Tax calculation will be finalised during checkout.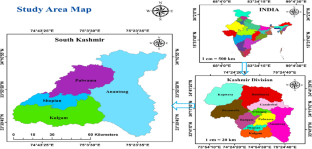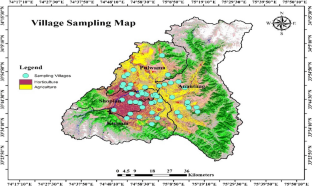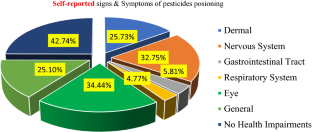 Data Availability
Study was based on field survey conducted through questionnaire & Annexure is attached to it.
References
Aktar W, Sengupta D, & Chowdhury A. (2009). Impact of pesticide use in agriculture: their benefits & hazards. Interdisc toxicol; 2(1). Doi: https://doi.org/10.2478/v10102-009-0001-7

Bell, E. M., Sandler, D. P., & Alavanja, M. C. (2006). High pesticide exposure events among farmers and spouses enrolled in the Agricultural Health Study. Journal of Agricultural Safety and Health, 12(2), 101–116.

Bhat, A., Wani, M. H., Bhat, G. H., Kachroo, M. M., Qadir, A., & Qureshi, I. (2020). Pesticides use in Jammu and Kashmir: Invisible costs & willingness to pay for available alternative measures. Chemical Science Review and Letters, 9(34), 410–417. https://doi.org/10.37273/chesci.CS20510182

Boadi-Kusi, S. B., Hansraj, R., Mashige, K. P., & Ilechie, A. A. (2016). Factors associated with protective eyewear use among cocoa farmers in Ghana. Injury Prevention, 22(5), 365–369.

Chitra, G. A., Muraleedharan, V. R., Swaminathan, T., & Veeraraghavan, D. (2006). Use of pesticides and its impact on health of farmers in South India. International Journal of Occupational and Environmental Health, 12(3), 228–233.

Corriols Molina, M. (2009). Acute pesticide poisonings in Nicaragua: underreporting, incidence and determinants. Institutionen för folkhälsovetenskap/ Department of Public Health Sciences.

Curl, C. L., Spivak, M., Phinney, R., & Montrose, L. (2020). Synthetic pesticides & health in vulnerable populations: Agricultural workers. Current Environmental Health Reports. https://doi.org/10.1007/s40572-020-00266-5

Damalas, C. A., & Abdollahzadeh, G. (2016). Farmers' use of personal protective equipment during handling of plant protection products: Determinants of implementation. Science of the Total Environment, 571, 730–736.

Damalas, C. A., Koutroubas, S. D., & Abdollahzadeh, G. (2019). Drivers of personal safety in agriculture: A case study with pesticide operators. Agriculture, 9(2), 34.

Damalas, C. A., & Eleftherohorinos, I. G. (2011). Pesticide exposure, Safety issues, and risk assessment indicators. Int J Environ Res Pub Health, 8(5), 1402–2149. https://doi.org/10.3390/ijerph8051402.

District Census Handbook. (2011). Directorate of census operation, Jammu and Kashmir. Reterived 25 Sept 2016 from https://www.censusindia.gov.in.

Digest of Statistic (2016). Directorate of economics & statistics, Government of Jammu & Kashmir, Retrieved March 10, 2018, from https://www.ecostatjk.nic.in .

Gyenwali, D., Vaidya, A., Tiwari, S., Khatiwadi, P., Lamsal, D. R., & Giri, S. (2017). Pesticide poisoning in Chitwan, Nepal: A descriptive epidemiological study. BMC Public Health, 17, 619. https://doi.org/10.1186/s12889-017-4542-y.

Jallow, M. F., Awadh, D. G., Albaho, M. S., Devi, V. Y., & Thomas, B. M. (2017). Pesticide knowledge and safety practices among farm workers in Kuwait: Results of a survey. International Journal of Environmental Research and Public Health, 14(4), 340.

Jensen, H. K., Konradsen, F., Jørs, E., Petersen, J. H., & Dalsgaard, A. (2011). Pesticide use and self-reported symptoms of acute pesticide poisoning among aquatic farmers in Phnom Penh, Cambodia. Journal of toxicology, 2011.

Kalra, A. (2016). The Odds Ratio: Principles and Applications. Journal of the Practice of Cardiovascular Sciences, 2(1), 49–51. https://doi.org/10.4103/2395-5414.182992

Khanal, G., & Singh, A. (2016). Patterns of pesticide use and associated factors among the commercial farmers of Chitwan, Nepal. Environmental health insights, 10, EHI-S40973.

Kien, A. (2015). Factors influencing safety pesticide use behaviour among farmers in Thainguyen Province, Vietnam (Doctoral dissertation, Faculty of Nursing, Burapha University).

Kim, J. H., Kim, J., Cha, E. S., Ko, Y., Kim, D. H., & Lee, W. J. (2013). Work-related risk factors by severity for acute pesticide poisoning among male farmers in South Korea. International Journal of Environmental Research and Public Health, 10(3), 1100–1112.

Levesque, D. L., Arif, A. A., & Shen, J. (2012). Association between workplace and housing conditions and use of pesticide safety practices and personal protective equipment among North Carolina farmworkers in 2010. Int J Occup Environ Med (The IJOEM), 3(2 April).

Levesque, D. L., Arif, A. A., & Shen, J. (2012b). Effectiveness of pesticide safety training and knowledge about pesticide exposure among Hispanic farmworkers. Journal of Occupational and Environmental Medicine, 54(12), 1550–1556.

Marlies, N., Friedo, W. D., Carmine, Z., & Kitty, J. J. (2010). Measures of diseases frequency: Prevalence and incidence. Kidney Disease and Population Health: Nephron Clin Pract, 115, 17–20.

Mazurek, J. M., & Henneberger, P. K. (2017). Lifetime allergic rhinitis prevalence among US primary farm operators: Findings from the 2011 Farm and Ranch Safety survey. International Archives of Occupational and Environmental Health, 90(6), 507–515.

Memon, Q. U. A., Wagan, S. A., Chunyu, D., Shuangxi, X., Jingdong, L., & Damalas, C. A. (2019). Health problems from pesticide exposure and personal protective measures among women cotton workers in southern Pakistan. Science of the Total Environment, 685, 659–666.

Mequanint, C., Getachew, B., Mindaye, Y., Amare, D. E., Guadu, T., & Dagne, H. (2019). Practice towards pesticide handling, storage and its associated factors among farmers working in irrigations in Gondar town, Ethiopia, 2019. BMC Research Notes, 12(1), 1–6.

Moonis R, Aijazuddin A, and Ali M. (1978). The Valley of Kashmir. Vikas publishing House PVT LTD, ISBN: 0706905253.

Ogunbanjo, G. A., & Fam, M. (2004). Making sense of statistics for family practitioners:" what is Odds Ratio?". South African Family Practice, 46(2), 44.

Okoffo, E. D., Mensah, M., & Fosu-Mensah, B. Y. (2016). Pesticides exposure and the use of personal protective equipment by cocoa farmers in Ghana. Environmental Systems Research, 5(1), 1–15.

Palis, F. G., Flor, R. J., Warburton, H., & Hossain, M. (2006). Our farmers at risk: Behaviour & belief system in pesticide safety. Journal of Public Health, 28(1), 43–48. https://doi.org/10.1093/pubmed/fdi066

Parks, C. G., Hoppin, J. A., De Roos, A. J., Costenbader, K. H., Alavanja, M. C., & Sandler, D. P. (2016). Rheumatoid arthritis in agricultural health study spouses: Associations with pesticides and other farm exposures. Environmental Health Perspectives, 124(11), 1728–1734.

Perry, M. J., Marbella, A., & Layde, P. M. (1999). Association of pesticide safety beliefs and intentions with behaviors among farm pesticide applicators. American Journal of Health Promotion, 14(1), 18–21.

Rasool, R., Fayaz, A., ul Shafiq, M., Singh, H., & Ahmed, P. (2021). Land use land cover change in Kashmir Himalaya: Linking remote sensing with an indicator based DPSIR approach. Ecological Indicators, 125, 107447.

Richard I. (2010). Pesticides and the loss of biodiversity. Pesticides action network, Europe. www.pan-europe.info .

Saeed, M. F., Shaheen, M., Ahmad, I., Zakir, A., Nadeem, M., Chishti, A. A., Shahid, M., & Bakhsh k, & Damalas C A. (2017). Pesticide exposure in the local community of Vehari district of Pakistan: An assessment of knowledge and residues in human blood. Science of the Total Environment, 587–588, 137–144. https://doi.org/10.1016/j.scitotenv.2017.02.086

Shafiq, M. U., Rasool, R., & Ahmed & Dimri A P. (2018). Temperature & precipitation trends in Kashmir Valley, north western Himalayas. Theoretical and Applied Climatology, 135(1–2), 293–304.

Sharifzadeh, M. S., Abdollahzadeh, G., Damalas, C. A., Rezaei, R., & Ahmadyousefi, M. (2019). Determinants of pesticide safety behavior among Iranian rice farmers. Science of the Total Environment, 651, 2953–2960.

Taghdisi, M. H., Besheli, B. A., Dehdari, T., & Khalili, F. (2019). Knowledge and practices of safe use of pesticides among a group of farmers in northern Iran. The International Journal of Occupational and Environmental Medicine, 10(2), 66.

Thundiyil, J. G., Stober, J., Besbelli, N., & Pronczuk, J. (2008). Acute pesticide poisoning: A proposed classification tool. Bulletin of the World Health Organization, 86, 205–209.

Tsimbiri, P. F., Moturi, W. N., Sawe, J., Henley, P., & Bend, J. R. (2015). Health impact of pesticides on residents and Horticultural workers in the Lake Naivasha region, Kenya. Occupational Diseases and Environmental Medicine, 3, 24–34. https://doi.org/10.4236/odem.2015.32004

Zhang, X., Zhao, W., Jing, R., Wheeler, K., Smith, G. A., Stallones, L., & Xiang, H. (2011). Work-related pesticide poisoning among farmers in two villages of Southern China: A cross-sectional survey. BMC Public Health, 11(1), 1–9.
Acknowledgements
The authors are thankful and offer sincere gratitude to the department of Geography, University of Kashmir for providing space and friendly environment while conducting this research work. The authors also express their sincere gratitude to respondents who spend their time to fill the questionnaire and answering the questions. Further, we would like to thank reviewers for their valuable comments & suggestions. Our special thanks to Mr. Hilal Ahmad (English Lecturer in JK higher education department) for rectifying typing errors. Special thanks to the department of Geography & Disaster Management, University of Kashmir- Srinagar for providing conducive environment to conduct this study.
Funding
There is no funding available for this work.
Ethics declarations
Conflict of interest
The authors declare that there is no conflict of interest.
Additional information
Publisher's Note
Springer Nature remains neutral with regard to jurisdictional claims in published maps and institutional affiliations.
Supplementary Information
Below is the link to the electronic supplementary material.
About this article
Cite this article
Ganaie, M.I., Wani, M.A., Dev, A. et al. Pesticide exposure of farm community causing illness symptoms in upper Jhelum Basin of Kashmir Himalaya, India. Environ Dev Sustain 24, 13771–13785 (2022). https://doi.org/10.1007/s10668-021-02012-9
Received:

Accepted:

Published:

Issue Date:

DOI: https://doi.org/10.1007/s10668-021-02012-9
Keywords