The Longitudinal Aging Study Amsterdam: cohort update 2016 and major findings
Abstract
The Longitudinal Aging Study Amsterdam (LASA) is an ongoing longitudinal study of older adults in the Netherlands, which started in 1992. LASA is focused on the determinants, trajectories and consequences of physical, cognitive, emotional and social functioning. The study is based on a nationally representative sample of older adults aged 55 years and over. The findings of the LASA study have been reported in over 450 publications so far (see www.lasa-vu.nl). In this article we describe the background and the design of the LASA study, and provide an update of the methods. In addition, we provide a summary of the major findings from the period 2011–2015.
Keywords
Longitudinal studies 
Cohort studies 
Netherlands 
Epidemiology 
Aging 
Biomarkers 
Health status indicators 
Social support 
Cognitive function 
Mental health 
Introduction
The Longitudinal Aging Study Amsterdam (LASA) was initiated by the Dutch Ministry of Welfare, Health and Culture (currently Ministry of Health, Welfare and Sports) in the early 1990s in response to population aging in the Netherlands. Ministry officials recognized that demographic changes were leading to an increase in the proportion of older people in the Netherlands, and that these changes would shape future health care use. Multi-disciplinary and longitudinal observational research was considered to be needed to inform the ministry's policy and to monitor functioning and well-being of Dutch older people. The LASA study was designed by researchers from the VU University and VU University Medical Center in Amsterdam, in a close collaboration between social and biomedical scientists. This collaboration ensured a thorough multi-disciplinary approach fitting the scope of the intended focus of LASA. The main objective of LASA was to study the determinants, trajectories and consequences of physical, cognitive, emotional and social functioning [1]. The study started in 1992 and is still ongoing. LASA is one of a few prospective studies of older adults in the Netherlands [2, 3, 4].
In this paper we describe the design of LASA, and provide an update of the methods. Furthermore, we provide an overview of the main findings that were obtained with LASA data from the past 5 years (2011–2015).
The design of LASA
LASA is a prospective cohort study, initially based on a nationally representative sample of older adults aged 55–85 years (born between 1908 and 1937) from three regions in the Netherlands. These three regions (around Zwolle, Oss and Amsterdam) were selected to obtain an optimal representation of the Dutch older population, with respondents from the predominantly protestant northeast, the largely catholic south and from the more secularized western part of the Netherlands and from both urbanized and rural areas within these regions. The sample is used in two studies: first the NESTOR study on Living Arrangements and Social Networks (LSN) of older adults [5], and second LASA. The sample was randomly selected from municipal registries in 1992, with an oversampling of the oldest old and older men. The initial response rate (defined as the number of complete and partial interviews, divided by the total number of eligible persons in the sample plus a fraction of those persons who were in the sample but of whom eligibility could not be determined) was 60 % (n = 3805). The cooperation rate (defined as the number of completed interviews divided by the total number of contacted eligible persons) was 62 %.
On average, 11 months after the LSN interview (wave A), participants were invited to participate in the first measurement wave of LASA (wave B), with a response rate of 85 % and a cooperation rate of 89 %. Since the 1992 LSN interview, there have been eight LASA measurement waves to date (Fig. 
1
). At the seventh measurement wave (wave H), approximately 20 years after the start of LASA, a total of 763 respondents of the original sample was retained.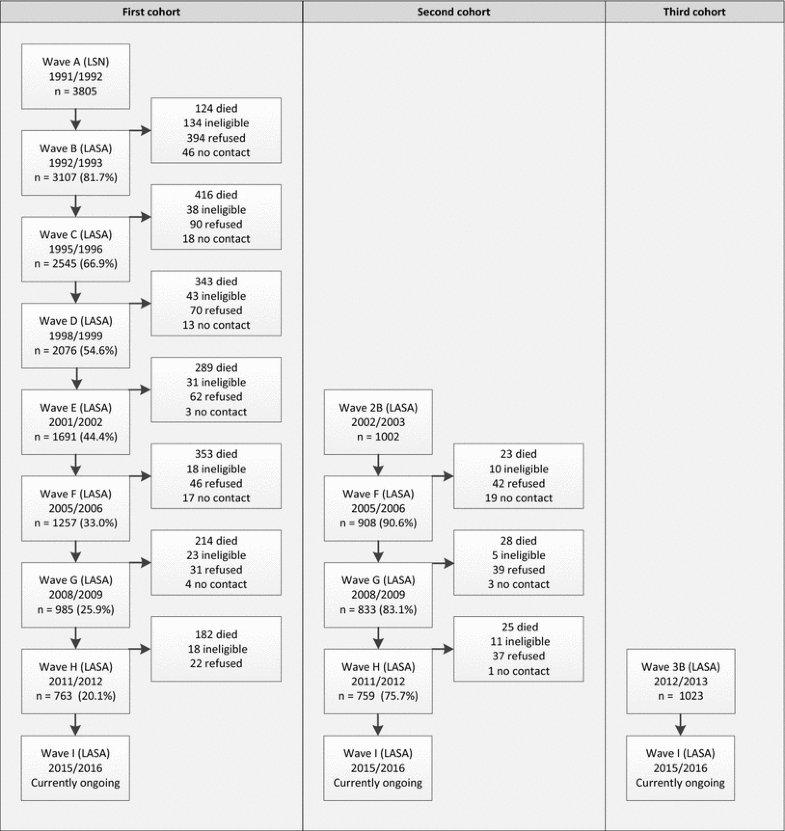 Two additional cohorts of respondents were recruited from the same sampling frames exactly 10 and 20 years after the baseline measurement of the initial sample: one in 2002–2003, and another in 2012–2013. The realized sample size for the three cohorts is shown in Table 
1
. The second cohort that was included in 2002–2003 consisted of 1002 men and women born between 1938 and 1947 (cooperation rate was 62 %), and the third cohort from 2012 to 2013 consisted of 1023 men and women born between 1948 and 1957 (cooperation rate was 63 %). In subsequent measurement waves, respondents from these new cohorts were merged with those from the original cohort. In 2016, the data collection of the most recent LASA measurement wave (2015–2016, wave I) will be completed. This wave includes the remaining respondents from all three cohorts.
Table 1
Realized sample size for LASA cohort baseline measurements and wave H
Cohort

Birth years

1992–1993

2002–2003

2011–2012

2012–2013

Wave Ba

Wave 2Ba

Wave Ha

Wave 3Ba

Main interview/medical interviewb

Main interview/medical interview

Main interview/medical interview

Main interview/medical interview

First cohort

1908–1912

580/460

 

6/1

 

1913–1917

575/476

 

33/15

 

1918–1922

472/412

 

62/40

 

1923–1927

492/432

 

159/100

 

1928–1932

512/468

 

240/182

 

1933–1937

476/423

 

263/212

 

Second cohort

1938–1942

–

508/464

370/315

 

1943–1947

–

494/455

389/347

 

Third cohort

1948–1952

–

–

–

523/460

1953–1957

–

–

–

500/429

Total

3107/2671

1002/919

1522/1212

1023/889
The attrition of respondents over time is a specific concern of longitudinal studies on aging. For this reason men and the oldest old were initially oversampled to ensure that there would be reasonable numbers of very old men, even after many years of follow-up. Attrition in the first LASA cohort can be mainly attributed to mortality (Fig. 1), and for a relatively small proportion to frailty of respondents and refusal to cooperate. Details on the attrition in LASA, and the associations with participant characteristics have been published earlier [1, 6].
The LASA study is conducted in line with the Declaration of Helsinki, and was approved by the medical ethics committee of the VU University medical center.
Major findings
Over 450 scientific publications have been published based on LASA data, of which at least 150 have been published in the past 5 years (2011–2015). These publications cover a broad range of topics, and many studies address associations across domains of functioning. A full list of publications can be found on the LASA website (www.lasa-vu.nl). Research with LASA data covered topics in public health research, clinical epidemiology, psychiatric epidemiology, nutritional epidemiology and social epidemiology. Here, we present major findings from the past 5 years according to important LASA research themes: time trends in health, biomarkers, vitamin D, nutrition, lifestyle, frailty, sensory functioning, depression, Attention-Deficit/Hyperactivity Disorder, cognitive decline, personal networks, loneliness, employment and retirement, care, and end of life.
Data availability
LASA data are available for research. To obtain data, researchers need to submit an analysis proposal that is evaluated by the LASA Steering Group. The LASA Steering Group has adopted a policy of open sharing of data with interested researchers for specific research questions on aging-related issues. We invite colleagues to find out whether LASA data can help them to answer their research questions. More information on data requests can be found at the study website: www.lasa-vu.nl. Forms to request assessment of biomarkers are also available here. Data are available for investigation under the condition that results of analyses will be made available to the research community through scientific reports or research papers, regardless of the outcome of the study.
Notes
Acknowledgments
The Longitudinal Aging Study Amsterdam (LASA) is largely supported by a grant from the Netherlands Ministry of Health, Welfare and Sports, Directorate of Long-Term Care. The data collection in 2012–2013 was financially supported by the Netherlands Organization for Scientific Research (NWO) in the framework of the project "New Cohorts of young old in the 21st century" (File Number 480-10-014). Funding for the LASA nutrition and food-related behavior ancillary study was provided by the European Union FP7 Mood FOOD Project 'Multi-country collaborative project on the role of Diet, Food-related behaviour, and Obesity in the prevention of Depression' (Grant Agreement Number 613598). We are extremely grateful to all participants of the LASA study. We are grateful to the fieldwork team and all researchers at LASA for their ongoing commitment to the study.
Copyright information
© The Author(s) 2016
Open AccessThis article is distributed under the terms of the Creative Commons Attribution 4.0 International License (http://creativecommons.org/licenses/by/4.0/), which permits unrestricted use, distribution, and reproduction in any medium, provided you give appropriate credit to the original author(s) and the source, provide a link to the Creative Commons license, and indicate if changes were made.