Shunned and Admired: Montessori, Self-Determination, and a Case for Radical School Reform
Abstract
School reform is an important national and international concern. The Montessori alternative school system is unique in that it is well-aligned with the science of healthy development and learning, has strong social–emotional and academic outcomes, is virtually unchanged in over a century, can be applied across all the school years, and still attracts considerable attention and allegiance—yet it remains "on the margins" (Whitescarver and Cossentino Teachers College Record, 110, 2571–2600, 2008) of the bulwark educational system, as often shunned as admired. Why does Montessori persist (and increasingly in the public sector) and why does it elicit such sharply contrasting reactions? This article reviews several reasons why it is admired, such as evidence of Montessori's effectiveness, its alignment with educational psychology research, and its broad scope. The points of research alignment are presented as natural corollaries of Montessori's central premise: independence, or self-determination. After discussing these extrinsic and intrinsic reasons why Montessori is admired, the article concludes with speculation as to why it is also shunned—namely its incommensurability with conventional education culture and what might be a consequence: frequent poor implementation. The incommensurability of evidence-based alternatives with the conventional system is also posed as a reason for radical school reform.
Keywords
Education 
Alternative schooling 
Human development 
Self-determination 
My vision of the future is no longer of people taking exams and proceeding from [one level of school to the next], but of individuals passing from one stage of independence to a higher [one], by means of their own activity [and…] will, which constitutes the inner evolution of the individual. (Montessori 1948a, p. xv)
Ted Dintersmith, recipient of the National Education Association's 2018 "Friend of Education" award, recently spent a year observing classrooms across the country, and while for the most part he saw standard conventional teaching (e.g., a teacher tells students what they need to know then tests them to see if they learned it), he also saw some excellent teaching in which children learned with a sense of purpose and agency, acquiring essential skills and cultivating knowledge that he believed was deep, useful, and retained. He said these learning principles "abound in preschools, kindergartens, and Montessori schools—places where children love school, learn deeply and joyously, and master essential skills […—but are lacking in] most schools" (Dintersmith
2018
, p. xvi). Montessori does not appear in Dintersmith's text again, but his examples of excellent innovative teaching reflect elements that are routine in Montessori education (for example, hands-on activities, abundant free choice, no grades or tests; see Marshall
2017
). This exemplifies the Montessori quandary: recognized as excellent, yet often left out of conversations on school reform (Chertoff
2012
, December; Walsh and Petty
2007
).
Although instigated contemporaneously with the factory system of schooling, initially with children who were atypically developing and then with children of low-income parents, Montessori education is today undergoing a surge, proliferating into public schools and charters, high schools, and day cares the world over (Debs
2019
; Whitescarver and Cossentino
2008
). Bookstores typically still stock Montessori's writings, and scholarship about Montessori is on the rise (for example, Google Scholar citations for the term have increased eightfold over the last 25 years; see Fig. 
1
for comparison with other education systems). The system Montessori developed also remains virtually unchanged, in contrast to conventional education which has undergone several adjustments since its origins in the one-room schoolhouse (age-graded classrooms, grades, chalkboards, bells, the 50-min hour, Carnegie units or credits, multiple choice tests, and sometimes back again) in attempt to improve it (Tyack and Cuban
1995
). When so many other school reforms have come and gone, it seems remarkable that this marginal Montessori system persists. In the first part of this article, I discuss three sets of reasons for this. The first is extrinsic reasons: child outcomes, teacher satisfaction, and what parents want. The second set of reasons is intrinsic to Montessori—its match to human psychology, as is indicated by a wealth of research, and its tremendous breadth. I end with speculation as to why, despite these attributes, Montessori is still marginalized in discussions of education reform, and I argue that radical school reform, such as Montessori, is what is needed to really improve schools.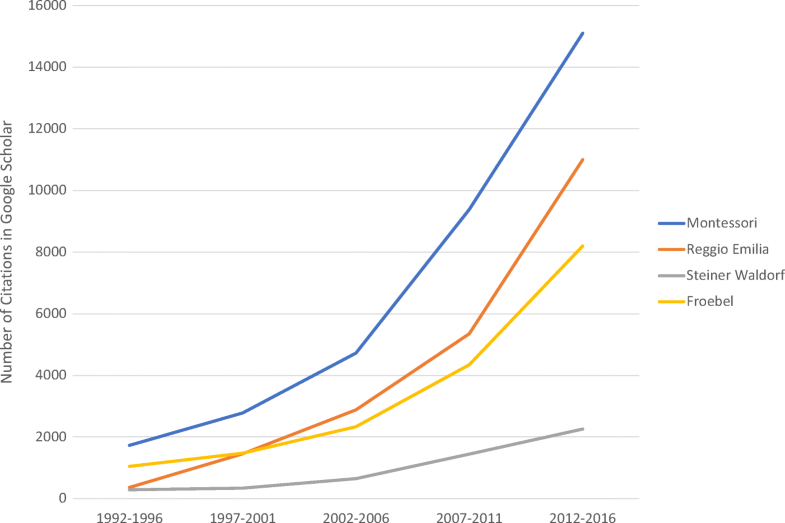 Montessori is a system of education aimed at children from birth to 18. It is rooted in observations made by an Italian physician between 1890 and 1952 in response to children's behaviors in evolving prepared environments. Montessori's overarching goal was "to supply the needs of every stage from the beginning" (Montessori 1961/2007, p. 53). "Education should no longer be mostly imparting of knowledge, but must take a new path, seeking the release of human potentialities" (Montessori 1946/1963, p. 2). The system that resulted by the end of her life (e.g., Montessori 2012) involves 3-year age groupings (0–3, 3–6, and so on) wherein a specific, carefully developed apparatus appropriate for all the children in the age group is supplied, with a teacher whose role is not to impart information, but instead to connect children to the environment where self-guided learning occurs. The apparatus contains a network of teaching materials interconnected across all curriculum areas (language, math, geometry, science, geography, music, art, and even practical life skills) and age levels, with which children can freely choose to work in constructive ways to further their development. The teacher's responsibility is to ensure constructive activities, in part by presenting individual children lessons that meet their successive developmental needs. A central premise is that children are active learners with intrinsic motivation and innate knowledge of how to develop themselves under two conditions: when adults do not interfere, and when they can deeply concentrate on meaningful work in natural social environments. Further description can be found in Montessori's books (e.g., Montessori 1948b; Montessori 1967/1995). Although Montessori was developed many decades ago, its orientation to basic human psychological needs might render it still relevant for children today, much as the basic tenets of Buddhist psychology still are true at 2500 years old (Walsh and Shapiro 2006).
Notes
Acknowledgements
Jackie Cossentino, Rachel Keen, and Lee Leboeuf all gave helpful comments on an earlier draft of this manuscript. I also thank Bridget Hamre who inspired this article with a simple question: "Do you really think it's better?"
Funding Information
During writing, the author was supported by grant R305A180181 from the Institute for Education Sciences, grant #56225 from the Sir John Templeton Foundation, and grants from the Brady Education, LEGO, Wend Ventures, and Wildflower Foundations.
Copyright information
© The Author(s) 2019
Open Access This article is distributed under the terms of the Creative Commons Attribution 4.0 International License (http://creativecommons.org/licenses/by/4.0/), which permits unrestricted use, distribution, and reproduction in any medium, provided you give appropriate credit to the original author(s) and the source, provide a link to the Creative Commons license, and indicate if changes were made.