Abstract
This study examined the influence of a professional development project about an internet-based mathematics formative assessment tool and related pedagogies on primary teachers' instruction and student achievement. Teachers participated in 72 h of professional development during the year. Descriptive statistics and multivariate analyses of variance of the 300 teachers and data from 5300 students indicated that, in some of the participating districts, students whose teachers participated in professional development outperformed students in control classrooms. Multi-level analyses of student achievement indicated that teachers who used the formative assessment tool more had students who scored statistically significantly higher gain than students whose teachers did not use the tool as frequently. The findings call for subsequent studies that examine how teachers specifically use formative assessment data to make instructional decisions, and the influence of those decisions on student achievement.
This is a preview of subscription content, log in to check access.
Access options
Buy single article
Instant access to the full article PDF.
US$ 39.95
Price includes VAT for USA
Subscribe to journal
Immediate online access to all issues from 2019. Subscription will auto renew annually.
US$ 99
This is the net price. Taxes to be calculated in checkout.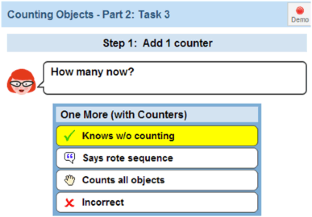 References
American Psychological Association Work Group (APA). (1997). Learner-centered psychological principles: A framework for school reform and redesign. Washington, DC: Author.

Bandura, A. (1986). Social foundations of thought and action. Englewood Cliffs, NJ: Prentice-Hall.

Black, P., & Wiliam, D. (1998a). Assessment and classroom learning. Assessment in Education, 5, 7–71.

Black, P., & Wiliam, D. (1998b). Inside the black box: Raising standards through classroom assessment. Phi Data Kappan, 80(2), 139–148.

Borko, H. (2004). Professional development and teacher learning: mapping the terrain (PDF). Educational Researcher, 33(8), 3–15.

Boston, M. D., & Smith, M. S. (2009). Transforming secondary mathematics teaching: Increasing the cognitive demands of instructional tasks used in teachers' classrooms. Journal for Research in Mathematics Education, 40(2), 119–156.

Briley, J. S. (2012). The relationships among mathematics teaching efficacy, mathematics self-efficacy, and mathematical beliefs for elementary pre-service teachers. Issues in the Undergraduate Mathematics Preparation of School Teachers, 5, 1–10.

Brown, A. B. (2012). Non-traditional preservice teachers and their mathematics efficacy beliefs. School Science and Mathematics, 107, 237–245.

Bruce, C. D., Esmonde, I., Ross, J., Dookie, L., & Beatty, R. (2010). The effects of sustained classroom-embedded teacher professional learning on teacher efficacy and related student achievement. Teaching and Teacher Education: An International Journal of Research and Studies, 26(8), 1598–1608.

Caprara, G. V., Barnabelli, C., Steca, P., & Malone, P. S. (2006). Teachers' self-efficacy beliefs as determinants of job satisfaction and students' academic achievement: A study at the school level. Journal of School Psychology, 44(6), 473–490.

Carpenter, T., Fennema, E., & Franke, M. L. (1996). Cognitively guided instruction: A knowledge base for reform in primary mathematics instruction. The Elementary School Journal, 97(1), 3–20.

Cohen, J. (1992). A power primer. Psychological Bulletin, 112, 155–159.

Common Core State Standards Initiative (CCSSI). (2011). Common Core State Standards-Mathematics. Retrieved from http://corestandards.org.

Cramer, D., & Howitt, D. L. (2005). The SAGE dictionary of statistics: A practical resource for students in the social sciences (3rd Ed.). Thousand Oaks, CA: Sage.

Didax (2012). AMC anywhere. Retrieved from https://www.amcanywhere.com/.

Domsch, G. D. (2009). A study investigating relationships between elementary principals' and teachers' self-efficacy and student achievement. (Doctoral dissertation, Saint Louis University).

Garet, M., Porter, A., Desimone, L., Briman, B., & Yoon, K. (2001). What makes professional development effective? Analysis of a national sample of teachers. American Educational Research Journal, 38(4), 915–945.

Goddard, R. D., Hoy, W. K., & Hoy, A. W. (2000). Collective teacher efficacy: Its meaning, measure, and impact on student achievement. American Educational Research Journal, 37(2), 479–507.

Guskey, T. R. (2002). Does it make a difference? Evaluating professional development. Educational Leadership, 59(6), 45–51.

Hattie, J. (2011). Visible learning for teachers: Maximizing impact on learning. New York: Routledge.

Henningsen, M., & Stein, M. K. (1997). Mathematical tasks and student cognition: Classroom-based factors that support and inhibit high-level mathematical thinking and reasoning. Journal for Research in Mathematics Education, 28(5), 524–549.

Higgins, J., & Parsons, R. (2009). A successful professional development model in mathematics: A system-wide New Zealand case. Journal of Teacher Education, 60(3), 231–242.

Huinker, D. & Freckmann, J. (2009). Linking principles of formative assessment to classroom practice. Wisconsin Teacher of Mathematics, 60(2), 6–11.

Institute for Educational Sciences. (2009). Using student achievement data to support instructional decision making. Retrieved from http://ies.ed.gov/ncee/wwc/practiceguide.aspx?sid=12.

Joyner, J., & Muri, M. (2011). Informative assessment: Formative assessment to improve mathematics achievement, grades K-6. New York: Math Solutions.

Khan, S. (2012). The relationship between teachers' self-efficacy and students' academic achievement at secondary level. Language in India, 12(10), 436–449.

Loucks-Horsley, S., Love, N., Stiles, K. E., Mundry, S., & Hewson, P. W. (2009). Designing professional development for teachers of science and mathematics (3rd edn.). Thousand Oaks, CA: Corwin Press.

Math Perspectives. (2013). Assessing mathematics concepts anywhere (AMC anywhere). Retrieved from http://www.assessingmathconcepts.com/.

National Center for Educational Statistics (NCES). (2000). Pursuing excellence: Comparisons of international eighth-grade mathematics and science achievement from a U.S. perspective, 1995 and 1999. Retrieved from http://nces.ed.gov/pubsearch/pubsinfo.asp?pubid=2001028.

National Center for Educational Statistics. (2015). Trends in International Mathematics and Science Study. Retrieved from: https://nces.ed.gov/timss/.

National Council of Teachers of Mathematics (NCTM) (2014). Principles to action: Ensuring mathematical success for all. Reston, VA: Author.

National Partnership for Excellence and Accountability in Teaching (NPEAT). (2000). Revisioning professional development: What learner-centered professional development looks like. Oxford, OH: Author.

National Research Council. (2001). Adding it up: Helping children learn mathematics. In J. Kilpatrick, J. Swafford & B. Findell (Eds.), Mathematics learning study committee, center for education, division of behavioral and social sciences and education. Washington, DC: National Academy Press.

Organisation for Economic Cooperation and Development (OECD). (2012). Programme for international student assessment, United States. Retrieved from http://www.oecd.org/pisa/keyfindings/PISA-2012-results-US.pdf.

Papadakis, S., Kalogiannakis, M., & Zaranis, N. (2016). Improving mathematics teaching in kindergarten with realistic mathematical education. Early Childhood Education Journal. doi:10.1007/s10643-015-0768-4.

Polly, D., & Hannafin, M. J. (2010). Reexamining technology's role in learner-centered professional development. Educational Technology Research and Development, 58(5), 557–571. doi:10.1007/s11423-009-9146-5.

Polly, D., & Hannafin, M. J. (2011). Examining how learner-centered professional development influences teachers' espoused and enacted practices. Journal of Educational Research, 104, 120–130.

Polly, D., Martin, C. S., Wang, C., Lambert, R. G., & Pugalee, D. K. (2016). Primary grades teachers' instructional decisions during online mathematics professional development activities. Early Childhood Education Journal, 44(3), 275–287. doi:10.1007/s10643-015-0711-8.

Raudenbush, S. W., & Bryk, A. S. (2002). Hierarchical linear models: Applications and data analysis methods. Thousand Oaks, CA: Sage.

Richardson, K. (1999). Developing number concepts, book 1: Counting, comparing, and pattern. New York: Dale Seymour.

Russell, S. J. (2012). CCSSM: Keeping teaching and learning strong. Teaching Children Mathematics, 19(1), 50–56.

Shidler, L. (2009). The impact of time spent coaching for teacher efficacy on student achievement. Early Childhood Education Journal, 36(5), 453–460.

Sirin, S. R. (2005). Socioeconomic status and academic achievement: A meta-analytic review of research. Review of Educational Research, 75(3), 417–453.

Swan, M. (2007). The impact of task-based professional development on teachers' practices and beliefs: A design research study. Journal of Mathematics Teacher Education, 10(4–6), 217–237.

Thames, M. H. & Ball, D. L. (2010). What mathematical knowledge does teaching require? Knowing mathematics in and for teaching. Teaching Children Mathematics, 17(4), 220–225.

Tschannen-Moran, M., & Woolfolk Hoy, A. (2001). Teacher efficacy: Capturing an elusive construct. Teaching and Teacher Education, 17, 783–805.

U.S. Department of Education. (2008). The final report of the national mathematics advisory panel. Retrieved from http://www2.ed.gov/about/bdscomm/list/mathpanel/report/final-report.pdf.

Wiliam, D. (2007). What does research say the benefits of formative assessment are? National council of teachers of mathematics research brief. Retrieved from http://www.nctm.org/uploadedFiles/Research_News_and_Advocacy/Research/Clips_and_Briefs/Research_brief_05_-_Formative_Assessment.pdf.

Wiliam, D., & Thompson, M. (2007). Integrating assessment with instruction: What will it take to make it work?". In C. A. Dwyer (Ed.), The future of assessment: Shaping teaching and learning. Mahwah: Lawrence Erlbaum Associates.
Funding
This project is supported by a Mathematics Science Partnership grant from the North Carolina Department of Public Instruction.
Appendix A
Appendix A
Pre-Post-Teacher Practices Questionnaire
Name: ____________________________________________Grade________ Ethnicity__________
Years of experience in current grade level: ________ Gender ________ District ID ________ Indicate the frequency with which you think you utilize each of the following practices in your teaching by circling the number that corresponds with your response.
Practice
Almost never
Sometimes
Half the time
Most of the time
Almost always
1
Students learn through doing exercises
1
2
3
4
5
2
Students work on their own, consulting a neighbor from time to time
1
2
3
4
5
3
Students use only the methods I teach them
1
2
3
4
5
4
Students start with easy questions and work up to harder questions
1
2
3
4
5
5
Students choose which questions they tackle
1
2
3
4
5
6
I encourage students to work more slowly
1
2
3
4
5
7
Students compare different methods for doing questions
1
2
3
4
5
8
I teach each topic from the beginning, assuming they don't have any prior knowledge of the topic
1
2
3
4
5
9
I teach the whole class at once
1
2
3
4
5
10
I try to cover everything in a topic
1
2
3
4
5
11
I draw links between topics and move back and forth between topics
1
2
3
4
5
12
I am surprised by the ideas that come up in a lesson
1
2
3
4
5
13
I avoid students making mistakes by explaining things carefully first
1
2
3
4
5
14
I tend to follow the textbook or worksheets closely
1
2
3
4
5
15
Students learn through discussing their ideas
1
2
3
4
5
16
Students work collaboratively in pairs or small groups
1
2
3
4
5
17
Students invent their own methods
1
2
3
4
5
18
I tell students which questions to tackle
1
2
3
4
5
19
I only go through one method for doing each question
1
2
3
4
5
20
I find out which parts students already understand and don't teach those parts
1
2
3
4
5
21
I teach each student differently according to individual needs
1
2
3
4
5
22
I tend to teach each topic separately
1
2
3
4
5
23
I know exactly which topics each lesson will contain
1
2
3
4
5
24
I encourage students to make and discuss mistakes
1
2
3
4
5
25
I jump between topics as the need arises
1
2
3
4
5
|   | Goals | Poor | Fair | Good | Very well | Excellent |
| --- | --- | --- | --- | --- | --- | --- |
| 1 | How well can you collect student data? | 1 | 2 | 3 | 4 | 5 |
| 2 | How well can you analyze student data? | 1 | 2 | 3 | 4 | 5 |
| 3 | How well can you interpret student data? | 1 | 2 | 3 | 4 | 5 |
| 4 | How well can you plan instruction based on student data? | 1 | 2 | 3 | 4 | 5 |
| 5 | How well can you differentiate instruction based on student data? | 1 | 2 | 3 | 4 | 5 |
About this article
Cite this article
Polly, D., Wang, C., Martin, C. et al. The Influence of Mathematics Professional Development, School-Level, and Teacher-Level Variables on Primary Students' Mathematics Achievement. Early Childhood Educ J 46, 31–45 (2018). https://doi.org/10.1007/s10643-017-0837-y
Keywords
Elementary school

Mathematics

Formative assessment

Data-driven instruction

Assessment