Abstract
Phylogeographic pattern, genetic diversity, and historical demography of the endemic loach, Oxynoemacheilus persa, sampled from the endorheic Kor River and exorheic Persis basins in southern Iran, were analyzed using D-loop sequences of mitochondrial DNA. The sequence analysis of 53 specimens detected six haplotypes; all were related closely, yet some were highly localized. Hap_2 with high frequency was restricted to the Persis basin. The ancestral haplotype, Hap_1, was broadly distributed geographically among the Kor River basin populations. The rest of the haplotypes were shared between two populations from the Kor River basin (Hap_4 and Hap_5) or restricted to one of its populations (Hap_3 and Hap_6). AMOVA showed that 42.28% of total variation was related to differences among the basins, while inter- and intra-population differences explained 16.8% and 40.91%, respectively. The Mantel test indicated that the levels of genetic resemblance between populations are moderately dependent on geographic distance (r = 0.669, p = 0.008). All these clues imply that the Kor River and Persis basin populations of O. persa may qualify as two distinct management units. The implication is that contemporary gene flow among these basins has been low enough to have permitted lineage sorting and random drift to promote genetic divergence among these basins that nonetheless were in historical contact recently. The close phylogenetic relationships among other fishes, their previously inferred recent ages of divergence, and the patterns of affinity among them in the Persis and Kor River basins all suggest that these now isolated river systems were interconnected during the Last Glacial Maximum by a Paleo-Kor River and remained so until the sea-level rise of the Early Holocene.
This is a preview of subscription content, log in to check access.
Access options
Buy single article
Instant access to the full article PDF.
US$ 39.95
Tax calculation will be finalised during checkout.
Subscribe to journal
Immediate online access to all issues from 2019. Subscription will auto renew annually.
US$ 119
Tax calculation will be finalised during checkout.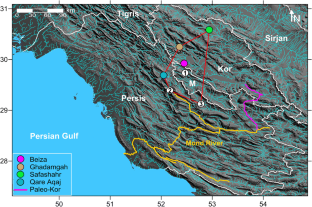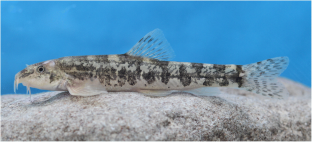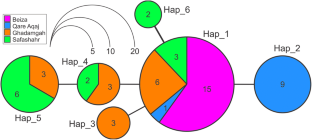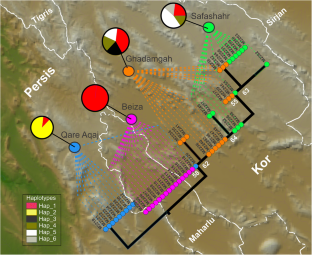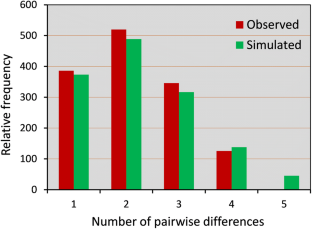 References
Adamson EA, Hurwood DA, Mather PB (2012) Insights into historical drainage evolution based on the phylogeography of the chevron snakehead fish (Channa striata) in the Mekong Basin. Freshwater Biol 57:2211–2229. https://doi.org/10.1111/j.1365-2427.2012.02864.x

Agnarsson I, Kuntner M, Anamthawat-Jónsson K (2012) Current topics in phylogenetics and phylogeography of terrestrial and aquatic systems. InTechOpen, London, UK

Aurelle D, Cattaneo-Berrebi G, Berrebi P (2002) Natural and artificial secondary contact in brown trout (Salmo trutta, L.) in the French western Pyrenees assessed by allozymes and microsatellites. Heredity 89:171–183. https://doi.org/10.1038/sj.hdy.6800120

Avise JC (2000) Phylogeography: the history and formation of species. Harvard University Press, Cambridge, Massachusetts

Avise JC (2009) Phylogeography: retrospect and prospect. J Biogeogr 36:3–15. https://doi.org/10.1111/j.1365-2699.2008.02032.x

Avise JC (2012) Molecular markers, natural history and evolution. Springer US

Avise JC, Wollenberg K (1997) Phylogenetics and the origin of species. Proc Natl Acad Sci U S A 94:7748–7755. https://doi.org/10.1073/pnas.94.15.7748

Banarescu P, Nalbant T (1967) The 3rd Danish expedition to Central Asia. Zoological Results 34. Cobitidae (Pisces) from Afghanistan and Iran. Videnskabelige Meddelelser fra Dansk naturhistorisk Forening 129:149–186

Banarescu PM (1995) A generical classification of Nemacheilinae with description of two new genera (Teleostei: Cypriniformes: Cobitidae). Travaux du Muséum National d'Histoire Naturelle "Grigore Antipa" 35:429–496

Bernatchez L, Wilson CC (1998) Comparative phylogeography of nearctic and palearctic fishes. Mol Ecol 7:431–452. https://doi.org/10.1046/j.1365-294x.1998.00319.x

Bouzat JL (2010) Conservation genetics of population bottlenecks: the role of chance, selection, and history. Conserv Genet 11:463–478. https://doi.org/10.1007/s10592-010-0049-0

Briggs JC (2003) Fishes and birds: Gondwana life rafts reconsidered. Syst Biol 52:548–553

Bruford MW, Hanotte O, Brookfield JFY, Burke TA (1992) Single locus and multilocus DNA fingerprinting. In: Hoezel C (ed) Molecular genetics analysis of populations: a practical approach. Oxford University Press, New York, pp 225–269

Coltman DW, Pilkington JG, Smith JA, Pemberton JM (1999) Parasite-mediated selection against inbred soay sheep in a free-living island populaton. Evolution 53:1259–1267. https://doi.org/10.1111/j.1558-5646.1999.tb04538.x

Darriba D, Taboada GL, Doallo R, Posada D (2012) jModelTest 2: more models, new heuristics and parallel computing. Nat Methods 9:772. https://doi.org/10.1038/nmeth.2109

Davis CD, Epps CW, Flitcroft RL, Banks MA (2018) Refining and defining riverscape genetics: how rivers influence population genetic structure. WIREs Water 5:e1269. https://doi.org/10.1002/wat2.1269

Dixon P (2003) VEGAN, a package of R functions for community ecology. J Veg Sci 14:927–930. https://doi.org/10.1111/j.1654-1103.2003.tb02228.x

Donaldson KA, Wilson RR (1999) Amphi-panamic geminates of snook (Percoidei: Centropomidae) provide a calibration of the divergence rate in the mitochondrial DNA control region of fishes. Mol Phylogenet Evol 13:208–213. https://doi.org/10.1006/mpev.1999.0625

Ehrlich PR (1991) Biodiversity studies: science and policy. Science 253:758–762. https://doi.org/10.1126/science.253.5021.758

England PR, Osler GHR, Woodworth LM, Montgomery ME, Briscoe DA, Frankham R (2003) Effects of intense versus diffuse population bottlenecks on microsatellite genetic diversity and evolutionary potential. Conserv Genet 4:595–604. https://doi.org/10.1023/A:1025639811865

Ersts PJ (2012) Geographic distance matrix generator (version 1.2.3). American Museum of Natural History, Center for Biodiversity and Conservation. http://biodiversityinformatics.amnh.org/open_source/gdmg/. Accessed 2 May 2019

Esmaeili HR, Babai S, Gholamifard A, Pazira A, Gholamhosseini A (2015) Fishes of the Persis region of Iran: an updated checklist and ichthyogeography. Iran J Ichthyol 2:201–222

Esmaeili HR, Gholamifard A, Teimori A, Baghbani S, Coad BW (2010) Xiphophorus hellerii Heckel, 1848 (Cyprinodontiformes, Poeciliidae), a newly introduced fish recorded from natural freshwaters of Iran. J Appl Ichthyol 26:937–938. https://doi.org/10.1111/j.1439-0426.2010.01515.x

Esmaeili HR, Mehraban H, Abbasi K, Keivany Y, Coad BW (2017) Review and updated checklist of freshwater fishes of Iran: taxonomy, distribution and conservation status. Iran J Ichthyol 4:1–114

Esmaeili HR, Sayyadzadeh G, Eagderi S, Abbasi K (2018) Checklist of freshwater fishes of Iran. FishTaxa 3(3):1–95

Esmaeili HR, Teimori A, Sayyadzadeh G, Masoudi M, Reichenbacher B (2014) Phylogenetic relationships of the tooth-carp Aphanius (Teleostei: Cyprinodontidae) in the river systems of southern and south-western Iran based on mtDNA sequences. Zool Middle East 60:29–38. https://doi.org/10.1080/09397140.2014.892329

Esmaeili HR, Teimory A, Khosravi AR (2008) A note on the biodiversity of Ghadamgah spring–stream system in Fars province, southwest Iran. Iran J Anim Biosyst 3:25–36

Ewing GB (2011) Haploviewer. Center for Integrative Bioinformatics Vienna. http://www.cibiv.at/~greg/haploviewer. Accessed 5 May 2019

Excoffier L (2004) Patterns of DNA sequence diversity and genetic structure after a range expansion: lessons from the infinite-island model. Mol Ecol 13:853–864. https://doi.org/10.1046/j.1365-294X.2003.02004.x

Excoffier L, Lischer HEL (2010) Arlequin suite ver 3.5: a new series of programs to perform population genetics analyses under Linux and Windows. Mol Ecol Resour 10:564–567. https://doi.org/10.1111/j.1755-0998.2010.02847.x

Excoffier L, Smouse PE, Quattro JM (1992) Analysis of molecular variance inferred from metric distances among DNA haplotypes: application to human mitochondrial DNA restriction data. Genetics 131:479–491

Frankham R (2005) Genetics and extinction. Biol Conserv 126:131–140. https://doi.org/10.1016/j.biocon.2005.05.002

Frankham R, Briscoe DA, Ballou JD (2002) Introduction to conservation genetics. Cambridge University Press, Cambridge

Freyhof J, Erk'akan F, Özeren C, Perdices A (2011) An overview of the western Palaearctic loach genus Oxynoemacheilus (Teleostei: Nemacheilidae). Ichthyol Explor Fres 22:301–312

Fu YX (1997) Statistical tests of neutrality of mutations against population growth, hitchhiking and background selection. Genetics 147:915–925

Geraghty PT, Williamson JE, Macbeth WG, Wintner SP, Harry AV, Ovenden JR, Gillings MR (2013) Population expansion and genetic structure in Carcharhinus brevipinna in the southern Indo-Pacific. PLoS One 8:e75169. https://doi.org/10.1371/journal.pone.0075169

Gholami Z, Esmaeili HR, Erpenbeck D, Reichenbacher B (2014) Phylogenetic analysis of Aphanius from the endorheic Kor River Basin in the Zagros Mountains, South-western Iran (Teleostei: Cyprinodontiformes: Cyprinodontidae). J Zoolog Syst Evol Res 52:130–141. https://doi.org/10.1111/jzs.12052

Gonzalez EG, Pedraza-Lara C, Doadrio I (2014) Genetic diversity and population history of the endangered killifish Aphanius baeticus. J Hered 105:597–610. https://doi.org/10.1093/jhered/esu034

Grant WAS, Bowen BW (1998) Shallow population histories in deep evolutionary lineages of marine fishes: insights from sardines and anchovies and lessons for conservation. J Hered 89:415–426. https://doi.org/10.1093/jhered/89.5.415

Hall TA (1999) BioEdit: a user-friendly biological sequence alignment editor and analysis program for Windows 95/98/NT. Nucleic Acids Symp Ser 41:95–98

Hare MP (1998) Using mitochondrial DNA gene trees and nuclear RFLPs to predict genealogical patterns at nuclear loci: examples from the American oyster. In: Proceedings of the Trinational Workshop on Molecular Evolution. Duke Publishing Group, Durham, NC, pp 125–130

Heckel JJ (1847) Die Fische Persiens gesammelt von Theodor Kotschy. In: Russegger J (ed) Reisen in Europa, Asien und Afrika, mit besonderer Rücksicht auf die naturwissenschaftlichen Verhältnisse der betreffenden Länder, unternommen in den Jahren; unternommen in den Jahren 1835 bis 1841. E. Schweizerbart'sche Verlagshandlung, Stuttgart, pp 255–272

Hedrick PW, Fredrickson R (2010) Genetic rescue guidelines with examples from Mexican wolves and Florida panthers. Conserv Genet 11:615–626. https://doi.org/10.1007/s10592-009-9999-5

Hurvich CM, Tsai C-L (1989) Regression and time series model selection in small samples. Biometrika 76:297–307. https://doi.org/10.1093/biomet/76.2.297

Husemann M, Ray JW, King RS, Hooser EA, Danley PD (2012) Comparative biogeography reveals differences in population genetic structure of five species of stream fishes. Biol J Linn Soc 107:867–885. https://doi.org/10.1111/j.1095-8312.2012.01973.x

Ihaka R, Gentleman R (1996) R: a language for data analysis and graphics. J Comput Graph Stat 5:299–314. https://doi.org/10.1080/10618600.1996.10474713

Khaefi R, Esmaeili HR, Ansari MH, Ebrahimi M (2018) Genetic diversification and population structure of Barbus cyri De Filippi, 1865 (Teleostei: Cyprinidae) in northern Iran inferred from the mitochondrial D-loop gene sequence. Environ Biol Fishes 101:181–192. https://doi.org/10.1007/s10641-017-0690-2

Kingman JFC (1982) The coalescent. Stoch Proc Appl 13:235–248. https://doi.org/10.1016/0304-4149(82)90011-4

Kumar S, Stecher G, Tamura K (2016) MEGA7: molecular evolutionary genetics analysis version 7.0 for bigger datasets. Mol Biol Evol 33:1870–1874. https://doi.org/10.1093/molbev/msw054

Li WH (1997) Molecular evolution. Sinauer Associates Inc, Sunderland, Massachusetts

Librado P, Rozas J (2009) DnaSP v5: a software for comprehensive analysis of DNA polymorphism data. Bioinformatics 25:1451–1452. https://doi.org/10.1093/bioinformatics/btp187

Lowe WH, Allendorf FW (2010) What can genetics tell us about population connectivity? Mol Ecol 19:3038–3051. https://doi.org/10.1111/j.1365-294X.2010.04688.x

Madsen T, Shine R, Olsson M, Wittzell H (1999) Conservation biology: restoration of an inbred adder population. Nature 402:34–35. https://doi.org/10.1038/46941

Mantel N (1967) The detection of disease clustering and a generalized regression approach. Cancer Res 27:209–220

Markert JA, Champlin DM, Gutjahr-Gobell R, Grear JS, Kuhn A, McGreevy TJ, Roth A, Bagley MJ, Nacci DE (2010) Population genetic diversity and fitness in multiple environments. BMC Evol Biol 10:205. https://doi.org/10.1186/1471-2148-10-205

Moritz C (1994a) Applications of mitochondrial DNA analysis in conservation: a critical review. Mol Ecol 3:401–411. https://doi.org/10.1111/j.1365-294X.1994.tb00080.x

Moritz C (1994b) Defining 'evolutionarily significant units' for conservation. Trends Ecol Evol 9:373–375. https://doi.org/10.1016/0169-5347(94)90057-4

Moritz C (1995) Uses of molecular phylogenies for conservation. Philos Trans R Soc Lond B Biol Sci 349:113–118. https://doi.org/10.1098/rstb.1995.0097

Moritz C, Dowling T, Brown W (1987) Evolution of animal mitochondrial DNA: relevance for population biology and systematics. Annu Rev Ecol Evol Syst 18:269–292. https://doi.org/10.1146/annurev.es.18.110187.001413

Nalbant TT, Bianco PG (1998) The loaches of Iran and adjacent regions with description of six new species (Cobitoidea). Ital J Zool 65:109–123. https://doi.org/10.1080/11250009809386803

Palsbøll PJ, Berube M, Allendorf FW (2007) Identification of management units using population genetic data. Trends Ecol Evol 22:11–16. https://doi.org/10.1016/j.tree.2006.09.003

Parks DH, Mankowski T, Zangooei S, Porter MS, Armanini DG, Baird DJ, Langille MGI, Beiko RG (2013) GenGIS 2: geospatial analysis of traditional and genetic biodiversity, with new gradient algorithms and an extensible plugin framework. PLoS One 8:e69885. https://doi.org/10.1371/journal.pone.0069885

Posada D, Crandall KA (2001) Intraspecific gene genealogies: trees grafting into networks. Trends Ecol Evol 16:37–45. https://doi.org/10.1016/S0169-5347(00)02026-7

Ralls K, Ballou JD, Templeton A (1988) Estimates of lethal equivalents and the cost of inbreeding in mammals. Conserv Biol 2:185–193. https://doi.org/10.1111/j.1523-1739.1988.tb00169.x

Rambaut A, Drummond AJ (2012) FigTree version 1.4.0. Institute of Evolutionary Biology, University of Edinburgh. http://tree.bio.ed.ac.uk/. Accessed 14 August 2019

Ramos-Onsins SE, Rozas J (2002) Statistical properties of new neutrality tests against population growth. Mol Biol Evol 19:2092–2100. https://doi.org/10.1093/oxfordjournals.molbev.a004034

Ray N, Currat M, Excoffier L (2003) Intra-deme molecular diversity in spatially expanding populations. Mol Biol Evol 20:76–86. https://doi.org/10.1093/molbev/msg009

Rogers AR, Harpending H (1992) Population growth makes waves in the distribution of pairwise genetic differences. Mol Biol Evol 9:552–569. https://doi.org/10.1093/oxfordjournals.molbev.a040727

Rousset F (1997) Genetic differentiation and estimation of gene flow from F-statistics under isolation by distance. Genetics 145:1219–1228

Saccheri I, Kuussaari M, Kankare M, Vikman P, Fortelius W, Hanski I (1998) Inbreeding and extinction in a butterfly metapopulation. Nature 392:491–494. https://doi.org/10.1038/33136

Sayyadzadeh G (2019) Phylogeny of loach fishes (Teleostei: Cobitoidea) in Iran. Shiraz University, PhD. Dissertation

Sayyadzadeh G, Esmaeili HR, Eagderi S (2018) Re-description and molecular systematics of Paraschistura delvarii (Teleostei: Nemacheilidae). Biharean Biol 12:40–47

Slatkin M (1993) Isolation by distance in equilibrium and non-equilibrium populations. Evolution 47:264–279

Stamatakis A (2014) RAxML version 8: a tool for phylogenetic analysis and post-analysis of large phylogenies. Bioinformatics 30:1312–1313. https://doi.org/10.1093/bioinformatics/btu033

Tajima F (1989) Statistical method for testing the neutral mutation hypothesis by DNA polymorphism. Genetics 123:585–595

Teimori A, Esmaeil HR, Gholamhosseini A (2011) The ichthyofauna of Kor and Helleh River basins in southwest of Iran with reference to taxonomic and zoogeographic features of native fishes. Iran J Anim Biosyst 6:1–8

Templeton AR (2008) Nested clade analysis: an extensively validated method for strong phylogeographic inference. Mol Ecol 17:1877–1880. https://doi.org/10.1111/j.1365-294X.2008.03731.x

Untergasser A, Cutcutache I, Koressaar T, Ye J, Faircloth BC, Remm M, Rozen SG (2012) Primer3—new capabilities and interfaces. Nucleic Acids Res 40:e115–e115. https://doi.org/10.1093/nar/gks596

Wright S (1943) Isolation by distance. Genetics 28:114–138

Xian Liu J, Gao T, Yokogawa K, Zhang Y (2006) Differential population structure and demographic history of two closely related and species, Japanese seabass (Lateolabrax japonicas) in the northwestern Pacific. Mol Phylogenet Evol 39:799–811. https://doi.org/10.1016/j.ympev.2006.01.009
Acknowledgments
We are grateful to M. Masoudi and S. Echreshavi for helping with fish collection and Dr. M. Ansari for helping with primer design. We also thank three anonymous reviewers for their helpful comments and technical advices, which greatly improved the manuscript. The research work was approved by Ethics Committee of Biology Department, Shiraz University (ECBD-SU-9233856).
Funding
We would like to thank the Fars Environment Department (grant number 97/500/7931) and Shiraz University for funding this research.
Additional information
Publisher's note
Springer Nature remains neutral with regard to jurisdictional claims in published maps and institutional affiliations.
About this article
Cite this article
Esmaeili, H.R., Sayyadzadeh, G., Zarei, F. et al. Phylogeographic pattern and population structure of the Persian stone loach, Oxynoemacheilus persa (Heckel 1847) (family: Nemacheilidae) in southern Iran with implications for conservation. Environ Biol Fish 103, 77–88 (2020). https://doi.org/10.1007/s10641-019-00934-y
Received:

Accepted:

Published:

Issue Date:
Keywords
mtDNA

Endemic loach

Genetic structure

Genetic diversification

Historical demography