Summary
KRAS wild-type colorectal cancers initially responsive to anti-endothelial growth factor receptor (EGFR) antibodies [cetuximab (Cetu)/panitumumab (Pani)] develop acquired resistance. Overexpression of EGFR ligands such as heparin-binding EGF-like growth factor (HB-EGF) may be one resistance mechanism. This phase I study of U3-1565, anti-HB-EGF antibody, and Cetu combination therapy enrolled patients with KRAS wild-type metastatic colorectal cancer who had received two ≤ regimens with fluoropyrimidine, oxaliplatin, irinotecan, and Cetu/Pani and had disease progression on Cetu/Pani. Recommended dose (RD) was determined in the 1st stage, followed by evaluation of efficacy at the RD level in the 2nd-stage. Cetu was given at a loading dose of 400 mg/m2 followed by weekly infusions of 250 mg/m2 in levels 1 and 0. U3-1565 was administered at a loading dose of 24 mg/m2 followed by biweekly infusions of 16 mg/m2 in level 1 and 16–12 mg/m2 in level 0. Twenty-two patients were enrolled. No dose-limiting toxicities were observed among three patients in level 1 in the first stage, which was determined as RD. Grade 3 or higher adverse events occurred in 59.1%; those in ≥5% of patients were anemia, γ-GTP elevation, and acneiform rash. Overall response rate was 0.0% [95% confidence interval (CI): 0.0%–15.4%] and disease control was achieved in 17 patients (77.3%, 95% CI: 54.6%–92.2%). Median progression-free survival time was 85.0 days (95% CI: 54.0–91.0) and median survival time was 196 days (95% CI: 113.0–306.0). RD was determined as level 1. The efficacy of this combination therapy after progression on Cetu/Pani was negligible. Trial Registration: UMIN000013006.
Access options
Buy single article
Instant access to the full article PDF.
USD 39.95
Price includes VAT (USA)
Tax calculation will be finalised during checkout.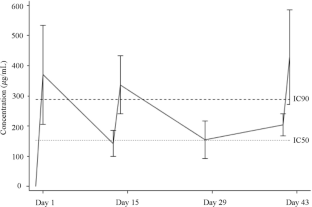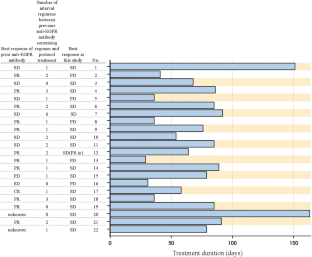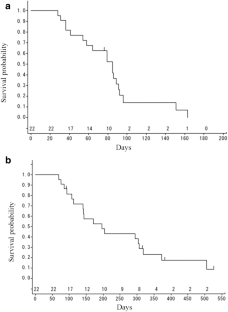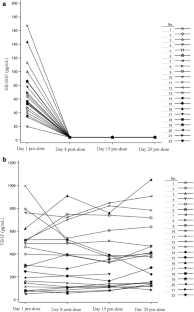 References
1.

Ferlay J, Soerjomataram I, Ervik M et al (2012) GLOBOCAN 2012: estimated cancer incidence, mortality and prevalence worldwide in 2012. International Agency for Research on Cancer, Lyon

2.

Stintzing S, Modest DP, Rossius L, Lerch MM, von Weikersthal LF, Decker T, Kiani A, Vehling-Kaiser U, al-Batran SE, Heintges T, Lerchenmüller C, Kahl C, Seipelt G, Kullmann F, Stauch M, Scheithauer W, Held S, Giessen-Jung C, Moehler M, Jagenburg A, Kirchner T, Jung A, Heinemann V (2016) FOLFIRI plus cetuximab versus FOLFIRI plus bevacizumab for metastatic colorectal cancer (FIRE-3): a post-hoc analysis of tumour dynamics in the final RAS wild-type subgroup of this randomised open-label phase 3 trial. Lancet Oncol 17:1426–1434

3.

Yamazaki K, Nagase M, Tamagawa H, Ueda S, Tamura T, Murata K, Eguchi Nakajima T, Baba E, Tsuda M, Moriwaki T, Esaki T, Tsuji Y, Muro K, Taira K, Denda T, Funai S, Shinozaki K, Yamashita H, Sugimoto N, Okuno T, Nishina T, Umeki M, Kurimoto T, Takayama T, Tsuji A, Yoshida M, Hosokawa A, Shibata Y, Suyama K, Okabe M, Suzuki K, Seki N, Kawakami K, Sato M, Fujikawa K, Hirashima T, Shimura T, Taku K, Otsuji T, Tamura F, Shinozaki E, Nakashima K, Hara H, Tsushima T, Ando M, Morita S, Boku N, Hyodo I (2016) Randomized phase III study of bevacizumab plus FOLFIRI and bevacizumab plus mFOLFOX6 as first-line treatment for patients with metastatic colorectal cancer (WJOG4407G). Ann Oncol 27:1539–1546

4.

Yoshino T, Arnold D, Taniguchi H, Pentheroudakis G, Yamazaki K, Xu RH, Kim TW, Ismail F, Tan IB, Yeh KH, Grothey A, Zhang S, Ahn JB, Mastura MY, Chong D, Chen LT, Kopetz S, Eguchi-Nakajima T, Ebi H, Ohtsu A, Cervantes A, Muro K, Tabernero J, Minami H, Ciardiello F, Douillard JY (2018) Pan-Asian adapted ESMO consensus guidelines for the management of patients with metastatic colorectal cancer: a JSMO-ESMO initiative endorsed by CSCO, KACO, MOS, SSO and TOS. Ann Oncol 29:44–70

5.

National Comprehensive Cancer Network (2018) NCCN clinical practice guidelines in oncology: colon cancer (version 4). NCCN. https://www.nccn.org/professionals/physician_gls/. Accessed 16 Apr 2019

6.

Santini D, Vincenzi B, Addeo R, Garufi C, Masi G, Scartozzi M, Mancuso A, Frezza AM, Venditti O, Imperatori M, Schiavon G, Bronte G, Cicero G, Recine F, Maiello E, Cascinu S, Russo A, Falcone A, Tonini G (2012) Cetuximab rechallenge in metastatic colorectal cancer patients: how to come away from acquired resistance. Ann Oncol 23:2313–2318

7.

Boeckx C, Baay M, Wouters A, Specenier P, Vermorken JB, Peeters M, Lardon F (2013) Anti-epidermal growth factor receptor therapy in head and neck squamous cell carcinoma: focus on potential molecular mechanisms of drug resistance. Oncologist 18:850–864

8.

Hatakeyama H, Cheng H, Wirth P, Counsell A, Marcrom SR, Wood CB, Pohlmann PR, Gilbert J, Murphy B, Yarbrough WG, Wheeler DL, Harari PM, Guo Y, Shyr Y, Slebos RJ, Chung CH (2010) Regulation of heparin-binding EGF-like growth factor by miR-212 and acquired cetuximab-resistance in head and neck squamous cell carcinoma. PLoS One 5:e12702. https://doi.org/10.1371/journal.pone.0012702

9.

Li C, Iida M, Dunn EF, Ghia AJ, Wheeler DL (2009) Nuclear EGFR contributes to acquired resistance to cetuximab. Oncogene 28:3801–3813

10.

Yoshida M, Shimura T, Sato M, Ebi M, Nakazawa T, Takeyama H, Joh T (2013) A novel predictive strategy by immunohistochemical analysis of four EGFR ligands in metastatic colorectal cancer treated with anti-EGFR antibodies. J Cancer Res Clin Oncol 139:367–378

11.

Pfeil I, aus dem Siepen P, Wagner T et al. (2012) U3–1565, a fully human anti-HB-EGF monoclonal antibody, inhibits oncogenic signaling and tumor cell growth in vitro and in vivo. In: AACR 103rd Annual Meeting. Chicago

12.

Moore KN, Bendell JC, LoRusso PM et al (2018) First-in-human study of the anti-HB-EGF antibody U3-1565 in subjects with advanced solid tumors. Investig New Drugs 37:147–158. https://doi.org/10.1007/s10637-018-0646-1

13.

Eisenhauer EA, Therasse P, Bogaerts J, Schwartz LH, Sargent D, Ford R, Dancey J, Arbuck S, Gwyther S, Mooney M, Rubinstein L, Shankar L, Dodd L, Kaplan R, Lacombe D, Verweij J (2009) New response evaluation criteria in solid tumours: revised RECIST guideline (version 1.1). Eur J Cancer 45:228–247

14.

Therasse P, Arbuck SG, Eisenhauer EA, Wanders J, Kaplan RS, Rubinstein L, Verweij J, van Glabbeke M, van Oosterom AT, Christian MC, Gwyther SG (2000) New guidelines to evaluate the response to treatment in solid tumors. European Organization for Research and Treatment of Cancer, National Cancer Institute of the United States, National Cancer Institute of Canada. J Natl Cancer Inst 92:205–216

15.

Harbison CT, Horak CE, Ledeine JM, Mukhopadhyay P, Malone DP, O'Callaghan C, Jonker DJ, Karapetis CS, Khambata-Ford S, Gustafson N, Trifan OC, Chang SC, Ravetto P, IV GAG (2013) Validation of companion diagnostic for detection of mutations in codons 12 and 13 of the KRAS gene in patients with metastatic colorectal cancer: analysis of the NCIC CTG CO.17 trial. Arch Pathol Lab Med 137:820–827

16.

Van Cutsem E, Peeters M, Siena S et al (2007) Open-label phase III trial of panitumumab plus best supportive care compared with best supportive care alone in patients with chemotherapy-refractory metastatic colorectal cancer. J Clin Oncol 25:1658–1664

17.

Yuki S, Komatsu Y, Muranaka T, Harada K, Sugiyama J, Tsuji Y, Ando T, Hosokawa A, Hatanaka K, Naruse H, Takahata T, Sato A, Kobayashi Y, Miyagishima T, Okuda H, Kudo M, Nakamura M, Hisai H, Sakamoto N, Sakata Y (2016) Phase II trial of panitumumab monotherapy for patients with KRAS exon2 wild type colorectal cancer after progression on cetuximab. HGCSG1101. Ann Oncol 27:149–206. https://doi.org/10.1093/annonc/mdw370.45

18.

Tsuji A, Eto T, Masuishi T, Satake H, Segawa Y, Tanioka H, Hara H, Kotaka M, Sagawa T, Watanabe T, Nakamura M, Takahashi T, Negoro Y, Manaka D, Fujita H, Suto T, Ichikawa W, Fujii M, Takeuchi M, Nakajima T (2016) Phase II study of third-line cetuximab rechallenge in patients with metastatic wild-type K-RAS colorectal cancer who achieved a clinical benefit in response to first-line cetuximab plus chemotherapy (JACCRO CC-08). Ann Oncol 27:149–206. https://doi.org/10.1093/annonc/mdw370.58

19.

Nakai K, Yoneda K, Moriue T, Igarashi J, Kosaka H, Kubota Y (2009) HB-EGF-induced VEGF production and eNOS activation depend on both PI3 kinase and MAP kinase in HaCaT cells. J Dermatol Sci 55:170–178

20.

Zhao B, Wang L, Qiu H et al (2017) Mechanisms of resistance to anti-EGFR therapy in colorectal cancer. Oncotarget 8:3980–4000

21.

Bardelli A, Corso S, Bertotti A, Hobor S, Valtorta E, Siravegna G, Sartore-Bianchi A, Scala E, Cassingena A, Zecchin D, Apicella M, Migliardi G, Galimi F, Lauricella C, Zanon C, Perera T, Veronese S, Corti G, Amatu A, Gambacorta M, Diaz LA Jr, Sausen M, Velculescu VE, Comoglio P, Trusolino L, di Nicolantonio F, Giordano S, Siena S (2013) Amplification of the MET receptor drives resistance to anti-EGFR therapies in colorectal cancer. Cancer Discov 3:658–673

22.

Reidy DL, Vakiani E, Fakih MG, Saif MW, Hecht JR, Goodman-Davis N, Hollywood E, Shia J, Schwartz J, Chandrawansa K, Dontabhaktuni A, Youssoufian H, Solit DB, Saltz LB (2010) Randomized, phase II study of the insulin-like growth factor-1 receptor inhibitor IMC-A12, with or without cetuximab, in patients with cetuximab- or panitumumab-refractory metastatic colorectal cancer. J Clin Oncol 28:4240–4246

23.

Montagut C, Argilés G, Ciardiello F, Poulsen TT, Dienstmann R, Kragh M, Kopetz S, Lindsted T, Ding C, Vidal J, Clausell-Tormos J, Siravegna G, Sánchez-Martín FJ, Koefoed K, Pedersen MW, Grandal MM, Dvorkin M, Wyrwicz L, Rovira A, Cubillo A, Salazar R, Desseigne F, Nadal C, Albanell J, Zagonel V, Siena S, Fumi G, Rospo G, Nadler P, Horak ID, Bardelli A, Tabernero J (2018) Efficacy of Sym004 in patients with metastatic colorectal cancer with acquired resistance to anti-EGFR therapy and molecularly selected by circulating tumor DNA analyses: a phase 2 randomized clinical trial. JAMA Oncol 4:e175245. https://doi.org/10.1001/jamaoncol.2017.5245

24.

Jia J, Morse MA, Nagy RJ, Lanman RB, Strickler JH (2018) Cell-free DNA profiling to discover mechanisms of exceptional response to cabozantinib plus panitumumab in a patient with treatment refractory metastatic colorectal cancer. Front Oncol 8:305. https://doi.org/10.3389/fonc.2018.00305
Funding
This study was funded by Daiichi Sankyo Co., Ltd.
Ethics declarations
Conflict of interest
Takako Eguchi Nakajima, Narikazu Boku and Yu Sunakawa received honoraria or consultation fees from Merck Serono. The other authors declare no potential conflicts of interests.
Ethical approval
All procedures performed in studies involving human participants were in accordance with the ethical standards of the institutional review board and with the 1964 Helsinki declaration and its later amendments, and the Japanese Good Clinical Practice guidelines.
Informed consent
Informed consent was obtained from all individual participants included in the study.
Additional information
Publisher's note
Springer Nature remains neutral with regard to jurisdictional claims in published maps and institutional affiliations.
Electronic supplementary material
About this article
Cite this article
Nakajima, T.E., Boku, N., Doi, A. et al. Phase I study of the anti-heparin-binding epidermal growth factor-like growth factor antibody U3-1565 with cetuximab in patients with cetuximab- or panitumumab-resistant metastatic colorectal cancer. Invest New Drugs 38, 410–418 (2020). https://doi.org/10.1007/s10637-019-00782-8
Received:

Accepted:

Published:

Issue Date:
Keywords
Anti-HB-EGF antibody

Cetuximab re-challenge

Colorectal cancer

Phase I

U3-1565