Abstract
This paper investigated the vulnerability of the agriculture sector and rural agriculture livelihoods in the Bicol River Basin (BRB) of the Philippines to projected changes in climate. The geographical characteristics of the BRB feature eight major sub-basins or watersheds consisting of Libmanan-Pulantuna, Ragay Hills, Thiris, Naga-Yabo, Pawili River, Waras-Lalo, Naporog, and Quinali. The study applied the combination of the participatory tools and the Climate Risk Vulnerability Assessment (CRVA) framework to gather information on local climate vulnerabilities and contexts. Briefly, the CRVA employed geospatial modeling and utilized several indicators which are presumed to affect vulnerability including exposure, sensitivity, and adaptive capacity which were aggregated to provide an index of vulnerability. This enabled us to identify areas of exposure and vulnerability and pointed areas of greatest need for strengthened adaptive capacity and risk management. Our findings revealed that vulnerability in the BRB was perceived to be relatively prevalent and that typhoons, flooding, and drought were identified to contribute significant impacts to rural livelihood. Furthermore, our findings in the CRVA suggested significant regional differences in vulnerability in the BRB. The majority of the towns in the central and northwestern portions of the BRB will largely experience increased vulnerability, particularly, in the Thiris sub-basin including some parts of Ragay Hills, Waras-Lalo, and the northwestern Libmanan-Pulantuna sub-basins. On the contrary, the entire Quinali region on the south is revealed to have the lowest vulnerability index. The clear policy implication of these accounts will be on how to mobilize developmental thrusts in both areas of disaster risk reduction and climate change adaptation at the sub-national level to reinforce local-based climate priority setting in adaptation interventions and policies.
Access options
Buy single article
Instant access to the full article PDF.
US$ 39.95
Tax calculation will be finalised during checkout.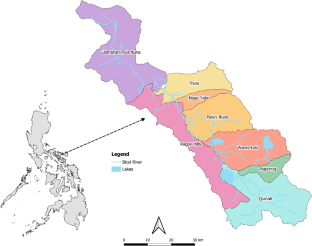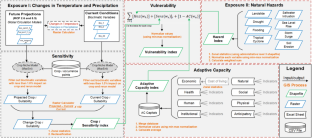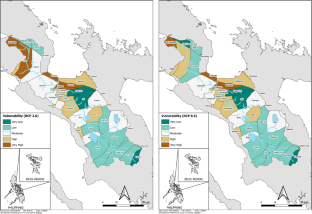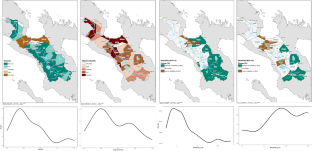 Data availability
The data are provided as supplementary material. Quantitative data for the climate and crop simulation are available from the corresponding author on request, subject to institutional approval.
References
Abon CC, David CPC, Tabios GQ (2012) Community-based monitoring for flood early warning system. Disaster Prev Manag 21(1):85–96

Acheampong EN, Ozor N, Owusu ES (2014) Vulnerability assessment of northern Ghana to climate variability. Clim Chang 126(1–2):31–44

Adger WN, Agrawal S, Mirza MMW, Conde C, O'brien KL, Pulhin J et al (2007) Assessment of adaptation practices, options, constraints and capacity. In Climate Change 2007: Impacts, Adaptation, and Vulnerability. Contribution of Working Group II to the Fourth Assessment Report of the Intergovernmental Panel on Climate Change [Parry ML, Canziani OF , Palutikof JP, van der Linden PJ, Hanson CE (eds.)]. Cambridge University Press, Cambridge, UK, pp 717–743

Alam SA, Starr M (2013) Impacts of climate change on savannah woodland biomass carbon density and water-use: a modelling study of the Sudanese gum belt region. Mitig Adapt Strateg Glob Chang 18(7):979–999

Alberto MCR, Hirano T, Miyata A, Wassmann R, Kumar A, Padre A, Amante M (2012) Influence of climate variability on seasonal and interannual variations of ecosystem CO2 exchange in flooded and non-flooded rice fields in the Philippines. Field Crop Res 134:80–94

Baca M, Läderach P, Haggar J, Schroth G, Ovalle O (2014) An integrated framework for assessing vulnerability to climate change and developing adaptation strategies for coffee growing families in Mesoamerica. PLoS One 9(2):e88463

Buchner BK, Oliver P, Wang X, Carswell C, Meattle C, Mazza F (2017) Global landscape of climate finance 2017. Climate Policy Initiative. Available: https://climatepolicyinitiative.org/wp-content/uploads/2017/10/2017-Global-Landscape-of-Climate-Finance.pdf

Carating RB, Galanta RG, Bacatio CD (2014) The soils of the lowlands. In: In the soils of the Philippines. Springer, Dordrecht, pp 51–106

Daze A, Ambrose K, Ehrhart C (2009) Climate vulnerability and capacity analysis-handbook. CARE International. Available: http://www.careclimatechange.org

Department of Agriculture (DA) (2017) 2017 Annual Report. Department of Agriculture Regional Field Office 5 Planning, Monitoring & Evaluation Division. Pili, Camarines Sur. Retrieved from http://bicol.da.gov.ph/rfo5newweb/wpcontent/uploads/2019/02/DA-RFO-5-Annual-Report-2017-web.pdf

Department of Environment and Natural Resources (DENR) (2015) Formulation of an integrated Bicol River basin management and development master plan executive summary Vol. 1. Department of Environment and Natural Resources, Naga City. Retrieved from https://rbco.denr.gov.ph/masterplans/bicolexecutivesummary.pdf

Deressa T, Hassan RM, Ringler C (2008) Measuring Ethiopian farmers' vulnerability to climate change across regional states. Intl Food Policy Res Inst Discussion Paper 806. Washington, D.C.: IFPRI. Available: https://hdl.handle.net/10568/21518

Dilshad T, Mallick D, Udas PB, Goodrich CG, Prakash A, Gorti G et al (2019) Growing social vulnerability in the river basins: evidence from the Hindu Kush Himalaya (HKH) region. Environ Dev 31:19–33

Doroteo HJ (2015) Philippines: disaster risk profile and disaster risk reduction (DDR) framework: natural calamities. University of Oviedo, Spain, pp 1–46

Eakin H, Bojórquez-Tapia LA (2008) Insights into the composition of household vulnerability from multicriteria decision analysis. Glob Environ Chang 18(1):112–127

Elith J, Phillips SJ, Hastie T, Dudík M, Chee YE, Yates CJ (2011) A statistical explanation of MaxEnt for ecologists. Divers Distrib 17(1):43–57

Fick SE, Hijmans RJ (2017) WorldClim 2: new 1-km spatial resolution climate surfaces for global land areas. Int J Climatol 37(12):4302–4315

Ford JD, Keskitalo ECH, Smith T, Pearce T, Berrang-Ford L, Duerden F, Smit B (2010) Case study and analogue methodologies in climate change vulnerability research. Wiley Interdiscip Rev Clim Chang 1(3):374–392

Fritzsche K, Schneiderbauer S, Bubeck P, Kienberger S, Buth M, Zebisch M et al (2014) The vulnerability source book. Concept and guidelines for standardised vulnerability assessments. Deutsche Gesellschaft für Internationale Zusammenarbeit (GIZ) GmbH. Available: http://www.adaptationcommunity.net/?wpfb_dl=203

Füssel HM (2010) Review and quantitative analysis of indices of climate change exposure, adaptive capacity, sensitivity, and impacts. World Bank, Washington, DC

Gang C, Wang Z, Zhou W, Chen Y, Li J, Cheng J et al (2015) Projecting the dynamics of terrestrial net primary productivity in response to future climate change under the RCP2.6 scenario. Environ Earth Sci 74(7):5949–5959

Gentle P, Maraseni TN (2012) Climate change, poverty and livelihoods: adaptation practices by rural mountain communities in Nepal. Environ Sci Pol 21:24–34

Gohari A, Eslamian S, Abedi-Koupaei J, Bavani AM, Wang D, Madani K (2013) Climate change impacts on crop production in Iran's Zayandeh-Rud River basin. Sci Total Environ 442:405–419

Hahn MB, Riederer AM, Foster SO (2009) The livelihood vulnerability index: a pragmatic approach to assessing risks from climate variability and change—a case study in Mozambique. Glob Environ Chang 19(1):74–88

Hamouda MA, El-Din MMN, Moursy FI (2009) Vulnerability assessment of water resources systems in the eastern Nile Basin. Water Resour Manag 23(13):2697–2725

Herrin AN (2019) Fertility and family planning behavior in the Bicol River basin. Transactions of the National Academy of Science and Technology. Bicutan, Taguig: NAST. Accessible: https://library.econ.upd.edu.ph/ir/handle/123456789/5795

Heumann BW, Walsh SJ, McDaniel PM (2011) Assessing the application of a geographic presence-only model for land suitability mapping. Ecol Inform 6(5):257–269

Hijmans RJ, Cameron SE, Parra JL, Jones PG, Jarvis A (2005) Very high-resolution interpolated climate surfaces for global land areas. Int J Climatol 25(15):1965–1978

Hinkel J (2011) "Indicators of vulnerability and adaptive capacity": towards a clarification of the science–policy interface. Glob Environ Chang 21(1):198–208

Illo JFI (1977) Jobs, income, and poverty: selected observations on the Bicol River Basin, Camarines Sur. Philipp Sociol Rev 25(3/4):119–127

International Center for Tropical Agriculture (CIAT) (2016) Climate-Risk Vulnerability Assessment (CRVA) to support regional targeting and planning for the Adaptation and Mitigation Initiative in Agriculture (AMIA). Available: https://ciat.cgiar.org/ciatprojects/climate-risk-vulnerability-assessment-crva-to-support-regional-targeting-and-planning-for-the-adaptation-and-mitigationinitiative-in-agriculture-amia/

Intergovernmental Panel on Climate Change (IPCC) (2001) Climate Change 2001: Synthesis Report. In: A Contribution of Working Groups I, II, and III to the Third Assessment Report of the Intergovernmental Panel on Climate Change [Watson, R.T. and the Core Writing Team (eds.)]. Cambridge University Press, Cambridge, United Kingdom, and New York, NY, USA, p 398

Intergovernmental Panel on Climate Change (IPCC) (2013) Climate change 2013: the physical science basis. In: Stocker TF, Qin D, Plattner G-K, Tignor M, Allen SK, Boschung J, Nauels A, Xia Y, Bex V, Midgley PM (eds) Contribution of Working Group I to the Fifth Assessment Report of the Intergovernmental Panel on Climate Change. Cambridge University Press, Cambridge, United Kingdom and New York, NY, USA, p 1535

Johnson FA, Hutton CW (2014) Dependence on agriculture and ecosystem services for livelihood in Northeast India and Bhutan: vulnerability to climate change in the Tropical River Basins of the Upper Brahmaputra. Clim Chang 127(1):107–121

Jost C, Kyazze F, Naab J, Neelormi S, Kinyangi J, Zougmore R et al (2016) Understanding gender dimensions of agriculture and climate change in smallholder farming communities. Clim Dev 8(2):133–144

Jurgilevich A, Räsänen A, Groundstroem F, Juhola S (2017) A systematic review of dynamics in climate risk and vulnerability assessments. Environ Res Lett 12:013002

Koppel B (1987) Does integrated area development work? Insights from the Bicol River basin development program. World Dev 15(2):205–220

Krishnamurthy PK, Lewis K, Choularton RJ (2014) A methodological framework for rapidly assessing the impacts of climate risk on national-level food security through a vulnerability index. Glob Environ Chang 25:121–132

Lanzona LA, Evenson RE (1997) The effects of transactions costs on labor market participation and earnings: evidence from rural Philippine markets (no. 790). Center Discussion Paper. Accessible at https://www.econstor.eu/bitstream/10419/98370/1/cdp790.pdf

Laukkonen J, Blanco PK, Lenhart J, Keiner M, Cavric B, Kinuthia-Njenga C (2009) Combining climate change adaptation and mitigation measures at the local level. Habitat Int 33(3):287–292

Lim-Camacho L, Ariyawardana A, Lewis GK, Crimp SJ, Somogyi S, Ridoutt B, Howden SM (2017) Climate adaptation of food value chains: the implications of varying consumer acceptance. Reg Environ Chang 17(1):93–103

Mallari AEC (2016) Climate change vulnerability assessment in the agriculture sector: Typhoon Santi experience. Procedia Soc Behav Sci 216:440–451

Mascariñas AM, Baas S, Köksalan N, Amano LO, Nieves PM, Binoya CS et al (2013) Mainstreaming disaster risk reduction into agriculture: a case study from Bicol Region, Philippines. Environment and Natural Resources Management Series (no. 20). FAO, Rome. Available: http://www.fao.org/3/i3343e/i3343e.pdf

McCarthy JJ, Canziani OF, Leary NA, Dokken DJ, White KS (2001) Climate Change 2001: Impacts, Adaptation, and Vulnerability. In: Contribution of Working Group II to the Third Assessment Report of the Intergovernmental Panel on Climate Change, Cambridge, United Kingdom, and New York, NY, USA, pp 21–72

McKee M (1983) Flood flow modeling in the Bicol River basin. Prepared for the Bicol River Basin Development Program and USAID. Accessible at http://pdf.usaid.gov/pdf_docs/PNAAT418.pdf

Meigh JD, Bartlett JM (2010) Integrated river basin management in Southeast Asia. J Flood Risk Manag 3(3):201–209

Moss RH, Edmonds JA, Hibbard KA, Manning MR, Rose SK, Van Vuuren DP et al (2010) The next generation of scenarios for climate change research and assessment. Nature 463:747–756

O'Donnell M, Ignizio D (2012) USGS Data Series 691: bioclimatic predictors for supporting ecological applications in the conterminous United States. Available online: https://pubs.usgs.gov/ds/691/ds691.pdf

Øverland I, Vakulchuk R (2017) Impact of climate change on ASEAN international affairs: risk and opportunity multiplier. NUPI Report

Parker L, Bourgoin C, Martinez-Valle A, Läderach P (2019) Vulnerability of the agricultural sector to climate change: the development of a pan-tropical climate risk vulnerability assessment to inform sub-national decision making. PLoS One 14(3):e0213641

Peñalba LM, Elazegui DD, Pulhin JM, Cruz RVO (2012) Social and institutional dimensions of climate change adaptation. Int J Clim Chang Strateg Manag 4(3):308–322

Philippine Statistics Authority (PSA) (2012) Major crops statistics of the Philippines, 10th edn. Crops Statistics Division, Quezon City Retrieved from https://psa.gov.ph/sites/default/files/MajorCrops10-14.pdf

Philippine Statistics Authority (PSA) (2018) January–December 2017 fisheries situation report. Philippine Statistics Authority Fisheries Statistics Division, Quezon City Retrieved from https://psa.gov.ph/sites/default/files/FSR2017_0.pdf

Philippine Statistics Authority (PSA) (2019) Crops statistics of the Philippines. Quezon City: Crops Statistics Division. Retrieved from https://psa.gov.ph/sites/default/files/Crops%20Statistics%20of%20the%20 Philippines%202014-2018.pdf

Rola AC, Tornilla RP, Sambajon S, Ravago E, Penaserado V, Payonga A et al (2018) Water security under climate risks: a Philippine climate change adaptation strategy for the agriculture sector (Bicol Agri-Water Project) - Final Report 2012–2017. University of the Philippines Los Baños, Laguna. Retrieved from https://www.climatelinks.org/resources/water-security-underclimate-risks-philippine-climate-change-adaptation-strategy

Sherbinin AD, Apotsos A, Chevrier J (2017) Mapping the future: policy applications of climate vulnerability mapping in West Africa. Geogr J 183(4):414–425

Stuecker MF, Tigchelaar M, Kantar MB (2018) Climate variability impacts on rice production in the Philippines. PLoS One 13(8):e0201426

Sullivan C (2002) Calculating a water poverty index. World Dev 30(7):1195–1210

Takagi H, Esteban M (2016) Statistics of tropical cyclone landfalls in the Philippines: unusual characteristics of 2013 typhoon Haiyan. Nat Hazards 80(1):211–222

Tully KL, Weissman D, Wyner WJ, Miller J, Jordan T (2019) Soils in transition: saltwater intrusion alters soil chemistry in agricultural fields. Biogeochemistry 142(3):339–356

Upgupta S, Sharma J, Jayaraman M, Kumar V, Ravindranath NH (2015) Climate change impact and vulnerability assessment of forests in the Indian Western Himalayan region: a case study of Himachal Pradesh, India. Clim Risk Manag 10:63–76

Usamah MB, Alkema D (2006) Simulating scenario floods for hazard assessment on the lower Bicol floodplain, the Philippines. In: Advances in Geosciences, vol 4. Hydrological Science (HS), pp 69–74

Van Vuuren DP, Edmonds J, Kainuma M, Riahi K, Thomson A, Hibbard K et al (2011) The representative concentration pathways: an overview. Clim Chang 109:5–31

Vos R, Cattaneo A, Stamoulis K, Semedo MH, Salazar RC, Frick M et al (2016) The state of food and agriculture. Climate change, agriculture and food security. Food and Agriculture Organization of the United Nations. Office for Corporate Communication, Rome

Weis SWM, Agostini VN, Roth LM, Gilmer B, Schill SR, Knowles JE et al (2016) Assessing vulnerability: an integrated approach for mapping adaptive capacity, sensitivity, and exposure. Clim Chang 136:615–629

Wolf S, Hinkel J, Hallier M, Bisaro A, Lincke D, Ionescu C, Klein RJ (2013) Clarifying vulnerability definitions and assessments using formalisation. Int J Clim Chang Strateg Manag 5(1):54–70

World Bank (2013) Building resilience: integrating climate and disaster risk into development. Lessons from world bank group experience. The World Bank, Washington DC

Wu J, He B, Lü A, Zhou L, Liu M, Zhao L (2011) Quantitative assessment and spatial characteristics analysis of agricultural drought vulnerability in China. Nat Hazards 56(3):785–801

Yohe G, Tol RS (2002) Indicators for social and economic coping capacity—moving toward a working definition of adaptive capacity. Glob Environ Chang 12(1):25–40
Acknowledgements
This work was financially supported by the Department of Agriculture Regional Field Office 5 under Rice Program through the initiatives and support of its former regional executive director Dr. Elena B. De Los Santos. The authors acknowledge Director Rodel P. Tornilla and the Bicol AMIA team headed by Mr. Lorenzo L. Alvina for their technical and field assistance. The same acknowledgment is given to Dr. Raul G. Bradecina for his insightful comments and suggestions. We thank Mr. Leo Kris M. Palao of CIAT Asia for providing supplementary materials for the analysis. The authors also honor the contribution of the people in the research sites for their cooperation, support, and invaluable feedbacks during the project implementation.
Funding
Funding was supported by the Republic of the Philippines Department of Agriculture- Regional Field Office 5 (DA-RFO 5) under Rice Program. The views expressed in this document are those of the authors and do not necessarily reflect those of their affiliated institutions, including the DA-RFO 5.
Ethics declarations
Ethics approval
Not applicable.
Consent to participate
Written informed consent was obtained from all individual participants included in the study.
Consent for publication
Written informed consent was obtained from all individual participants included in the study.
Competing interests
The authors declare no competing interests.
Additional information
Publisher's note
Springer Nature remains neutral with regard to jurisdictional claims in published maps and institutional affiliations.
Supplementary information
About this article
Cite this article
Laureta, R.P., Regalado, R.R.H. & De La Cruz, E.B. Climate vulnerability scenario of the agricultural sector in the Bicol River Basin, Philippines. Climatic Change 168, 4 (2021). https://doi.org/10.1007/s10584-021-03208-8
Received:

Accepted:

Published:
Keywords
Agriculture

Climate Change

Vulnerability

Rural livelihood

Bicol River basin

Philippines