Abstract
Background
For First Nations (FN) peoples living in British Columbia (BC), little is known regarding cancer in the population. The aim of this study was to explore cancer incidence and survival in the FN population of BC and compare it to the non-FN population.
Methods
All new cancers diagnosed from 1993 to 2010 were linked to the First Nations Client File (FNCF). Age-standardized incidence rates (ASIR) and rate ratios, and 1- and 5-year cause-specific survival estimates and hazard ratios were calculated. Follow-up end date for survival was December 31, 2011 and follow-up time was censored at a maximum of 15 years.
Results
ASIR of colorectal cancer (male SRR = 1.42, 95% CI 1.25–1.61; female SRR = 1.21, 95% CI 1.06–1.38) and cervical cancer (SRR = 1.84, 95% CI 1.45–2.33) were higher overall in FN residents in BC, compared to non-FN residents. Incidence rates of almost all other cancers were generally similar or lower in FN populations overall and by sex, age, and period categories, compared to non-FN residents. Trends in ASIR over time were similar except for lung (increasing for FN, decreasing for non-FN) and colorectal cancers (increasing for FN, decreasing for non-FN). Conversely, survival rates were generally lower for FN, with differences evident for some cancer sites at 1 year following diagnosis.
Conclusion
FN people living in BC face unique cancer issues compared to non-FN people. Higher incidence and lower survival associated with certain cancer types require further research to look into the likely multifaceted basis for these findings.
This is a preview of subscription content, log in to check access.
Access options
Buy single article
Instant access to the full article PDF.
US$ 39.95
Price includes VAT for USA
Subscribe to journal
Immediate online access to all issues from 2019. Subscription will auto renew annually.
US$ 199
This is the net price. Taxes to be calculated in checkout.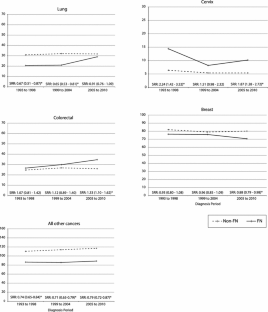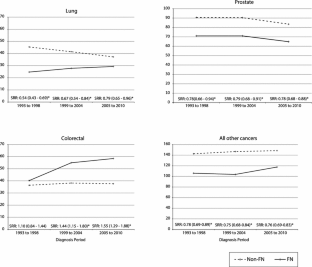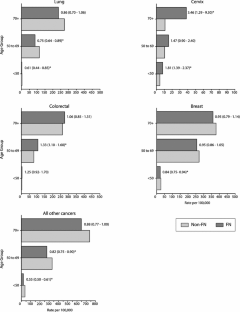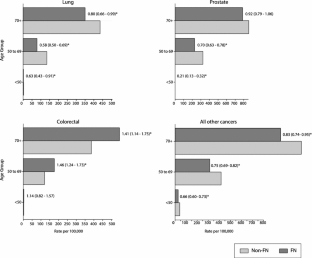 References
1.

Moore SP, Antoni S, Colquhoun A, Healy B, Ellison-Loschmann L, Potter JD, Garvey F (2015) Cancer incidence in indigenous people in Australia, New Zealand, Canada, and the USA: a comparative population-based study. Lancet Oncol 16(15):1483–1492

2.

National Research Council (2004) Eliminating health disparities: measurement and data needs. Panel on DHHS collection of race and ethnicity data. In: Ploeg MV, Perrin E (eds) Committee on National Statistics, Division of Behavioral and Social Sciences and Education. The National Academies Press, Washington, DC. http://www.ncbi.nlm.nih.gov/books/NBK215751/

3.

Elias B et al (2011) The burden of cancer risk in Canada's indigenous population: a comparative study of known risks in a Canadian region. Int J Gen Med 4:699–709

4.

Kelly MD (2011) Toward a new era of policy: health care service delivery to First Nations. Int Indig Policy J 2(1):1–14

5.

Gallagher J, Mendez JK, Kehoe T (2015) The First Nations health authority: a transformation in healthcare for BC First Nations. Healthc Manag Forum 28(6):255–261

6.

Canadian Cancer Society's Advisory Committee on Cancer Statistics (2017) Canadian Cancer Statistics 2017. Appendix II, Table A3. Toronto, ON: Canadian Cancer Society

7.

Segi M (1966) Cancer mortality for selected sites in 24 countries (1950–57). Sendai, Japan: Department of Public Health, Tohoku University School of Medicine. In: Doll R, Payne P, Waterhouse J (eds) Cancer incidence in five continents: a technical report. Springer, Berlin (for UICC)

8.

Boyle P, Parkin DM (1991) Statistical methods for registries. In: Jensen OM, Parkin DM, MacLennan R, et al (eds) Cancer registration: principles and methods. International Agency for Research on Cancer (IARC Scientific Publication no. 95) Lyon, pp 126–58

9.

Vital statistics for Atlantic and western Canada (2014) A statistical profile of the health of First Nations in Canada 2003–2007. Cat.: H34-193/3-2014E-PDF ISBN: 978-1-100-24686-4 Pub.: 140128 http://publications.gc.ca/collections/collection_2014/sc-hc/H34-193-3-2014-eng.pdf

10.

Howlader N, Ries LAG, Mariotto AB, Reichman ME, Ruhl J, Cronin KA (2010) Improved estimates of cancer-specific survival rates from population-based data. J Natl Cancer Inst 102:1584–1598

11.

Marrett LD, Chaudhry M (2003) Cancer incidence and mortality in Ontario First Nations, 1968-1991 (Canada). Cancer Causes Control 14:259–268

12.

Decker KM, Kliewer EV, Demers AA, Fradette K, Biswanger N, Musto G, Turner D (2016) Cancer incidence, mortality, and stage at diagnosis in First Nations living in Manitoba. Curr Oncol 23(4):225–232. doi:10.3747/co.23.2906

13.

Giovannucci E, Kana W (2006) Cancers of the colon and rectum. In: Schottenfeld D, Fraumeni JF Jr (eds) Cancer epidemiology and prevention, vol 42, 3rd edn. Oxford University Press, New York, pp 809–994

14.

First Nations Health Authority (2012). Healthy children, healthy families, healthy communities: BC provincial results 2008–2010 First Nations Regional Health Survey

15.

Hislop TG, Clarke HF, Deschamps M et al (1996) Cervical cytology screening. How can we improve rates among First Nations women in urban British Columbia? Can Fam Phys 42:1701–1708

16.

Demers AA, Kliewer EV, Remes O, Onysko J, Dinner K, Wong T, Jayaraman GC (2012) Cervical cancer among Aboriginal women in Canada. Can Med Assoc J. doi:10.1503/cmaj.110523 Commentary

17.

Rahal AK, Badgett RG, Hoffman RM (2016) Screening coverage needed to reduce mortality from prostate cancer: a living systematic review. PLoS ONE 11(4):e0153417. doi:10.1371/journal.pone.0153417

18.

Physicians for a smoke-free Canada. Aboriginal smokers (2013) http://www.smoke-free.ca/factsheets/pdf/cchs/aboriginal.pdf

19.

Canadian Cancer Society's Advisory Committee on Cancer Statistics Canadian Cancer Society (2015) Toronto, ON

20.

Nishri ED, Sheppard AJ, Withrow DR, Marrett LD (2014) Cancer survival among First Nations people of Ontario, Canada (1968-2007). Int J Cancer 136:639–645

21.

Statistics Canada (2011) Women in Canada: a gender-based statistical report—First Nations, Métis and Inuit Women. Catalogue No. 89-503-XISBN 978-1-100-17400-6. http://www.statcan.gc.ca/pub/89-503-x/2010001/article/11442-eng.pdf

22.

Borugian MJ, Spinelli JJ, Abanto Z, Xu CL, Wilkins R (2011) Breast cancer incidence and neighbourhood income. Health Rep 22(2):7–13. http://www.ncbi.nlm.nih.gov/pubmed/21848127

23.

Pendakur R, Pendaku K (2013) Aboriginal income disparity in Canada. Government of Canada. Aboriginal affairs and northern development Canada. Catalogue No. R3-176/2013E-PDF. https://www.aadnc-aandc.gc.ca/eng/1378411773537/1378411859280

24.

Borkhoff CM, Saskin R, Rabeneck L, Baxter NN, Liu Y, Tinmouth J, Paszat LF (2013) Disparities in receipt of screening tests for cancer, diabetes and high cholesterol in Ontario, Canada: a population-based study using area-based methods. Quant Res Can J Public Health 104(4):e282–e290

25.

Sheppard AJ, Chiarelli AM, Marrett LD, Mirea L, Nishri ED, Trudeau ME (2010) Detection of later stage breast cancer in first nations women in Ontario, Canada. Can J Publ Health 11:01

26.

Withrow DR, Pole JD, Nishri ED, Tjepkema M, Marrett LD (2017) Cancer survival disparities between First Nation and non-aboriginal adults in Canada: follow-up of the 1991 census mortality cohort. Cancer Epidemiol Biomark Prev 26(1):145–151. doi:10.1158/1055-9965.EPI-16-0706
Acknowledgments
Eric Cai, Jeremy Hamm and Kimberly DeVries from the BC Cancer Agency, Dr. Evan Adams, and Miranda Kelly from the First Nations Health Authority and Dr. Shannon Waters from Health Canada.
Additional information
John J. Spinelli and Nadine R. Caron have contributed equally to this work.
About this article
Cite this article
McGahan, C.E., Linn, K., Guno, P. et al. Cancer in First Nations people living in British Columbia, Canada: an analysis of incidence and survival from 1993 to 2010. Cancer Causes Control 28, 1105–1116 (2017). https://doi.org/10.1007/s10552-017-0950-7
Received:

Accepted:

Published:

Issue Date:
Keywords
Cancer

Incidence

Survival

First Nations

Canada

British Columbia