Abstract
Recent evidence suggests that type 2 diabetes (T2D) is associated with accelerated brain ageing, consistent with the observation of increased risk of cognitive impairment and dementia in affected individuals. Even non-diabetic individuals with impaired fasting plasma glucose (IFG) levels have shown increased cerebral atrophy, compared to individuals with normal glucose levels. We tested whether longitudinal rates of age-related cortical thinning were associated with fasting plasma glucose levels in a large sample (n = 322) of early-old age individuals (60–66 years) who were scanned with magnetic resonance imaging (1.5 T) on up to four occasions over 12 years. Higher plasma glucose levels (measured on up to three occasions) were associated with increased cortical thinning in individuals with T2D as well as those with IFG, with a similar trend for individuals with normal fasting glucose (NFG) levels. Across groups, a 1 mmol/l increase in plasma glucose (above 5 mmol/l in NFG and IFG and above 6.1 mmol/l in T2D) resulted in a 10–13% increase in annual cortical thinning. Increased cortical thinning was detected in insular cortex, as well as posterior cingulate, parahippocampus and medial orbitofrontal cortex. Our results provide support for the idea that raised plasma glucose levels, even in the normal range, are associated with accelerated age-related cortical atrophy.
This is a preview of subscription content, log in to check access.
Access options
Buy single article
Instant access to the full article PDF.
US$ 39.95
Price includes VAT for USA
Subscribe to journal
Immediate online access to all issues from 2019. Subscription will auto renew annually.
US$ 199
This is the net price. Taxes to be calculated in checkout.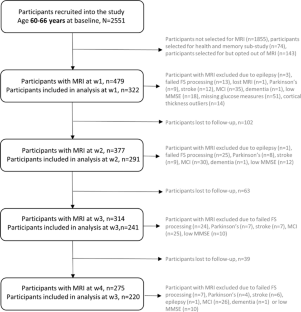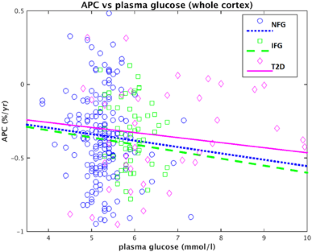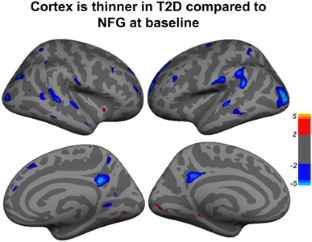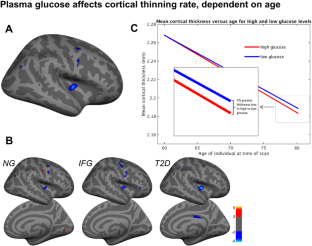 References
Anstey KJ, Maller JJ, Meslin C, Christensen H, Jorm AF, Wen W, Sachdev P (2004) Hippocampal and amygdalar volumes in relation to handedness in adults aged 60–64. Neuroreport 15:2825–2829

Anstey KJ et al. (2012) Cohort profile: the PATH through life project. Int J Epidemiol 41:951–960

Anstey KJ, Sargent-Cox K, Eramudugolla R, Magliano DJ, Shaw JE (2015) Association of cognitive function with glucose tolerance and trajectories of glucose tolerance over 12 years in the AusDiab study. Alzheimer's Res Ther 7:1

Bernal-Rusiel JL, Greve DN, Reuter M, Fischl B, Sabuncu MR (2013a) Statistical analysis of longitudinal neuroimage data with linear mixed effects models. Neuroimage 66:249–260

Bernal-Rusiel JL, Reuter M, Greve DN, Fischl B, Sabuncu MR (2013b) Spatiotemporal linear mixed effects modeling for the mass-univariate analysis of longitudinal neuroimage data. NeuroImage 81:358–370

Biessels GJ, Staekenborg S, Brunner E, Brayne C, Scheltens P (2006) Risk of dementia in diabetes mellitus: a systematic review. Lancet Neurol 5:64–74

Bryan RN et al (2014) Effect of diabetes on brain structure: the action to control cardiovascular risk in diabetes MR imaging baseline data. Radiology 272:210–216

Cherbuin N, Sachdev P, Anstey KJ (2012) Higher normal fasting plasma glucose is associated with hippocampal atrophy the PATH study. Neurology 79:1019–1026

Crane PK et al (2013) Glucose levels and risk of dementia. N Engl J Med 369:540–548

Fischl B (2012) FreeSurfer. Neuroimage 62:774–781

Fjell AM, Walhovd KB (2010) Structural brain changes in aging: courses, causes and cognitive consequences. Rev Neurosci 21:187–222

Foley JM, Salat DH, Stricker NH, McGlinchey RE, Milberg WP, Grande LJ, Leritz EC (2016) Glucose dysregulation interacts with APOE-ɛ 4 to potentiate temporoparietal cortical thinning. Am J Alzheimer's Dis Other Dement 31:76–86

Folstein MF, Folstein SE, McHugh PR (1975) "Mini-mental state". A practical method for grading the cognitive state of patients for the clinician. J Psychiatric Res 12:189–198

Frisoni GB, Fox NC, Jack CR, Scheltens P, Thompson PM (2010) The clinical use of structural MRI in Alzheimer disease nature reviews. Neurology 6:67–77

Harrison NA, Cooper E, Dowell NG, Keramida G, Voon V, Critchley HD, Cercignani M (2015) Quantitative magnetization transfer imaging as a biomarker for effects of systemic inflammation on the brain. Biol Psychiatry 78:49–57

Hayashi K et al. (2011) Association of cognitive dysfunction with hippocampal atrophy in elderly Japanese people with type 2 diabetes. Diab Res Clin Pract 94:180–185

Jefferson A et al (2007) Inflammatory biomarkers are associated with total brain volume the framingham heart study. Neurology 68:1032–1038

Jorm AF, Mather KA, Butterworth P, Anstey KJ, Christensen H, Easteal S (2007) APOE genotype and cognitive functioning in a large age-stratified population sample. Neuropsychology 21:1

Launer LJ et al (2011) Effects of intensive glucose lowering on brain structure and function in people with type 2 diabetes (ACCORD MIND): a randomised open-label substudy. Lancet Neurol 10:969–977

Lekander M et al. (2015) Intrinsic functional connectivity of insular cortex and symptoms of sickness during acute experimental inflammation. Brain Behav Immun

Leritz EC et al (2011) Thickness of the human cerebral cortex is associated with metrics of cerebrovascular health in a normative sample of community dwelling older adults. Neuroimage 54:2659–2671

Manschot S et al (2007) Metabolic and vascular determinants of impaired cognitive performance and abnormalities on brain magnetic resonance imaging in patients with type 2 diabetes. Diabetologia 50:2388–2397

Messier C, Tsiakas M, Gagnon M, Desrochers A (2010) Effect of age and glucoregulation on cognitive performance. J Clin Exper Neuropsychol 32:809–821

Reuter M, Schmansky NJ, Rosas HD, Fischl B (2012) Within-subject template estimation for unbiased longitudinal image analysis. Neuroimage 61:1402–1418

Salat DH et al. (2004) Thinning of the cerebral cortex in aging. Cereb Cortex 14:721–730

Scheff SW, Price DA, Ansari MA, Roberts KN, Schmitt FA, Ikonomovic MD, Mufson EJ (2015) Synaptic change in the posterior cingulate gyrus in the progression of Alzheimer's disease. J Alzheimer's Dis 43:1073–1090

Seetharaman S, Andel R, McEvoy C, Aslan AKD, Finkel D, Pedersen NL (2015) Blood glucose, diet-based glycemic load and cognitive aging among dementia-free older adults. J Gerontol Ser A 70:471–479

Shaw ME, Abhayaratna WP, Sachdev PS, Anstey KJ, Cherbuin N (2016a) Cortical thinning at midlife: the PATH through life study. Brain Topography 29:875–884

Shaw ME, Sachdev PS, Anstey KJ, Cherbuin N (2016b) Age-related cortical thinning in cognitively healthy individuals in their 60s: the PATH through life study. Neurobiol Aging 39:202–209

Sims R et al (2014) Association of fasting glucose with subclinical cerebrovascular disease in older adults without Type 2 diabetes. Diab Med 31:691–698

Strachan MW, Reynolds RM, Marioni RE, Price JF (2011) Cognitive function, dementia and type 2 diabetes mellitus in the elderly. Nat Rev Endocrinol 7:108–114

Tan ZS et al (2011) Association of metabolic dysregulation with volumetric brain magnetic resonance imaging and cognitive markers of subclinical brain aging in middle-aged adults the framingham offspring study. Diab Care 34:1766–1770

Tiehuis AM et al (2008) Diabetes increases atrophy and vascular lesions on brain MRI in patients with symptomatic arterial disease. Stroke 39:1600–1603

Weinstein G et al (2015) Glucose indices are associated with cognitive and structural brain measures in young adults. Neurology 84:2329

Wennberg AM et al. (2016) Blood glucose levels and cortical thinning in cognitively normal, middle-aged adults. J Neurol Sci 365:89–95
Acknowledgements
The authors are grateful to Peter Butterworth, Simon Easteal, Helen Christensen, Patricia Jacomb, Karen Maxwell, and the PATH interviewers. The study was supported by NHMRC grant No. 973302, 179805, 350833, 157125, ARC Grant No. 130101705, and the Dementia Collaborative Research Centres. Nicolas Cherbuin is funded by ARC Fellowship No. 12010227 and Kaarin Anstey by and NHMRC Fellowship No. 1002560. This research was partly undertaken on the National Computational Infrastructure (NCI) facility in Canberra, Australia, which is supported by the Australian Commonwealth Government.
Electronic Supplementary Material
Below is the link to the electronic supplementary material.
About this article
Cite this article
Shaw, M.E., Nettersheim, J., Sachdev, P.S. et al. Higher Fasting Plasma Glucose is Associated with Increased Cortical Thinning Over 12 Years: The PATH Through Life Study. Brain Topogr 30, 408–416 (2017). https://doi.org/10.1007/s10548-017-0544-4
Received:

Accepted:

Published:

Issue Date:
Keywords
Fasting plasma glucose

Risk factors

Ageing

Type 2 diabetes

T2D

MRI

Cortical thickness

Longitudinal

Impaired fasting glucose