Abstract
The effect of increased nutrient loads on biogeochemical processes in macrotidal, mangrove-lined creeks was studied in tropical Darwin Harbour, Australia. This study uses an integrative approach involving multiple benthic and pelagic processes as measures of ecosystem function, and provides a comparison of these processes in three tidal creeks receiving different loads of treated sewage effluent. There were significant differences in process rates between Buffalo Creek (BC) (hypereutrophic), which receives the largest sewage loads; Myrmidon Creek (MC) (oligotrophic–mesotrophic) which receives smaller sewage inputs; and Reference Creek (RC) (oligotrophic) which is comparatively pristine. Benthic nutrient fluxes and denitrification were more than an order of magnitude higher and lower, respectively, in BC and denitrification efficiency (DE) was <10%. Pelagic primary production rates were also much higher in BC but respiration exceeded primary production resulting in severe drawdown of O2 concentrations at night. Hypoxic conditions released oxide-bound phosphorus and inhibited coupled nitrification–denitrification, enhancing benthic nitrogen and phosphorus fluxes, leading to a build-up of excess nutrients in the water column. Poor water quality in BC was exacerbated by limited tidal flushing imposed by a narrow meandering channel and sandbar across the mouth. In contrast to BC, the effect of the sewage load in MC was confined to the water column, and the impact was temporary and highly localized. This is attributed to the effective flushing of the sewage plume with each tidal cycle. Denitrification rates in MC and RC were high (up to 6.83 mmol N m−2 day−1) and DE was approximately 90%. This study has identified denitrification, benthic nutrient fluxes and pelagic primary production as the biogeochemical processes most affected by nutrient loading in these tidal creek systems. Physical process play a key role and the combined influence of nutrient loading and poor tidal flushing can have serious consequences for ecosystem functioning.
Access options
Buy single article
Instant access to the full article PDF.
US$ 39.95
Tax calculation will be finalised during checkout.
Subscribe to journal
Immediate online access to all issues from 2019. Subscription will auto renew annually.
US$ 119
Tax calculation will be finalised during checkout.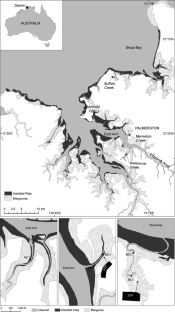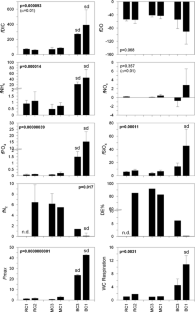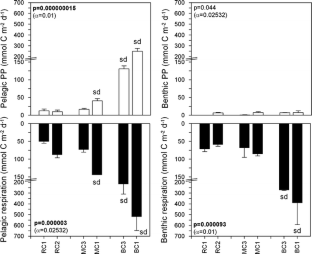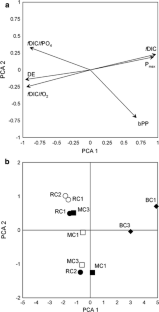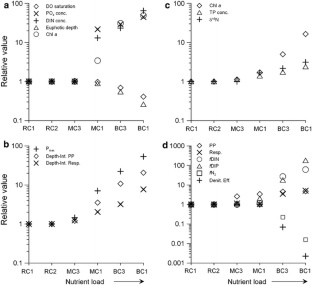 References
Almroth E, Tengberg A, Andersson JH, Pakhomova S, Hall POJ (2009) Effects of resuspension on benthic fluxes of oxygen, nutrients, dissolved inorganic carbon, iron and manganese in the Gulf of Finland, Baltic Sea. Cont Shelf Res 29:807–818

Alongi DM, Dixon P, Johnston DJ, Van Tien D, Thanh Xuan T (1999a) Pelagic processes in extensive shrimp ponds of the Mekong delta, Vietnam. Aquaculture 175:121–141

Alongi DM, Tirendi F, Dixon P, Trott LA, Brunskill GJ (1999b) Mineralization of Organic Matter in Intertidal Sediments of a Tropical Semi-enclosed Delta. Estuar Coast Shelf Sci 48:451–467

Alongi DM, Wattayakorn G, Pfitzner J, Tirendi F, Zagorskis I, Brunskill GJ, Davidson A, Clough BF (2001) Organic carbon accumulation and metabolic pathways in sediments of mangrove forests in southern Thailand. Mar Geol 179:85–103

Alongi DM, Sasekumar A, Chong VC, Pfitzner J, Trott LA, Tirendi F, Dixon P, Brunskill GJ (2004) Sediment accumulation and organic material flux in a managed mangrove ecosystem: estimates of land-ocean-atmosphere exchange in peninsular Malaysia. Mar Geol 208:383–402

Beman JM, Arrigo KR, Matson PA (2005) Agricultural runoff fuels large phytoplankton blooms in vulnerable areas of the ocean. Nature 434:211–214

Bianchi TS (2007) Biogeochemistry of estuaries. Oxford University Press, New York

Boto KG, Bunt JS (1981) Dissolved oxygen and pH relationships in northern Australian mangrove waterways. Limnol Oceanogr 26:1176–1178

Bouillon S, Connolly RM (2009) Carbon exchange among tropical coastal ecosystems. In: Nagelkerken I (ed) Ecological connectivity among tropical coastal ecosystems. Springer, Dordrecht, pp 45–70

Boynton WR, Kemp WM (1985) Nutrient regeneration and oxygen consumption by sediments along an estuarine salinity gradient. Mar Ecol Prog Ser 23:45–55

Boynton W, Hagy J, Cornwell J, Kemp W, Greene S, Owens M, Baker J, Larsen R (2008) Nutrient budgets and management actions in the Patuxent River Estuary, Maryland. Estuaries Coasts 31:623–651

Burford MA, Longmore AR (2001) High ammonium production from sediments in hypereutrophic shrimp ponds. Mar Ecol Prog Ser 224:187–195

Burford MA, Alongi DM, McKinnon AD, Trott LA (2008) Primary production and nutrients in a tropical macrotidal estuary, Darwin Harbour, Australia. Estuar Coast Shelf Sci 79:440–448

Caffrey J, Murrell M, Wigand C, McKinney R (2007) Effect of nutrient loading on biogeochemical and microbial processes in a New England salt marsh. Biogeochemistry 82:251–264

Clarke AL, Weckström K, Conley DJ, Anderson NJ, Adser F, Andrén E, de Jonge VN, Ellegaard M, Juggins S, Kauppila P, Korhola A, Reuss N, Telford RJ, Vaalgamaa S (2006) Long-term trends in eutrophication and nutrients in the coastal zone. Limnol Oceanogr 51:385–397

Cloern JE (2001) Our evolving conceptual model of the coastal eutrophication problem. Mar Ecol Prog Ser 210:233–253

Conley D, Carstensen J, Vaquer-Sunyer R, Duarte C (2009) Ecosystem thresholds with hypoxia. Hydrobiologia 629:21–29

Cook PLM, Revill AT, Clementson LA, Volkman JK (2004) Carbon and nitrogen cycling on intertidal mudflats of a temperate Australian estuary III. Sources of organic matter. Mar Ecol Prog Ser 280:55–72

Diaz RJ, Rosenberg R (2008) Spreading dead zones and consequences for marine ecosystems. Science 321:926–929

Dittmar T, Hertkom N, Kattner G, Lara RJ (2006) Mangroves, a major source of dissolved organic carbon to the oceans. Glob Biogeochem Cycles 20:GB1012

Downing JA, McClain M, Twilley R, Melack JM, Elser J, Rabalais NN, Lewis WM, Turner RE, Corredor J, Soto D, Yanez-Arancibia A, Kopaska JA, Howarth RW (1999) The impact of accelerating land-use change on the N-cycle of tropical aquatic ecosystems: current conditions and projected changes. Biogeochemistry 46:109–148

Eyre BD, Ferguson AJP (2002) Comparison of carbon production and decomposition, benthic nutrient fluxes and denitrification in seagrass, phytoplankton, benthic microalgae- and macroalgae-dominated warm-temperate Australian lagoons. Mar Ecol Prog Ser 229:43–59

Eyre BD, Ferguson AJP (2009) Denitrification efficiency for defining critical loads of carbon in shallow coastal ecosystems. Hydrobiologia 629:137–146

Ferrón S, Alonso-Pérez F, Anfuso E, Murillo FJ, Ortega T, Castro CG, Forja JM (2009) Benthic nutrient recycling on the northeastern shelf of the Gulf of Cádiz (SW Iberian Peninsula). Mar Ecol Prog Ser 390:79–95

Froelich PN (1988) Kinetic control of dissolved phosphate in natural rivers and estuaries: a primer on the phosphate buffer mechanism. Limnol Oceanogr 33:649–668

Haese RR, Murray EJ, Smith CS, Smith J, Clementson L, Heggie DT (2007) Diatoms control nutrient cycles in a temperate, wave-dominated estuary (southeast Australia). Limnol Oceanogr 52:2686–2711

Halpern BS, Walbridge S, Selkoe KA, Kappel CV, Micheli F, D'Agrosa C, Bruno JF, Casey KS, Ebert C, Fox HE, Fujita R, Heinemann D, Lenihan HS, Madin EMP, Perry MT, Selig ER, Spalding M, Steneck R, Watson R (2008) A global map of human impact on marine ecosystems. Science 319:948–952

Herbert RA (1999) Nitrogen cycling in coastal marine ecosystems. FEMS Microbiol Rev 23:563–590

Hopkinson CS Jr (1985) Shallow-water benthic and pelagic metabolism. Mar Biol 87:19–32

Howarth R, Sharpley A, Walker D (2002) Sources of nutrient pollution to coastal waters in the United States: implications for achieving coastal water quality goals. Estuaries Coasts 25:656–676

Jennerjahn TC, Ittekkot V, Klopper S, Adi S, Purwo Nugroho S, Sudiana N, Yusmal A, Prihartanto, Gaye-Haake B (2004) Biogeochemistry of a tropical river affected by human activities in its catchment: Brantas River estuary and coastal waters of Madura Strait, Java, Indonesia. Estuar Coast Shelf Sci 60:503–514

Jickells TD (1998) Nutrient biogeochemistry in the coastal zone. Science 281:217–222

Jones AB, O'Donohue MJ, Udy J, Dennison WC (2001) Assessing ecological impacts of shrimp and sewage effluent: biological indicators with standard water quality analyses. Estuar Coast Shelf Sci 52:91–109

Kana TM, Darkangelo C, Hunt MD, Oldham JB, Bennett GE, Cornwell JC (1994) Membrane inlet mass spectrometer for rapid high-precision determination of N2, O2, and Ar in environmental water samples. Anal Chem 66:4166–4170

Kemp WM, Sampou P, Caffrey J, Mayer M, Henriksen K, Boynton WR (1990) Ammonium recycling versus denitrification in Chesapeake Bay sediments. Limnol Oceanogr 35:1545–1563

Kemp WM, Boynton WR, Adolf JE, Boesch DF, Boicourt WC, Brush G, Cornwell JC, Fisher TR, Glibert PM, Hagy JD, Harding LW, Houde ED, Kimmel DG, Miller WD, Newell RIE, Roman MR, Smith EM, Stevenson JC (2005) Eutrophication of Chesapeake Bay: historical trends and ecological interactions. Mar Ecol Prog Ser 303:1–29

Koné YJ-M, Borges AV (2008) Dissolved inorganic carbon dynamics in the waters surrounding forested mangroves of the Ca Mau Province (Vietnam). Estuar Coast Shelf Sci 77:409–421

Kristensen E, Andersen FØ, Holmboe N, Holmer M, Thongtham N (2000) Carbon and nitrogen mineralization in sediments of the Bangrong mangrove area, Phuket, Thailand. Aquat Microb Ecol 22:199–213

Kristensen E, Flindt MR, Ulomi S, Borges AV, Abril G, Bouillon S (2008) Emission of CO2 and CH4 to the atmosphere by sediments and open waters in two Tanzanian mangrove forests. Mar Ecol Prog Ser 370:53–67

Mackenzie FT, Ver LM, Lerman A (2002) Century-scale nitrogen and phosphorus controls of the carbon cycle. Chem Geol 190:13–32

McGlathery KJ, Sundbäck K, Anderson IC (2004) The importance of primary producers for benthic nitrogen and phosphorus cycling. In: Nielsen SL, Banta GT, Pedersen MF (eds) Estuarine nutrient cycling: the influence of primary producers. Kluwer, Dordrecht, pp 231–261

McKinnon AD, Smit N, Townsend S, Duggan S (2006) Darwin Harbour: water quality and ecosystem structure in a tropical harbour in the early stages of urban development. In: Wolanski E (ed) The environment in Asia Pacific Harbours. Springer, Dordrecht, pp 433–459

McKinnon AD, Carleton JH, Duggan S (2007) Pelagic production and respiration in the Gulf of Papua during May 2004. Cont Shelf Res 27:1643–1655

McKinnon AD, Trott LA, Brinkman R, Duggan S, Castine S, O'Leary RA, Alongi DM (2010) Seacage aquaculture in a World Heritage Area: the environmental footprint of a Barramundi farm in tropical Australia. Mar Poll Bull 60:1489–1501

Nixon SW (1995) Coastal marine eutrophication: a definition, social causes, and future concerns. Ophelia 41:199–219

Nixon S, Ammerman J, Atkinson L, Berounsky V, Billen G, Boicourt W, Boynton W, Church T, Ditoro D, Elmgren R, Garber J, Giblin A, Jahnke R, Owens N, Pilson M, Seitzinger S (1996) The fate of nitrogen and phosphorus at the land-sea margin of the North Atlantic Ocean. Biogeochemistry 35:141–180

Norrish K, Hutton JT (1969) An accurate X-ray spectrographic method for the analysis of a wide range of geological samples. Geochim Cosmochim Acta 33:431–453

Nowicki BL (1994) The effect of temperature, oxygen, salinity, and nutrient enrichment on estuarine denitrification rates measured with a modified nitrogen gas flux technique. Estuar Coast Shelf Sci 38:137–156

Patrick WH Jr, Khalid RA (1974) Phosphate release and sorption by soils and sediments: effect of aerobic and anaerobic conditions. Science 186:53–55

Pratihary AK, Naqvi SWA, Naik H, Thorat BR, Narvenkar G, Manjunatha BR, Rao VP (2009) Benthic fluxes in a tropical estuary and their role in the ecosystem. Estuar Coast Shelf Sci 85:387–398

Ram ASP, Nair S, Chandramohan D (2003) Seasonal shift in net ecosystem production in a tropical estuary. Limnol Oceanogr 48:1601–1607

Richardson K, Jørgensen BB (1996) Eutrophication: definition, history and effects. In: Jørgensen BB, Richardson K (eds) Eutrophication in coastal marine systems. American Geophysical Union, Washington, pp 1–19

Rivera-Monroy V, Madden C, Day J, Twilley R, Vera-Herrera F, Alvarez-Guillén H (1998) Seasonal coupling of a tropical mangrove forest and an estuarine water column: enhancement of aquatic primary productivity. Hydrobiologia 379:41–53

Robertson AI, Daniel PA, Dixon P, Alongi DM (1993) Pelagic biological processes along a salinity gradient in the Fly delta and adjacent river plume (Papua New Guinea). Cont Shelf Res 13:205–224

Rysgaard S, Christensen PB, Nielsen LP (1995) Seasonal variation in nitrification and denitrification in estuarine sediment colonized by benthic microalgae and bioturbating infauna. Mar Ecol Prog Ser 126:111–121

Sarma VVSS, Gupta SNM, Babu PVR, Acharya T, Harikrishnachari N, Vishnuvardhan K, Rao NS, Reddy NPC, Sarma VV, Sadhuram Y, Murty TVR, Kumar MD (2009) Influence of river discharge on plankton metabolic rates in the tropical monsoon driven Godavari estuary, India. Estuar Coast Shelf Sci 85:515–524

Seabergh WC (2006) Hydrodynamics of tidal inlets. In: Vincent L, Demirbilek Z (eds) Coastal Engineering manual, Part II, Coastal hydrodynamics, chap 6, Engineer manual 1110-2-110. U.S. Army Corps of Engineers, Washington

Seitzinger SP (1988) Denitrification in freshwater and coastal marine ecosystems: ecological and geochemical significance. Limnol Oceanogr 33:702–724

Sloth NP, Blackburn H, Hansen LS, Risgaard-Petersen N, Lomstein BA (1995) Nitrogen cycling in sediments with different organic loading. Mar Ecol Prog Ser 116:163–170

Sloth NP, Riemann B, Nielsen LP, Blackburn T (1996) Resilience of pelagic and benthic microbial communities to sediment resuspension in a coastal ecosystem, Knebel Vig, Denmark. Estuar Coast Shelf Sci 42:405–415

Soetaert K, Middelburg J (2009) Modeling eutrophication and oligotrophication of shallow-water marine systems: the importance of sediments under stratified and well-mixed conditions. Hydrobiologia 629:239–254

Sokal RR, Rohlf FJ (1995) Biometry, 3rd edn. WH Freeman and Company, New York

Ståhlberg C, Bastviken D, Svensson BH, Rahm L (2006) Mineralisation of organic matter in coastal sediments at different frequency and duration of resuspension. Estuar Coast Shelf Sci 70:317–325

Trott LA, Alongi DM (1999) Variability in surface water chemistry and phytoplankton biomass in two tropical, tidally dominated mangrove creeks. Mar Freshw Res 50:451–457

Trott LA, McKinnon AD, Alongi DM, Davidson A, Burford MA (2004) Carbon and nitrogen processes in a mangrove creek receiving shrimp farm effluent. Estuar Coast Shelf Sci 59:197–207

Wainright SC, Hopkinson CS (1997) Effects of sediment resuspension on organic matter processing in coastal environments: a simulation model. J Mar Syst 11:353–368

Webster IT, Harris GP (2004) Anthropogenic impacts on the ecosystems of coastal lagoons: modelling fundamental biogeochemical processes and management implications. Mar Freshw Res 55:67–78

Williams D, Wolanski E, Spagnol S (2006) Hydrodynamics of Darwin Harbour. In: Wolanski E (ed) The environment in Asia Pacific Harbours. Springer, Dordrecht, pp 461–476

Wolanski E, Jones M, Bunt JS (1980) Hydrodynamics of a tidal creek-mangrove swamp system. Mar Freshw Res 31:431–450

Wolanski E, Mazda Y, Ridd P (1992) Mangrove hydrodynamics. In: Robertson AI, Alongi DM (eds) Tropical mangrove ecosystems. American Geophysical Union, Washington, pp 43–62

Wolanski E, Spagnol S, Thomas S, Moore K, Alongi DM, Trott L, Davidson A (2000) Modelling and visualizing the fate of shrimp pond effluent in a mangrove-fringed tidal creek. Estuar Coast Shelf Sci 50:85–97

Woodroffe CD, Bardsley KN, Ward PJ, Hanley JR (1988) Production of mangrove litter in a macrotidal embayment, Darwin Harbour, N.T., Australia. Estuar Coast Shelf Sci 26:581–598

Zar JH (1999) Biostatistical analysis, 4th edn. Prentice Hall, Upper Saddle River
Acknowledgments
We wish to thank the staff from the Aquatic Health Unit at the Northern Territory Department of Natural Resources, Environment, The Arts and Sport for assistance with boats and logistics, Emily Saeck, Dominic Valdez, Matt Carey and Craig Smith for assistance with field work and laboratory analysis, Janice Trafford (GA) for MIMS analysis, Ed Czobik (NSW DECC) and Frank Krikowa (UC) for nutrient analysis, Liz Webber (GA) for XRF analysis, Rene Diocares (GU) and Rebecca Esmay (CMAR) for isotope analysis, Lesley Clemenston (CMAR) for chlorophyll analysis and Eric Valentine (CDU) for relevant information. We thank Rhys Leeming (CMAR), Alix Post (GA) and 2 anonymous reviewers whose useful comments substantially improved earlier versions of this manuscript.
This project was conducted as part of the Tropical Rivers and Coastal Knowledge (TRaCK) program. TRaCK receives major funding for its research through the Australian Government's Commonwealth Environment Research Facilities initiative; the Australian Government's Raising National Water Standards Program; Land and Water Australia; the Fisheries Research and Development Corporation and the Queensland Government's Smart State Innovation Fund.
This publication has received permission from the CEO of Geoscience Australia.
About this article
Cite this article
Smith, J., Burford, M.A., Revill, A.T. et al. Effect of nutrient loading on biogeochemical processes in tropical tidal creeks. Biogeochemistry 108, 359–380 (2012). https://doi.org/10.1007/s10533-011-9605-z
Received:

Accepted:

Published:

Issue Date:
Keywords
Benthic fluxes

Coupled nitrification–denitrification

Hypoxia

Nutrient loads

Primary production