Abstract
The Iberian Peninsula and the Balearic Islands are home to 1823 endemic taxa of vascular plants (nearly a quarter of total flora), half of which are narrowly distributed. Here, we explore the ecological traits related to endemism and rarity, and identify the variables other than range size associated with the conservation status. As found in other studies, narrow endemics seem to be prevalently adapted to stressful habitats in which aboveground competition is relatively low. In ecological terms, the greatest richness is found in mid-altitude calcareous rocky habitats, and secondarily in open Mediterranean shrubby formations. Coastal, steppic and alpine habitats contribute to endemism in specific regions and the species that inhabit them tend to have small ranges. A large percentage of narrow endemics (19%) grow on special substrates, underlying the importance of edaphic islands as drivers of spatial isolation. More productive habitats such as grasslands, wetlands and forests are negatively associated with endemism, and endemics occurring therein tend to be widely distributed. A total of 454 endemic taxa (25% of total endemics) are regarded as threatened, most of which belong to species-rich lineages. Certain ecological settings appear to be more likely to contain threatened species than others, wet lowlands, coastal habitats and steppic scrub being the most significant in decreasing order. Paradoxically, the areas of occupancy of the species occurring therein are relatively less protected. On the contrary, a large proportion of montane and alpine habitats are protected and many endemics found there are regarded as non-threatened at present. Nevertheless, some centers of endemism located at high elevations are at risk due to global warming.
Access options
Buy single article
Instant access to the full article PDF.
USD 39.95
Price excludes VAT (USA)
Tax calculation will be finalised during checkout.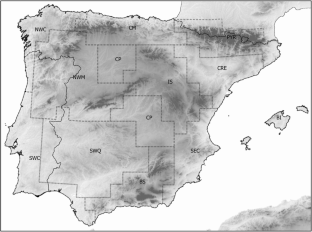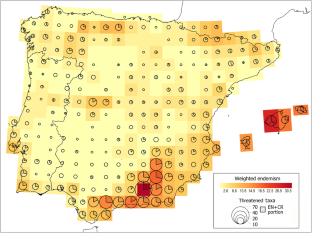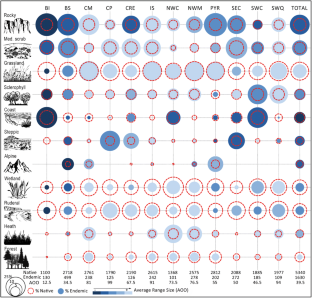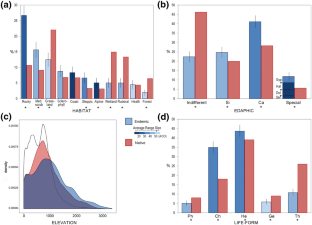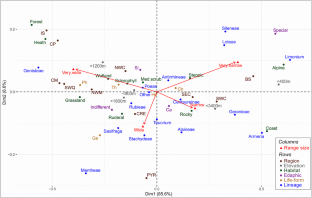 References
Anthos (2019) Sistema de Información sobre las plantas España. https://www.anthos.org. Accessed 30 May 2019

Atlas Flora Pyrenaea (2019) POCTEFA project. https://www.florapyrenaea.com/florapyrenaea/index.jsp. Accessed 30 May 2019

Baldwin BG (2014) Origins of plant diversity in the California Floristic Province. Annu Rev Ecol Evol Syst 45:347–369. https://doi.org/10.1146/annurev-ecolsys-110512-135847

Benito M, Calleja JA, Del Valle E, Domínguez F, Galicia D, Hernández-Bermejo E, Herrera-Molina F, Moreno JC, Prados J, Sainz H, Sánchez R, Vivero JL (2004) Vella pseudocytisus L. subsp. pseudocytisus. In: Bañares Á, Blanca G, Güemes J, Moreno JC, Ortiz S (eds) Atlas y Libro Rojo de La Flora Vascular Amenazada de España. Dirección General de Conservación de la Naturaleza, Madrid, p 1069

Buira A, Aedo C, Medina L (2017) Spatial patterns of the Iberian and Balearic endemic vascular flora. Biodivers Conserv 26:479–508

Byers C, Steinhorst R, Krausman P (1984) Clarification of a technique for analysis of utilization-availability data. J Wildl Manag 48(3):1050–1053. https://doi.org/10.2307/3801467

CaraDonna PJ, Iler AM, Inouye DW (2014) Shifts in flowering phenology reshape a subalpine plant community. Proc Natl Acad Sci 111:4916–4921. https://doi.org/10.1073/pnas.1323073111

Carapeto A, Francisco A, Pereira P, Porto M (eds), in press. Lista Vermelha da Flora Vascular de Portugal Continental. Sociedade Portuguesa de Botânica, Associação Portuguesa de Ciência da Vegetação-PHYTOS e Instituto da Conservação da Natureza e das Florestas, Lisboa

Castroviejo S (1986–2019) Flora iberica, vols. 1–18, 21. Real Jardín Botánico-CSIC, Madrid [detailed list of volume editors and genera authors at www.floraiberica.org]

Davies CE, Moss D, Hill MO (2004) EUNIS habitat classification revised 2004. Rep. to Eur. Environ. Agency-European Top. Cent. Nat. Prot. Biodivers. https://www.eea.europa.eu/themes/biodiversity/eunis/eunis-habitat-classification. Accessed 30 May 2019

Davies TJ, Smith GF, Bellstedt DU, Boatwright JS, Byterbier B, Cowling RM, Forest F, Harmon LJ, Muthama Muasya A, Schrire BD, Steenkamp Y, Van der Bank M, Savolainen V (2011) Extinction risk and diversification are linked in a plant biodiversity hotspot. PLoS Biol 8:e1000620. https://doi.org/10.1371/journal.pbio.1000620

De Cáceres M, Legendre P (2009) Associations between species and groups of sites: indices and statistical inference. Ecology 90:3566–3574

Di Marco M, Santini L (2015) Human pressures predict species' geographic range size better than biological traits. Glob Chang Biol 21:2169–2178. https://doi.org/10.1111/gcb.12834

Dimopoulos P, Raus T, Bergmeier E, Constantinidis T, Iatrou G, Kokkini S, Strid A, Tzanoudakis D (2016) Vascular plants of Greece: an annotated checklist. Supplement Willdenowia 46:301–347. https://doi.org/10.3372/wi.46.46303

Dobrowski SZ (2011) A climatic basis for microrefugia: the influence of terrain on climate. Glob Chang Biol 17:1022–1035. https://doi.org/10.1111/j.1365-2486.2010.02263.x

Domínguez-Lozano F, Galicia-Herbada D, Moreno-Rivero L, Moreno-Saiz JC, Sainz-Ollero H (1996) Threatened plants in peninsular and balearic Spain: a report based on the EU habitats directive. Biol Conserv 76:123–133. https://doi.org/10.1016/0006-3207(95)00107-7

Drury WH (1974) Rare Species. Biol Conserv 6:162–169. https://doi.org/10.1016/0006-3207(74)90061-5

Dufrêne M, Legendre P (1997) Species assemblages and indicator species: the need for a flexible asymmetrical approach. Ecol Monogr 67:345–366. https://doi.org/10.1890/0012-9615(1997)067[0345:SAAIST]2.0.CO;2

Escudero A (1996) Community patterns on exposed cliffs in a Mediterranean calcareous mountain. Vegetatio 125:99–110. https://doi.org/10.1007/BF00045208

Escudero A, Palacio S, Maestre FT, Luzuriaga A (2015) Plant life on gypsum: a review of its multiple facets. Biol Rev 90:1–18. https://doi.org/10.1111/brv.12092

Fennane M, Ibn Tattou M, Mathez J, Ouyahya A, El Oualidi J (eds) (1999–2015) Flore pratique du Maroc. Manuel de détermination des plantes vasculaires, 3 vols. Travaux de l'Institut Scientifique, Série Botanique, Rabat

Fernández-Mazuecos M, Jiménez-Mejías P, Martín-Bravo S, Buide ML, Álvarez I, Vargas P (2016) Narrow endemics on coastal plains: Miocene divergence of the critically endangered genus Avellara (Compositae). Plant Biol (Stuttg) 18:729–738. https://doi.org/10.1111/plb.12458

Flora-On (2014) Flora de Portugal Interactiva. https://www.flora-on.pt. Accessed 30 May 2019

Fuertes-Aguilar J, Nieto-Feliner G (2003) Additive polymorphisms and reticulation in an ITS phylogeny of thrifts (Armeria, Plumbaginaceae). Mol Phylogenet Evol 28:430–447. https://doi.org/10.1016/S1055-7903(02)00301-9

Gaston KJ (1994) Rarity. Chapman & Hall, London

Gaston KJ (1991) How large is a species' geographic range? Oikos 61:434–438. https://doi.org/10.2307/3545251

Gaston KJ, Blackburn TM (2000) Pattern and process in macroecology. Blackwell Science, Oxford

Gaston KJ, Fuller RA (2008) Commonness, population depletion and conservation biology. Trends Ecol Evol 23(1):14–19. https://doi.org/10.1016/j.tree.2007.11.001

Gaston KJ, Fuller RA (2009) The sizes of species' geographic ranges. J Appl Ecol 46:1–9. https://doi.org/10.1111/j.1365-2664.2008.01596.x

Gaston KJ, He F (2010) Species occurrence and occupancy. In: Magurran AE, McGill BJ (eds) Biological diversity. Oxford University Press, Oxford, pp 141–151

Georghiou K, Delipetrou P (2010) Patterns and traits of the endemic plants of Greece. Bot J Linn Soc 162:130–422. https://doi.org/10.1111/j.1095-8339.2010.01025.x

Giménez E, Melendo M, Valle F, Gómez-Mercado F, Cano E (2004) Endemic flora biodiversity in the south of the Iberian Peninsula: altitudinal distribution, life forms and dispersal modes. Biodivers Conserv 13:2641–2660

GLORIA (2019) Global Observation Research Initiative in Alpine environments. Glob. Obs. Res. Initiat. Alp. Environ. https://gloria.ac.at/. Accessed 30 May 2019

Gómez-Ortiz A, Sanjosé-Blasco JJ, Salvador-Franch F, Palacios D, Salvà-Catarineu M, Oliva M, Tanarro LM, Atkinson A (2014) El proceso de degradación de hielos glaciares relictos y permafrost en Sierra Nevada (Península Ibérica): el caso del glaciar rocoso del Corral del Veleta. Avances. Métodos y Técnicas En El Estudio Del Periglaciarismo. Publicacions i Edicions de la Universitat, Barcelona, pp 149–160

Harrison S, Noss R (2017) Endemism hotspots are linked to stable climatic refugia. Ann Bot 119:207–214. https://doi.org/10.1093/aob/mcw248

Hodgson JG (1991) Management for the conservation of plants with particular reference to the British flora. In: Spellerberg IF, Goldsmith FB, Morris MG (eds) The scientific management of temperate communities for conservation; The 31st Symposium of the British Ecological Society, Southampton 1989. Blackwell Scientific Publications, Oxford, pp 81–102

Hughes CE, Atchinson GW (2015) The ubiquity of alpine plant radiations: from the Andes to the Hengduan Mountains. New Phytol 207:275–282. https://doi.org/10.1111/nph.13230

IUCN (2012) IUCN red list categories and criteria, 2nd edn. IUCN, Cambridge

Kassambara A, Mundt F (2017) Factoextra: Extract and Visualize the Results of Multivariate Data Analyses. R package version 1.0.5. https://cran.r-project.org/web/packages/factoextra/index.html

Knapp S (2011) Rarity, species richness, and the threat of extinction-are plants the same as animals? PLoS Biol 9:e1001067. https://doi.org/10.1371/journal.pbio.1001067

Kruckeberg AR, Rabinowitz D (1985) Biological aspects of endemism in higher plants. Annu Rev Ecol Syst 16:447–479. https://doi.org/10.1146/annurev.es.16.110185.002311

Kuhn M (2008) Building predictive models in using the caret package. J Stat Softw 28(5):1–26. https://doi.org/10.18637/jss.v028.i05

Lavergne S, Thompson JD, Garnier E, Debussche M (2004) The biology and ecology of narrow endemic and widespread plants: a comparative study of trait variation in 20 congeneric pairs. Oikos 107:505–518. https://doi.org/10.1111/j.0030-1299.2004.13423.x

Lavergne S, Thuiller W, Molina J, Debussche M (2005) Environmental and human factors influence rare plant local occurrence, extinction and persistence: a 115-year study in the Mediterranean region. J Biogeogr 32:799–811. https://doi.org/10.1111/j.1365-2699.2005.01207.x

Le Roux JJ, Hui C, Castillo ML, Iriondo JM, Keet J-H, Khapugin AA, Médail F, Rejmánek M, Theron G, Yannelli FA, Hirsch H (2019) Recent anthropogenic plant extinctions differ in biodiversity hotspots and coldspots. Curr Biol 29(17):2912–2918. https://doi.org/10.1016/j.cub.2019.07.063

Lê S, Josse J, Husson F (2008) FactoMine: an R package for multivariate analysis. J Stat Softw 25(1):1–18. https://doi.org/10.18637/jss.v025.i01

Major J (1988) Endemism: a botanical perspective. In: Meyers AA, Giller PS (eds) Analytical biogeography. Chapman & Hall, London and New York, pp 117–146

Martínez-Hernández F, Pérez-García FJ, Garrido-Becerra JA, Mendoza-Fernández AJ, Medina-Cazorla JM, Martínez-Nieto MI, Calvente MEM, Poveda JFM (2011) The distribution of Iberian gypsophilous flora as a criterion for conservation policy. Biodivers Conserv 20:1353–1364. https://doi.org/10.1007/s10531-011-0031-2

Médail F, Verlaque R (1997) Ecological characteristics and rarity of endemic plants from southeast France and Corsica: implications for biodiversity conservation. Biol Conserv 80:269–271. https://doi.org/10.1016/S0006-3207(96)00055-9

Molina-Venegas R, Aparicio A, Pina FJ, Valdés B, Arroyo J (2013) Disentangling environmental correlates of vascular plant biodiversity in a Mediterranean hotspot. Ecol Evol 3:3879–3894. https://doi.org/10.1002/ece3.762

Moreno JC (ed) (2010) Lista Roja de la Flora Vascular Española 2008. Actualización con los datos del Adenda 2010 al Atlas y Libro Rojo de la Flora Vascular amenazada. Dirección General de Conservación de la Naturaleza y Sociedad Española de Biología de la Conservación de Plantas, Madrid

Mota JF, Garrido-Becerra JA, Merlo ME, Medina-Cazorla JM, Sánchez-Gómez P (2017) The edaphism: gypsum, dolomite and serpentine flora and vegetation. In: Loidi J (ed) The vegetation of the iberian peninsula. Plant and Vegetation, Springer, Cham, pp 277–354

Mota JF, Medina-Cazorla JM, Navarro FB, Pérez-García FJ, Pérez-Latorre A, Sánchez-Gómez P, Torres JA, Benavente A, Blanca G, Gil C, Lorite J, Merlo ME (2008) Dolomite flora of the Baetic Ranges glades (South Spain). Flora 203:359–375. https://doi.org/10.1016/j.flora.2007.06.006

Mota JF, Sánchez-Gómez P, Merlo ME, Catalán P, Laguna E, De la Cruz M, Navarro-Reyes FB, Marchal F, Bartolomé C, Martínez Labarga JM, Sainz-Ollero H, Valle F, Serra L, Martínez-Hernández F, Garrido-Becerra JA, Pérez-García FJ (2009) Aproximación a la checklist de los gipsófitos ibéricos. Anales Biol. 31:71–80

Mota JF, Sánchez-Gómez P, Guirado JS (2011) Diversidad vegetal de las yeseras ibéricas. ADIF y Mediterráneo Asesores Consultores, Almería

Munson SM, Sher AA (2015) Long-term shifts in the phenology of rare and endemic Rocky Mountain plants. Am J Bot 102:1268–1276. https://doi.org/10.3732/ajb.1500156

Ohlemüller R, Anderson BJ, Araujo MB, Butchart SHM, Kudrna O, Ridgely RS, Thomas CD (2008) The coincidence of climatic and species rarity: high risk to small-range species from climate change. Biol Lett 4:568–572. https://doi.org/10.1098/rsbl.2008.0097

Peñas J, Benito B, Lorite J, Ballesteros M, Cañadas EM, Martinez-Ortega M (2011) Habitat Fragmentation in arid zones: a case study of linaria nigricans under land use changes (SE Spain). Environ Manage 48:165–176. https://doi.org/10.1007/s00267-011-9663-y

Pereira AJ, Francisco A, Porto M (2016) Flora-On: occurrence data of the vascular flora of mainland Portugal. PhytoKeys 69:105–119. https://doi.org/10.3897/phytokeys.69.9432

Pérez-Luque AJ, Sánchez-Rojas CP, Zamora R, Pérez-Pérez R, Bonet FJ (2015) Dataset of phenology of mediterranean high-mountain meadows flora (Sierra Nevada, Spain). PhytoKeys 46:89–107. https://doi.org/10.3897/phytokeys.46.9116

Plaza Arregui L, Rodríguez Hiraldo C (2009) La recuperación de Linaria lamarckii. Conservación Vegetal 13:16–17

Quézel P (1995) La flore du bassin méditerranéen: origine, mise en place, endémisme. Ecologia Mediterranea 21:19–39

Rabinowitz D (1981) Seven forms of rarity. In: Synge H (ed) The biological aspects of rare plant conservation. John Wiley & Sons, Chichester, pp 205–217

Raunkiaer C (1934) The life forms of plants and statistical plant geography; being the collected papers of C. Raunkiaer. Clarendon Press, Oxford

Reveal JL (1981) The concept of rarity and population threats in plant communities. In: Morse LE, Henefin ME (eds) Rare plant conservation. Bronx, New York Botanical garden, pp 41–46

Rhazi L, Grillas P, Toure AM, Ham LT (2001) Impact of land use in catchment and human activities on water, sediment and vegetation of Mediterranean temporary pools. Comptes Rendus l'Academie des Sci Ser III 324:156–177. https://doi.org/10.1016/S0764-4469(00)01286-5

Róis AS, Sádio F, Paulo OS, Teixeira G, Paes AP, Espírito-Santo D, Sharbel TF, Caperta AD (2016) Phylogeography and modes of reproduction in diploid and tetraploid halophytes of Limonium species (Plumbaginaceae): evidence for a pattern of geographical parthenogenesis. Ann Bot 117:37–50. https://doi.org/10.1093/aob/mcv138

Rovira AM (2008) Planta del Mes núm 5: Seseli farrenyi. Portal Biol. la Conserv. plantes. Lab. Botànica, Fac. Farmàcia, Univ. Barcelona. https://hdl.handle.net/2445/27726. Accessed 30 May 2019

Schwartz MW, Simberloff D (2001) Taxon size predicts rates of rarity in vascular plants. Ecol Lett 4:464–469. https://doi.org/10.1046/j.1461-0248.2001.00241.x

Silcok JL, Fensham RJ (2018) Using evidence of decline and extinction risk to identify priority regions, habitats and threats for plant conservation in Australia. Aust J Bot 66:541–555. https://doi.org/10.1071/BT18056

Smyčka J, Roquet C, Renaud J, Thuiller W, Zimmerman NE, Lavergne S (2017) Disentangling drivers of plant endemism and diversification in the European Alps-A phylogenetic and spatially explicit approach. Perspect Plant Ecol Evol Syst 28:19–27. https://doi.org/10.1016/j.ppees.2017.06.004

R Core Team (2018) R: A language and environment for statistical computing. R Foundation for Statistical Computing, Vienna

Rundel PW, Arroyo MTK, Cowling RM, Keeley JE, Lamont BB, Vargas P (2016) Mediterranean biomes: evolution of their vegetation, floras, and climate. Annu Rev Ecol Evol Syst 47:383–407. https://doi.org/10.1146/annurev-ecolsys-121415-032330

Soltis DE, Mort ME, Latvis M, Mavrodiev EV, O'Meara BC, Soltis PS, Burleigh JG, Rubio de Casas R (2013) Phylogenetic relationships and character evolution analysis of Saxifragales using a supermatrix approach. Am J Bot 100:916–929. https://doi.org/10.3732/ajb.1300044

Thompson JD (2005) Plant evolution in the Mediterranean. Oxford University Press, Oxford. https://doi.org/10.1093/acprof:oso/9780198515340.001.0001

Thompson JD, Lavergne S, Affre L, Gaudeul M, Debussche M (2005) Ecological differentiation of Mediterranean endemic plants. Taxon 54:967–976. https://doi.org/10.2307/25065481

Tison JM, Foucault B de (2014) Flora Gallica: flore de France / Jean-Marc Tison [rédacteur principal], Bruno de Foucault [animateur du projet]; dessins de François Guiol. LK-https://ucm.on.worldcat.org/oclc/908061314, TA-TT-. Biotope, Mèze SE-XX, 1195 p.: il.

Venables WN, Ripley BD (2002) Modern applied statistics with S, 4th edn. Springer, New York

Verdú M, Pausas JG (2013) Syndrome-driven diversification in a Mediterranean ecosystem. Evolution 67:1756–1766. https://doi.org/10.1111/evo.12049

WCS (2005) Wildlife Conservation Society and Center for International Earth Science Information Network—CIESIN—Columbia University. Last of the Wild Project, Version 2, 2005 (LWP-2): Global Human Influence Index (HII) Dataset (Geographic). Palisades: NASA Socioeconomic Data and Applications Center (SEDAC).

Wei T, Simko V (2017) R package "corrplot": Visualization of a Correlation Matrix (Version 0.84). https://github.com/taiyun/corrplot

Wickham H (2016) ggplot2: elegant graphics for data analysis. Springer-Verlag, New York

Yin D, He F (2014) A simple method for estimating species abundance from occurrence maps. Methods Ecol Evol 5:336–343. https://doi.org/10.1111/2041-210X.12159

Zacharias I, Zamparas M (2010) Mediterranean temporary ponds. A dissappearing ecosystem Biodivers Conserv 19:3827–3834. https://doi.org/10.1007/s10531-010-9933-7
Acknowledgements
We thank all the authors of the taxonomic treatments of Flora iberica, used to compile the list of the Iberian and Balearic endemic vascular flora, as well as all the authors of the Spanish and Portuguese Red Lists which thoroughly catalogued the plant species. We also thank to M. Porto and X. Font to provide us data from Flora-on and BDBC respectively.
Funding
This work has been funded by the Spanish Government through the Flora iberica project (CGL2017-85204-C3-1-P).
Ethics declarations
Conflict of interest
The authors declare that they have no conflict of interest.
Additional information
Communicated by Daniel Sanchez Mata.
Publisher's Note
Springer Nature remains neutral with regard to jurisdictional claims in published maps and institutional affiliations.
Electronic supplementary material
Below is the link to the electronic supplementary material.
About this article
Cite this article
Buira, A., Cabezas, F. & Aedo, C. Disentangling ecological traits related to plant endemism, rarity and conservation status in the Iberian Peninsula. Biodivers Conserv 29, 1937–1958 (2020). https://doi.org/10.1007/s10531-020-01957-z
Received:

Revised:

Accepted:

Published:

Issue Date:

DOI: https://doi.org/10.1007/s10531-020-01957-z
Keywords
Range size

Threatened plants

Vulnerable habitats

Red list

Checklist

Edaphic specialization