Abstract
Invasive crayfishes have a strong negative effect on multiple trophic levels, including other crayfishes. However, documentation of the spread of non-native crayfish species and their impact on native crayfishes could be improved, particularly over large spatial scales in stream ecosystems. We collected crayfish and quantified habitat at 461 stream sites throughout Michigan in 2014–2016 and compared our collections to a historical account of crayfish collections published in 1975. Our objectives were to: (1) quantify the change in non-native rusty crayfish (Faxonius rusticus) and native species distributions from 1975 to 2014–2016; (2) quantify how rusty crayfish affect the habitat associations of native species in Michigan streams; and (3) determine the effectiveness of dipnets, our primary sampling method. We found all species in more watersheds compared to 1975, likely due in part to increased sampling. However, we found rusty crayfish in 22 more HUC-8 watersheds than in 1975, a larger increase than all other species. Habitat associations of native species also shift in the presence of rusty crayfish. In instances where native species co-occurred with rusty crayfish, most obligate aquatic native species were found in less-preferred habitat such as sand or macrophytes compared to cobble substrate when the species is in isolation. Our results indicate a broad range expansion by rusty crayfish over the last 40 years, suggesting that surveys of crayfish diversity and habitat occupancy should be more routine to inform management of native crayfish species.
Access options
Buy single article
Instant access to the full article PDF.
US$ 39.95
Tax calculation will be finalised during checkout.
Subscribe to journal
Immediate online access to all issues from 2019. Subscription will auto renew annually.
US$ 79
Tax calculation will be finalised during checkout.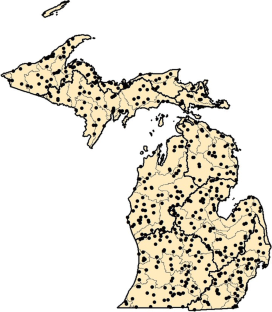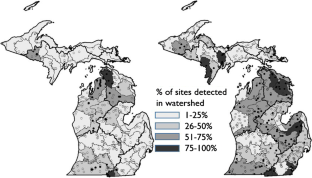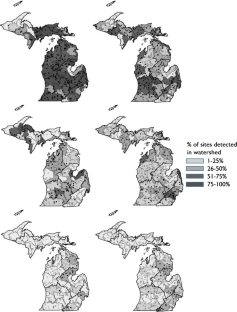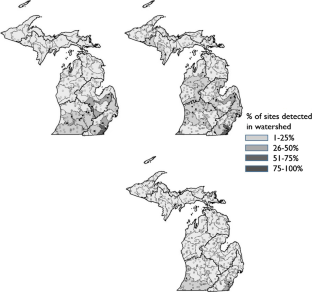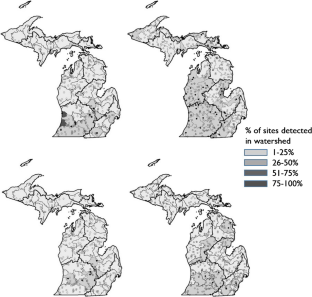 References
Bergman D, Moore P (2003a) Field observations of intraspecific agonistic behavior of two crayfish species, Orconectes rusticus and Orconectes virilis, in different habitats. Biol Bull 205:26–35

Bergman D, Moore P (2003b) Field observations of intraspecific agonistic behavior of two crayfish species, Orconectes rusticus and Orconectes virilis, in different habitats. Biol Bull 205:26–35

Berrill M (1978) Distribution and ecology of crayfish in the Kawartha Lakes region of southern Ontario. Can J Zool 56:166–177

Berrill M, Hollett L, Margosian A et al (1985) Variation in tolerance to low environmental pH by the crayfish Orconectes rusticus, O. propinquus, and Cambarus robustus. Can J Zool 63:2586–2589

Burskey JL, Simon TP (2010) Reach- and watershed-scale associations of crayfish within an area of varying agricultural impact in west-central Indiana. Southeast Nat 9:199–216

Capelli G, Munjal B (1980) Hybridization between crayfish of the genus Orconectes: morphological evidence. Crustaceana 39:121–132

Capelli GM, Munjal BL (1982) Aggressive interactions and resource competition in relation to species displacement among crayfish of the genus Orconectes. J Crustac Biol 2:486–492

Carreira B, Dias M, Rebelo R (2014) How consumption and fragmentation of macrophytes by the invasive crayfish Procambarus clarkii shape the macrophyte communities of temporary ponds. Hydrobiologia 721:89–98

Charlebois P, Lamberti G (1996) Invading crayfish in a Michigan stream: direct and indirect effects on periphyton and macroinvertebrates. J N Am Benthol Soc 15:551–563

Collins NC, Harvey HH, Tierney AJ et al (1983) Influence of predatory fish density on trapability of crayfish in Ontario lakes. Can J Fish Aquat Sci 40:1820–1828

Creaser EP (1931) The Michigan decapod crustaceans. Pap Mich Acad Sci Arts Lett 13:257–276

Creel S, Winnie J Jr, Maxwell B et al (2005) Elk alter habitat selection as an antipredator response to wolves. Ecology 86:3387–3397

Crocker DW, Barr DW (1968) Handbook of the crayfishes of Ontario. University of Toronto Press, Toronto

Daniels R (1998) Changes in the distribution of stream dwelling crayfishes in the Schoharie Creek system, eastern New York State. Northeast Nat 5:231–248

Didham R, Tylianakis J, Hutchison M et al (2005) Are invasive species the drivers of ecological change? Trends Ecol Evol 20:470–475

Didham R, Tylianakis J, Gemmell N et al (2007) Interactive effects of habitat modification and species invasion on native species decline. Trends Ecol Evol 22:489–496

DiDonato G, Lodge D (1993) Species replacements among Orconectes crayfishes in Wisconsin lakes: the role of predation by fish. Can J Fish Aquat Sci 50:1484–1488

Dorn NJ, Mittelbach GG (1999) More than predator and prey: a review of interactions between fish and crayfish. Vie Et Milieu 49:229–237

Dorn N, Urguelles R, Trexler J (2005) Evaluating active and passive sampling methods to quantify crayfish density in a freshwater wetland. J N Am Benthol Soc 24:346–356

ESRI (2011) ArcGIS desktop: release 10. Environmental Systems Research Institute, Redlands

Faller M, Harvey GL, Henshaw AJ et al (2016) River bank burrowing by invasive crayfish: spatial distribution, biophysical controls and biogeomorphic significance. Sci Total Environ 569:1190–1200

Faxon W (1884) Descriptions of new species of Cambarus. Proc Am Acad Arts Sci 20:107–158

France RL (1985) Relationship of crayfish (Orconectes virilis) growth to population abundance and system productivity in small oligotrophic lakes in the experimental Lakes Area, Northwestern Ontario. Can J Fish Aquat Sci 42:1096–1102

Garvey JE, Stein RA (1993) Evaluating how chela size influences the invasion potential of an introduced crayfish (Orconectes rusticus). Am Midl Nat 129:172–181

Garvey JE, Stein RA, Thomas HM (1994) Assessing how fish predation and interspecific prey competition influence a crayfish assemblage. Ecology 75:532–547

Garvey JE, Rettig JE, Stein RA et al (2003) Scale-dependent associations among fish predation, littoral habitat, and distributions of crayfish species. Ecology 84:3339–3348

Gherardi F (2006) Crayfish invading Europe: the case study of Procambarus clarkii. Mar Freshw Behav Phys 39:175–191

Gherardi F, Daniels W (2004) Agonism and shelter competition between invasive and indigenous crayfish species. Can J Zool 82:1923–1932

Hill A, Lodge D (1994) Diel changes in resource demand: competition and predation in species replacement among crayfishes. Ecology 75:2118–2126

Hill A, Sinars D, Lodge D (1993) Invasion of an occupied niche by the crayfish Orconectes rusticus: potential importance of growth and mortality. Oecologia 94:303–306

Hobbs H (1942) The crayfishes of Florida. University of Florida Publications. Biol Sci Ser 3:1–79

Hobbs HH (1981) The crayfishes of Georgia. Smithson Contrib Zool 318:1–549

Hobbs HI, Jass J (1988) The crayfishes and shrimps of Wisconsin. Wisconsin Public Museum, Milwaukee

Hobbs HHI, Jass JP, Huner JV (1989) A review of global crayfish introductions with particular emphasis on two North American species (Decapoda, Cambaridae). Crustaceana 56:299–316

Hrabik T, Roth B, Ahrenstorff TD (2014) Predation risk and prey fish vertical migration in Lake Superior: insights from an individual based model of siscowet (Salvelinus namaycush). J Great Lakes Res 40:730–738

Huner J, Lundquist O (1995) Phyisological adaptations of freshwater crayfishes that permit successful aquacultural enterprises. Am Soc Zool 35:12–19

Ilheu M, Bernardo J, Fernandes S (2007) Predation of invasive crayfish on aquatic vertebrates: the effect of Procambarus clarkii on fish assemblages in Mediterranean temporary streams. Biol Invaders Inland Waters 29:543–558

Jansen W, Geard N, Mosindy T et al (2009) Relative abundance and habitat association of three crayfish (Orconectes virilis, O. rusticus, and O. immunis) near an invasion front of O. rusticus, and long-term changes in their distribution in Lake of the Woods, Canada. Aquat Invasions 4:627–649

Kershner MW, Lodge DM (1995) Effects of littoral habitat and fish predation on the distribution of an exotic crayfish, Orconectes rusticus. J N Am Benthol Soc 14:141–422

Kiesecker J, Blaustein A (1998) Effects of introduced bullfrogs and smallmouth basson microhabitat use, growth, and survival of native red-legged frogs (Rana aurora). Conserv Biol 12:776–787

Seelbach P, Whiley M, Kotanchik J, et al. (1997) A landscape-based ecological classification system for river valley segments in lower Michigan (MI-VSEC Version 1.0). Michigan Department of natural resources fisheries report no. 2036

Kreps T, Larson E, Lodge D (2016) Do invasive rusty crayfish (Orconectes rusticus) decouple littoral and pelagic energy flows in lake food webs? Freshw Sci 35:104–113

Lippson R (1975) The distribution of the crayfishes of Michigan with aspects of their life cycle and physiology. Michigan State University, East Lansing

Lodge DM, Lorman JG (1987) Reductions in submersed macrophyte biomass and species richness by the crayfish Orconectes rusticus. Can J Fish Aquat Sci 44:591–597

Lodge DM, Kershner MW, Aloi JE et al (1994) Effects of an omnivorous crayfish (Orconectes rusticus) on a freshwater littoral food web. Ecology 75:1265–1281

Lodge DM, Stein RA, Brown KM et al (1998) Predicting impact of freshwater exotic species on native biodiversity: challenges in spatial scaling. Aust J Ecol 23:53–67

Lodge DM, Taylor CA, Holdich DM et al (2000) Nonidigenous crayfishes threaten North American freshwater biodiversity. Fisheries 25:7–19

Losos J, Marks J, Schoener T (1993) Habitat use and ecological interactions of an introduced and a native species of Anolis lizard on Grand Cayman, with a review of the outcomes of anole introductions. Oecologia 95:525–532

Lozon J, MacIsaac HJ (1997) Biological invasions: are they dependent on disturbance? Environ Rev 5:131–144

Mackenzie D, Nichols J, Royle A et al (2006) Occupancy estimation and modelling. Academic Press, Burlington

Mather ME, Stein RA (1993a) Direct and indirect effects of fish predation on the replacement of a native crayfish by an invading congener. Can J Fish Aquat Sci 50:1279–1288

Mather ME, Stein RA (1993b) Using growth/mortality trade-offs to explore a crayfish species replacement in stream riffles and pools. Can J Fish Aquat Sci 50:88–96

Michigan Department of Natural Resources (2001) Fisheries management units. Michigan Department of Natural Resources, Fisheries Research Reports, East Lansing

Momot WT (1995) Redefining the role of crayfish in aquatic ecosystems. Rev Fish Sci 3:33–63

Momot WT, Gowing H (1983) Some factors regulating cohort production of the crayfish Orconectes virilis. Freshw Biol 13:1–12

Momot WT, Gowing H, Jones PD (1978) The dynamics of crayfish and their role in ecosystems. Am Midl Nat 99:10–35

Morse J, Baldridge A, Sargent L (2013) Invasive crayfish Orconectes rusticus is a more effective predator of substrate nesting fish eggs than native crayfish (O. virilis). Crustaceana 86:387–402

Moyle PB, Light T (1996) Biological invasions of fresh water: empirical rules and assembly theory. Biol Conserv 78:149–161

Nystrom P, Stenroth P, Holmqvist N et al (2006) Crayfish in lakes and streams: individual and population responses to predation, productivity and substratum availability. Freshw Biol 51:2096–2112

Olden J, McCarthy J, Maxted J et al (2006) The rapid spread of rusty crayfish (Orconectes rusticus) with observations on native crayfish declines in Wisconsin (U.S.A.) over the past 130 years. Biol Invasions 8:1621–1628

Peck SK (1985) Effects of aggressive interaction on temperature selection by the crayfish, Orconectes virilis. Am Midl Nat 114:159–167

Perry WL, Feder JL, Dwyer G et al (2001a) Hybrid zone dynamics and species replacement between Orconectes crayfishes in a northern Wisconsin lake. Evolution 55:1153–1166

Perry WL, Feder JL, Lodge DM (2001b) Implications of hybridization between introduced and resident Orconectes crayfishes. Conserv Biol 15:1656–1666

Perry W, Feder J, Lodge D (2002) Importance of Hybridization between indigenous and nonindigenous freshwater species: an overlooked threat to North American biodiversity. Syst Biol 51:255–275

Pintor L, Sih A (2009) Differences in growth and foraging behavior of native and introduced populations of an invasive crayfish. Biol Invasions 11:1895–1902

Price J, Welch S (2009) Semi-quantitative methods for crayfish sampling: sex, size, and habitat bias. J Crustac Biol 29:208–216

R Development Core Team (2018) A language and environment for statistical computing. R Foundation for Statistical Computing, Vienna, Austria. ISBN 3-900051-07-0. http://www.R-project.org

Rabeni CF (1992) Trophic linkage between stream centrarchids and their crayfish prey. Can J Fish Aquat Sci 49:1714–1721

Reid S, Nocera J (2015) Composition of native crayfish assemblages in southern Ontario rivers affected by rusty crayfish (Orconectes rusticus Girard, 1852) invasions—implications for endangered queensnake recovery. Aquat Invasions 10:189–198

Roth BM, Kitchell JF (2005) The role of size-selective predation in the displacement of Orconectes crayfishes following rusty crayfish invasion. Crustaceana 78:299–312

Roth BM, Hein CL, Zanden MJV (2006) Using bioenergetics and stable isotopes to assess the trophic role of rusty crayfish (Orconectes rusticus) in lake littoral zones. Can J Fish Aquat Sci 62:335–344

Roth BM, Tetzlaff JC, Alexander ML et al (2007) Reciprocal relationships between exotic rusty crayfish, macrophytes, and Lepomis species in northern Wisconsin lakes. Ecosystems 10:74–85

Saiki M, Tash J (1979) Use of cover and dispersal by crayfish to reduce predation by largemouth bass. In: Johnson D, Stein R (eds) Response of fish to habitat structure in standing water. American Fisheries Society, New York, pp 44–48

Smily PC, Dibble ED (2000) Microhabitat use of an introduced crayfish (Orconectes rusticus) in Long Lake, Wisconsin. J Freshw Ecol 15:115–123

Tack P (1939) The life history and ecology of the crayfish Cambarus immunis (Hagen). Michigan State University Press, East Lansing

Taylor CA, Redmer M (1996) Dispersal of the crayfish Orconectes rusticus in Illinois, with notes on species displacement and habitat preference. J Crustac Biol 16:547–551

Taylor CA, Warren ML, Fitzpatrick JF et al (1996) Conservation status of crayfishes of the United States and Canada. Fisheries 21:25–38

Taylor C, Schuster G, Cooper J et al (2007) A reassessment of the conservation status of crayfishes of the United States and Canada after 10 + years of increased awareness. Fisheries 32:372–389

Taylor CA, Schuster G, Wylie D (2015) Field guide to crayfishes of the Midwest. Illinois Natural History Survey Press, Illinois

Thoma RF, Jezerinac F, Simon TP (2005) Cambarus (Tubericambarus) polychromatus (Decapoda: Cambaridae), a new species of crayfish from the United States. Proc Biol Soc Wash 118:326–336

Trammell M, Butler J (1995) Effects of exotic plants on native ungulate use of habitat. J Wildl Manag 59:808–816

U.S. Department of Agriculture Service Center Agencies—National Geospatial Management Center (2013) 8 Digit Watershed Boundary Dataset. USDA/NRCS—National Geospatial Management Center, Reston

Valeix M, Loveridge A, Chamaille-Jammes S et al (2009) Behavioral adjustments of African herbivores to predation risk by lions: spatiotemporal variations influence habitat use. Ecology 90:23–30

Welch S, Eversole A (2006) The occurrence of primary burrowing crayfish in terrestrial habitat. Biol Conserv 130:458–464

Werner EE, Gilliam JF, Hall DJ et al (1983) An experimental test of the effects of predation risk on habitat use in fish. Ecology 64:1540–1548

Wilcove DS, Rothstein D, Dubow J et al (1998) Quantifying threats to imperiled species in the United States. Bioscience 48:607–615

Wills T, Zorn T, Nuhfer A (2006) Stream status and trends program sampling protocols. In: Schneider J (ed) Manual of fisheries survey methods II: with periodic updates. Michigan Department of Natural Resources Fisheries Special Report 25, Ch. 26, Ann Arbor, MI

Wilson KA, Magnuson JJ, Lodge DM et al (2004) A long-term rusty crayfish (Orconectes rusticus) invasion: dispersal patterns and community change in a north temperate lake. Can J Fish Aquat Sci 61:2255–2266
Acknowledgements
Roger Thoma, Jim Norrocky for valuable information regarding crayfish ecology, behavior, methods, and classification Brandon Bergen, Casey Koleski, Jon Hummel, Aya Pickett, Emily Giuliano, and Brandon Schroeder for field assistance. Kwamina Otseidu was invaluable in transcribing Lippson's collections into GPS coordinates. This is publication 2018–17 of the Quantitative Fisheries Center at Michigan State University. This project was funded by the Michigan Department of Natural Resources, under Contract No. 751B4300065.
Electronic supplementary material
Below is the link to the electronic supplementary material.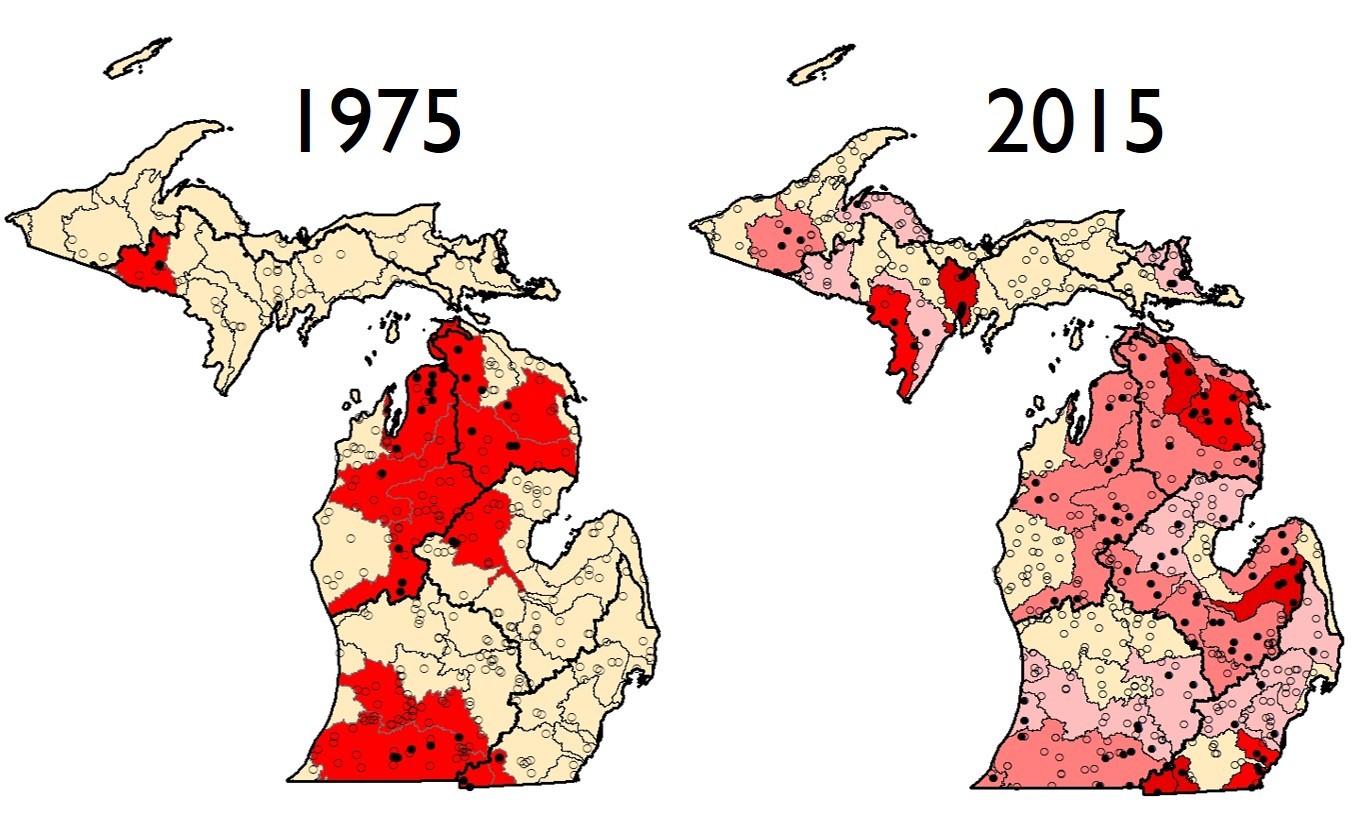 Appendix
Appendix
See Table 7.
About this article
Cite this article
Smith, K.R., Roth, B.M., Jones, M.L. et al. Changes in the distribution of Michigan crayfishes and the influence of invasive rusty crayfish (Faxonius rusticus) on native crayfish substrate associations. Biol Invasions 21, 637–656 (2019). https://doi.org/10.1007/s10530-018-1852-7
Received:

Accepted:

Published:

Issue Date:
Keywords
Rusty crayfish

Orconectes

Range expansion

Crayfish

Substrate associations