Abstract
A novel aerobic bacterium, designated strain LAM0705T, was isolated from the rhizosphere of Populus alba in the Peking University Third Hospital. Cells of strain LAM0705T were observed to be Gram-stain positive, motile, spore-forming and rod-shaped. The optimal temperature and pH for growth were found to be 30 °C and pH 7.5, respectively. Strain LAM0705T was found to be able to grow in the presence 0–5 % NaCl (w/v) (optimum 1.0 %). The major fatty acids of strain LAM0705T were identified as anteiso-C15:0, C16:0 and iso-C16:0. The dominant polar lipids were found to consist of diphosphatidylglycerol, phosphatidylethanolamine and phosphatidylglycerol. The cell wall peptidoglycan of strain LAM0705T was found to contain meso-diaminopimelic acid. The predominant menaquinone was identified as MK-7. The G+C content of genomic DNA was found to be 48 mol% when determined by the T m method. The 16S rRNA gene sequence similarity analysis indicated that strain LAM0705T is closely related to Paenibacillus agaridevorans DSM 1355T and Paenibacillus thailandensis KCTC 13043T with 97.8 and 96.1 % sequence similarity, respectively. The DNA–DNA hybridization value between strain LAM0705T and P. agaridevorans DSM 1355T was 47 ± 0.8 %. On the basis of its phenotypic, phylogenetic and chemotaxonomic characteristics, strain LAM0705T is concluded to represent a novel species of the genus Paenibacillus, for which the name Paenibacillus populi sp. nov. is proposed. The type strain is LAM0705T (=ACCC 06427T = JCM 19843T).
Access options
Buy single article
Instant access to the full article PDF.
US$ 39.95
Tax calculation will be finalised during checkout.
Subscribe to journal
Immediate online access to all issues from 2019. Subscription will auto renew annually.
US$ 119
Tax calculation will be finalised during checkout.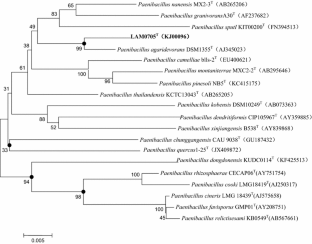 References
Ash C, Priest FG, Collins MD (1993) Molecular identification of rRNA group 3 bacilli (Ash, Farrow, Wallbanks and Collins) using a PCR probe test. Antonie Van Leeuwenhoek 64:253–260

Ash C, Priest FG, Collins MD (1994) Paenibacillus gen. nov. in validation of the publication of new names and new combinations previously effectively. Int J Syst Bacteriol 44:852–853

Behrendt U, Schumann P, Stieglmeier M, Pukall R, Augustin J, Sproer C, Schwendner P, Moissl-Eichinger C, Ulrich A (2010) Characterization of heterotrophic nitrifying bacteria with respiratory ammonification and denitrification activity description of Paenibacillus uliginis sp. nov., an inhabitant of fen peat soil and Paenibacillus purispatii sp.nov., isolated from a spacecraft assembly clean room. Syst Appl Microbiol 33:328–336

Buck JD (1982) Nonstaining (KOH) method for determination of gram reactions of marine bacteria. Appl Environ Microbiol 44:992–993

De Ley J, Cattoir H, Reynaerts A (1970) The quantitative measurement of DNA hybridization from renaturation rates. Eur J Biochem 12:133–142

Fang MX, Zhang WW, Zhang YZ, Tan HQ, Zhang XQ, Wu M, Zhu X-F (2012) Brassicibacter mesophilus gen. nov., sp. nov., a strictly anaerobic bacterium isolated from food industry wastewater. Int J Syst Evol Microbiol 62:3018–3023

Fitch WM (1971) Toward defining the course of evolution: minimum change for a specific tree topology. Syst Zool 20:406–416

Heyndrickx M, Vandemeulebroecke K, Scheldeman P, Kersters K, De Vos P, Logan NA, Aziz AM, Ali N, Berkeley RCW (1996) A polyphasic reassessment of the genus Paenibacillus, reclassification of Bacillus lautus (Nakamura 1984) as Paenibacillus lautus comb. nov. and of Bacillus peoriae (Montefusco et al. 1993) as Paenibacillus peoriae comb.nov., and emended descriptions of P. lautus and of P. peoriae. Int J Syst Bacteriol 46:988–1003

Huß VAR, Festl H, Schleifer KH (1983) Studies on the spectrophotometric determination of DNA hybridization from renaturation rates. Syst Appl Microbiol 4:184–192

Kämpfer P, Falsen E, Lodders N, Martin K, Kassmannhuber J, Busse HJ (2012) Paenibacillus chartarius sp. nov. isolated from a papermill. Int J Syst Evol Microbiol 62:1342–1347

Khianngam S, Akaracharanya A, Tanasupawat S, Lee KC, Lee JS (2009) Paenibacillus thailandensis sp. nov. and Paenibacillus nanensis sp. nov., xylanase-producing bacteria isolated from soil. Int J Syst Evol Microbiol 59:564–568

Kim KK, Lee KC, Yu H, Ryoo S, Park Y, Lee JS (2010) Paenibacillus sputi sp. nov., isolated from the sputum of a patient with pulmonary disease. Int J Syst Evol Microbiol 60:2371–2376

Kim OS, Cho YJ, Lee K, Yoon SH, Kim M, Na H, Park SC, Jeon YS, Lee JH, Yi H, Won S, Chun J (2012) Introducing EzTaxon-e: a prokaryotic 16S rRNA gene sequence database with phylotypes that represent uncultured species. Int J Syst Evol Microbiol 62:716–721

Kimura M (1980) A simple method for estimating evolutionary rates of base substitutions through comparative studies of nucleotide sequences. J Mol Evol 16:111–120

Komagata K, Suzuki K (1987) Lipid and cell-wall analysis in bacterial systematics. Method Microbiol 19:161–207

Logan NA, Berge O, Bishop AH, Busse HL, De Vos P, Fritze D, Heyndrickx M, Kämper P, Rabinovitch L, Salkinoja-Salonen MS, Seldin L, Ventosa A (2009) Proposed minimal standards for describing new taxa of aerobic, endospore-forming bacteria. Int J Syst Evol Microbiol 59:2114–2121

Minnikin DE, Odonnell AG, Goodfellow M, Alderson G, Athalye M, Schaal A, Parlett JH (1984) An integrated procedure for the extraction of bacterial isoprenoid quinones and polar lipids. J Microbiol Methods 2:233–241

Montes MJ, Mercade´ E, Bozal N, Guinea J (2004) Paenibacillus antarcticus sp. nov., a novel psychrotolerant organism from the Antarctic environment. Int J Syst Evol Microbiol 54:1521–1526

Park MH, Traiwan J, Jung MY, Nam YS, Jeong JH, Kim W (2011) Paenibacillus chungangensis sp. nov., isolated from a tidal-flat sediment. Int J Syst Evol Microbiol 61:281–285

Priest FG (2009) Genus I. Paenibacillus Ash, Priest and Collins 1994, 852VP. In: De Vos P, Garrity GM, Jones D, Krieg NR, Ludwig W, Rainey FA, Schleifer K-H, Whitman WB (eds) Bergey's manual of systematic bacteriology, vol 3, 2nd edn. Springer, New York, pp 269–295

Ruan Z, Wang Y, Song J, Jiang S, Wang H, Li Y, Zhao B, Jiang R, Zhao B (2014) Kurthia huakuii sp. nov., isolated from biogas slurry, and emended description of the genus Kurthia. Int J Syst Evol Microbiol 64:518–521

Saitou N, Nei M (1987) The neighbor-joining method: a new method for reconstructing phylogenetic trees. Mol Biol Evol 4:406–425

Shida O, Takagi H, Kadowaki K, Nakamura LK, Komagata K (1997) Transfer of Bacillus alginolyticus, Bacillus chondroitinus, Bacillus curdlanolyticus, Bacillus glucanolyticus, Bacillus kobensis, and Bacillus thiaminolyticus to the genus Paenibacillus and emended description of the genus Paenibacillus. Int J Syst Bacteriol 47:289–298

Smibert RM, Krieg NR (1994) Phenotypic characterization. In: Gerhardt P, Murray RGE, Wood WA, Krieg NR (eds) Methods for general and molecular bacteriology. American Society for Microbiology, Washington, DC, pp 607–654

Stackebrandt E, Goebel BM (1994) Taxonomic note: a place for DNA-DNA reassociation and 16S rRNA sequence analysis in the present species definition in bacteriology. Int J Syst Evol Microbiol 44:846–849

Tamura K, Stecher G, Peterson D, Filipski A, Kumar S (2013) MEGA6: molecular evolutionary genetics analysis version 6.0. Mol Biol Evol 30:2725–2729

Tindall BJ (1990) Lipid composition of Halobacterium lacusprofundi. FEMS Microbiol Lett 66:199–202

Uetanabaro AP, Wahrenburg C, Hunger W, Pukall R, Spröer C, Stackebrandt E, de Canhos VP, Claus D, Fritze D (2003) Paenibacillus agarexedens sp. nov., nom. rev., and Paenibacillus agaridevorans sp. nov. Int J Syst Evol Microbiol 53:1051–1057

Weisburg WG, Barns SM, Pelletier DA, Lane DJ (1991) 16S ribosomal DNA amplification for phylogenetic study. J Bacteriol 173:697–703

Wu YF, Wu LQ, Liu SJ (2013) Paenibacillus taihuensis sp. nov., isolated from an eutrophic lake. Int J Syst Evol Microbiol 63:3652–3658

Xu XW, Huo YY, Wang CS, Oren A, Cui HL, Vedler E, Wu M (2011) Pelagibacterium halotolerans gen. nov., sp. nov. and Pelagibacterium luteolum sp. nov., novel members of the family Hyphomicrobiaceae. Int J Syst Evol Microbiol 61:1817–1822
Acknowledgments
This work was supported by National Nonprofit Institute Research Grant of CAAS (No. 2014-30), National Key Technology R&D Program of China (No. 2013BAD05B04F02 and 2011BAD11B05), Foundation of the Key Laboratory of Development and Application of Rural Renewable Energy (MOA, China) (No. 2013002), Science Foundation of Modern Farming Group (No. MF20100518), and Science Foundation of Dajing Group.
Additional information
Tong-Yan Han and Xiao-Mei Tong contributed equally to the work and share first authorship.
Electronic supplementary material
Below is the link to the electronic supplementary material.
About this article
Cite this article
Han, TY., Tong, XM., Wang, YW. et al. Paenibacillus populi sp. nov., a novel bacterium isolated from the rhizosphere of Populus alba . Antonie van Leeuwenhoek 108, 659–666 (2015). https://doi.org/10.1007/s10482-015-0521-4
Received:

Accepted:

Published:

Issue Date:
Keywords
Paenibacillus populi sp. nov.

Polyphasic taxonomy

16S rRNA gene

Rhizosphere

Populus alba