Abstract
In 2016, the Atlanta Community Food Bank (ACFB) launched the Stabilizing Lives project to develop programs and policies that could better address clients' needs as well as including clientele as part of the planning process. The ACFB partnered with a research team at the University of Georgia to conduct a participatory research project aimed at developing deeper insights into the factors contributing to both instability and stability in the lives of pantry clientele. This article describes the outcomes this research, offering both a substantive contribution to scholarship on food insecurity and emergency food systems and a methodological innovation through a staged mixed-method participatory research project. Through use of a culture-centered approach, this project created discursive spaces within which to outline emergency food models that support informal networks of care. We used a range of methods, including photo elicitation, concept mapping, individual interviews, and focus groups, to facilitate conversation among agency staff, volunteers, and clientele about the effectiveness of current program models and potential new ideas. Specifically, we suggest that through such practices, food pantries and local agencies may help inform new program models that contribute to household stability, and push back against the sometimes alienating and atomizing paradigm found in current emergency food programs.
Access options
Buy single article
Instant access to the full article PDF.
US$ 39.95
Tax calculation will be finalised during checkout.
Subscribe to journal
Immediate online access to all issues from 2019. Subscription will auto renew annually.
US$ 79
Tax calculation will be finalised during checkout.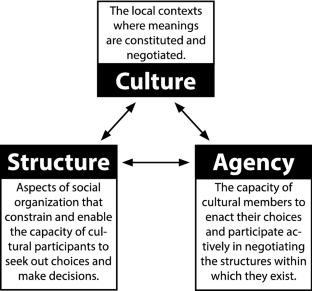 References
Akobundu, U., N. Cohen, M. Laus, M. Schulte, and M. Soussloff. 2004. Vitamins A and C, calcium, fruit, and dairy products are limited in food pantries. Journal of the Academy of Nutrition and Dietetics 104 (5): 811–813.

Atlanta Community Food Bank. (n/d). http://www.feedingamerica.org/find-your-localfoodbank/atlanta-community-food-bank.html. Accessed 22 Sep 2018.

Berner, M., and K. O'Brien. 2004. The shifting pattern of food security support: Food stamp and food bank usage in North Carolina. Nonprofit and Voluntary Sector Quarterly 33 (4): 655–672.

Beverly, J. 2004. Subalternity and representation: Arguments in cultural theory. Durham, NC: Duke University Press.

Borron, A., E. Urban, and E. Cabrera. 2017. Closing the professional gap between journalism and civic engagement using the culture-centered approach. Journalism and Mass Communication Quarterly 94 (1): 286–302.

Charmaz, K. 2006. Constructing grounded theory: A practical guide through qualitative research. London: Sage Publications Ltd.

Colón-Ramos, U., R. Monge-Rojas, E. Cremm, I.M. Rivera, E.L. Andrade, and C.M. Edberg. 2017. How Latina mothers navigate a 'food swamp' to feed their children: A photovoice approach. Public Health Nutrition 20 (11): 1941–1952. https://doi.org/10.1017/S1368980017000738.

Daponte, B., and S. Bade. 2006. How the private food assistance network evolved: Interactions between public and private responses to hunger. Nonprofit and Voluntary Sector Quarterly 35 (4): 668–690.

Duffy, P., M. Irimia-Vladu, S. Cashwell, J. Bartkowski, J. Molnaran, and V. Casanova. 2006. Food pantries and the populations they serve: Strange bedfellows or strategic partners? Sociological Inquiry 76 (4): 502–527.

Dutta, M. 2008. Communicating health: A culture-centered approach. Maldon, MA: Polity Press.

Dutta, M. 2011. Communicating social change: Structure, culture, and agency. New York: Routledge.

Dutta, M., and U. Dutta. 2015. Voices of the poor from the margins of Bengal: Structural inequities and health. Qualitative Health Research 23 (1): 14–25.

Dutta, M., C. Jones, A. Borron, A. Anaele, H. Gao, and S. Kandukuri. 2013. Voices of hunger: A culture-centered approach to addressing food insecurity. In Communicating health disparities, ed. M. Dutta and G. Kreps. New York: Hampton Press.

Feeding America. 2010. Hunger in America 2010. http://www.feedingamerica.org/research/hunger-in-america/hunger-in-america-2010.html. Accessed 17 Jan 2017.

Feeding America. 2016. Nourishing health futures: 2016 Annual report. http://www.feedingamerica.org/about-us/financials/2016-feeding-america-annualreport.pdf. Accessed 17 Jan 2017.

Guha, R. 2001. Subaltern studies: Projects for our time and their convergence. In The Latin American subaltern studies reader, ed. I. Rodriguez, 35–46. Durham, NC: Duke University Press.

Handforth, B., M. Hennink, and M. Schwartz. 2013. A qualitative study of nutrition-based initiatives at selected food banks in the Feeding America Network. Journal of the Academy of Nutrition and Dietetics 113 (3): 411–415.

Haque, N., and S. Rosas. 2010. Concept mapping of photovoices. Family and Community Health 33 (3): 193–206. https://doi.org/10.1097/FCH.0b013e3181e4bbf0.

Henderson, G. 2004. 'Free' food, the local production of worth, and the circuit of decommodification: A value theory of the surplus. Environment and Planning D: Society and Space 22 (4): 485–512.

Holstein, J., and J. Gubrium. 1995. The active interview. Thousand Oaks, CA: Sage Publications.

Irwin, Jennifer., V. Ng, T. Rush, C. Nguyen, and M. He. 2007. Can food banks sustain nutrient requirements: A case study in southwestern Ontario. Canadian Journal of Public Health 98 (1): 17–20.

Kane, M., and W. Trochim. 2007. Concept mapping for planning and evaluation. Thousand Oaks, CA: Sage.

Kirkpatrick, S., and V. Tarasuk. 2009. Food insecurity and participation in community food programs among low-income Toronto families. Canadian Journal of Public Health/Revue Canadienne de Santé Publique 100 (2): 135–139.

McIntyre, L., D. Tougas, Krista. Rondeau, and C. Mah. 2016. "In"-sights about food banks from a critical interpretive synthesis of the academic literature. Agriculture and Human Values 33 (4): 843–859.

Miewald, C., and E. McCann. 2014. Foodscapes and the geographies of poverty: Sustenance, strategy, and politics in an urban neighborhood. Antipode 46 (2): 537–556.

Page-Reeves, J., A. Anixter Scott, M. Moffett, V. Apodaca, and V. Apodaca. 2014. "It's always that sense of wanting…never really being satisfied": Women's quotidian struggles with food insecurity in a Hispanic community in New Mexico. Journal of Hunger and Environmental Nutrition 9: 183–209.

Poppendieck, J. 1998. Sweet charity, emergency food and the end of entitlement. New York: Viking Press.

Rock, M., L. McIntyre, and K. Rondeau. 2009. Discomforting comfort foods: Stirring the pot on Kraft Dinner® and social inequality in Canada. Agriculture and Human Values 26: 167–176.

Said, E. 1978. Orientalism. New York: Vintage Books.

Spivak, G. 1988. Can the subaltern speak? In Marxism and the interpretation of culture, ed. C. Nelson and L. Grossberg, 24–28. London: Macmillan.

Tarasuk, V., and J. Eakin. 2005. Food assistance through "surplus" food: Insights from an ethnographic study of food bank work. Agriculture and Human Values 22 (2): 177–186.

USDA, Economic Research Service. 2017. Key statistics and graphics. https://www.ers.usda.gov/topics/food-nutrition-assistance/food-security-in-the-us/keystatistics-graphics.aspx#insecure. Accessed 8 Aug 2017.

USDA, Food and Nutrition Service. 1999. Household food security in the United States 1995–1998 (advance report). https://fnsprod.azureedge.net/sites/default/files/FoodSec98Summary.pdf. Accessed 8 Aug 2017.

Wakefield, S., J. Fleming, C. Klassen, and A. Skinner. 2013. Sweet charity, revisited: Organizational responses to food insecurity in Hamilton and Toronto, Canada. Critical Social Policy 33 (3): 427–450.

Wang, C., and M.A. Burris. 1997. Photovoice: Concept, methodology, and use for participatory needs assessment. Health Education and Behavior 24 (3): 369–387. https://doi.org/10.1177/109019819702400309.

Warshawsky, D. 2010. New power relations served here: The growth of food banking in Chicago. Geoforum 41: 763–775.

Willows, N., and V. Au. 2006. Nutritional quality and price of university food bank hampers. Canadian Journal of Dietetic Research and Practice 67 (2): 104–107.

Zepeda, L. 2018. Hiding hunger: Food insecurity in middle America. Agriculture and Human Values 35: 243–254.
Acknowledgements
The Atlanta Community Food Bank provided generous funding and logistical support for this research. The authors are grateful to Vista Gilliam and Sarah Otto-Wang, Staff at the Atlanta Community Food Bank, for their invaluable assistance and perspective during this research. We also recognize the hard work of our student research assistants: Hillary Jourdan, Aspen Kemmerlin, Grace Barrett, and Jacy Donaldson.
Ethics declarations
Ethical approval
All procedures performed in studies involving human participants were in accordance with the Ethical Standards of the Institutional and/or National Research Committee and with the 1964 Helsinki Declaration and its later amendments or comparable ethical standards.
Additional information
Publisher's Note
Springer Nature remains neutral with regard to jurisdictional claims in published maps and institutional affiliations.
About this article
Cite this article
Kurtz, H., Borron, A., Shannon, J. et al. Community food assistance, informal social networks, and the labor of care. Agric Hum Values 36, 495–505 (2019). https://doi.org/10.1007/s10460-019-09943-0
Accepted:

Published:

Issue Date:
Keywords
Emergency food assistance

Food banks

Culture-centered approach

Participatory research

Mixed methods

Concept mapping