Abstract
The 3 × 2 m spacing currently used for eucalyptus plantations in the state of Andhra Pradesh, southern India does not permit intercropping from the second year. This discourages small landholders who need regular income from taking up eucalyptus plantations and benefiting from the expanding market for pulpwood. Therefore, on-farm experiments were conducted near Bhadrachalam, Khammam district (Andhra Pradesh) for over 4 years from August 2001 to November 2005 to examine whether wide-row planting and grouping of certain tree rows will facilitate extended intercropping without sacrificing wood yield. Eucalyptus planted in five-spatial arrangements in agroforestry [3 × 2 m (farmers' practice), 6 × 1 m, 7 × 1.5 m paired rows (7 × 1.5 PR), 11 × 1 m paired rows (11 × 1 PR) and 10 × 1.5 m triple rows (10 × 1.5 TR)] was compared with sole tree stands at a constant density of 1,666 trees ha−1. Cowpea (Vigna unguiculata) was intercropped during the post-rainy seasons from 2001 to 2004, and fodder grasses (Panicum maximum and Brachiaria ruziziensis) were intercropped during both the seasons of 2005. At 51 months after planting, different spatial arrangements did not significantly affect height and diameter at breast height (dbh). Total dry biomass of eucalyptus in different spatial arrangements ranged between 59.5 and 52.9 Mg ha−1, the highest being with 6 × 1 m and the lowest with 10 × 1.5 TR, but treatment differences were not significant. The widely spaced paired row (11 × 1 PR) and triple row (10 × 1.5 TR) arrangements produced 62–73% of sole cowpea yield in 2003, 59–66% of sole cowpea yield in 2004, and 79–94% of sole fodder in 2005. In contrast, the 3 × 2 m spacing allowed only 17–45% of sole crop yields in these years. The better performance of intercrops in widely spaced eucalyptus was likely because of limited competition from trees for light and water. Intercropping of eucalyptus in these wider rows gave 14% greater net returns compared with intercropping in eucalyptus spaced at 3 × 2 m, 19% greater returns compared with that from sole tree woodlot and 263% greater returns compared with that from sole crops. Therefore, in regions where annual rainfall is around 1,000 mm and soils are fairly good, eucalyptus at a density of 1,666 plants per ha can be planted in uniformly spaced wide-rows (6 m) or paired rows at an inter-pair spacing of 7–11 m for improving intercrop performance without sacrificing wood production.
This is a preview of subscription content, log in to check access.
Access options
Buy single article
Instant access to the full article PDF.
US$ 39.95
Price includes VAT for USA
Subscribe to journal
Immediate online access to all issues from 2019. Subscription will auto renew annually.
US$ 199
This is the net price. Taxes to be calculated in checkout.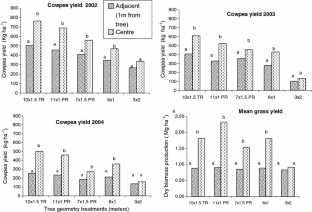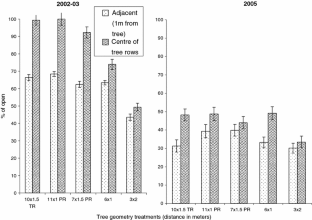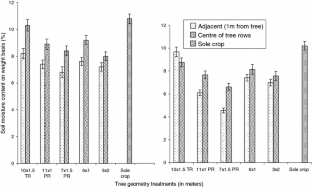 References
Blum A, Naveh M (1976) Improved water use efficiency in dryland grain sorghum by promoted plant competition. Agron J 68:111–116

Bouillet JP, Laclau JP, Arnaud M, M'bou AT, Saint Andre L, Jourdan C (2002) Changes with age in the spatial distribution of roots of eucalyptus clone in Congo. Impact on water and nutrient uptake. For Ecol Manag 171:43–57

Burner DM, Brauer DK (2003) Herbage responses to spacing of loblolly pine trees in a minimal management silvopasture in south eastern USA. Agrofor Syst 57:69–77

Calder IA, Rosier PTW, Prasanna KT, Parameswarappa S (1997) Eucalyptus water use greater than rainfall input—a possible explanation from Southern India. Hydrol Earth Syst Sci 1(2):249–256

Couto L, Gomes JM (1995) Intercropping eucalyptus with beans in Minas Gerais, Brazil. Int Tree Crops J 8:83–93

Couto L, Binkley D, Betters DR, Moniz CVD (1994) Intercropping eucalypts with maize in Minas Gerais, Brazil. Agrofor Syst 26:147–156

Dhyani SK, Tripathi RS (1999) Tree growth and crop yield under agrisilvicultural practices in northeast India. Agrofor Syst 44:1–12

Dube F, Couto L, Silva ML, Leite HG, Garcia R, Araujo GAA (2003) A simulation model for evaluating technical and economic aspects of an industrial eucalyptus based agroforestry system in Minas Gerais, Brazil. Agrofor Syst 55:73–80

Garrity D, Mercado A (1994) Reforestation through agroforestry: Market driven small- holder timber production on the frontier. In: Raintree JB and Francisco HA (eds) Marketing of Multipurpose Tree Products in Asia, pp 265–268. Proceedings of an international workshop in Baguio City, Philippines, 6–9 December 1993. Winrock International, Bangkok, Thailand

Jagger P, Pender J (2000) Role of trees for sustainable management of less-favoured lands: the case of eucalyptus in Ethiopia. Discussion paper no. 65. http://www.fpri.org/ divs/eptd/dp/eptd65.html

Khybri ML, Gupta RK, Sewaram, Tomar HPS (1992) Crop yields of rice and wheat grown in rotation as intercrops with three tree species in the outer hills of western Himalaya. Agrofor Syst 17:193–204

Kidanu S, Mamo T, Stroosnijder L (2005) Biomass production of eucalyptus boundary plantations and their effect on crop productivity on Ethiopian highland Vertisols. Agrofor Syst 63(3):281–290

Kohli A, Saini BC (2003) Microclimate modification and response of wheat planted under trees in a fan design in northern India. Agrofor Syst 58:109–118

Kumar A, Nandal DPS (2004) Performance of winter crops under Eucalyptus tereticornis based agri silviculture system. Indian J Agrofor 6:97–98

Lal P, Kulkarni HD, Srinivas K, Venkatesh KR, Santa kumar P (1997) Genetically improved clonal planting stock of eucalyptus—a success story from India. Indian For 123:1117–1138

Myers JB, Theiveyanathan S, O'Brien ND, Bond WJ (1996) Growth and water use of Eucalyptus grandis and Pinus radiata plantations irrigated with effluent. Tree Physiol 16:211–219

Nadagouda VB, Radder GD, Desai BK, Manjappa K, Patil CV (1997) Relative performance of seasonal intercrops grown in association with eucalyptus. Indian For 123:162–170

Nair PKR (1993) An introduction to agroforestry. Kluwer, Dordrecht

Narain P, Singh RK, Sindhwal NS, Joshie P (1998) Agroforestry for soil and water conservation in the western Himalayan valley region of India. Agrofor Syst 39:191–203

Nissen TM, Midmore DJ, Cabrera ML (1999) Above ground and below ground competition between intercropped cabbage and young Eucalyptus torelliana. Agrofor Syst 46:83–93

Price C (1995) Moderate discount rates and the competitive case for agroforestry. Agrofor Syst 32:53–61

Puri, Nair (2004) Agroforestry research for development in India. 25 years of experiences of a national program. Agrofor Syst 61:437–452

Rao MR, Ong CK, Pathak P, Sharma MM (1991) Productivity of annual cropping and agroforestry systems on a shallow alfisol in semi arid India. Agrofor Syst 15:51–63

Rawat V, Negi JDS (2004) Biomass production of Eucalyptus tereticornis in different agroecological regions of India. Indian For 130:762–770

Salazar A, Szott LT, Palm CA (1993) Crop–tree interactions in alley cropping systems on alluvial soils of the upper Amazon basin. Agrofor Syst 22:67–82

Saroj PL, Dwivedi VK, Ashok kumar, Dadhwal KS (1999) Effect of forest species on the productivity of ground storey crops. Indian For 125:788–793

Saxena NC (1991) Crop losses and their economic implications due to growing of eucalyptus on farm bunds—a pilot study. Agrofor Syst 16:231–245

Saxena NC (1995) Wood markets for farm eucalyptus in northwest India. In: Saxena NC, Ballabh V (eds) Farm forestry in South Asia. Sage Publications, New Delhi

Schaller M, Schroth G, Beer J, Jimenez F (2003) Root interactions between young Eucalyptus deglupta trees and competitive grass species in contour strips. For Ecol Manag 179:429–440

Shem K, Catherine M, Ong C (2009) Gas exchange responses of eucalyptus, C. africana and G. robusta to varying soil moisture content in semi-arid (Thika) Kenya. Agrofor Syst 75:239–249

Singh D, Kohli RK (1992) Impact of Eucalyptus tereticornis shelterbelts on crops. Agrofor Syst 20:253–266

Singh NB, Singh R (2003) Effect of leaf leachate of eucalyptus on germination, growth and metabolism of green gram, blackgram and peanut. Allelopathy J 11(1):43–52

Singh G, Singh NT, Dagar JC, Singh S, Sharma VP (1997) An evaluation of agriculture, forestry and agroforestry practices in a moderately alkali soil in north western India. Agrofor Syst 37:279–295

Stur WW (1991) Screening forage species for shade tolerance—a preliminary report. In: Shelton HM, Stur WW (eds) Forages for plantation crops. ACIAR, Canberra

Szott LT, Palm CA, Sanchez PA (1991) Agroforestry in acid soils of the humid tropics. Adv Agron 45:275–301

Viswanath S, Nair PKR, Kaushik PK, Prakasam U (2000) Acacia nilotica trees in rice fields. A traditional agroforestry system in central India. Agrofor Syst 50:157–177

Wong CC (1991) Shade tolerance of tropical forages: a review. In: Shelton HM, Stur WW (eds) Forages for plantation crops. ACIAR, Canberra
Acknowledgments
We thank the Indian Council of Agricultural Research for funding this project through National Agricultural Technology Project (NATP-RNPS-26) and Cess fund.
Additional information
M. R. Rao—Former staff of ICRAF (World Agroforestry Centre), Nairobi, Kenya.
About this article
Cite this article
Prasad, J.V.N.S., Korwar, G.R., Rao, K.V. et al. Tree row spacing affected agronomic and economic performance of Eucalyptus-based agroforestry in Andhra Pradesh, Southern India. Agroforest Syst 78, 253–267 (2010). https://doi.org/10.1007/s10457-009-9275-1
Received:

Accepted:

Published:

Issue Date:
Keywords
Biomass

Tree–crop interactions

Tree spacing

Cowpea

Fodder grasses