Abstract
The concentration and biodiversity of airborne fungi of the Redemption City, an immense campground for Christian faithful and the temporary site of the Redeemer's University in south-western Nigeria, was studied between February and May 2011 using the culture plate method. The study was undertaken to assess the concentrations of fungal spores and their health implication in this ever-busy environment. Fifteen different sites classified as closed or open were selected. During the experiment, a total of 228 colonies were counted, and 29 fungal species belonging to 26 genera were isolated which include the following: Aspergillus flavus, Aspergillus niger, Bipolaris spp., Chrysosporium spp., Cladosporium spp., Coniothyrium corda, Curvularia spp., Diplodia spp., Fusarium spp., Gliocladium spp., Monilia spp., Mucor spp., Mucor plumbeus, Penicillium spp., Phycomyces spp., Phytophthora spp., Pilobolus spp., Pyrenochaeta spp., Rhizopus stolonifer, Torula spp., Trichoderma spp. and Trichophyton spp. The most frequently occurring fungi were A. niger, C. corda and M. plumbeus, while the least recorded were Torula and Trichophyton species. Majority of the fungi isolated are known allergens; they could also be opportunistic causing various diseases in man. There is therefore a dire need for good sanitation practices within the studied areas of the camp.
Access options
Buy single article
Instant access to the full article PDF.
US$ 39.95
Tax calculation will be finalised during checkout.
Subscribe to journal
Immediate online access to all issues from 2019. Subscription will auto renew annually.
US$ 79
Tax calculation will be finalised during checkout.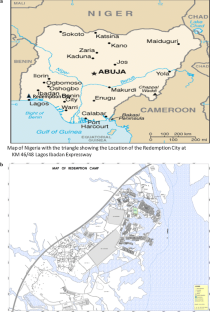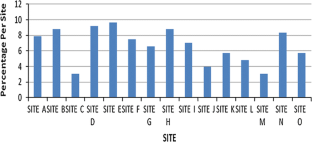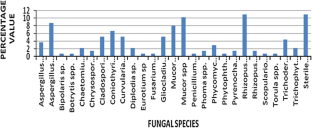 References
Abdel-Fattah, H. M., & Swelim, M. A. (1982). Studies on air-borne fungi at Qena. III. Thermophilic fungi. Mycopathol, 80, 107–111.

Adekunle, A. A. (2001). Airborne fungi from some eating places on the University of Lagos, Akoka Campus, Nigeria. Bioscience Research Communications, 13(5), 517–522.

Adeonipekun, P. A., & John, M. (2011). Palynological investigation of haze dust in Ayetoro-Itele -Ota, Southwest Nigeria. Journal of Ecology and the Natural Environment, 3(14), 455–460.

Adhikari, A., Sen, M. M., Bhattacharya, S., & Chanda, S. (1999). Studies on airborne fungal spores from two indoor cowsheds of suburban and rural areas of West Bengal, India. Indoor and Built Environment, 8, 221–229.

Adhikari, A., Sen, M. M., Bhattacharya, S., & Chanda, S. (2004a). Airborne viable, non-viable and allergenic fungi in a rural agricultural area of India. Science of the Total Environment, 326, 123–141.

Adhikari, A., Sen, M. M., Bhattacharya, S., & Chanda, S. (2004b). Volumetric assessment of airborne fungi in two sections of a rural indoor dairy cattle shed. Environment International, 29, 1071–1078.

Agwu, C. O. C. (2001). A study of Niger Delta environment through airborne palynomorphs, Port Harcourt, Nigeria. Palaeoecology of Africa and the Surrounding Islands, 27, 191–205.

Agwu, C. O. C., Njokuacha, R. C., & Mezue, O. (2004). The study of airborne pollen and spores circulating at "head level" in Nsukka environment. Bio-Research, 2(2), 7–14.

Agwu, C. O. C., & Osibe, E. E. (1992). Airborne palynomorphs of Nsukka during the months of February–April 1990. Nigeria Journal of Botany, 5, 177–185.

Ainsworth, G. C. (Ed.). (1976). Introduction to the history of mycology (p. 359). Cambridge: Cambridge University Press.

Al-Doory, Y. (1980). Laboratory medical mycology (p. 410). Philadelphia: Les and Febiger.

Aydogdu, H., & Asan, A. (2008). Airborne fungi in child day care centers in Edirne City, Turkey. Environmental Monitor Assessment, 147(1–3), 423–444.

Bakerspigel, A., Lowe, D., & Rostas, A. (1981). The isolation of Phoma eupyrena from a human lesion. Archives of Dermatology, 117(6), 362–363.

Barnett, H. L., & Hunter, B. B. (Eds.). (1972). Illustrated genera of imperfect fungi. Minneapolis: Burgess Publ. Co.

Black, P. N., Udy, A. A., & Brodie, S. M. (2000). Sensitivity to fungal allergens is a risk factor for life threatening asthma. Allergy, 55, 501–504.

Brown, E. A. (2007). Benson's microbiological applications. Laboratory manual in general microbiology (10th ed., pp. 61–64). New York: Mc Graw Hill.

Bryce, K. (2000). Fungi: The fifth kingdom (3rd ed., p. 400). Waterloo: Mycologue Publications.

Bunnag, C., Dhorranintra, B., & Plangpatanapanichya, A. (1982). A comparative study of the incidence of indoor and outdoor mold spores in Bangkok, Thailand. Annals of Allergy, 48, 333–339.

Burge, H. (1990). Bioaerosols: Prevalence and health effects in the indoor environment. Journal of Allergy Clinical Immunology, 86, 687–701.

Cadman, A., Dmes, J. F., Terblanche, P. S., & Nel, R. (1997). The AIRKEM study in Guateng, South Africa. Grana, 36, 175–179.

Calvo, A., Guarro, J., Suarez, G., & Ramirez, C. (1980). Airborne fungi in the air of Barcelona, Spain. IV. Studies of the spore content of air in dwellings. Annals of Allergy, 44, 228–234.

Carter, E., & Boudreaux, C. (2004). Fatal cerebral phaeohyphomycosis due to Curvularia lunata in an immunocompetent patient. Journal of Clinical Microbiology, 42(11), 5419–5423.

Chandra, N., & Chanda, S. (2000). Aeromycoflora in the central milk dairy of Calcutta, India. Aerobiologia, 16, 367–372.

D'Amato, G., Chatzigeorgiou, G., Corsico, R., Gioulekas, D., & Jäger, S. (1997). Evaluation of the prevalence of skin prick test positivity to Alternaria and Cladosporium in patients with suspected respiratory allergy. European Academy of Allergology and Clinical Immunology Position Paper. Allergy, 52, 711–716.

D'amato, G., & Spieksma, F. (1995). Aerobiologic and clinical aspects of mould allergy in Europe. European Academy of Allergology and Clinical Immunology Position Paper, 50, 870–877.

Darrel, J. W., & Wilford, M. H. (Eds.). (1976). The fungal spore: Form and function (p. 912). New York: Wiley.

De Ana, S. G., Torres-Rodriguez, J. M., Ramirez, E. A., Garcia, S. M., & Belmonte-Soler, J. (2006). Seasonal distribution of Alternaria, Aspergillus, Cladosporium and Penicillium species isolated in homes of fungal allergic patients. Journal Investing Allergol Clinical Immunology, 16(6), 357–363.

Deacon, J. W. (1980). Introduction to modern mycology (pp. 53–68). Oxford: Blackwell publications.

Diez, A., Sabariego, S., Gutierrez, M., & Cervigon, P. (2006). Study of airborne fungal spores in Madrid, Spain. Aerobiologia, 22, 135–142.

Ebner, M. R., & Haselwandter, K. (1992). Indoor and outdoor incidence of airborne fungal allergens at low and high altitude alpine environments. Mycological Research, 96, 117–124.

Ekundayo, C. A. (1986). Biochemical changes caused by mycoflora of yam slices during sun-drying. Microbios Letters, 32, 13–18.

Enriquez, P. O. (1995). Aeroalergenos, pruebas cutgneas y enfermedad alergica en 1091 pacientes. Tesis de Posgrado. Fac. Medicina (p. 25). Mexico, DF: UNAM.

Gerberick, G. F. (1984). The effects of T2 toxin on alveolar macrophage function in vitro. Environmental Research, 33, 246–260.

Gravesen, S. (1979). Fungi as a cause of allergic disease. Allergy, 34, 135–154.

Gravesen, S. (1994). Allergic and non-allergic manifestations related to indoor fungal exposure—management of cases. In R. A. Samson, B. Flannigan, M. E. Flannigan, & P. Verhoeff (Eds.), Health implications of fungi in indoor air environment (pp. 241–248). Amsterdam: Elsevier.

Gregory, P. H. (Ed.). (1973). The Microbiology of the Atmosphere (pp. 39–42). Plymouth: Leonard Hill.

Halwagy, M. H. (1994). Fungal airspora of Kuwait city, Kuwait. Grana, 33, 340–345.

Hasnain, S. M., Al-Frayh, A., Gad-El-Rab, M. O., & Al-Sedairy, S. (1998). Airborne Alternaria spores: Potential allergic sensitizers in Saudi Arabia. Annals of Saudi Medicine, 18, 497–501.

Huang, C. Y., Lee, C. C., Li, F. C., Ma, Y. P., & Su, H. J. J. (2002). The seasonal distribution of bio-aerosols in municipal landfill sites: A 3 year study. Atmospheric Environment, 36, 4385–4595.

Hyde, H. A., Richards, M., & Williams, D. A. (1956). Allergy to mould spores in Britain. Britain Medical Journal, 1, 886.

Ibanez, V., Rojas, G., & Roure, J. (2001). Airborne fungi monitoring in Santiago, Chile. Aerobiologia, 17, 137–142.

Ingold, C. T., & Hudson, H. J. (Eds.). (1993). The biology of the fungi (6th ed., p. 232). London: Chapman and Hall.

Isaac, S. (1996). To what extent do airborne fungal spores contribute to respiratory disease and allergic reactions in humans? Mycologist, 10, 31–42.

Jothish, P. S., & Nayar, T. S. (2004). Airborne fungal spores in a sawmill environment in Palakkad District, Kerala, India. Aerobiologia, 20, 75–81.

Kasprzyk, I., & Worek, M. (2006). Airborne fungal spores in urban and rural environments in Poland. Aerobiologia, 22(3), 169–176.

Kurup, V. P., & Kumar, A. (1991). Immunodiagnosis of aspergillosis. Clinical Microbiology Reviews, 4, 439–456.

Lacey, J. (1991). Aggregation of spores and its effect on aerodynamic behavior. Grana, 30, 437–445.

La-Serna, I., Dopazo, A., & Aira, M. J. (2002). Airborne fungal spores in the campus of Anchieta (la laguna, Tenerife/Caray Is.). Grana, 41, 119–123.

Levetin, E., Shaughnessy, R., Fisher, E., Ligman, B., Harrison, J., & Brennan, T. (1995). Indoor air quality in schools: Exposure to fungal allergens. Aerobiologia, 11, 27–34.

Lumpkins, E. D., Corbit, S. L., & Tiedoman, G. M. (1973). Airborne fungi survey: I. Culture-plate survey of the home environment. Annual allergens, 31, 361–370.

Mediavilla, A., Angulo, J., Dominguez, E., Castro, A., & Infante, F. (1997). Annual and diurnal incidence of Cladosporium conidia in the atmosphere of Cordoba, Spain. Journal of Investigational Allergology and Clinical Immunology, 7, 179–182.

Miller, J. D. (1998). Fungi and fungal products in some Canadian houses. International Biodeterioration, 24, 103–120.

Mitakakis, T. Z., & Guest, D. I. (2001). A fungal spore calendar for the atmosphere of Melbourne, Australia, for the year 1993. Aerobiologia, 17, 171–176.

Moustafa, A. F., & Kamel, S. (1976). A study of fungal populations in the atmosphere of Kuwait. Mycopathologia, 59, 29–35.

Munuera, M., Carrion, J. S., & Navarro, C. (2001). Airborne Alternaria spores in SE Spain (1993–1998). occurrence patterns, relationship with weather variables and prediction models. Grana, 40, 111–118.

Nayar, T. S., Mohan, T. K., & Jothish, P. S. (2007). Status of airborne spores and pollen in a coir factory in Kerala, India. Aerobiologia, 23(2), 131–143.

Njokuocha, R. C. (2006). Airborne pollen grains in Nsukka, Nigeria. Grana, 45(1), 73–80.

Njokuocha, R. C., & Osayi, E. E. (2005). Airborne pollen and spore survey in relation to allergy and plant pathogens in Nsukka, Nigeria. Bio-Research, 3(1), 77–84.

Ogunlana, E. O. (1975). Fungal air spora at ibadan, Nigeria. Applied Microbiology, 29(4), 458–463.

Ojoibukun, T. (2010). The life and ministry of Pastor E.A. Adeboye. In E. A. Adeboye (Ed.), (Part one, 2nd Edn, revised, p 228). Essence publications, USA. Optimum Press Limited, Nigeria.

Pedroza, A., Bfiez, C., Medina, C., & Sacre, J. (1984). Asma infantil, experiencia del Instituto Nacional de Pediatria. INTERASMA, A103, 107 pp.

Rainer, J., Peintner, U., & Poder, R. (2000). Biodiversity and concentration of airborne fungi in a hospital environment. Mycopathologia, 149, 87–97.

Rao, T. A., Shaikh, A. H., & Ahmed, M. (2009). Airborne fungal flora of Karachi, Pakistan. Pakistan Journal of Botany, 41(3), 1421–1428.

Robbins, S. L., Cotran, R. S., & Kumar, V. (1995). Robbins pathologic basis of disease (5th ed., p. 620). Philadelphia: W.B. Saunders Company.

Sabariego, S., Diez, A., & Gutienez, M. (2007). Monitoring of airborne fungi in Madrid (Spain). Acta Botanica Croatica, 66(2), 117–126.

Sandhu, D. K., Shivpuri, D. N., & Sandhu, R. S. (1964). Studies on the airborne fungal spores in Delhi. Annals of Allergy, 22, 374–384.

Sen, B., & Asan, A. (2009). Fungal flora in indoor and outdoor air of different residential houses in Tekirdag City (Turkey): Seasonal distribution and relationship with climatic factors. Environmental Monitoring and Assessment, 151(1–4), 209–219.

Sharma, P. D. (2005). Fungi and allied organisms (p. 545). Oxford, UK: Alpha Science International Ltd.

Shelton, B. G., Kirkland, K. H., Flanders, W. D., & Morris, G. K. (2002). Profiles of airborne fungi in buildings and outdoor environments in the United States. Applied and Environment Microbiology, 68(4), 1743–1753.

Singh, A., Gangal, S. V., & Singh, A. B. (1994). Airborne fungi in the hospitals of metropolitan Delhi. Aerobiologia, 10, 11–21.

Singh, A. B., & Singh, A. (1996). Indoor airborne fungi as important occupational sensitizers in poultry workers. Indoor Built Environment, 5, 138–147.

Sneller, M. R., & Roby, R. R. (1979). Incidence of fungal spores at the homes of allergic patients in an agricultural community. I. A 12-month study in and out of Doors. Annals of Allergy, 43(4), 225–228.

Solomon, W. R. (1975). Assessing fungus prevalence in domestic interiors. Journal of Allergy clinical Immunology, 56, 235–242.

Stepalska, D., & Wolek, J. (2005). Variation in fungal spore concentrations of selected taxa associated to weather conditions in Cracow, Poland, in 1997. Aerobiologia, 21, 43–52.

Susan, I. (1996). To what extent do airborne fungal spores contribute to respiratory disease and allergic reactions in humans. Mycologist, 10(1), 31–32.

Talbot, P. H. B. (Ed.). (1971). Principles of fungal taxonomy (p. 274). London: The Macmillan Press.

Vijay, H., Burton, M., & Young N. M. (1991). Allergenic components of isolates of Cladosporium herbarum. Grana, 30, 161–165.

Vittal, B. P. R., & Rasool, S. K. (1995). Enumeration of airborne molds in some indoor environments of Madras city, (India) by cultural and non-cultural volumetric samplers. Aerobiologia, 11, 201–204.

Wakefield, J. (2006). Allergies: The new lore of Spores. Environmental Health Perspectives, 114(10), A576.

Zoppas, B. C. D. A., Valencia-Barrera, R. M., Duso, S. M. V., & Fernandez-Gonzalez, D. (2006). Fungal spores prevalent in the aerosol of the city of Caxias do Sul, Rio Grande do Sul, Brazil, over a 2-year period (2001–2002). Aerobiologia, 22, 119–126.
Acknowledgments
We gratefully acknowledge the management of Redeemer's University for proving financial assistance and the facilities needed for the successful completion of this project. We are equally indebted to Prof. Adedotun Adekunle of the Botany Department, University of Lagos, for proof reading and correcting the manuscript.
About this article
Cite this article
Durugbo, E.U., Kajero, A.O., Omoregie, E.I. et al. A survey of outdoor and indoor airborne fungal spora in the Redemption City, Ogun State, south-western Nigeria. Aerobiologia 29, 201–216 (2013). https://doi.org/10.1007/s10453-012-9274-y
Received:

Accepted:

Published:

Issue Date:
Keywords
Airborne fungi

Respiratory allergy

Indoor

Outdoor

Redemption City

South-western Nigeria