Abstract
What causes an older adult to fall? Could the same factor lead to a recurring fall? The purposes of this study sought to address these questions by developing a causal-based assessment method for detection of the initial biomechanical cause of fall, and investigating the causation of 97 falls (out of 195 community dwelling older adults who participated in this study) based on this method. The unrecoverable limb collapse, or unrecoverable instability, along with its point of no return was defined, and the assessment method was established. Both the novel and the second slips of 97 participants who experienced laboratory induced slip related falls were assessed. The results showed that these older adults had more limb collapse (59.8%) initiated falls than instability (40.2%; and 32.0% of which from anteroposterior instability while only 8.2% from mediolateral instability) initiated falls. Interestingly, the majority (86.4%) of those 22 repeated fallers fell twice because of the same cause. These findings shed light on the vulnerability and the causation of recurring falls, which is one of the most challenging healthcare issues that an active but aging population is facing.
Access options
Buy single article
Instant access to the full article PDF.
US$ 39.95
Tax calculation will be finalised during checkout.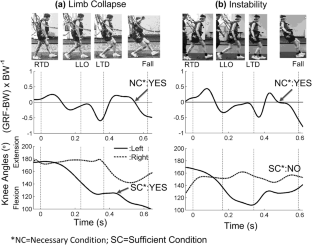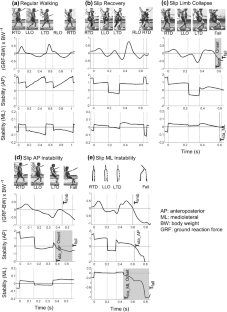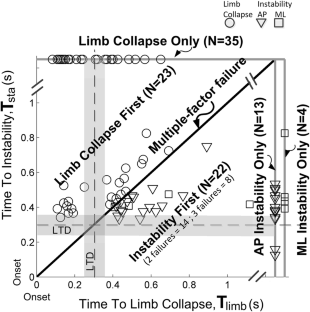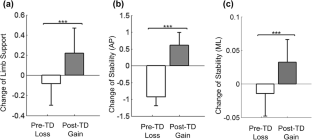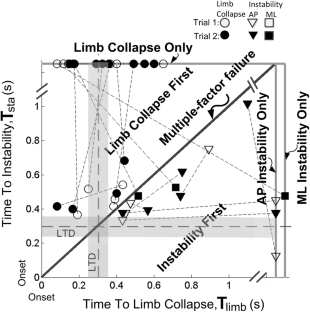 References
1.

Bhatt, T., J. D. Wening, and Y. C. Pai. Influence of gait speed on stability: recovery from anterior slips and compensatory stepping. Gait Posture 21:146–156, 2005.

2.

Bhatt, T., J. D. Wening, and Y. C. Pai. Adaptive control of gait stability in reducing slip-related backward loss of balance. Exp. Brain Res. 170:61–73, 2006.

3.

Blake, A. J., K. Morgan, M. J. Bendall, H. Dallosso, S. B. J. Ebrahim, T. H. D. Arie, P. H. Fentem, and E. J. Bassey. Falls by elderly people at home—prevalence and associated factors. Age Ageing 17:365–372, 1988.

4.

Burr, D. B. Muscle strength, bone mass, and age-related bone loss. J. Bone Mineral Res. 12:1547–1551, 1997.

5.

Cham, R., and M. S. Redfern. Heel contact dynamics during slip events on level and inclined surfaces. Saf. Sci. 40:559–576, 2002.

6.

de Leva, P. Adjustments to Zatsiorsky-Seluyanov's segment inertia parameters. J. Biomech. 29:1223–1230, 1996.

7.

Donald, I. P., and C. J. Bulpitt. The prognosis of falls in elderly people living at home. Age Ageing 28:121–125, 1999.

8.

Elbar, O., I. Tzedek, E. Vered, G. Shvarth, M. Friger, and I. Melzer. A water-based training program that includes perturbation exercises improves speed of voluntary stepping in older adults: a randomized controlled cross-over trial. Arch. Gerontol. Geriatr. 56:134–140, 2013.

9.

El-Khoury, F., B. Cassou, M. A. Charles, and P. Dargent-Molina. The effect of fall prevention exercise programmes on fall induced injuries in community dwelling older adults: systematic review and meta-analysis of randomised controlled trials. BMJ 347:f6234, 2013.

10.

Glickman-Simon, R. Home-based tai chi chuan may reduce fall rate compared to lower extremity exercise training in older adults with history of falls. Explor. J. Sci. Healing 13:79–80, 2017.

11.

Granacher, U., A. Gollhofer, T. Hortobagyi, R. W. Kressig, and T. Muehlbauer. The importance of trunk muscle strength for balance, functional performance, and fall prevention in seniors: a systematic review. Sports Med. 43:627–641, 2013.

12.

Holbrook T. L. and K. L. Grazier. The frequency of occurrence, impact, and cost of selected musculoskeletal conditions in the United States. Amer Academy of Orthopaedic, 1984.

13.

Horak, F. B. Postural orientation and equilibrium: what do we need to know about neural control of balance to prevent falls? Age Ageing 35:7–11, 2006.

14.

Hu, M. H., and M. H. Woollacott. Multisensory training of standing balance in older adults .1. Postural stability and one-leg stance balance. J. Gerontol. 49:52–61, 1994.

15.

Kannus, P., J. Parkkari, S. Koskinen, S. Niemi, M. Palvanen, M. Jarvinen, and I. Vuori. Fall-induced injuries and deaths among older adults. JAMA 281:1895–1899, 1999.

16.

Moreland, J. D., J. A. Richardson, C. H. Goldsmith, and C. M. Clase. Muscle weakness and falls in older adults: a systematic review and meta-analysis. J. Am. Geriatr. Soc. 52:1121–1129, 2004.

17.

Norton, R., A. J. Campbell, T. LeeJoe, E. Robinson, and M. Butler. Circumstances of falls resulting in hip fractures among older people. J. Am. Geriatr. Soc. 45:1108–1112, 1997.

18.

Nyberg, L., Y. Gustafson, D. Berggren, B. Brannstrom, and G. Bucht. Falls leading to femoral neck fractures in lucid older people. J. Am. Geriatr. Soc. 44:156–160, 1996.

19.

Pai, Y. C., and T. S. Bhatt. Repeated-slip training: an emerging paradigm for prevention of slip-related falls among older adults. Phys. Ther. 87:1478–1491, 2007.

20.

Pai, Y. C., T. Bhatt, E. Wang, D. Espy, and M. J. Pavol. Inoculation against falls: rapid adaptation by young and older adults to slips during daily activities. Arch. Phys. Med. Rehabilit. 91:452–459, 2010.

21.

Pai, Y. C., T. Bhatt, F. Yang, and E. Wang. Perturbation training can reduce community-dwelling older adults' annual fall risk: a randomized controlled trial. J. Gerontol. A 69:1586–1594, 2014.

22.

Pai, Y. C., and J. Patton. Center of mass velocity-position predictions for balance control. J. Biomech. 30:347–354, 1997.

23.

Pai, Y. C., J. D. Wening, E. F. Runtz, K. Iqbal, and M. J. Pavol. Role of feedforward control of movement stability in reducing slip-related balance loss and falls among older adults. J. Neurophysiol. 90:755–762, 2003.

24.

Pai, Y. C., F. Yang, T. Bhatt, and E. Wang. Learning from laboratory-induced falling: long-term motor retention among older adults. Age 36:1367–1376, 2014.

25.

Parijat, P., and T. E. Lockhart. Effects of moveable platform training in preventing slip-induced falls in older adults. Ann. Biomed. Eng. 40:1111–1121, 2012.

26.

Pavol, M. J., and Y. C. Pai. Deficient limb support is a major contributor to age differences in falling. J. Biomech. 40:1318–1325, 2007.

27.

Pearson, K. G. Generating the walking gait: role of sensory feedback. Brain Mech. Integr. Posture Mov. 143:123–129, 2004.

28.

Rispens, S. M., K. S. van Schooten, M. Pijnappels, A. Daffertshofer, P. J. Beek, and J. H. van Dieen. Identification of fall risk predictors in daily life measurements: gait characteristics' reliability and association with self-reported fall history. Neurorehabilit. Neural Repair 29:54–61, 2015.

29.

Rogers, M. W., and M. L. Mille. Lateral stability and falls in older people. Exerc. Sport Sci. Rev. 31:182–187, 2003.

30.

Rubenstein, L. Z., and K. R. Josephson. Falls and their prevention in elderly people: what does the evidence show? Med. Clin. N. Am. 90:807, 2006.

31.

Stevens, J. A., and E. D. Sogolow. Gender differences for non-fatal unintentional fall related injuries among older adults. Inj. Prev. 11:115–119, 2005.

32.

Trombetti, A., M. Hars, F. R. Herrmann, R. W. Kressig, S. Ferrari, and R. Rizzoli. Effect of music-based multitask training on gait, balance, and fall risk in elderly people a randomized controlled trial. Arch. Intern. Med. 171:525–533, 2011.

33.

Tromp, A. M., S. M. F. Pluijm, J. H. Smit, D. J. H. Deeg, L. M. Bouter, and P. Lips. Fall-risk screening test: a prospective study on predictors for falls in community-dwelling elderly. J. Clin. Epidemiol. 54:837–844, 2001.

34.

Wang, S., X. Liu, A. Lee, and Y.-C. Pai. Can recovery foot placement affect older adults' slip-fall severity? Ann. Biomed. Eng. 45:1941–1948, 2017.

35.

Wolf, S. L., R. W. Sattin, M. Kutner, M. O'Grady, A. I. Greenspan, and R. J. Gregor. Intense tai chi exercise training and fall occurrences in older, transitionally frail adults: a randomized, controlled trial. J. Am. Geriatr. Soc. 51:1693–1701, 2003.

36.

Yang, F., F. C. Anderson, and Y. C. Pai. Predicted threshold against backward balance loss following a slip in gait. J. Biomech. 41:1823–1831, 2008.

37.

Yang, F., T. Bhatt, and Y. C. Pai. Role of stability and limb support in recovery against a fall following a novel slip induced in different daily activities. J. Biomech. 42:1903–1908, 2009.

38.

Yang, F., T. Bhatt, and Y. C. Pai. Limits of recovery against slip-induced falls while walking. J. Biomech. 44:2607–2613, 2011.

39.

Yang, F., D. Espy, and Y. C. Pai. Feasible stability region in the frontal plane during human gait. Ann. Biomed. Eng. 37:2606–2614, 2009.

40.

Yang, F., and Y. C. Pai. Automatic recognition of falls in gait-slip training: harness load cell based criteria. J. Biomech. 44:2243–2249, 2011.
Acknowledgments
This work was supported by National Institute on Aging (NIH R01-AG029616 and NIH R01-AG044364). We thank Ms. Yiru Wang for helpful edits of an earlier version and Dr. Edward Wang for assistant on statistical analysis.
Additional information
Publisher's Note
Springer Nature remains neutral with regard to jurisdictional claims in published maps and institutional affiliations.
Associate Editor Thurmon E. Lockhart oversaw the review of this article.
About this article
Cite this article
Wang, S., Liu, X. & Pai, YC. Limb Collapse or Instability? Assessment on Cause of Falls. Ann Biomed Eng 47, 767–777 (2019). https://doi.org/10.1007/s10439-018-02195-9
Received:

Accepted:

Published:

Issue Date:
Keywords
Recurrent falls

Point-of-no-return

Causation

Vulnerability