Abstract
Directional liquid transport has significant domestic and industrial applications. Theoretically, tapered objects can transport a liquid droplet horizontally or along a small slant angle: Many biomaterials have already demonstrated this ability. However, spontaneously transporting liquid in the vertical direction has been challenging. In this study, a numerical model was developed to simulate the transporting process and design inverted tapered pillars. The range of acceptable parameters for the pillar's geometry was obtained. When the taper angle, the diameter of the bottom end of the pillar, and the contact angle of the liquid are less than 10°, 80 μm, and 54.5°, respectively, then liquid may be transported upward spontaneously. An experimental setup for fabricating the pillars was also developed and presented. With this setup, the designed pillars were successfully fabricated by the gradient electrochemical corrosion method and enhanced its wettability by the electrochemical modification method. The fabricated pillars were then experimentally validated, showing that they can spontaneously transport a micrometer-scale droplet upward. These results may provide a new and systematic way to design and fabricate a tool for high-efficiency liquid transport.
This is a preview of subscription content, log in to check access.
Access options
Buy single article
Instant access to the full article PDF.
US$ 39.95
Tax calculation will be finalised during checkout.
Subscribe to journal
Immediate online access to all issues from 2019. Subscription will auto renew annually.
US$ 99
Tax calculation will be finalised during checkout.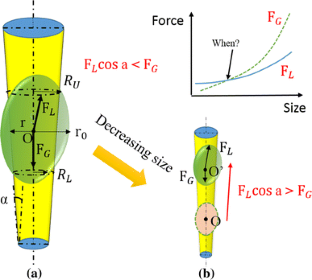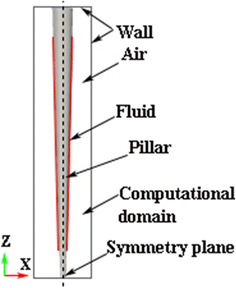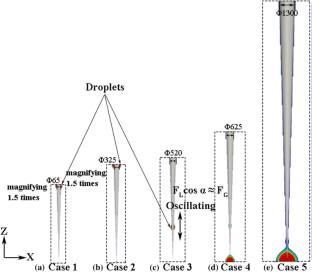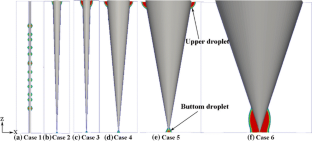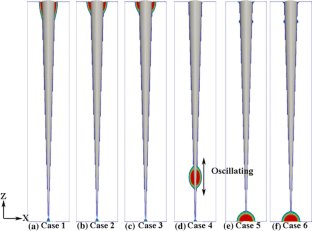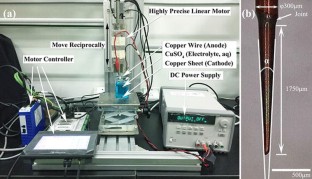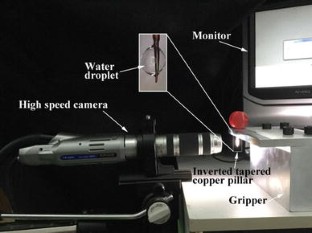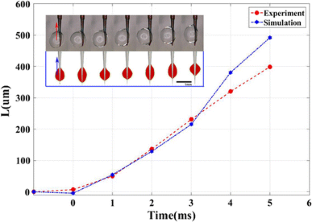 References
Basaran OA, Suryo R (2007) Fluid dynamics: the invisible jet. Nat Phys 3(10):679–680

Bico J, Quéré D (2002) Self-propelling slugs. J Fluid Mech 467:101–127

Chen Y, Guo M, Yang K, Wang C (2013) Enhanced cooling for LED lighting using ionic wind. Int J Heat Mass Transf 57(1):285–291

Cheng J, Sun Y, Zhao A, Huang Z, Xu S (2015) Preparation of gradient wettability surface by anodization depositing copper hydroxide on copper surface. Trans Nonferr Met Soc 25(7):2301–2307

Chu PK, Liu X (2008) Biomaterials fabrication and processing handbook. CRC Press, Boca Raton

Dai Q, Khonsari MM, Shen C, Huang W, Wang X (2016) Thermocapillary migration of liquid droplets induced by a unidirectional thermal gradient. Langmuir 32(30):7485–7492

Eggers J, Villermaux E (2008) Physics of liquid jets. Rep Prog Phys 71(3):36601

Ferraro P, Coppola S, Grilli S, Paturzo M, Vespini V (2010) Dispensing nano-pico droplets and liquid patterning by pyroelectrodynamic shooting. Nat Nanotechnol 5(6):429–435

Guo L, Tang GH (2015) Experimental study on directional motion of a single droplet on cactus spines. Int J Heat Mass Transf 84:198–202

Guo MT, Rotem A, Heyman JA, Weitz DA (2012) Droplet microfluidics for high-throughput biological assays. Lab Chip 12(12):2146–2155

Huang JY, Lo Y, Niu JJ, Kushima A, Qian X, Zhong L, Mao SX, Li J (2013) Nanowire liquid pumps. Nat Nanotechnol 8(4):277–281

Ju J, Bai H, Zheng Y, Zhao T, Fang R, Jiang L (2012) A multi-structural and multi-functional integrated fog collection system in cactus. Nat Commun 3:1247

Ju J, Xiao K, Yao X, Bai H, Jiang L (2013) Bioinspired conical copper wire with gradient wettability for continuous and efficient fog collection. Adv Mater 25(41):5937–5942

Ju J, Zheng Y, Jiang L (2014) Bioinspired one-dimensional materials for directional liquid transport. Acc Chem Res 47(8):2342–2352

Katsikis G, Cybulski JS, Prakash M (2015) Synchronous universal droplet logic and control. Nat Phys 11:588–597

Li EQ, Thoroddsen ST (2013) The fastest drop climbing on a wet conical fibre. Phys Fluids (1994-present) 25(5):52105

Li K, Ju J, Xue Z, Ma J, Feng L, Gao S, Jiang L (2013) Structured cone arrays for continuous and effective collection of micron-sized oil droplets from water. Nat Commun 4:2276

Li J, Wang D, Duan JA, He H, Xia Y, Zhu W (2015) Structural design and control of a small-MRF damper under 50 N soft-landing applications. IEEE Trans Ind Inform 11(3):612–619

Li J, Zhang X, Zhou C, Zheng J, Ge D, Zhu W (2016) New applications of an automated system for high-power LEDs. IEEE-ASME Trans Mech 21(2):1035–1042

Liang Y, Tsao H, Sheng Y (2015) Drops on hydrophilic conical fibers: gravity effect and coexistent states. Langmuir 31(5):1704–1710

Lorenceau É, Quéré D (2004) Drops on a conical wire. J Fluid Mech 510:29–45

Luo C (2015) Theoretical exploration of barrel-shaped drops on cactus spines. Langmuir 31(43):11809–11813

Lv C, Chen C, Chuang Y, Tseng F, Yin Y, Grey F, Zheng Q (2014) Substrate curvature gradient drives rapid droplet motion. Phys Rev Lett 113(2):26101

Madou MJ (2011) Manufacturing techniques for microfabrication and nanotechnology, vol 2. CRC Press, Boca Raton

Michielsen S, Zhang J, Du J, Lee HJ (2011) Gibbs free energy of liquid drops on conical fibers. Langmuir 27(19):11867–11872

Park K, Kim P, Grinthal A, He N, Fox D, Weaver JC, Aizenberg J (2016) Condensation on slippery asymmetric bumps. Nature 531(7592):78–82

Price AK, Paegel BM (2016) Discovery in droplets. Anal Chem 88(1):339–353

Rowlinson JS, Widom B (2013) Molecular theory of capillarity. Courier Corporation, Chelmsford

Subramanian RS, Moumen N, McLaughlin JB (2005) Motion of a drop on a solid surface due to a wettability gradient. Langmuir 21(25):11844–11849

Tong WL, Tan MK, Chin JK, Ong KS, Hung YM (2015) Coupled effects of hydrophobic layer and vibration on thermal efficiency of two-phase closed thermosyphons. RSC Adv 5(14):10332–10340

Vorobyev AY, Guo C (2009) Metal pumps liquid uphill. Appl Phys Lett 94(22):224102

Wang Q, Meng Q, Chen M, Liu H, Jiang L (2014) Bio-inspired multistructured conical copper wires for highly efficient liquid manipulation. ACS Nano 8(9):8757–8764

Wang Q, Meng Q, Liu H, Jiang L (2015) Chinese brushes: From controllable liquid manipulation to template-free printing microlines. Nano Res 8(1):97–105

Wu S, Yang C, Hsu W, Lin L (2015) 3D-printed microelectronics for integrated circuitry and passive wireless sensors. Microsyst Nanoeng 1:1–9

Yuan Y, Lee TR (2013) Contact angle and wetting properties. Springer, Berlin

Zheng Y, Bai H, Huang Z, Tian X, Nie F, Zhao Y, Zhai J, Jiang L (2010) Directional water collection on wetted spider silk. Nature 463(7281):640–643

Zhu H, Guo Z, Liu W (2016) Biomimetic water-collecting materials inspired by nature. Chem Commun 52(20):3863–3879
Acknowledgements
The work presented in the paper is partially supported by National Natural Science Foundation of China (51605100, U1601202), Fund of Guangdong R&D Science and Technology (2016A010102016, 2017A030313314, 2016A030308016, 2015B010104008, 2015B010133005), Guangzhou General Programs for Science and Technology Development (201707010446), and Hong Kong Research Grants Council (14243616, CityU:11207714).
Ethics declarations
Conflict of interest
The authors declare that they have no competing interests.
About this article
Cite this article
Chen, Y., Shi, D., Mai, X. et al. Design and fabrication of inverted tapered micro-pillars for spontaneously transporting liquid upward. Microfluid Nanofluid 22, 9 (2018). https://doi.org/10.1007/s10404-017-2020-6
Received:

Accepted:

Published:
Keywords
Inverted tapered micro-pillar

Upward liquid transport

Fluid dynamics modeling

Manufacturing technology