Abstract
Fevers of unknown origin complicate treatment and prevention of infectious diseases and are a global health burden. We examined risk factors of self-reported fever—categorized as "malarial" and "nonmalarial"—in households adjacent to national parks across the Ugandan Albertine Rift, a biodiversity and emerging infectious disease hotspot. Statistical models fitted to these data suggest that perceived nonmalarial fevers of unknown origin were associated with more frequent direct contact with wildlife and with increased distance from parks where wildlife habitat is limited to small forest fragments. Perceived malarial fevers were associated with close proximity to parks but were not associated with direct wildlife contact. Self-reported fevers of any kind were not associated with livestock ownership. These results suggest a hypothesis that nonmalarial fevers in this area are associated with wildlife contact, and further investigation of zoonoses from wildlife is warranted. More generally, our findings of land use–disease relationships aid in hypothesis development for future research in this social-ecological system where emerging infectious diseases specifically, and rural public health provisioning generally, are important issues.
This is a preview of subscription content, log in to check access.
Access options
Buy single article
Instant access to the full article PDF.
US$ 39.95
Price includes VAT for USA
Subscribe to journal
Immediate online access to all issues from 2019. Subscription will auto renew annually.
US$ 99
This is the net price. Taxes to be calculated in checkout.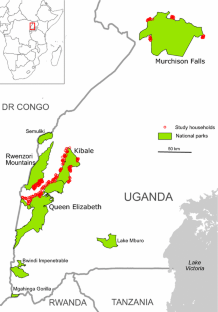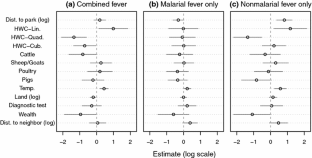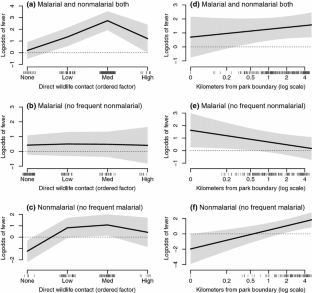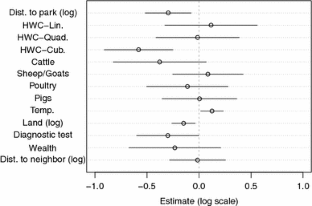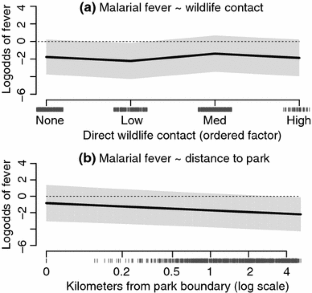 References
Acestor N, Cooksey R, Newton PN, Ménard D, Guerin PJ, Nakagawa J, Christophel E, González IJ, Bell D (2012) Mapping the aetiology of non-malarial febrile illness in Southeast Asia through a Systematic review—terra incognita impairing treatment policies. PLoS ONE 7:e44269. https://doi.org/10.1371/journal.pone.0044269

Ahorlu CK, Dunyo SK, Afari EA, Koram KA, Nkrumah FK (1997) Malaria‐related beliefs and behaviour in Southern Ghana: Implications for treatment, prevention and control. Trop Med Int Health 2:488–499.

Allen T, Murray KA, Zambrana-Torrelio C, Morse SS, Rondinini C, Di Marco M, Breit N, Olival KJ, Daszak P (2017) Global hotspots and correlates of emerging zoonotic diseases. Nat Commun 8(1):1124. https://doi.org/10.1038/s41467-017-00923-8

Amexo M, Tolhurst R, Barnish G, Bates I (2004) Malaria misdiagnosis: effects on the poor and vulnerable. The Lancet 364:1896–1898. https://doi.org/10.1016/S0140-6736(04)17446-1

Bengis R, Leighton F, Fischer J, Artois M, Morner T, Tate C (2004) The role of wildlife in emerging and re-emerging zoonoses. Rev Sci Tech-Off Int Epizoot 23:497–512.

Bhutta ZA, Sommerfeld J, Lassi ZS, Salam RA, Das JK (2014) Global burden, distribution, and interventions for infectious diseases of poverty. Infect Dis Poverty 3:21. https://doi.org/10.1186/2049-9957-3-21

Birhanu Z, Abebe L, Sudhakar M, Dissanayake G, Yihdego YY, Alemayehu G, Yewhalaw D (2016) Malaria Related Perceptions, Care Seeking after Onset of Fever and Anti-Malarial Drug Use in Malaria Endemic Settings of Southwest Ethiopia. PLOS ONE 11:e0160234. https://doi.org/10.1371/journal.pone.0160234

Brashares JS, Golden CD, Weinbaum KZ, Barrett CB, Okello GV (2011) Economic and geographic drivers of wildlife consumption in rural Africa. Proc Natl Acad Sci 108:13931–13936. https://doi.org/10.1073/pnas.1011526108

Brooks TM, Hoffman DM, Burgess N, Plumptre A, Williams S, Gereau RE, Mittermeier RA, Stuart S (2004) Eastern afromontane. In: Mittermeier RA, Robles-Gil P, Hoffmann M, Pilgrim JD, Brooks TM, Mittermeier CG, Lamoreux JL, Fonseca G (eds) Hotspots Revisited: Earth's Biologically Richest and Most Endangered Ecoregions. Cemex, Mexico, pp 241–242

Chandramohan D, Jaffar S, Greenwood B (2002) Use of clinical algorithms for diagnosing malaria. Trop Med Int Health 7:45–52.

Chape S, Harrison J, Spalding M, Lysenko I (2005) Measuring the extent and effectiveness of protected areas as an indicator for meeting global biodiversity targets. Philos Trans R Soc B Biol Sci 360:443. https://doi.org/10.1098/rstb.2004.1592

Chapman CA, Ghai R, Jacob A, Koojo SM, Reyna-Hurtado R, Rothman JM, Twinomugisha D, Wasserman MD, Goldberg TL (2013) Going, Going, Gone: A 15-Year History of the Decline of Primates in Forest Fragments near Kibale National Park, Uganda. In: Marsh KL, Chapman AC (eds) Primates in Fragments: Complexity and Resilience. Springer New York, New York, NY, pp 89–100

Chapman CA, van Bavel B, Boodman C, Ghai RR, Gogarten JF, Hartter J, Mechak LE, Omeja PA, Poonawala S, Tuli D, Goldberg TL (2015) Providing health care to improve community perceptions of protected areas. Oryx J Fauna Preserv Soc 49:636–642. https://doi.org/10.1017/s0030605313001592

Chipwaza B, Mugasa JP, Mayumana I, Amuri M, Makungu C, Gwakisa PS (2014) Community Knowledge and Attitudes and Health Workers' Practices regarding Non-malaria Febrile Illnesses in Eastern Tanzania. PLoS Negl Trop Dis 8:e2896. https://doi.org/10.1371/journal.pntd.0002896

Chung Y, Rabe-Hesketh S, Dorie V, Gelman A, Liu J (2013) A nondegenerate penalized likelihood estimator for variance parameters in multilevel models. Psychometrika 78:685–709.

Coad L, Leverington F, Knights K, Geldmann J, Eassom A, Kapos V, Kingston N, de Lima M, Zamora C, Cuardros I, Nolte C, Burgess ND, Hockings M (2015) Measuring impact of protected area management interventions: current and future use of the Global Database of Protected Area Management Effectiveness. Philos Trans R Soc B Biol Sci. https://doi.org/10.1098/rstb.2014.0281

Crump JA, Morrissey AB, Nicholson WL, Massung RF, Stoddard RA, Galloway RL, Ooi EE, Maro VP, Saganda W, Kinabo GD, Muiruri C, Bartlett JA (2013) Etiology of Severe Non-malaria Febrile Illness in Northern Tanzania: A Prospective Cohort Study. PLoS Negl Trop Dis 7:e2324. https://doi.org/10.1371/journal.pntd.0002324

Daszak P, Epstein JH, Kilpatrick AM, Aguirre AA, Karesh WB, Cunningham AA (2007) Collaborative Research Approaches to the Role of Wildlife in Zoonotic Disease Emergence. In: Childs JE, Mackenzie JS, Richt JA (eds) Wildlife and Emerging Zoonotic Diseases: The Biology, Circumstances and Consequences of Cross-Species Transmission. Springer Berlin Heidelberg, Berlin, Heidelberg, pp 463–475

DeFries R, Rosenzweig C (2010) Toward a whole-landscape approach for sustainable land use in the tropics. Proc Natl Acad Sci U S A 107:19627–19632. https://doi.org/10.1073/pnas.1011163107

Diem JE, Hartter J, Salerno J, McIntyre E, Stuart Grandy A (2016) Comparison of measured multi-decadal rainfall variability with farmers' perceptions of and responses to seasonal changes in western Uganda. Reg Environ Change 1–14. https://doi.org/10.1007/s10113-016-0943-1

Dreyfus A, Dyal JW, Pearson R, Kankya C, Kajura C, Alinaitwe L, Kakooza S, Pelican KM, Travis DA, Mahero M, Boulware DR, Mugisha L (2016) Leptospira Seroprevalence and Risk Factors in Health Centre Patients in Hoima District, Western Uganda. PLoS Negl Trop Dis 10:e0004858. https://doi.org/10.1371/journal.pntd.0004858

Dunyo SK, Afari EA, Koram KA, Ahorlu CK, Abubakar I, Nkrumah FK (2000) Health centre versus home presumptive diagnosis of malaria in southern Ghana: implications for home-based care policy. Trans R Soc Trop Med Hyg 94:285–288. https://doi.org/10.1016/S0035-9203(00)90324-9

Feikin DR, Olack B, Bigogo GM, Audi A, Cosmas L, Aura B, Burke H, Njenga MK, Williamson J, Breiman RF (2011) The Burden of Common Infectious Disease Syndromes at the Clinic and Household Level from Population-Based Surveillance in Rural and Urban Kenya. PLOS ONE 6:e16085. https://doi.org/10.1371/journal.pone.0016085

Ferraro PJ (2002) The local costs of establishing protected areas in low-income nations: Ranomafana National Park, Madagascar. Ecol Econ 43:261–275.

Ghai RR, Chapman CA, Omeja PA, Davies TJ, Goldberg TL (2014a) Nodule worm infection in humans and wild primates in Uganda: cryptic species in a newly identified region of human transmission. PLoS Negl Trop Dis 8:e2641. https://doi.org/10.1371/journal.pntd.0002641

Ghai RR, Simons ND, Chapman CA, Omeja PA, Davies TJ, Ting N, Goldberg TL (2014b) Hidden Population Structure and Cross-species Transmission of Whipworms (Trichuris sp.) in Humans and Non-human Primates in Uganda. PLoS Negl Trop Dis 8:e3256. https://doi.org/10.1371/journal.pntd.0003256

Ghai RR, Thurber MI, El Bakry A, Chapman CA, Goldberg TL (2016) Multi-method assessment of patients with febrile illness reveals over-diagnosis of malaria in rural Uganda. Malar J 15:460. https://doi.org/10.1186/s12936-016-1502-4

Gillespie TR, Chapman CA (2006) Prediction of Parasite Infection Dynamics in Primate Metapopulations Based on Attributes of Forest Fragmentation. Conserv Biol 20:441–448.

Githeko AK, Ndegwa W (2001) Predicting Malaria Epidemics in the Kenyan Highlands Using Climate Data: A Tool for Decision Makers. Glob Change Hum Health 2:54–63. https://doi.org/10.1023/A:1011943131643

Goldberg TL, Gillespie TR, Rwego IB, Estoff EL, Chapman CA (2008) Forest fragmentation as cause of bacterial transmission among nonhuman primates, humans, and livestock, Uganda. Emerg Infect Dis 14:1375–1382.

Goldman A, Hartter J, Southworth J, Binford M (2008) The human landscape around the island park: impacts and responses to Kibale National Park. In: Wrangham R, Ross E (eds) Science and Conservation in African Forests: The Benefits of Longterm Research. Cambridge University Press, Cambridge,

Guerra CA, Snow RW, Hay SI (2006) A global assessment of closed forests, deforestation and malaria risk. Ann Trop Med Parasitol 100:189–204. https://doi.org/10.1179/136485906X91512

Guivier E, Galan M, Henttonen H, Cosson J-F, Charbonnel N (2014) Landscape features and helminth co-infection shape bank vole immunoheterogeneity, with consequences for Puumala virus epidemiology. Heredity 112:274–281.

Hartter J, Dowhaniuk N, MacKenzie CA, Ryan SJ, Diem JE, Palace MW, Chapman CA (2016) Perceptions of risk in communities near parks in an African biodiversity hotspot. Ambio 1–14. https://doi.org/10.1007/s13280-016-0775-8

Hassell JM, Begon M, Ward MJ, Fèvre EM (2017) Urbanization and disease emergence: dynamics at the wildlife–livestock–human interface. Trends Ecol Evol 32:55–67. https://doi.org/10.1016/j.tree.2016.09.012

Hay SI, Cox J, Rogers DJ, Randolph SE, Stern DI, Shanks GD, Myers MF, Snow RW (2002) Climate change and the resurgence of malaria in the East African highlands. Nature 415:905–909. https://doi.org/10.1038/415905a

Hijmans RJ, Cameron SE, Parra JL, Jones PG, Jarvis A (2005) Very high resolution interpolated climate surfaces for global land areas. Int J Climatol 25:1965–1978. https://doi.org/10.1002/joc.1276

Hill CM (2000) Conflict of interest between people and baboons: crop raiding in Uganda. Int J Primatol 21:299–315. https://doi.org/10.1023/a:1005481605637

Jones BA, Grace D, Kock R, Alonso S, Rushton J, Said MY, McKeever D, Mutua F, Young J, McDermott J, Pfeiffer DU (2013) Zoonosis emergence linked to agricultural intensification and environmental change. Proc Natl Acad Sci 110:8399–8404.

Jones KE, Patel NG, Levy MA, Storeygard A, Balk D, Gittleman JL, Daszak P (2008) Global trends in emerging infectious diseases. Nature 451:990–993. https://doi.org/10.1038/nature06536

Källander K, Nsungwa-Sabiiti J, Peterson S (2004) Symptom overlap for malaria and pneumonia–policy implications for home management strategies. Acta Trop 90:211–214. https://doi.org/10.1016/j.actatropica.2003.11.013

Kansiime C, Mugisha A, Makumbi F, Mugisha S, Rwego IB, Sempa J, Kiwanuka SN, Asiimwe BB, Rutebemberwa E (2014) Knowledge and perceptions of brucellosis in the pastoral communities adjacent to Lake Mburo National Park, Uganda. BMC Public Health 14:242. https://doi.org/10.1186/1471-2458-14-242

Krief S, Levrero F, Krief J-M, Thanapongpichat S, Imwong M, Snounou G, Kasenene JM, Cibot M, Gantier J-C (2012) Investigations on anopheline mosquitoes close to the nest sites of chimpanzees subject to malaria infection in the Ugandan highlands. Malar J 11:116–139.

Lester J, Paige S, Chapman CA, Gibson M, Holland Jones J, Switzer WM, Ting N, Goldberg TL, Frost SDW (2016) Assessing Commitment and Reporting Fidelity to a Text Message-Based Participatory Surveillance in Rural Western Uganda. PLOS ONE 11:e0155971. https://doi.org/10.1371/journal.pone.0155971

MacKenzie CA (2012) Accruing benefit or loss from a protected area: Location matters. Ecol Econ 76:119–129. https://doi.org/10.1016/j.ecolecon.2012.02.013

MacKenzie CA, Hartter J (2013) Demand and proximity: drivers of illegal forest resource extraction. Oryx 47:288–297. https://doi.org/10.1017/S0030605312000026

MacKenzie CA, Sengupta RR, Kaoser R (2015) Chasing baboons or attending class: protected areas and childhood education in Uganda. Environ Conserv 42:373–383. https://doi.org/10.1017/S0376892915000120

Maheu-Giroux M, Casapía M, Gyorkos TW (2011) On the validity of self-reports and indirect reports to ascertain malaria prevalence in settings of hypoendemicity. Soc Sci Med 72:635–640. https://doi.org/10.1016/j.socscimed.2010.12.007

Marcantonio M, Rizzoli A, Metz M, Rosà R, Marini G, Chadwick E, Neteler M (2015) Identifying the Environmental Conditions Favouring West Nile Virus Outbreaks in Europe. PLOS ONE 10:e0121158. https://doi.org/10.1371/journal.pone.0121158

May L, Chretien J-P, Pavlin JA (2009) Beyond traditional surveillance: applying syndromic surveillance to developing settings – opportunities and challenges. BMC Public Health 9:242. https://doi.org/10.1186/1471-2458-9-242

McCombie S (2002) Self-treatment for malaria: the evidence and methodological issues. Health Policy Plan 17:333–344.

McElreath R (2015) Statistical Rethinking: A Bayesian Course with Examples in R and Stan. Chapman & Hall/CRC Press, Boca Raton

Moerman F, Lengeler C, Chimumbwa J, Talisuna A, Erhart A, Coosemans M, D'Alessandro U (2003) The contribution of health-care services to a sound and sustainable malaria-control policy. Lancet Infect Dis 3:99–102. https://doi.org/10.1016/S1473-3099(03)00518-8

Mordecai EA, Paaijmans KP, Johnson LR, Balzer C, Ben-Horin T, de Moor E, McNally A, Pawar S, Ryan SJ, Smith TC, Lafferty KD (2013) Optimal temperature for malaria transmission is dramatically lower than previously predicted. Ecol Lett 16:22–30. https://doi.org/10.1111/ele.12015

Morse SS, Mazet JA, Woolhouse M, Parrish CR, Carroll D, Karesh WB, Zambrana-Torrelio C, Lipkin WI, Daszak P (2012) Prediction and prevention of the next pandemic zoonosis. The Lancet 380:1956–1965. https://doi.org/10.1016/S0140-6736(12)61684-5

Myers N, Mittermeier RA, Mittermeier CG, da Fonseca GAB, Kent J (2000) Biodiversity hotspots for conservation priorities. Nature 403:853–858. http://www.nature.com/nature/journal/v403/n6772/suppinfo/403853a0_S1.html

Naing C, Kassim AIBM (2012) Scaling-up attention to nonmalaria acute undifferentiated fever. Trans R Soc Trop Med Hyg 106:331–332. https://doi.org/10.1016/j.trstmh.2012.03.003

Nankabirwa J, Zurovac D, Njogu J, Rwakimari J, Counihan H, Snow R, Tibenderana J (2009) Malaria misdiagnosis in Uganda-implications for policy change. Malar J. https://doi.org/10.1186/1475-2875-8-66

Naughton L (1998) Predicting patterns of crop damage by wildlife around Kibale National Park, Uganda. Conserv Biol 12:156–168. https://doi.org/10.1111/j.1523-1739.1998.96346.x

Naughton-Treves L, Alix-Garcia J, Chapman CA (2011) Lessons about parks and poverty from a decade of forest loss and economic growth around Kibale National Park, Uganda. Proc Natl Acad Sci U S A 108:13919–13924. https://doi.org/10.1073/pnas.1013332108

Naughton-Treves L, Holland MB, Brandon K (2005) The role of protected areas in conserving biodiversity and sustaining local livelihoods. Annu Rev Environ Resour 30:219–252. https://doi.org/10.1146/annurev.energy.30.050504.164507

Novella NS, Thiaw WM (2012) African Rainfall Climatology Version 2 for Famine Early Warning Systems. J Appl Meteorol Climatol 52:588–606. https://doi.org/10.1175/JAMC-D-11-0238.1

Onderdonk DA, Chapman CA (2000) Coping with Forest Fragmentation: The Primates of Kibale National Park, Uganda. Int J Primatol 21:587–611. https://doi.org/10.1023/A:1005509119693

Paige SB, Bleecker J, Mayer J, Goldberg T (2016) Spatial overlap between people and non-human primates in a fragmented landscape. EcoHealth. https://doi.org/10.1007/s10393-016-1194-9

Paige SB, Frost SDW, Gibson MA, Jones JH, Shankar A, Switzer WM, Ting N, Goldberg TL (2014) Beyond bushmeat: animal contact, injury, and zoonotic disease risk in western Uganda. EcoHealth 11:534–543. https://doi.org/10.1007/s10393-014-0942-y

Parola P (2011) Rickettsia felis: from a rare disease in the USA to a common cause of fever in sub-Saharan Africa. Clin Microbiol Infect 17:996–1000. https://doi.org/10.1111/j.1469-0691.2011.03516.x

Pattanayak S, Dickinson K, Corey C, Murray B, Sills E, Kramer R (2006) Deforestation, malaria, and poverty: a call for transdisciplinary research to support the design of cross-sectoral policies. Sustain Sci Pract Policy 2(2):45–56

Patz JA, Campbell-Lendrum D, Holloway T, Foley JA (2005) Impact of regional climate change on human health. Nature 438:310–317. https://doi.org/10.1038/nature04188

Petti CA, Polage CR, Quinn TC, Ronald AR, Sande MA (2006) Laboratory medicine in Africa: a barrier to effective health care. Clin Infect Dis 42:377–382. https://doi.org/10.1086/499363

Prasad N, Murdoch DR, Reyburn H, Crump JA (2015) Etiology of Severe Febrile Illness in Low- and Middle-Income Countries: A Systematic Review. PLOS ONE 10:e0127962. https://doi.org/10.1371/journal.pone.0127962

R Core Team (2016) R: A language and environment for statistical computing. Vienna, Austria: R Foundation for Statistical Computing. https://www.R-project.org/.

Reyburn H, Mbatia R, Drakeley C, Carneiro I, Mwakasungula E, Mwerinde O, Saganda K, Shao J, Kitua A, Olomi R, Greenwood BM, Whitty CJ (2004) Overdiagnosis of malaria in patients with severe febrile illness in Tanzania: a prospective study. BMJ. https://doi.org/10.1136/bmj.38251.658229.55

Rooth I, Björkman A (1992) Fever episodes in a holoendemic malaria area of Tanzania: parasitological and clinical findings and diagnostic aspects related to malaria. Trans R Soc Trop Med Hyg 86:479–482.

Rwego IB, Isabirye-Basuta G, Gillespie TR, Goldberg TL (2008) Gastrointestinal bacterial transmission among humans, mountain gorillas, and livestock in Bwindi Impenetrable National Park, Uganda. Conserv Biol 22:1600–1607. https://doi.org/10.1111/j.1523-1739.2008.01018.x

Ryan SJ, McNally A, Johnson LR, Mordecai EA, Ben-Horin T, Paaijmans K, Lafferty KD (2015) Mapping Physiological Suitability Limits for Malaria in Africa Under Climate Change. Vector-Borne Zoonotic Dis 15:718–725. https://doi.org/10.1089/vbz.2015.1822

Salerno J (2016) Migrant decision-making in a frontier landscape. Environ Res Lett 11:044019.

Salerno J, Borgerhoff Mulder M, Grote MN, Ghiselli M, Packer C (2016) Household livelihoods and conflict with wildlife in community-based conservation areas across northern Tanzania. Oryx 50:702–712. https://doi.org/10.1017/S0030605315000393

Salerno J, Diem JE, Dowhaniuk N, Goldman A, MacKenzie CA, Omeja PA, Palace MW, Reyna-Hurtado R, Ryan SJ, Hartter J (2017) Park isolation in anthropogenic landscapes: land change and livelihoods at park boundaries in the African Albertine Rift. Reg Environ Change. https://doi.org/10.1007/s10113-017-1250-1

Salyer SJ, Gillespie TR, Rwego IB, Chapman CA, Goldberg TL (2012) Epidemiology and molecular relationships of Cryptosporidium spp. in people, primates, and livestock from western Uganda. PLoS Negl Trop Dis 6:e1597.

Scinachi CA, Takeda GACG, Mucci LF, Pinter A (2017) Association of the occurrence of Brazilian spotted fever and Atlantic rain forest fragmentation in the São Paulo metropolitan region, Brazil. Acta Trop 166:225–233. https://doi.org/10.1016/j.actatropica.2016.11.025

Stevens FR, Gaughan AE, Linard C, Tatem AJ (2015) Disaggregating Census Data for Population Mapping Using Random Forests with Remotely-Sensed and Ancillary Data. PLoS ONE 10:e0107042. https://doi.org/10.1371/journal.pone.0107042

Switzer WM, Tang S, Ahuka-Mundeke S, Shankar A, Hanson DL, Zheng H, Ayouba A, Wolfe ND, LeBreton M, Djoko CF, Tamoufe U, Esteban A, Heneine W, Peeters M, Wright LL, Muyembe-Tamfum JJ, Wemakoy EO, Mulembakani P, Hoff NA, Rimoin AW (2012) Novel simian foamy virus infections from multiple monkey species in women from the Democratic Republic of Congo. Retrovirology 9:100. https://doi.org/10.1186/1742-4690-9-100

Travis DA, Sriramarao P, Cardona C, Steer CJ, Kennedy S, Sreevatsan S, Murtaugh MP (2014) One Medicine One Science: a framework for exploring challenges at the intersection of animals, humans, and the environment. Ann N Y Acad Sci 1334:26–44. https://doi.org/10.1111/nyas.12601

Uneke C (2008) Concurrent malaria and typhoid fever in the tropics: the diagnostic challenges and public health implications. J Vector Borne Dis 45:133–142.

Uzochukwu BS, Onwujekwe OE (2004) Socio-economic differences and health seeking behaviour for the diagnosis and treatment of malaria: a case study of four local government areas operating the Bamako initiative programme in south-east Nigeria. Int J Equity Health 3:6.

Valle D, Clark J (2013) Conservation Efforts May Increase Malaria Burden in the Brazilian Amazon. PLOS ONE 8:e57519. https://doi.org/10.1371/journal.pone.0057519

Venables WN, Ripley BD (2002) Modern Applied Statistics with S, Fourth Edition. Springer, New York

Wolfe ND (2005) Bushmeat hunting, deforestation, and prediction of zoonotic disease. Emerg Infect Dis J 11(12): 1822-1827

Woolhouse ME (2002) Population biology of emerging and re-emerging pathogens. Trends Microbiol 10:S3-7.

Yé Y, Kimani-Murage E, Kebaso J, Mugisha F (2007) Assessing the risk of self-diagnosed malaria in urban informal settlements of Nairobi using self-reported morbidity survey. Malar J 6:71. https://doi.org/10.1186/1475-2875-6-71
Acknowledgements
This research was supported by the US National Science Foundation (CNH-EX 1114977). We are grateful to the respondents for their time and contribution and to Ogwang Jimmy, Ahabyona Peter, and Kamuli Elizabeth for their assistance with data collection. We also thank Makerere University Biological Field Station, Uganda Wildlife Authority, Uganda National Council for Science and Technology, and many local officials for providing assistance and granting permission for this research. Mark Grote, Colin Chapman, and Tom Butynski provided valuable insights. The paper was improved substantially based on comments from two anonymous reviewers.
Electronic supplementary material
Below is the link to the electronic supplementary material.
About this article
Cite this article
Salerno, J., Ross, N., Ghai, R. et al. Human–Wildlife Interactions Predict Febrile Illness in Park Landscapes of Western Uganda. EcoHealth 14, 675–690 (2017). https://doi.org/10.1007/s10393-017-1286-1
Received:

Revised:

Accepted:

Published:

Issue Date:
Keywords
Fevers of unknown origin

Malaria

Human–wildlife interactions

Protected areas

Central Africa