Abstract
To elucidate the origin and migration history of the "Mansen elements," a group of temperate grassland plants mainly distributed in northeastern Asia, phylogeographic analyses based on chloroplast DNA markers and double-digest restriction site-associated DNA sequencing (ddRAD-seq) data were performed on Viola orientalis, one of the representative species of the group. Phylogenetic analyses using ddRAD-seq data revealed that the populations of V. orientalis were clustered into five clades, among which the continental clades made of populations from Russia and Korea diverged more than 100,000 years earlier than the Japanese clades. The Japanese clade likely diverged during the last glacial period, followed by a further post-glacial divergence into the Kyushu and the Honshu subclades. Our study demonstrated that V. orientalis originated in the continental area of northeastern Asia and, during the last glacial period, has spread southward through the Korean Peninsula across the Japanese Islands. This finding supports the previously proposed evolutionary hypothesis regarding the origin and migration routes of the Mansen elements.
Access options
Buy single article
Instant access to the full article PDF.
USD 39.95
Price excludes VAT (USA)
Tax calculation will be finalised during checkout.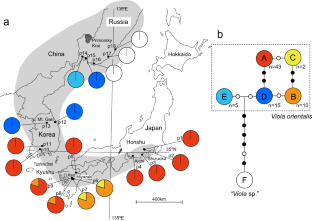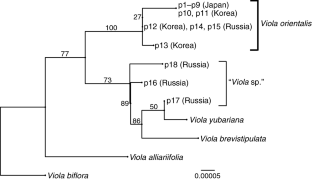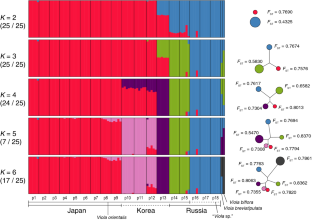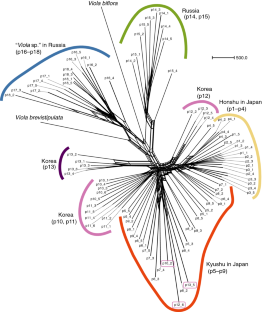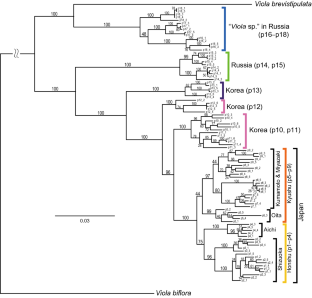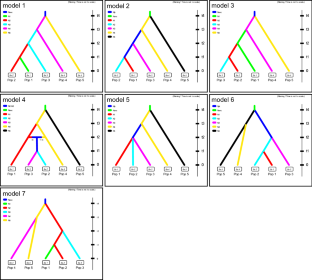 References
Akaike H (1974) A new look at the statistical model identification. IEEE Trans Automat Control 19:716–723. https://doi.org/10.1109/TAC.1974.1100705

Akiyama S, Ohba H, Tabuchi S (1999) Violaceae. In: Iwatsuki K, Boufford DE, Ohba H (eds) Flora of Japan 2c. Kodansha, Tokyo, pp 161–190

Andrews KR, Good JM, Miller MR, Luikart G, Hohenlohe PA (2016) Harnessing the power of RADseq for ecological and evolutionary genomics. Nat Rev Genet 17:81–92. https://doi.org/10.1038/nrg.2015.28

Axelrod DI, Al-Shehbaz I, Raven PH (1996) History of the modern flora of China. In: Zhang AL, Wu SG (eds) Floristic characteristics and diversity of East Asian Plants. Springer, NewYork, pp 43–55

Ballard HE, Paula-Souza Jd, Wahlert GA (2013) Violaceae. In: Kubitzki K (ed) Flowering Plants 11 eudicots: malpighiales. Springer Science & Business Media, Berlin, pp 303–322

Bandelt H-J, Forster P, Röhl A (1999) Median-joining networks for inferring intraspecific phylogenies. Mol Bio Evol 16:37–48. https://doi.org/10.1093/oxfordjournals.molbev.a026036

Batchelor CL, Margold M, Krapp M, Murton DK, Dalton AS, Gibbard PL, Stokes CR, Murton JB, Manica A (2019) The configuration of Northern Hemisphere ice sheets through the Quaternary. Nat Commun 10:3713. https://doi.org/10.1038/s41467-019-11601-2

Beattie AJ, Lyons N (1975) Seed dispersal in Viola (Violaceae): adaptations and strategies. Am J Bot 62:714–722. https://doi.org/10.1002/j.1537-2197.1975.tb14104.x

Bezdeleva (1987) Viola orientalis (Maxim.) W. Beck. In: Kharkev (ed) Pl Vasc Or Extr Soviet, vol 2. Nauka, St.-Petersburg, pp 129–130 (In Russian)

Bolger AM, Lohse M, Usadel B (2014) Trimmomatic: a flexible trimmer for Illumina sequence data. Bioinformatics 30:2114–2120. https://doi.org/10.1093/bioinformatics/btu170

Bryant D, Moulton V (2004) Neighbor-net: an agglomerative method for the construction of phylogenetic networks. Mol Bio Evol 21:255–265. https://doi.org/10.1093/molbev/msh018

Catchen JM, Amores A, Hohenlohe P, Cresko W, Postlethwait JH (2011) Stacks: building and genotyping loci de novo from short-read sequences. G3 (bethesda) 1:171–182. https://doi.org/10.1534/g3.111.000240

Cornuet J-M, Pudlo P, Veyssier J, Dehne-Garcia A, Gautier M, Leblois R, Marin J-M, Estoup A (2014) DIYABC v2.0: a software to make approximate Bayesian computation inferences about population history using single nucleotide polymorphism, DNA Sequence and Microsatellite Data. Bioinformatics 30:1187–1189. https://doi.org/10.1093/bioinformatics/btt763

Darriba D, Taboada GL, Doallo R, Posada D (2012) jModelTest 2: more models, new heuristics and parallel computing. Nat Methods 9:772–772. https://doi.org/10.1038/nmeth.2109

Earl DA, vonHoldt BM (2012) STRUCTURE HARVESTER: a website and program for visualizing STRUCTURE output and implementing the Evanno method. Conserv Genet Resour 4:359–361. https://doi.org/10.1007/s12686-011-9548-7

Evanno G, Regnaut S, Goudet J (2005) Detecting the number of clusters of individuals using the software STRUCTURE: a simulation study. Mol Ecol 14:2611–2620. https://doi.org/10.1111/j.1365-294X.2005.02553.x

Excoffier L, Lischer HE (2010) Arlequin suite ver 3.5: a new series of programs to perform population genetics analyses under Linux and Windows. Mol Ecol Resour 10:564–567. https://doi.org/10.1111/j.1755-0998.2010.02847.x

Falush D, Stephens M, Pritchard JK (2003) Inference of population structure using multilocus genotype data: linked loci and correlated allele frequencies. Genetics 164:1567–1587

Felsenstein J (1985) Confidence limits on phylogenies: an approach using the bootstrap. Evolution 39:783–791. https://doi.org/10.1111/j.1558-5646.1985.tb00420.x

Fujii N, Senni K (2006) Phylogeography of Japanese alpine plants: biogeographic importance of alpine region of central Honshu in Japan. Taxon 55:43–52. https://doi.org/10.2307/25065527

Fujii N, Ueda K, Watano Y, Shimizu T (1997) Intraspecific sequence variation of chloroplast DNA in Pedicularis chamissonis Steven (Scrophulariaceae) and geographic structuring of the Japanese "Alpine" plants. J Plant Res 110:195–207. https://doi.org/10.1007/BF02509308

Good R (1974) The geography of the flowering plants, 4th edn. Longman, London

Guindon S, Gascuel O (2003) A simple, fast, and accurate algorithm to estimate large phylogenies by maximum likelihood. Syst Biol 52:696–704. https://doi.org/10.1080/10635150390235520

Hama E (2002) The wild violets of Japan in color, enlarged. Seibundo-Shinko-sha, Tokyo (In Japanese)

Harrison SP, Yu G, Takahara H, Prentice IC (2001) Diversity of temperate plants in east Asia. Nature 413:129–130. https://doi.org/10.1038/35093166

Hata D, Higashi H, Yakubov V, Barkalov V, Ikeda H, Setoguchi H (2017) Phylogeographical insight into the Aleutian flora inferred from the historical range shifts of the alpine shrub Therorhodion camtschaticum (Pall.) Small (Ericaceae). J Biogeogr 44:283–293. https://doi.org/10.1111/jbi.12876

Hotta M (1974) History and geography of plants. Sanseido, Tokyo (In Japanese)

Huson DH, Bryant D (2006) Application of phylogenetic networks in evolutionary studies. Mol Biol Evol 23:254–267. https://doi.org/10.1093/molbev/msj030

Igari M (2004) Wild violets of Japan, enlarged and, revised. Yama-to-Keikoku-sha, Tokyo (In Japanese)

Ikeda H, Yakubov V, Barkalov V, Setoguchi H (2014) Molecular evidence for ancient relicts of arctic-alpine plants in East Asia. New Phytol 203:980–988. https://doi.org/10.1111/nph.12863

Ikeda H, Sakaguchi S, Yakubov V, Barkalov V, Setoguchi H (2016) Importance of demographic history for phylogeographic inference on the arctic-alpine plant Phyllodoce caerulea in East Asia. Heredity 116:232. https://doi.org/10.1038/hdy.2015.95

Ikeda H, Yakubov V, Barkalov V, Setoguchi H (2018) Post-glacial East Asian origin of the alpine shrub Phyllodoce aleutica (Ericaceae) in Beringia. J Biogeogr 45:1261–1274. https://doi.org/10.1111/jbi.13230

Ikeda H, Yakubov V, Barkalov V, Sato K, Fujii N (2020) East Asian origin of the widespread alpine snow-bed herb, Primula cuneifolia (Primulaceae), in the northern Pacific region. J Biogeogr 47:1–13. https://doi.org/10.1111/jbi.13918

Jordan WC, Courtney MW, Neigel JE (1996) Low levels of intraspecific genetic variation at a rapidly evolving chloroplast DNA locus in North American duckweeds (Lemnaceae). Am J Bot 83:430–439. https://doi.org/10.1002/j.1537-2197.1996.tb12724.x

Kadota Y (2016) Violaceae. In: Ohashi H, Kadota Y, Murata J, Yonekura K, Kihara H (eds) Wild Flowers od Japan, Rosaceae-Meliaceae, vol 3. Heibonsha, Tokyo, pp 209–227

Keenan K, McGinnity P, Cross TF, Crozier WW, Prodöhl PA (2013) diveRsity: an R package for the estimation and exploration of population genetics parameters and their associated errors. Methods Ecol Evol 4:782–788. https://doi.org/10.1111/2041-210X.12067

Kim K-J, Choi K-S, Jansen RK (2005) Two chloroplast DNA inversions originated simultaneously during the early evolution of the sunflower family (Asteraceae). Mol Biol Evol 22:1783–1792. https://doi.org/10.1093/molbev/msi174

Kitamura S, Murata G, Hori M (1957) Colored illustrations of herbaceous plants of Japan, vol 1 (Sympetalae). Hoikusha, Osaka (In Japanese)

Koidzumi G (1931) Zengen (Preface). Florula austro-higoensis. Private publication (In Japanese)

Leache AD, Banbury BL, Felsenstein J, de Oca AN, Stamatakis A (2015) Short tree, long tree, right tree, wrong tree: new acquisition bias corrections for inferring SNP phylogenies. Syst Biol 64:1032–1047. https://doi.org/10.1093/sysbio/syv053

Lee JH, Lee DH, Choi BH (2013) Phylogeography and genetic diversity of East Asian Neolitsea sericea (Lauraceae) based on variations in chloroplast DNA sequences. J Plant Res 126:193–202. https://doi.org/10.1007/s10265-012-0519-1

Li EX, Yi S, Qiu Y-X, Guo J-T, Comes HP, Fu C-X (2008) Phylogeography of two East Asian species in Croomia (Stemonaceae) inferred from chloroplast DNA and ISSR fingerprinting variation. Mol Phylogenet Evol 49:702–714. https://doi.org/10.1016/j.ympev.2008.09.012

Lisiecki LE, Raymo ME (2005) A Pliocene-Pleistocene stack of 57 globally distributed benthic δ18O records. Paleoceanography 20:PA1003. https://doi.org/10.1029/2004PA001071

Liu J-Q, Sun Y-S, Ge X-J, Gao L-M, Qiu Y-X (2012) Phylogeographic studies of plants in China: advances in the past and directions in the future. J Syst Evol 50:267–275. https://doi.org/10.1111/j.1759-6831.2012.00214.x

Lu R-S, Chen Y, Tamaki I, Sakaguchi S, Ding Y-Q, Takahashi D, Li P, Isaji Y, Chen J, Qiu Y-X (2020) Pre-quaternary diversification and glacial demographic expansions of Cardiocrinum (Liliaceae) in temperate forest biomes of Sino–Japanese Floristic Region. Mol Phylogenet Evol 143:106693. https://doi.org/10.1016/j.ympev.2019.106693

Maekawa F (1998) The origin of plants (Syokubutsu-no-kitamichi). Yasaka syobou, Tokyo (In Japanese)

Meng H-H, Gao X-Y, Huang J-F, Zhang M-L (2015) Plant phylogeography in arid Northwest China: retrospectives and perspectives. J Syst Evol 53:33–46. https://doi.org/10.1111/jse.12088

Mittermeier RA, Robles Gil P, Hoffmann M, Pilgrim JT, Brooks T, Mittermeier CG, Lamoureux J, da Fonseca GAB (2004) Hotspots revisited: earth's biologically wealthiest and most threatened ecosystems. CEMEX, Mexico City

Mittermeier RA, Turner WR, Larsen FW, Brooks TM, Gascon C (2011) Global biodiversity conservation: the critical role of hotspots. In: Zachos F, Habel J (eds) Biodiversity hotspots. Springer, Berlin, pp 3–22

Momohara A (2016) Stages of major floral change in Japan based on macrofossil evidence and their connection to climate and geomorphological changes since the Pliocene. Quat Int 397:93–105. https://doi.org/10.1016/j.quaint.2015.03.008

Momohara A (2018) Influence of mountain formation on floral diversification in Japan, based on macrofossil evidence. In: Hoorn C, Perrigo A, Antonelli A (eds) Mountains, climate and biodiversity. Wiley Blackwell, Oxford, pp 459–474

Murata G (1977) Phytogeographical consideration on the flora and vegetation of Japan. Acta Phytotax Geobot 28:65–83

Murata G (1988) The distribution on the continental elements in Japan. Flora and its characteristic in Japan, vol. 17. Nihon No Seibutsu 2:21–25 (In Japanese)

Nakamura K, Denda T, Kokubugata G, Suwa R, Yang T, Peng CI, Yokota M (2010) Phylogeography of Ophiorrhiza japonica (Rubiaceae) in continental islands, the Ryukyu Archipelago, Japan. J Biogeogr 37:1907–1918

Noda M (1971) Flora of the North-East Province (Manchuria) of China. Kazama Shobo, Tokyo (In Japanese)

Oh S-Y, Pak J-H (2001) Distribution maps of vascular plants in Korea. Academy Book Publishing Co., Seoul (In Korean)

Ohwi J (1953) Flora of Japan. Shibundo, Tokyo

Ohwi J (1983) Flora of Japan, revised. Shibundo, Tokyo (In Japanese)

Ooi N (2016) Vegetation history of Japan since the last glacial based on palynological data. Jpn J Hist Bot 25:1–101. https://doi.org/10.34596/hisbot.25.1-2_1

Peakall R, Smouse P (2012) GenAlEx 6.5: genetic analysis in Excel. Population genetic software for teaching and research–an update. Bioinformatics 28:2537–2539. https://doi.org/10.1093/bioinformatics/bts460

Peterson BK, Weber JN, Kay EH, Fisher HS, Hoekstra HE (2012) Double digest RADseq: an inexpensive method for de novo SNP discovery and genotyping in model and non-model species. PLoS ONE 7:e37135. https://doi.org/10.1371/journal.pone.0037135

Polzin T, Daneshmand SV (2003) On Steiner trees and minimum spanning trees in hypergraphs. Oper Res Lett 31:12–20. https://doi.org/10.1016/S0167-6377(02)00185-2

Pritchard JK, Stephens M, Donnelly P (2000) Inference of population structure using multilocus genotype data. Genetics 155:945–959. https://doi.org/10.1093/genetics/155.2.945

Pritchard JK, Wen W, Falush D (2010) Documentation for STRUCTURE software: Version 2. University of Chicago, Chicago

Purcell S, Neale B, Todd-Brown K, Thomas L, Ferreira MA, Bender D, Maller J, Sklar P, De Bakker PI, Daly MJ (2007) PLINK: a tool set for whole-genome association and population-based linkage analyses. Am J Hum Genet 81:559–575. https://doi.org/10.1086/519795

Qiu Y-X, Qi X-S, Jin X-F, Tao X-Y, Fu C-X, Naiki A, Comes HP (2009a) Population genetic structure, phylogeography, and demographic history of Platycrater arguta (Hydrangeaceae) endemic to East China and South Japan, inferred from chloroplast DNA sequence variation. Taxon 1226–1241. http://www.jstor.org/stable/27757014

Qiu Y-X, Sun Y, Zhang X-P, Lee J, Fu C-X, Comes HP (2009b) Molecular phylogeography of East Asian Kirengeshoma (Hydrangeaceae) in relation to Quaternary climate change and landbridge configurations. New Phytol 183:480–495. https://doi.org/10.1111/j.1469-8137.2009.02876.x

Qiu Y-X, Fu C-X, Comes HP (2011) Plant molecular phylogeography in China and adjacent regions: Tracing the genetic imprints of Quaternary climate and environmental change in the world's most diverse temperate flora. Mol Phylogenet Evol 59:225–244. https://doi.org/10.1016/j.ympev.2011.01.012

Rambaut A (2009) FigTree ver. 1.4.4, http://tree.bio.ed.ac.uk/software/figtree/

Rozas J, Ferrer-Mata A, Sánchez-DelBarrio JC, Guirao-Rico S, Librado P, Ramos-Onsins SE, Sánchez-Gracia A (2017) DnaSP 6: DNA sequence polymorphism analysis of large data sets. Mol Biol Evol 34:3299–3302. https://doi.org/10.1093/molbev/msx248

Saito Y, Yokoyama K, Tsutsumi Y, Tanimura Y (2006) Formation of the Japanese Islands. In: National Science Museum (ed) Natural History of the Japanese Islands. Tokai University Press, pp 23–40 (In Japanese)

Sakaguchi S, Qiu Y-X, Liu Y-H, Qi X-S, Kim S-H, Han J, Takeuchi Y, Worth JR, Yamasaki M, Sakurai S, Isagi Y (2012) Climate oscillation during the Quaternary associated with landscape heterogeneity promoted allopatric lineage divergence of a temperate tree Kalopanax septemlobus (Araliaceae) in East Asia. Mol Ecol 21:3823–3838. https://doi.org/10.1111/j.1365-294X.2012.05652.x

Sakaguchi S, Horie K, Ishikawa N, Nagano AJ, Yasugi M, Kudoh H, Ito M (2017) Simultaneous evaluation of the effects of geographic, environmental and temporal isolation in ecotypic populations of Solidago virgaurea. New Phytol 216:1268–1280. https://doi.org/10.1111/nph.14744

Sakaguchi S, Kimura T, Kyan R, Maki M, Nishino T, Ishikawa N, Nagano AJ, Honjo MN, Yasugi M, Kudoh H, Li P, Choi HJ, Chernyagina OA, Ito M (2018) Phylogeographic analysis of the East Asian goldenrod (Solidago virgaurea complex, Asteraceae) reveals hidden ecological diversification with recurrent formation of ecotypes. Ann Bot 121:489–500. https://doi.org/10.1093/aob/mcx182

Setoguchi H, Yukawa T, Tokuoka T, Momohara A, Sogo A, Takaso T, Peng CI (2006) Phylogeography of the genus Cardiandra based on genetic variation in cpDNA sequences. J Plant Res 119:401–405. https://doi.org/10.1007/s10265-006-0283-1

Setoguchi H, Watanabe W, Maeda Y, Peng CI (2008) Molecular phylogeny of the genus Pieris (Ericaceae) with special reference to phylogenetic relationships of insular plants on the Ryukyu Islands. Plant Syst Evol 270:217–230. https://doi.org/10.1007/s00606-007-0600-8

Shi Y, Ren B, Wang J, Derbyshire E (1986) Quaternary glaciation in China. Quat Sci Rev 5:503–507. https://doi.org/10.1016/0277-3791(86)90217-9

Soltis DE, Gitzendanner MA, Strenge DD, Soltis PS (1997) Chloroplast DNA intraspecific phylogeography of plants from the Pacific Northwest of North America. Plant Syst Evol 206:353–373. https://doi.org/10.1007/BF00987957

Stamatakis A (2014) RAxML version 8: a tool for phylogenetic analysis and post-analysis of large phylogenies. Bioinformatics 30:1312–1313. https://doi.org/10.1093/bioinformatics/btu033

Tabata H (1997) Meadow plants in Satoyama. In: Tabata H (ed) Satoyama and its conservation. Hoikusha, Osaka, pp 38–41 (In Japanese)

Taberlet P, Gielly L, Pautou G, Bouvet J (1991) Universal primers for amplification of three non-coding regions of chloroplast DNA. Plant Mol Biol 17:1105–1109

Takaishi A, Kozhevnikov AE, Kozhevnikova ZV, Ikeda H, Fujii N, Soejima A (2019) Phylogeography of Pulsatilla cernua (Ranunculaceae), a grassland species, in Japan. Ecol Evol 9:7262–7272. https://doi.org/10.1002/ece3.5298

Takhtajan A, Crovello TJ, Cronquist A (1986) Floristic regions of the world. University of California Press, Berkeley

Tamura K, Stecher G, Peterson D, Filipski A, Kumar S (2013) MEGA6: molecular evolutionary genetics analysis version 6.0. Mol Biol Evol 30:2725–2729. https://doi.org/10.1093/molbev/mst197

Terachi T (1993) Structural alterations of chloroplast genome and their significance to the higher plant evolution. Bull Inst Nati Land Util Developm Kyoto Sangyo Univ 14:138–148

Thompson JD, Higgins DG, Gibson TJ (1994) CLUSTAL W: improving the sensitivity of progressive multiple sequence alignment through sequence weighting, position-specific gap penalties and weight matrix choice. Nucleic Acids Res 22:4673–4680. https://doi.org/10.1093/nar/22.22.4673

Tsukada M (1983) Vegetation and climate during the last glacial maximum in Japan. Quat Res 19:212–235. https://doi.org/10.1016/0033-5894(83)90006-6

Tsutsumi Y (2014) An illustrated guide to birth of the Japanese Islands. Kodansha, Tokyo (In Japanese)

Union of Japanese Societies for Systematic Biology (2003) Japanese biota species number survey, 1st edn. http://ujssb.org/biospnum/search.php

Ushimaru A, Uchida K, Suka T (2018) Grassland biodiversity in Japan: threats, management and conservation. In: Squires VR, Dengler J, Feng H, Hua L (eds) Grasslands of the World. CRC Press, Boca Raton, pp 197–218

Xia MQ, Liao RY, Zhou JT, Lin HY, Li JH, Li P, Fu CX, Qiu YX (2021) Phylogenomics and biogeography of Wisteria: implications on plastome evolution among inverted repeat-lacking clade (IRLC) legumes. J Syst Evol. https://doi.org/10.1111/jse.12733

Xu T, Abbott RJ, Milne RI, Mao K, Du FK, Wu G, Ciren Z, Miehe G, Liu J (2010) Phylogeography and allopatric divergence of cypress species (Cupressus L.) in the Qinghai–Tibetan Plateau and adjacent regions. BMC Evol Biol 10:1–10. https://doi.org/10.1186/1471-2148-10-194

Yasuda Y, Miyoshi N (1998) Illustrated vegetation history of Japanese archipelago. Asakura-shoten, Tokyo (In Japanese)

Yoo KO, Jang SK (2010) Infrageneric relationships of Korean Viola based on eight chloroplast markers. J Syst Evol 48:474–481. https://doi.org/10.1111/j.1759-6831.2010.00102.x

Zeng YF, Wang WT, Liao WJ, Wang HF, Zhang DY (2015) Multiple glacial refugia for cool-temperate deciduous trees in northern East Asia: the Mongolian oak as a case study. Mol Ecol 24:5676–5691. https://doi.org/10.1111/mec.13408

Zhao KK, Landrein S, Barrett RL, Sakaguchi S, Maki M, Mu WX, Yang T, Zhu ZX, Liu H, Wang H-F (2019) Phylogeographic analysis and genetic structure of an endemic Sino-Japanese disjunctive genus Diabelia (Caprifoliaceae). Front Plant Sci 10:913. https://doi.org/10.3389/fpls.2019.00913
Acknowledgements
We express our sincere thanks to M. Igari, S. Sei, K. Takayama, M. Watanabe, and Y. Yuasa (alphabetical order, title omitted) for sample collection of plant materials. We are grateful for the public institutions that permitted us permission to collect samples. We thank S. Kondo for assistance with ddRAD-seq experiments. We also extend our appreciation for the members of our laboratory in supporting our research. We would like to thank Enago (https://www.enago.jp/) for English language editing. Our cordial thanks are going to the referee who kindly gave us advices to revise our manuscript. This study was supported by JSPS KAKENHI Grant Number JP17H03721 and a grant from the Institute of Plant Science and Resources, Okayama University (3037, 3140, & R236).
Additional information
Publisher's Note
Springer Nature remains neutral with regard to jurisdictional claims in published maps and institutional affiliations.
Supplementary Information
Below is the link to the electronic supplementary material.
About this article
Cite this article
Sata, H., Shimizu, M., Iwasaki, T. et al. Phylogeography of the East Asian grassland plant, Viola orientalis (Violaceae), inferred from plastid and nuclear restriction site-associated DNA sequencing data. J Plant Res 134, 1181–1198 (2021). https://doi.org/10.1007/s10265-021-01339-8
Received:

Accepted:

Published:

Issue Date:

DOI: https://doi.org/10.1007/s10265-021-01339-8
Keywords
DdRAD-seq

Genetic structure

Grassland

Japanese flora

Migration history

Population genetics