Abstract
Multiple patient-specific parameters, such as wall thickness, wall strength, and constitutive properties, are required for the computational assessment of abdominal aortic aneurysm (AAA) rupture risk. Unfortunately, many of these quantities are not easily accessible and could only be determined by invasive procedures, rendering a computational rupture risk assessment obsolete. This study investigates two different approaches to predict these quantities using regression models in combination with a multitude of noninvasively accessible, explanatory variables. We have gathered a large dataset comprising tensile tests performed with AAA specimens and supplementary patient information based on blood analysis, the patients medical history, and geometric features of the AAAs. Using this unique database, we harness the capability of state-of-the-art Bayesian regression techniques to infer probabilistic models for multiple quantities of interest. After a brief presentation of our experimental results, we show that we can effectively reduce the predictive uncertainty in the assessment of several patient-specific parameters, most importantly in thickness and failure strength of the AAA wall. Thereby, the more elaborate Bayesian regression approach based on Gaussian processes consistently outperforms standard linear regression. Moreover, our study contains a comparison to a previously proposed model for the wall strength.
Access options
Buy single article
Instant access to the full article PDF.
US$ 39.95
Tax calculation will be finalised during checkout.
Subscribe to journal
Immediate online access to all issues from 2019. Subscription will auto renew annually.
US$ 79
Tax calculation will be finalised during checkout.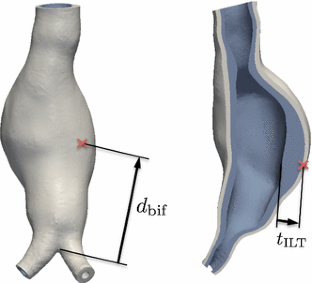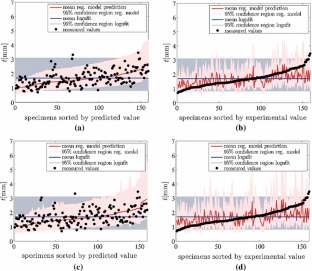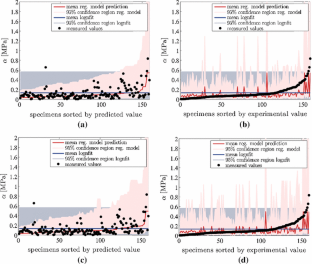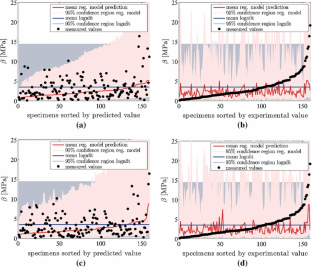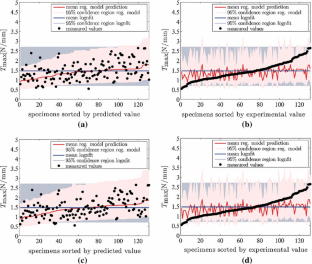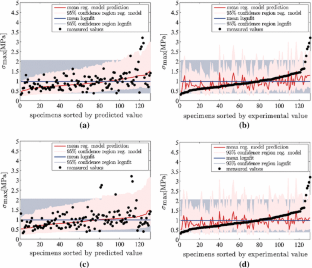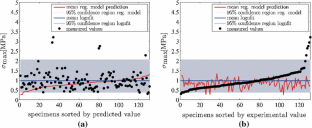 References
Abrahamsen P (1997) A review of Gaussian random fields and correlation functions. Tech. rep, Norwegian Computing Center, Oslo, Norway

Alberti KGMM, Zimmet PZ (1998) Definition, diagnosis and classification of diabetes mellitus and its complications. Part 1: diagnosis and classification of diabetes mellitus provisional report of a WHO consultation. Diabet Med 15(7):539–553

Astrand H, Stålhand J, Karlsson J, Karlsson M, Sonesson B, Lanne T (2011) In vivo estimation of the contribution of elastin and collagen to the mechanical properties in the human abdominal aorta: effect of age and sex. J Appl Physiol 110(1):176–187

Biehler J, Gee MW, Wall WA (2015) Towards efficient uncertainty quantification in complex and large-scale biomechanical problems based on a bayesian multi-fidelity scheme. Biomech Model Mechanobiol 14(3):489–513

Darling RC, Messina CR, Brewster DC, Ottinger LW (1977) Autopsy study of unoperated abdominal aortic aneurysms. The case for early resection. Circulation 56(3 Suppl):II161–4

Forsdahl SH, Singh K, Solberg S, Jacobsen BK (2009) Risk factors for abdominal aortic aneurysms a 7-year prospective study: the Tromsø Study, 1994–2001. Circulation 119(16):2202–2208

Gasser TC, Auer M, Labruto F, Swedenborg J, Roy J (2010) Biomechanical rupture risk assessment of abdominal aortic aneurysms: model complexity versus predictability of finite element simulations. Eur J Vasc Endovasc 40(2):176–185

Gelman A, Carlin JB, Stern HS, Dunson DB, Vehtari A, Rubin DB (2013) Bayesian data analysis. CRC press, Boca Raton

Greenhalgh RM (2004) Comparison of endovascular aneurysm repair with open repair in patients with abdominal aortic aneurysm (EVAR trial 1), 30-day operative mortality results: randomised controlled trial. Lancet 364(9437):843–848

Greenhalgh RM, Brown LC, Powell JT, Thompson SG, Epstein D, Sculpher MJ (2010) Endovascular versus open repair of abdominal aortic aneurysm. N Engl J Med 362(20):1863–1871

Hastie T, Tibshirani R, Friedman J (2009) The elements of statistical learning, 2nd edn. Springer, New York

Khosla S, Morris DR, Moxon JV, Walker PJ, Gasser TC, Golledge J (2014) Meta-analysis of peak wall stress in ruptured, symptomatic and intact abdominal aortic aneurysms. Br J Surg. doi:10.1002/bjs.9578

Maier A, Gee MW, Reeps C, Pongratz J, Eckstein HH, Wall WA (2010) A comparison of diameter, wall stress, and rupture potential index for abdominal aortic aneurysm rupture risk prediction. Ann Biomed Eng 38(10):3124–3134

Marini G, Maier A, Reeps C, Eckstein HH, Wall WA, Gee MW (2011) A continuum description of the damage process in the arterial wall of abdominal aortic aneurysms. Int J Numer Method Biomed Eng 28(1):87–99

Matérn B (1960) Spatial variation, Meddelanden från Statens Skogsforskningsinstitut, Almänna Förlaget, Stockholm, vol 49, 2nd edn. Springer, Berlin

O'Leary SA, Kavanagh EG, Grace PA, McGloughlin TM, Doyle BJ (2014a) The biaxial mechanical behaviour of abdominal aortic aneurysm intraluminal thrombus: classification of morphology and the determination of layer and region specific properties. J Biomech 47(6):1430–1437

O'Leary SA, Healey DA, Kavanagh EG, Walsh MT, McGloughlin TM, Doyle BJ (2014b) The biaxial biomechanical behavior of abdominal aortic aneurysm tissue. Ann Biomed Eng 42(12):2440–2450

Raghavan ML, Webster MW, Vorp DA (1996) Ex vivo biomechanical behavior of abdominal aortic aneurysm: assessment using a new mathematical model. Ann Biomed Eng 24(5):573–582

Raghavan ML, Kratzberg JA, Castro de Tolosa E, Hanaoka MM, Walker PJ, Da Silva ES (2006) Regional distribution of wall thickness and failure properties of human abdominal aortic aneurysm. J Biomech 39(16):3010–3016

Raghavan ML, Hanaoka MM, Kratzberg JA, Higuchi MdL, Da Silva ES (2011) Biomechanical failure properties and microstructural content of ruptured and unruptured abdominal aortic aneurysms. J Biomech 44(13):2501–2507

Raghavan ML, Vorp DA (2000) Toward a biomechanical tool to evaluate rupture potential of abdominal aortic aneurysm: identification of a finite strain constitutive model and evaluation of its applicability. J Biomech 33(4):475–482

Reeps C, Gee MW, Maier A, Gurdan M, Eckstein HH, Wall WA (2010) The impact of model assumptions on results of computational mechanics in abdominal aortic aneurysm. J Vasc Surg 51(3):679–688

Reeps C, Maier A, Pelisek J, Härtl F, Grabher-Meier V, Wall WA, Essler M, Eckstein HH, Gee MW (2012) Measuring and modeling patient-specific distributions of material properties in abdominal aortic aneurysm wall. Biomech Model Mechanobiol 12(4):1–17

Schulze-Bauer CA, Holzapfel GA (2003) Determination of constitutive equations for human arteries from clinical data. J Biomech 36(2):165–169

Seyedsalehi S, Zhang L, Choi J, Baek S (2015) Prior distributions of material parameters for Bayesian calibration of growth and remodeling computational model of abdominal aortic wall. J Biomech Eng 137(10):101,001

Thubrikar J, Labrosse M, Robicsek F, Al-Soudi J, Fowler B (2001) Mechanical properties of abdominal aortic aneurysm wall. J Med Eng Technol 25(4):133–142

Tonelli M, Wiebe N, Culleton B, House A, Rabbat C, Fok M, McAlister F, Garg AX (2006) Chronic kidney disease and mortality risk: a systematic review. J Am Soc Nephrol 17(7):2034–2047

Tong J, Cohnert T, Regitnig P, Holzapfel GA (2011) Effects of age on the elastic properties of the intraluminal thrombus and the thrombus-covered wall in abdominal aortic aneurysms: biaxial extension behaviour and material modelling. Eur J Vasc Endovasc 42(2):207–219

Uhlig K, Berns JS, Kestenbaum B, Kumar R, Leonard MB, Martin KJ, Sprague SM, Goldfarb S (2010) KDOQI US commentary on the 2009 KDIGO clinical practice guideline for the diagnosis, evaluation, and treatment of CKD-mineral and bone disorder (CKD-MBD). Am J Kidney Dis 55(5):773–799

Vallabhaneni SR, Gilling-Smith GL, How TV, Carter SD, Brennan JA, Harris PL (2004) Heterogeneity of tensile strength and matrix metalloproteinase activity in the wall of abdominal aortic aneurysms. J Endovasc Ther 11(4):494–502

Vande Geest JP, Di Martino ES, Bohra A, Makaroun MS, Vorp DA (2006a) A biomechanics-based rupture potential index for abdominal aortic aneurysm risk assessment: demonstrative application. Ann N Y Acad Sci 1085(1):11–21

Vande Geest JP, Sacks MS, Vorp DA (2006b) The effects of aneurysm on the biaxial mechanical behavior of human abdominal aorta. J Biomech 39(7):1324–1334

Vande Geest JP, Wang DHJ, Wisniewski SR, Makaroun MS, Vorp DA (2006c) Towards a noninvasive method for determination of patient-specific wall strength distribution in abdominal aortic aneurysms. Ann Biomed Eng 34(7):1098–1106

Vappou J, Luo J, Konofagou EE (2010) Pulse wave imaging for noninvasive and quantitative measurement of arterial stiffness in vivo. Am J Hypertens 23(4):393–398

Volokh KY (2010) Comparison of biomechanical failure criteria for abdominal aortic aneurysm. J Biomech 43(10):2032–2034

Weisberg S (2014) Applied linear regression, 4th edn. Wiley, New York

Williams CK, Rasmussen CE (1996) Gaussian processes for regression. In: Touretzky SD, Mozer MC, Hasselmo ME (eds) Advances in neural information processing systems 8. MIT Press, Cambridge

Williams CK, Rasmussen CE (2006) Gaussian processes for machine learning. MIT Press, Cambridge
Acknowledgments
We gratefully acknowledge partial support through the German Science Foundation (DFG) under Projects GE2254/1-1 and RE3146/1-1 within AOBJ: 584483.
Ethics declarations
Conflict of interests
We have no competing interests
Ethical standard
The study was approved by the ethics committee of the university hospital rechts der Isar, Technische Universität München, Germany.
About this article
Cite this article
Biehler, J., Kehl, S., Gee, M.W. et al. Probabilistic noninvasive prediction of wall properties of abdominal aortic aneurysms using Bayesian regression. Biomech Model Mechanobiol 16, 45–61 (2017). https://doi.org/10.1007/s10237-016-0801-6
Received:

Accepted:

Published:

Issue Date:
Keywords
Abdominal aortic aneurysm

Bayesian regression

Wall properties