Abstract
Background
The aim of this study was to identify serum miRNAs that discriminate early gastric cancer (EGC) samples from non-cancer controls using a large cohort.
Methods
This retrospective case–control study included 1417 serum samples from patients with EGC (seen at the National Cancer Center Hospital in Tokyo between 2008 and 2012) and 1417 age- and gender-matched non-cancer controls. The samples were randomly assigned to discovery and validation sets and the miRNA expression profiles of whole serum samples were comprehensively evaluated using a highly sensitive DNA chip (3D-Gene®) designed to detect 2565 miRNA sequences. Diagnostic models were constructed using the levels of several miRNAs in the discovery set, and the diagnostic performance of the model was evaluated in the validation set.
Results
The discovery set consisted of 708 samples from EGC patients and 709 samples from non-cancer controls, and the validation set consisted of 709 samples from EGC patients and 708 samples from non-cancer controls. The diagnostic EGC index was constructed using four miRNAs (miR-4257, miR-6785-5p, miR-187-5p, and miR-5739). In the discovery set, a receiver operating characteristic curve analysis of the EGC index revealed that the area under the curve (AUC) was 0.996 with a sensitivity of 0.983 and a specificity of 0.977. In the validation set, the AUC for the EGC index was 0.998 with a sensitivity of 0.996 and a specificity of 0.953.
Conclusions
A novel combination of four serum miRNAs could be a useful non-invasive diagnostic biomarker to detect EGC with high accuracy. A multicenter prospective study is ongoing to confirm the present observations.
Abbreviations
AUC:

Area under the curve

EGC:

Early gastric cancer

miRNA:

microRNA

ROC:

Receiver operating characteristic curve
References
Ferlay J, Colombet M, Soerjomataram I, Mathers C, Parkin DM, Pineros M, et al. Estimating the global cancer incidence and mortality in 2018: GLOBOCAN sources and methods. Int J Cancer. 2019;144(8):1941–53.

Katai H, Ishikawa T, Akazawa K, Isobe Y, Miyashiro I, Oda I, et al. Five-year survival analysis of surgically resected gastric cancer cases in Japan: a retrospective analysis of more than 100,000 patients from the nationwide registry of the Japanese Gastric Cancer Association (2001–2007). Gastric Cancer. 2018;21(1):144–54.

Hamashima C. Update version of the Japanese Guidelines for Gastric Cancer Screening. Jpn J Clin Oncol. 2018;48(7):673–83.

Hamashima C, Fukao A. Quality assurance manual of endoscopic screening for gastric cancer in Japanese communities. Jpn J Clin Oncol. 2016;46(11):1053–61.

Matsuzaki J, Ochiya T. Circulating microRNAs and extracellular vesicles as potential cancer biomarkers: a systematic review. Int J Clin Oncol. 2017;22:413–20.

Harrandah AM, Mora RA, Chan EKL. Emerging microRNAs in cancer diagnosis, progression, and immune surveillance. Cancer Lett. 2018;438:126–32.

Bartel DP. MicroRNAs: genomics, biogenesis, mechanism, and function. Cell. 2004;116(2):281–97.

Guo Z, Maki M, Ding R, Yang Y, Zhang B, Xiong L. Genome-wide survey of tissue-specific microRNA and transcription factor regulatory networks in 12 tissues. Sci Rep. 2014;4:5150.

Liang Y, Ridzon D, Wong L, Chen C. Characterization of microRNA expression profiles in normal human tissues. BMC Genomics. 2007;8:166.

Japanese Gastric Cancer Association. Japanese gastric cancer treatment guidelines 2010 (ver. 3). Gastric Cancer. 2011;14(2):113–23.

Urabe F, Matsuzaki J, Yamamoto Y, Kimura T, Hara T, Ichikawa M, et al. Large-scale circulating microRNA profiling for the liquid biopsy of prostate cancer. Clin Cancer. 2019;25(10):3016–25.

Shimomura A, Shiino S, Kawauchi J, Takizawa S, Sakamoto H, Matsuzaki J, et al. Novel combination of serum microRNA for detecting breast cancer in the early stage. Cancer Sci. 2016;107(3):326–34.

Japanese Gastric Cancer Association. Japanese classification of gastric carcinoma: 3rd English edition. Gastric Cancer. 2011;14(2):101–12. https://doi.org/10.1007/s10120-011-0041-5.

Lee KJ, Inoue M, Otani T, Iwasaki M, Sasazuki S, Tsugane S. Gastric cancer screening and subsequent risk of gastric cancer: a large-scale population-based cohort study, with a 13-year follow-up in Japan. Int J Cancer. 2006;118(9):2315–21.

Miyamoto A, Kuriyama S, Nishino Y, Tsubono Y, Nakaya N, Ohmori K, et al. Lower risk of death from gastric cancer among participants of gastric cancer screening in Japan: a population-based cohort study. Prev Med. 2007;44(1):12–9.

Jun JK, Choi KS, Lee HY, Suh M, Park B, Song SH, et al. Effectiveness of the Korean National Cancer Screening Program in Reducing Gastric Cancer Mortality. Gastroenterology. 2017;152(6):1319-28.e7.

Hamashima C, Okamoto M, Shabana M, Osaki Y, Kishimoto T. Sensitivity of endoscopic screening for gastric cancer by the incidence method. Int J Cancer. 2013;133(3):653–9.

Hosokawa O, Hattori M, Douden K, Hayashi H, Ohta K, Kaizaki Y. Difference in accuracy between gastroscopy and colonoscopy for detection of cancer. Hepatogastroenterology. 2007;54(74):442–4.

Raftopoulos SC, Segarajasingam DS, Burke V, Ee HC, Yusoff IF. A cohort study of missed and new cancers after esophagogastroduodenoscopy. Am J Gastroenterol. 2010;105(6):1292–7.

Shimodate Y, Mizuno M, Doi A, Nishimura N, Mouri H, Matsueda K, et al. Gastric superficial neoplasia: high miss rate but slow progression. Endosc Int Open. 2017;5(8):E722-e6.

Correa P. Human gastric carcinogenesis: a multistep and multifactorial process–First American Cancer Society Award Lecture on Cancer Epidemiology and Prevention. Cancer Res. 1992;52(24):6735–40.

Terasawa T, Nishida H, Kato K, Miyashiro I, Yoshikawa T, Takaku R, et al. Prediction of gastric cancer development by serum pepsinogen test and Helicobacter pylori seropositivity in Eastern Asians: a systematic review and meta-analysis. PLoS ONE. 2014;9(10):e109783.

Watabe H, Mitsushima T, Yamaji Y, Okamoto M, Wada R, Kokubo T, et al. Predicting the development of gastric cancer from combining Helicobacter pylori antibodies and serum pepsinogen status: a prospective endoscopic cohort study. Gut. 2005;54(6):764–8.

Link A, Kupcinskas J. MicroRNAs as non-invasive diagnostic biomarkers for gastric cancer: current insights and future perspectives. World J Gastroenterol. 2018;24(30):3313–29.

Tang S, Cheng J, Yao Y, Lou C, Wang L, Huang X, et al. Combination of four serum exosomal MiRNAs as novel diagnostic biomarkers for early-stage gastric cancer. Front Genet. 2020;11:237.

Zeng W, Zhang S, Yang L, Wei W, Gao J, Guo N, et al. Serum miR-101-3p combined with pepsinogen contributes to the early diagnosis of gastric cancer. BMC Med Genet. 2020;21(1):28.

So JBY, Kapoor R, Zhu F, Koh C, Zhou L, Zou R, et al. Development and validation of a serum microRNA biomarker panel for detecting gastric cancer in a high-risk population. Gut. 2020. https://doi.org/10.1136/gutjnl-2020-322065 (Online ahead of print).

Liu H, Zhu L, Liu B, Yang L, Meng X, Zhang W, et al. Genome-wide microRNA profiles identify miR-378 as a serum biomarker for early detection of gastric cancer. Cancer Lett. 2012;316(2):196–203.

Wang T, Hou J, Jian S, Luo Q, Wei J, Li Z, et al. miR-29b negatively regulates MMP2 to impact gastric cancer development by suppress gastric cancer cell migration and tumor growth. J Cancer. 2018;9(20):3776–86.

Yoon JH, Ham IH, Kim O, Ashktorab H, Smoot DT, Nam SW, et al. Gastrokine 1 protein is a potential theragnostic target for gastric cancer. Gastric Cancer. 2018;21(6):956–67.

Yoon JH, Ashktorab H, Smoot DT, Nam SW, Hur H, Park WS. Uptake and tumor-suppressive pathways of exosome-associated GKN1 protein in gastric epithelial cells. Gastric Cancer. 2020. https://doi.org/10.1007/s10120-020-01068-2 (Epub 2020/04/16).

Mao M, Wu Z, Chen J. MicroRNA-187-5p suppresses cancer cell progression in non-small cell lung cancer (NSCLC) through down-regulation of CYP1B1. Biochem Biophys Res Commun. 2016;478(2):649–55.

Shuai Y, Ma Z, Liu W, Yu T, Yan C, Jiang H, et al. TEAD4 modulated LncRNA MNX1-AS1 contributes to gastric cancer progression partly through suppressing BTG2 and activating BCL2. Mol Cancer. 2020;19(1):6.

Uemura N, Okamoto S, Yamamoto S, Matsumura N, Yamaguchi S, Yamakido M, et al. Helicobacter pylori infection and the development of gastric cancer. New Eng J Med. 2001;345(11):784–9.
Acknowledgments
The study was supported by a "Development of Diagnostic Technology for Detection of miRNA in Body Fluids" grant from the Japan Agency for Medical Research and Development (to T.O.). The National Cancer Center Biobank is supported by the NCC Research and Development Fund (29-A-1). We thank Tomomi Fukuda, Takumi Sonoda, Hiroko Tadokoro, Megumi Miyagi, Tatsuya Suzuki, Jumpei Kawauchi, Makiko Ichikawa, and Kamakura Techno-Science Inc. for assistance with the microarray assays; Noriko Abe for management of the serum samples; Michiko Ohori for the management of personal information; and Yoshiaki Aoki and Hitoshi Fujimiya (Dynacom Co. Ltd) for developing in- house analytical tools.
Ethics declarations
Conflict of interest
Satoko Takizawa is an employee of Toray Industries, Inc., the provider of the 3D-Gene® system. The other authors have no conflicts of interest to declare.
Additional information
Publisher's Note
Springer Nature remains neutral with regard to jurisdictional claims in published maps and institutional affiliations.
Supplementary Information
Below is the link to the electronic supplementary material.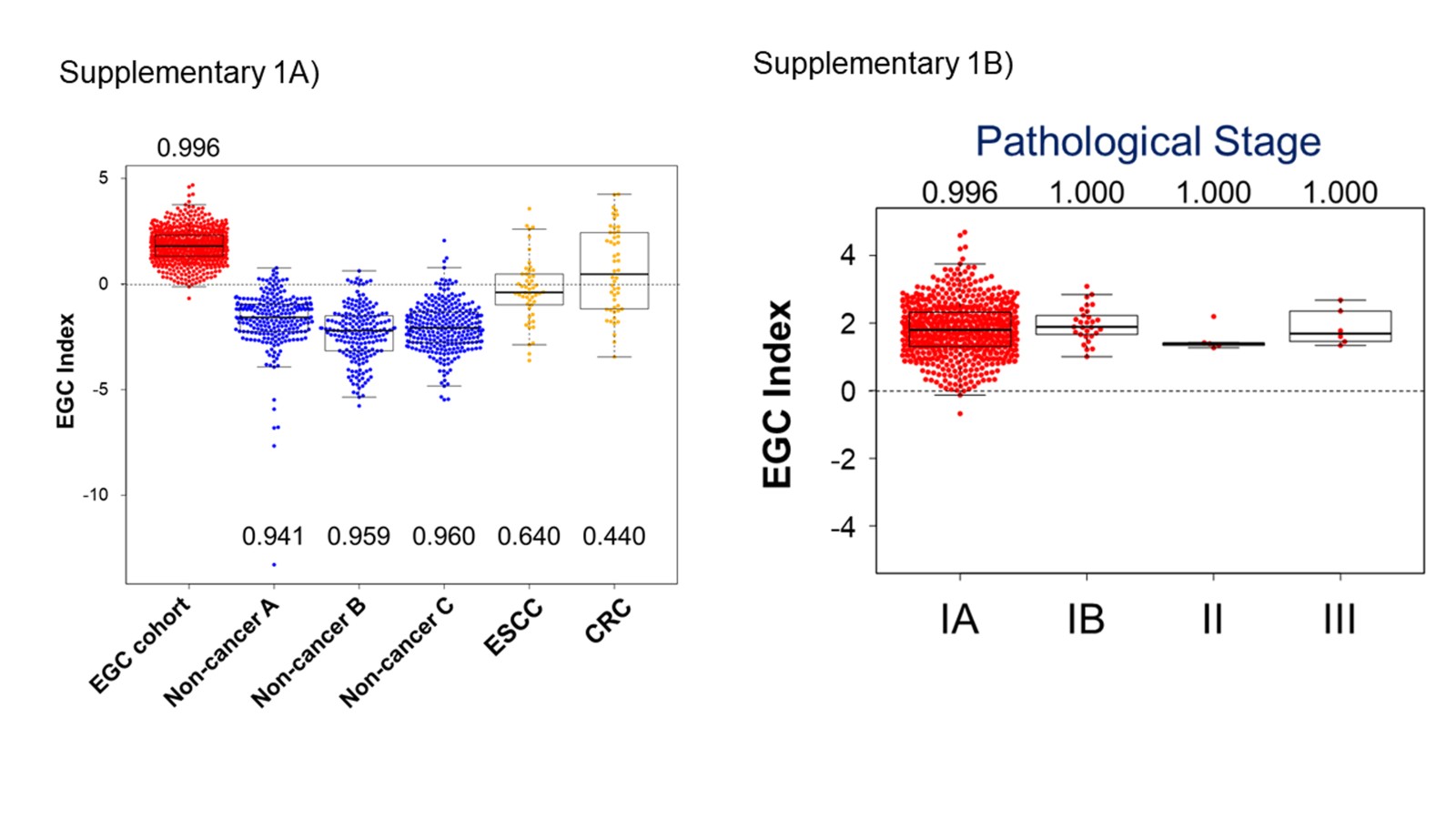 Rights and permissions
Open Access This article is licensed under a Creative Commons Attribution 4.0 International License, which permits use, sharing, adaptation, distribution and reproduction in any medium or format, as long as you give appropriate credit to the original author(s) and the source, provide a link to the Creative Commons licence, and indicate if changes were made. The images or other third party material in this article are included in the article's Creative Commons licence, unless indicated otherwise in a credit line to the material. If material is not included in the article's Creative Commons licence and your intended use is not permitted by statutory regulation or exceeds the permitted use, you will need to obtain permission directly from the copyright holder. To view a copy of this licence, visit http://creativecommons.org/licenses/by/4.0/.
About this article
Cite this article
Abe, S., Matsuzaki, J., Sudo, K. et al. A novel combination of serum microRNAs for the detection of early gastric cancer. Gastric Cancer 24, 835–843 (2021). https://doi.org/10.1007/s10120-021-01161-0
Received:

Accepted:

Published:

Issue Date:

DOI: https://doi.org/10.1007/s10120-021-01161-0
Keywords
microRNA

Microarray analysis

Early gastric cancer

Gastric cancer

Screening