Abstract
Localized provoked vulvodynia (LPV) causes introital dyspareunia in up to 14% of premenopausal women. Vaginal infections like candidosis may play a initiating role. The aim of this study was to test a possible association of vaginal microbiota alternations such as Candida vaginitis (CV), aerobic vaginitis (AV) and bacterial vaginosis (BV) with severity of vulvodynia and painful intercourse. In an observational study, Q-tip touch test (score 1 (no pain) to 10 (worst possible pain)) was performed on seven vestibular locations in 231 LPV patients presenting in the Vulvovaginal Disease Clinics in Tienen, Leuven and Antwerp, Belgium. Severity of pain upon attempting sexual intercourse was recorded in a similar scale. Both scales were compared to results from fresh wet mount phase contrast microscopy on vaginal fluid smears tested for abnormal vaginal flora (AVF), BV, AV and CV according the standardized microscopy method (Femicare). Fisher's exact test was used. Average age was 31.3 ± 11.6 years, and 58.8% (n = 132) had secondary vestibulodynia. There was an inverse relation between the presence of Candida in the vaginal smears and pain score (p = 0.03). There was no relation of pain score, nor Q-tip score with BV. LPV patients with Q-tip score above 7 at 5 and/or 7 o'clock or at 1 and/or 11 o'clock had more often AV than women with lower pain scores (30 vs 14.5%, p = 0.01, and 39 vs 14.7%, p < 0.005, respectively). Detailed study of the vaginal microflora in patients demonstrates that the most severe patients suffer more from AV and less from Candida. These abnormalities need to be actively looked for and corrected before considering surgery or other therapies.
Access options
Buy single article
Instant access to the full article PDF.
USD 39.95
Price excludes VAT (USA)
Tax calculation will be finalised during checkout.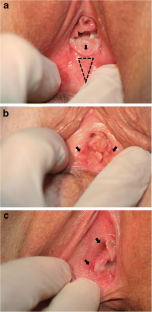 Abbreviations
AV:

aerobic vaginitis

AVF:

abnormal vaginal flora

BV:

bacterial vaginosis

CV:

Candida vaginitis

LBG:

lactobacillary grade

ISSVD:

International Society for the Study of Vulvovaginal Disease

LPV:

localized provoked vulvodynia
References
Moyal-Barracco M, Lynch PJ (2004) 2003 ISSVD terminology and classification of vulvodynia: a historical perspective. J Reprod Med 49(10):772–777

Bornstein J, Goldstein AT, Stockdale CK, Bergeron S, Pukall C, Zolnoun D et al (2016) 2015 ISSVD, ISSWSH and IPPS consensus terminology and classification of persistent vulvar pain and vulvodynia. Obstet Gynecol 127(4):745–751

Bergeron S, Binik YM, Khalife S, Pagidas K, Glazer HI (2001) Vulvar vestibulitis syndrome: reliability of diagnosis and evaluation of current diagnostic criteria. Obstet Gynecol 98(1):45–51

Arnold LD, Bachmann GA, Rosen R, Rhoads GG (2007) Assessment of vulvodynia symptoms in a sample of US women: a prevalence survey with a nested case control study. Am J Obstet Gynecol 196(2):128–126

Reed BD, Crawford S, Couper M, Cave C, Haefner HK (2004) Pain at the vulvar vestibule: a web-based survey. J Low Genit Tract Dis 8(1):48–57

Reed BD, Harlow SD, Sen A, Legocki LJ, Edwards RM, Arato N et al (2012) Prevalence and demographic characteristics of vulvodynia in a population-based sample. Am J Obstet Gynecol 206(2):170–179

Burrows LJ, Klingman D, Pukall CF, Goldstein AT (2008) Umbilical hypersensitivity in women with primary vestibulodynia. J Reprod Med 53(6):413–416

Bornstein J, Cohen Y, Zarfati D, Sela S, Ophir E (2008) Involvement of heparanase in the pathogenesis of localized vulvodynia. Int J Gynecol Pathol 27(1):136–141

Foster DC, Piekarz KH, Murant TI, LaPoint R, Haidaris CG, Phipps RP (2007) Enhanced synthesis of proinflammatory cytokines by vulvar vestibular fibroblasts: implications for vulvar vestibulitis. Am J Obstet Gynecol 196(4):346–348

Goldstein A, Burrows L, Goldstein I (2010) Can oral contraceptives cause vestibulodynia? J Sex Med 7(4 Pt 1):1585–1587

Johannesson U, Sahlin L, Masironi B, Hilliges M, Blomgren B, Rylander E et al (2008) Steroid receptor expression and morphology in provoked vestibulodynia. Am J Obstet Gynecol 198(3):311–316

Johannesson U, Sahlin L, Masironi B, Rylander E, Bohm-Starke N (2007) Steroid receptor expression in the vulvar vestibular mucosa—effects of oral contraceptives and menstrual cycle. Contraception 76(4):319–325

Johannesson U, Blomgren B, Hilliges M, Rylander E, Bohm-Starke N (2007) The vulval vestibular mucosa-morphological effects of oral contraceptives and menstrual cycle. Br J Dermatol 157(3):487–493

Papoutsis D, Haefner HK, Crum CP, Opipari AW Jr, Reed BD (2016) Vestibular mast cell density in vulvodynia: a case-controlled study. J Low Genit Tract Dis 20(3):275–279

Friedrich EG Jr (1987) Vulvar vestibulitis syndrome. J Reprod Med 32(2):110–114

Donders G, Bellen G, Van Peperstraete B, Folens S (2012) Simple posterior vestibuloplasty for central introital dyspareunia. Gynecol Surgery 9(3):292–302

Donders GG, Folens S, Peperstraete B, Bellen G (2011) Age of sexual debut and central introital dyspareunia. Eur J Obstet Gynecol Reprod Biol 158(1):90–92

Donders G, Bellen G (2011) Characteristics of the pain observed in the focal vulvodynia syndrome (VVS). Med Hypotheses 78(1):11–14

Donders GG, Marconi C, Bellen G, Donders F, Michiels T (2014) Effect of short training on vaginal fluid microscopy (wet mount) learning. J Low Genit Tract Dis 19(2):165–169

Donders GG (2007) Definition and classification of abnormal vaginal flora. Best Pract Res Clin Obstet Gynaecol 21(3):355–373

Donders GG, Bellen G (2014) Assessing severity of pain in women with focal provoked vulvodynia: are von Frey filaments suitable devices? J Reprod Med 59(3–4):134–138

Arnold LD, Bachmann GA, Rosen R, Kelly S, Rhoads GG (2006) Vulvodynia: characteristics and associations with comorbidities and quality of life. Obstet Gynecol 107(3):617–624

Donders GG, Vereecken A, Bosmans E, Dekeersmaecker A, Salembier G, Spitz B (2002) Definition of a type of abnormal vaginal flora that is distinct from bacterial vaginosis: aerobic vaginitis. BJOG 109(1):34–43

Donders GG, Bellen G (2012) Cream with cutaneous fibroblast lysate for the treatment of provoked vestibulodynia: a double-blind randomized placebo-controlled crossover study. J Low Genit Tract Dis 16(4):427–436

Donders GG, Ruban K, Bellen G (2015) Selecting anti-microbial treatment of aerobic vaginitis. Curr Infect Dis Rep 17(5):477

Burrows LJ, Goldstein AT (2013) The treatment of vestibulodynia with topical estradiol and testosterone. Sex Med 1:30–33
Funding
Femicare supported the microscopy examinations. G Bellen and K Ruban are employees at Femicare.
Ethics declarations
Conflict of interests
The authors declare that they have no conflict of interest.
Review board status
The study protocol (Eudractnr: 2008-006756-22) was approved by the ethical committees of Leuven university and the general hospital of the H Hart Tienen.
Additional information
Précis
As abnormal vaginal microbiota like aerobic vaginitis contribute to the severity of vulvodynia, wet mount microscopy is strongly recommended in order to adjust treatment accordingly.
About this article
Cite this article
Donders, G.G.G., Bellen, G. & Ruban, K.S. Abnormal vaginal microbioma is associated with severity of localized provoked vulvodynia. Role of aerobic vaginitis and Candida in the pathogenesis of vulvodynia. Eur J Clin Microbiol Infect Dis 37, 1679–1685 (2018). https://doi.org/10.1007/s10096-018-3299-2
Received:

Accepted:

Published:

Issue Date:

DOI: https://doi.org/10.1007/s10096-018-3299-2
Keywords
Aerobic vaginitis

Bacterial vaginosis

Vaginal microbioma

Vaginal infection

Candida vaginitis

Recurrent vulvovaginal candidiasis

Vulvar pain

Vulvo-vestibular syndrome

Painful sexual intercourse

Dyspareunia