Abstract
Global cerebral ischemia followed by reperfusion, which leads to extensive neuronal damage, particularly the neurons in the hippocampal CA1 region. Apoptosis is one of the major mechanisms that lead to neuronal death after cerebral ischemia and reperfusion. The neuroprotective effects of remifentanil preconditioning against cerebral ischemia/reperfusion injury have been recently reported. Here we investigated whether remifentanil postconditioning exerts neuroprotective effects against global cerebral ischemia/reperfusion injury in rats and its potential mechanisms. Global cerebral ischemia was performed via 10 min of four-vessel occlusion. Terminal deoxynucleotidyl transferase-mediated dUTP nick-end labeling positive cells and expression of Bcl-2 and Bax in the hippocampal CA1 region were assessed after reperfusion. Morris water maze task was used to quantify spatial learning and memory deficits after reperfusion. We found remifentanil postconditioning markedly improved the spatial learning and memory as well as attenuated neuronal apoptosis in hippocampus caused by cerebral ischemia/reperfusion injury. In addition, remifentanil postconditioning enhanced the expression of anti-apoptotic gene Bcl-2 while suppressed the expression of pro-apoptotic gene Bax in hippocampal CA1 region. However, the neuroprotective effects of remifentanil postconditioning were abolished by pretreatment of the PI3K inhibitor LY294002. The results suggest that remifentanil postconditioning exhibits neuroprotective effects against global cerebral ischemia/reperfusion injury in rats, and its mechanisms might involve inhibition of neuronal apoptosis through the PI3K pathway.
This is a preview of subscription content,
to check access.
Access this article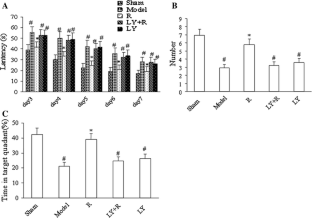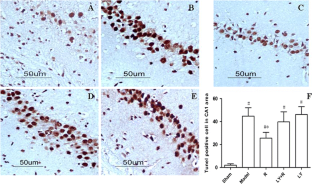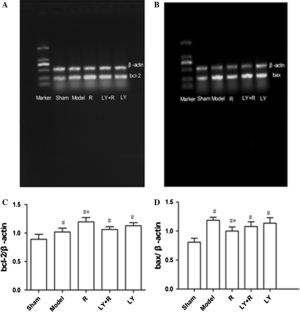 References
Liang HW, Qiu SF, Shen J et al (2008) Genistein attenuates oxidative stress and neuronal damage following transient global cerebral ischemia in rat hippocampus. Neurosci Lett 438:116–120

Wang JY, Shen J, Gao Q et al (2008) Ischemic postconditioning protects against global cerebral ischemia/reperfusion-induced injury in rats. Stroke 39:983–990

Ren C, Yan Z, Wei D et al (2009) Limb remote ischemic postconditioning protects against focal ischemia in rats. Brain Res 1288:88–94

Alkan T (2009) Neuroproctective effects of ischemic tolerance (preconditioning) and postconditioning. Turk Neurosurg 19:406–412

Ding ZM, Wu B, Zhang WQ et al (2012) Neuroprotective Effects of Ischemic Preconditioning and Postconditioning on Global Brain Ischemia in Rats through the same effect on inhibition of apoptosis. Int J Mol Sci 13:6089–6101

Zhou Y, Fathali N, Lekic T et al (2012) Remote limb ischemic postconditioning protects against neonatal hypoxic-ischemic brain injury in rat pups by the opioid receptor/Akt pathway. Stroke 42:439–444

Pateliya BB, Singh N, Jaggi AS (2008) Possible role of opioids and KATP channels in neuroprotective effect of postconditioning in mice. Biol Pharm Bull 31:1755–1760

Danielisova V, Gottlieb M, Nemethova M et al (2009) Bradykinin postconditioning protects pyramidal CA1 neurons against delayed neuronal death in rat hippocampus. Cell Mol Neurobiol 29:871–878

Chen TY, Goyagi T, Toung TJ et al (2004) Prolonged opportunity for ischemic neuroprotection with selective kappa-opioid receptor agonist in rats. Stroke 35:1180–1185

Charron C, Messier C, Plamondon H (2008) Neuroprotection and functional recovery conferred by administration of kappa- and delta 1-opioid agonists in a rat model of global ischemia. Physiol Behav 93:502–511

Zhang Y, Irwin MG, Wong TM (2004) Remifentanil preconditioning protects against ischemic injury in the intact rat heart. Anesthesiology 101:918–923

Zhang Y, Chen ZW, Girwin M et al (2005) Remifentanil mimics cardioprotective effect of ischemic preconditioning via protein kinase C activation in open chest of rats. Acta Pharmacol Sin 26:546–550

Jeong S, Kim SJ, Jeong C et al (2012) Neuroprotective effects of remifentanil against transient focal cerebral ischemia in rats. J Neurosurg Anesthesiol 24:51–57

Yuan Y, Guo Q, Ye Z et al (2011) Ischemic postconditioning protects brain from ischemia/reperfusion injury by attenuating endoplasmic reticulum stress-induced apoptosis through PI3K-Akt pathway. Brain Res 1367:85–93

Prasad SS, Russell M, Nowakowska M (2011) Neuroprotection induced in vitro by ischemic preconditioning and postconditioning: modulation of apoptosis and PI3K-Akt pathways. J Mol Neurosci 43:428–442

Wang JK, Yu LN, Zhang FJ et al (2010) Postconditioning with sevoflurane protects against focal cerebral ischemia and reperfusion injury via PI3K/Akt pathway. Brain Res 1357:142–151

Tegeder I, Geisslinger G (2004) Opioids as modulators of cell death and survival–unraveling mechanisms and revealing new indications. Pharmacol Rev 56:351–369

Morris R (1984) Developments of a water-maze procedure for studying spatial learning in the rat. J Neurosci Methods 11:47–60

Peng B, Guo QL, He ZJ et al (2012) Remote ischemic postconditioning protects the brain from global cerebral ischemia/reperfusion injury by up-regulating endothelial nitric oxide synthase through the PI3K/Akt pathway. Brain Res 1445:92–102

Zhang Y, Irwin MG, Wong TM et al (2005) Remifentanil preconditioning confers cardioprotection via cardiac kappa- and delta-opioid receptors. Anesthesiology 102:371–378

Wong GT, Li R, Jiang LL et al (2010) Remifentanil post-conditioning attenuates cardiac ischemia-reperfusion injury via kappa or delta opioid receptor activation. Acta Anaesthesiol Scand 54:510–518

Park SW, Yi JW, Kim YM et al (2011) Remifentanil alleviates transient cerebral ischemia-induced memory impairment through suppression of apoptotic neuronal cell death in gerbils. Korean J Anesthesiol 61:63–68

Cheng O, Li Z, Han Y et al (2012) Baicalin improved the spatial learning ability of global ischemia/reperfusion rats by reducing hippocampal apoptosis. Brain Res 1470:111–118

Broughton BR, Reutens DC, Sobey CG (2009) Apoptotic mechanisms after cerebral ischemia. Stroke 40:e331–e339

Danial NN, Korsmeyer SJ (2004) Cell death: critical control points. Cell 116:205–219

Metrailler-Ruchonnet I, Pagano A, Carnesecchi S et al (2007) Bcl-2 protects against hyperoxia-induced apoptosis through inhibition of the mitochondria-dependent pathway. Free Radic Biol Med 42:1062–1074

Kim HS, Cho JE, Hong SW et al (2010) Remifentanil protects myocardium through activation of anti-apoptotic pathways of survival in ischemia-reperfused rat heart. Physiol Res 59:347–356

Cantley LC (2002) The phosphoinositide 3-kinase pathway. Science 296:1655–1657

Cui D, Wang L, Qi A et al (2002) Propofol prevents autophagic cell death following oxygen and glucose deprivation in PC12 cells and cerebral ischemia-reperfusion injury in rats. PLoS One 7:e35324

Wang HY, Wang GL, Yu YH et al (2009) The role of phosphoinositide-3-kinase/Akt pathway in propofol-induced postconditioning against focal cerebral ischemia-reperfusion injury in rats. Brain Res 1297:177–184

Zhou Y, Lekic T, Fathali N et al (2010) Isoflurane posttreatment reduces neonatal hypoxic-ischemic brain injury in rats by the sphingosine- 1-phosphate/phosphatidylinositol-3-kinase/Akt pathway. Stroke 41:1521–1527

Ye Z, Guo Q, Xia P et al (2012) Sevoflurane postconditioning involves an up-regulation of HIF-1alpha and HO-1 expression via PI3K/Akt pathway in a rat model of focal cerebral ischemia. Brain Res 1463:63–74

Xu X, Chua CC, Gao J et al (2008) Neuroprotective effect of humanin on cerebral ischemia/reperfusion injury is mediated by a PI3K/Akt pathway. Brain Res 1227:12–18

Yao RQ, Qi DS, Yu HL et al (2012) Quercetin attenuates cell apoptosis in focal cerebral ischemia rat brain via activation of BDNF-TrkB-PI3K/Akt signaling pathway. Neurochem Res 37:2777–2786
Additional information
X. Hu and C. Xie contributed equally to this paper.
About this article
Cite this article
Hu, X., Xie, C., He, S. et al. Remifentanil postconditioning improves global cerebral ischemia-induced spatial learning and memory deficit in rats via inhibition of neuronal apoptosis through the PI3K signaling pathway. Neurol Sci 34, 1955–1962 (2013). https://doi.org/10.1007/s10072-013-1419-4
Received:

Accepted:

Published:

Issue Date:

DOI: https://doi.org/10.1007/s10072-013-1419-4
Keywords