Abstract
By 2050, 70% of the Earth's human population will live in urban areas. Urbanization can have a devastating impact on local ecosystems, but these impacts vary across time and space. Identifying links between spatiotemporal change in urban ecosystems and neighborhood socio-economics is crucial to management aimed at maintaining flora and fauna in urban areas. Here, we tracked 20 years of socio-economic change and 15 years of vegetation change in 32 residential neighborhoods in south-eastern Australia. Regression models that explicitly accounted for a time lag between neighborhood socio-economic characteristics and vegetation response explained more variation in vegetation cover than models that ignored the effects of time. Also, relationships between vegetation and socio-economic factors were stronger in later years for the same neighborhoods suggesting the influence of socio-economics is more readily identified in established neighborhoods. Socio-economic variables alone, or in combination with biophysical variables, were better predictors of vegetation cover than only biophysical variables. Across space, vegetation cover had a negative quadratic relationship with neighborhood housing density, peaking at mid-density values, and a positive relationship with education level and immigration status (the percentage of residents with a non-Australian background). Over time, housing density had a positive relationship with vegetation cover, reflecting an increase in vegetation as neighborhoods develop. Our results highlight the need to understand temporal context when attempting to explain contemporary patterns in vegetation cover and the increasing importance of socio-economic factors in influencing cover as neighborhoods become established.
Access options
Buy single article
Instant access to the full article PDF.
USD 39.95
Price excludes VAT (USA)
Tax calculation will be finalised during checkout.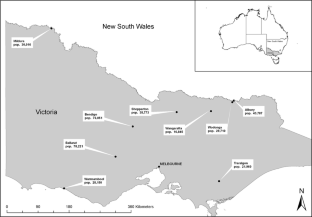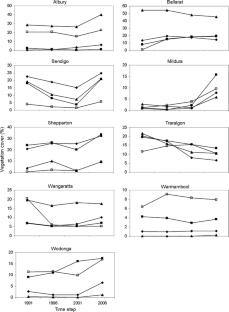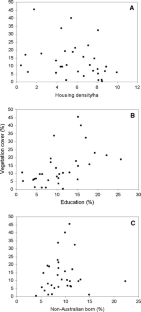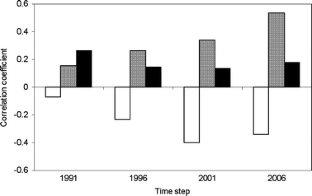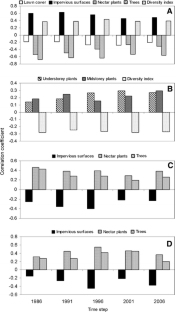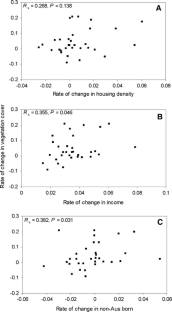 References
Anderson L, Cordell H. 1985. Residential property values improve by landscaping with trees. Scand J Appl For 9:162–6

Australian Bureau of Statistics 2003. http://www.abs.gov.au/AUSSTATS/abs@.nsf/Latestproducts/6537.0Appendix22003-04. Accessed 1 Nov 2008

Blair RB. 1996. Land use and avian species diversity along an urban gradient. Ecol Appl 6:506–519.

Blanchet FG, Legendre P, Borcard D. 2008. Forward selection of explanatory variables. Ecology 89:2623–2632.

Bolin B, Nelson A, Hackett EJ, Pijawka KD, Smith CS, Sicotte D, Sadalla EK, Matranga E, O'Donnell M. 2002. The ecology of technological risk in a Sunbelt city. Environ Plan A 34:317–339.

Burnham KP, Anderson DR. 2002. Model selection and multimodel inference: a practical information-theoretic approach, 2nd edition. New York (NY): Springer-Verlag.

Chace JF, Walsh JJ. 2006. Urban effects on native avifauna: a review. Landsc Urban Plan 74:46–69.

Daniels GD, Kirkpatrick JB. 2006. Does variation in garden characteristics influence the conservation of birds in suburbia? Biol Conserv 133:326–35.

DiBari JN. 2007. Evaluation of five landscape-level metrics for measuring effects of urbanization on landscape structure: the case of Tucson, Arizona, USA. Landsc Urban Plan 79:308–13.

Dorfman R. 1979. A formula for the Gini coefficient. Rev Econ Stat 61:146–9.

Dow K. 2000. Social dimensions of gradients in urban ecosystems. Urban Ecosyst 4:255–75.

Flannery T. 1994. The future eaters. Melbourne: New Holland Publishers.

Flowerdew R, Green M. 1992. Developments in aerial interpolating methods and GIS. Ann Reg Sci 26:67–78.

Fuller RA, Irvine KN, Devine-Wright P, Warren PH, Gaston KJ. 2007. Psychological benefits of greenspace increase with biodiversity. Biol Lett 3:390–4.

Fuller RA, Warren PH, Armsworth PR, Barbosa O, Gaston KJ. 2008. Garden bird feeding predicts the structure of urban avian assemblages. Divers Distrib 14:131–7.

Furby S. 2002. Land cover change: specification for remote sensing analysis. National Carbon Accounting System Technical Report No. 9. Canberra: Australian Greenhouse Office, Environment Australia.

Gaston KJ. 2005. Biodiversity and extinction: species and people. Prog Phys Geogr 29:239–47.

Gastwirth JL. 1972. The estimation of the Lorenz curve and Gini index. Rev Econ Stat 54:306–16.

Gauch HG. 2003. Scientific method in practice. New York (NY): Cambridge University Press.

Getz D, Karow A, Kielbaso JJ. 1982. Inner city preferences for trees and urban forestry program. J Arboric 8:258–63.

Gonzalez-Abraham CE, Radeloff VC, Hawbaker TJ, Hammer RB, Stewart SI, Clayton MK. 2007. Patterns of houses and habitat loss from 1937 to 1999 in northern Wisconsin, USA. Ecol Appl 17:2011–23.

Grove JM, Burch WR. 1997. A social ecology approach and applications of urban ecosystem and landscape analyses: a case study of Baltimore, Maryland. Urban Ecosyst 1:259–79.

Grove JM, Troy AR, O'Neil-Dunne JPM, Burch Jr. WR, Cadenasso ML, Pickett STA. 2006. Characterization of households and its implications for the vegetation of urban ecosystems. Ecosystems 9:578–97.

Harlan SL, Brazel AJ, Prashad L, Stefanov WL, Larsen L. 2006. Neighbourhood microclimates and vulnerability to heat stress. Soc Sci Med 63:2847–63.

Hope D, Gries C, Zhu W, Fagan WF, Redman CL, Grimm NB, Nelson AL, Martin C, Kinzig A. 2003. Socioeconomics drives urban plant diversity. Proc Natl Acad Sci USA 100:8788–8792.

Hugo S, van Rensburg BJ. 2008. The maintenance of a positive spatial correlation between South African bird species richness and human population density. Glob Ecol Biogeogr 17:611–21.

Iverson LR, Cook EA. 2000. Urban forest cover of the Chicago region and its relation to household density and income. Urban Ecosyst 4:105–24.

Jenerette GD, Harlan SL, Brazel A, Jones N, Larsen L, Stefanov WL. 2007. Regional relationships between surface temperature, vegetation, and human settlement in a rapidly urbanizing ecosystem. Landsc Ecol 22:353–65.

Kühn I, Brandi R, Klotz S. 2004. The flora of German cities is naturally species rich. Evol Ecol Res 6:749–64.

Liu J, Daily GC, Ehrlich PR, Luck GW. 2003. Effects of household dynamics on resource consumption and biodiversity. Nature 421:530–3.

López E, Bocco G, Mendoza M, Duhau E. 2001. Predicting land-cover and land-use change in the urban fringe. A case in Morelia city, Mexico. Landsc Urban Plan 55:271–85.

Luck GW. 2007a. A review of the relationships between human population density and biodiversity. Biol Rev 82:607–45.

Luck GW. 2007b. The relationships between net primary productivity, human population density and species conservation. J Biogeogr 34:201–12.

Lunt ID, Spooner PG. 2005. Using an historical ecology to understand patterns of biodiversity in fragmented agricultural landscapes. J Biogeogr 32:1859–73.

Martin CA, Warren PS, Kinzig A. 2004. Neighbourhood socioeconomic status is a useful predictor of perennial landscape vegetation in small parks surrounding residential neighbourhoods in Phoenix, Arizona. Landsc Urban Plan 69:355–68.

Massey DS. 1996. The age of extremes: concentrated affluence and poverty in the twenty-first century. Demography 33:395–412.

McKinney ML. 2008. Effects of urbanization on species richness: a review of plants and animals. Urban Ecosyst 11:161–76.

Mikkelson GM, Gonzalez A, Peterson GD. 2007. Economic inequality predicts biodiversity loss. PLoS One 2(5):e444.

Miller JR. 2006. Restoration, reconciliation, and reconnecting with nature. Biol Conserv 127:356–61.

Morawitz DF, Blewett TM, Cohen A, Alberti M. 2006. Using NDVI to assess vegetative land cover change in central Puget Sound. Environ Monit Assess 114:85–106.

Neter J, Kutner MH, Nachtsheim CJ, Wasserman W. 1996. Applied linear statistical models, 4th edition. Homewood (IL): Irwin.

Nowak DJ. 1994. Atmospheric carbon dioxide reduction by Chicago's urban forest. In: McPherson EC, Ed. Chicago's urban forest ecosystem: results of the Chicago urban climate project. Radnor (PA): Northeastern Forest Experiment Station. pp 83–94

Ohtani K. 2000. Bootstrapping R2 and adjusted R2 in regression analysis. Econ Model 17:473–83.

Openshaw S. 1984. The modifiable aerial unit problem. Norwich: Geobooks.

Pauleit S, Ennos R, Golding Y. 2005. Modeling the environmental impacts of urban land use and land cover change – a study in Merseyside, UK. Landsc Urban Plan 71:295–310.

Pickett STA, Cadenasso ML. 2006. Advancing urban ecological studies: frameworks, concepts, and results from the Baltimore Ecosystem Study. Austral Ecol 31:114–25.

Pidgeon AM, Radeloff VC, Flather CH, Lepczyk CA, Clayton MK, Hawbaker TJ, Hammer RB. 2007. Associations of forest bird species richness with housing and landscape patterns across the USA. Ecol Appl 17:1989–2010.

Puyravaud J-P. 2003. Standardizing the calculation of the annual rate of deforestation. Fort Ecol Manag 177:593–6.

Randolph J. 2004. Environmental land use planning. Washington DC: Island Press.

Ryznar RM, Wagner TW. 2001. Using remotely sensed imagery to detect urban change: viewing Detroit from space. J Am Plan Assoc 67:327–36.

Smith RM, Gaston KJ, Warren PH, Thompson K. 2005. Urban domestic gardens (V): relationships between landcover composition, housing and landscape. Landsc Ecol 20:235–53.

Smith RM, Thompson K, Hodgson JG, Warren PH, Gaston KJ. 2006. Urban domestic gardens (IX): composition and richness of the vascular plant flora, and implications for native biodiversity. Biol Conserv 129:312–22.

Thomlinson JR, Rivera LY. 2000. Suburban growth in Luquillo, Puerto Rico: some consequences of development on natural and semi-natural systems. Landsc Urban Plan 49:15–23.

Thompson K, Austin KC, Smith RM, Warren PH, Angold PG, Gaston KJ. 2003. Urban domestic gardens (I): putting small-scale plant diversity in context. J Veg Sci 14:71–8.

Tratalos J, Fuller RA, Evans KL, Davies RG, Newson SE, Greenwood JJD, Gaston KJ. 2007. Bird densities are associated with household densities. Glob Change Biol 13:1685–95.

Troy AR, Grove JM, O'Neil-Dunne JPM, Pickett STA, Cadenasso ML. 2007. Predicting opportunities for greening and patterns of vegetation on private urban lands. Environ Manag 40:394–412.

Tzoulas K, Korpela K, Venn S, Yli-Pelkonen V, Kaźmierczak A, Niemela J, James P. 2007. Promoting ecosystem and human health in urban areas using green infrastructure: a literature review. Landsc Urban Plan 81:167–78.

United Nations (Department of Economic and Social Affairs). 2008. World urbanization prospects: the 2007 revision. New York (NY): United Nations.

Vickery ML. 1995. Gardens the neglected habitat. Pullin AS, editor. Ecology and conservation of butterflies. London: Chapman and Hall. p123–34.

Vogt KA, Grove JM, Asbjornsen H, Maxwell K, Vogt DJ, Sigurdardottir R, Dove M. 2002. Linking ecological and social scales for natural resource management. Liu J, Taylor WW, editors. Integrating landscape ecology into natural resource management. Cambridge: Cambridge University Press. pp 143–75.

Wilson JS, Lindsey GH. 2005. Socioeconomic correlates and environmental impacts of urban development in a central Indiana landscape. J Urban Plan Dev 131:159–69.
Acknowledgments
This project was funded by an Australian Research Council Discovery Grant (DP0770261). Thanks to Simon McDonald (Spatial Data Analysis Network, Charles Sturt University) for assistance with remote sensing and GIS analyses and local government authorities in each study area for guidance in the collection of field data. Penny Davidson, Ian Lunt, Digby Race, and two anonymous reviewers provided thoughtful comments on a draft manuscript. The NCAS data were used under licence agreement from the Department of Climate Change© Commonwealth of Australia.
Electronic supplementary material
Below is the link to the electronic supplementary material.
About this article
Cite this article
Luck, G.W., Smallbone, L.T. & O'Brien, R. Socio-Economics and Vegetation Change in Urban Ecosystems: Patterns in Space and Time. Ecosystems 12, 604–620 (2009). https://doi.org/10.1007/s10021-009-9244-6
Received:

Revised:

Accepted:

Published:

Issue Date:

DOI: https://doi.org/10.1007/s10021-009-9244-6
Keywords
urban ecosystems

vegetation cover

vegetation change

socio-economics

urbanization

spatiotemporal patterns

time lag