Quantum approach to the mechanism of monothiopyrophosphate isomerization
Open Access
Original Paper
Part of the following topical collections:
Abstract
Due to its importance in chemistry and biology, mechanisms of reactions involving phosphates are of central interest. However, only recently, quantum-chemical modeling of these reactions has become possible. With the advent of DFT calculations on phosphate-containing molecules, we have, therefore, investigated theoretically the mechanism of thiol-thione isomerization of a monothiopyrophosphate, which has been for a long time a subject of controversy. The calculations indicate that the reaction proceeds via concerted intramolecular mechanisms.
Keywords
Thiol-thione isomerization 
Thiopyrophosphates 
DFT calculations 
Isotope effects 
Introduction
Due to the central role of phosphates in biochemistry, mechanisms of reactions of organophosphorus compounds were subjects of intensive studies, with the existence of free metaphosphate being a subject of controversy both in chemistry and in biochemistry for many years [
1
]. One of the examples of this problem was the mechanism of the thiol-thione rearrangement of monothiophosphate skeleton [
2
] illustrated by Scheme 
1
(atom numbering used throughout the text indicated as subscripts):

Two alternative mechanisms have been proposed as illustrated in Fig. 
1
. In the upper pathway, the P-S bond dissociates heterolytically to form (intimate) ion pair that recombines via the formation of the P-O bond [
3
]. In the lower pathway, an internal nucleophilic attack of the oxygen atom on the adjacent phosphorus atom with the formation of a cyclic transition state (or an intermediate) is assumed [
4
].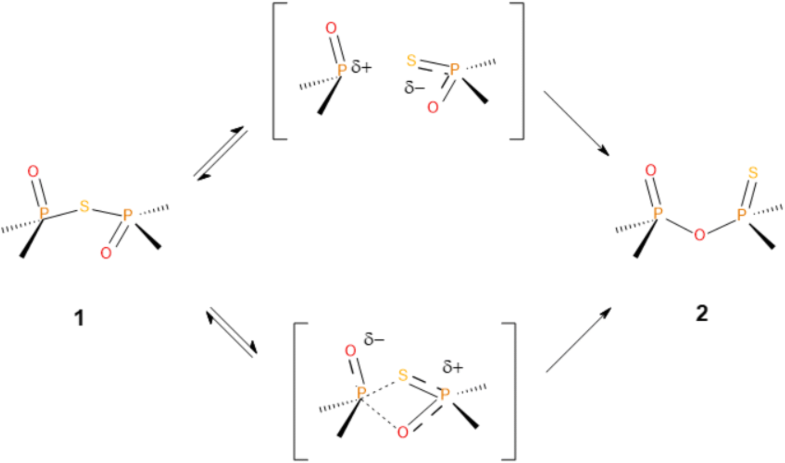 The problem has been approached with many experimental techniques, one of them being measurements of kinetic isotope effects (KIEs [5]) [6, 7]. We have measured kinetic isotope effects of sulfur [8] and phosphoryl oxygens [8, 9] for the reaction carried out in 1-methylnaphthalene, benzonitrile, and propylene carbonate. Based on these measurements and simple modeling, a switch in the mechanism upon change from non-polar to polar solvents has been postulated. However, quantum-chemical modeling of this reaction was then not possible and even with the advent of early ab initio and semiempirical methodology calculations of systems containing phosphorus atoms were scarce and became available only recently.
With the availability of modern density functionals, it is now possible to address the mechanism of the above reaction theoretically. In order to decide on the theory level, a survey of published data has been carried out. Results of older theoretical approaches have been representatively evaluated in the extensive benchmark of calculations on hydrolysis of organophosphorus compounds that has been published in 2010 [10]. Over 50 functionals expressed in Pople's or Dunning's basis sets have been compared with the reference calculations carried out at the CCSD(T)/CBS//B3LYP/6-311++G(2d,2p) theory level. Overall, MPWB1K/6-311+G(2d,2p) calculations [11, 12, 13, 14] were found to perform the best. Notably, due to the time when the benchmark was compiled, no functionals that include a correction for dispersion have been evaluated. Since then, an extensive review of theoretical approaches to hydrolysis of biological phosphates has been published recently [15]. This contribution concentrates, however, on methodological aspects of calculations while employing only SMD/M06-2X/6311+G9d,p)//SMD/M06-2X/6-31+G(d) level of theory. Some other (non-exhaustive) recent examples of using different theory levels in modeling properties and reactivity of phosphorus-containing molecules include DFTB3/3OB in structure determination [16, 17], B3LYP & MP3 with 6-311G(d,p) basis set in conformational analysis [18], B3LYP/cc-pVTZ/TIP3P and B3LYP-D3/def2-SVP(D) in studies of anharmonicity of phosphate ions in water [19, 20], M06-2X, M06L and PBE with 6-31+G(d,p) in lipophilicity calculations [21] ωB97/6-311+G(3df,2p)//M06-2X/6-311+G(d,p) in investigations of the reaction with OH radical [22], MP3/6-311++G(2d,2p)//B3LYP/6−31+G(d) in hydrolysis of pesticides [23], PM3/MM, BLYP/6-31G(d)/MM, B3LYP/6-31G*/MM and COSMO/B3LYP/6-31G(d) in hydrolysis of monoesters [24], B3LYP/6–311+G(d,p) and M06-2X/6–311+G(d,p) in gas-phase decomposition [25], B3LYP/6-311+G(d,p) in metathiophosphate di- and polymerization [26], M06-2X/6-311+G(3df,2p) and B2PLYP/6311+G(3df,2p)//(IEFPCM) /M06-2X/6-311+G(d,p) in oxidation [27], PBE-D3/PAW in non-aqueous degradation [28], M06-2X/6–31G(d,p) and BLYP-D3/aug-cc-pVTZ in binding to an enzyme [29], and B97D/6-31+G(d)/AMBER [30], B3LYP/6-31G(d) [31] and PBE0-D3/def2-TZVP [32] in enzymatic catalysis.
In this contribution, we have approached modeling of the alternative pathways of the isomerization of bis(5,5-dimethyl-2-oxo-1,2,4-dioxaphosphorinanyl) sulfide using contemporary computational tools. Based on the examples given above, a density functional augmented by dispersion correction, namely ωB97xD [33], expressed in a triple-zeta, 6-311++G(d) [34], basis set has been chosen. This theory level, augmented by continuum solvent model, allowed for analysis of both alternative pathways and associated kinetic isotope effects.
Methods
All calculations were performed using Gaussian16 package [35] and visualized with GaussView6 program [36]. All calculations were first carried out using ωB97xD functional expressed in the def2-SVPP basis set [37]. Harmonic frequencies were calculated to validate optimization to stationary points. IRC protocol [38] was employed for the confirmation that the transition states corresponded to studied reactions. The solvent was represented by the PCM model [39]. The reaction in 1-methylnaphthalene has been modeled in the gas phase, and using parameters for p-xylene. For the reaction in benzonitrile, the parameters for this solvent were employed. Since, however, parameters for propylene carbonate are not available, we have used these for water, which provides the high extreme on the polarity scale to ensure the polarity of the solvent larger than that under experimental conditions. Subsequently, stationary points were re-optimized at the PCM(aq)/ωB97xD/6-311++G(d) level of theory and harmonic frequencies obtained at this theory level were used in calculations of isotope effects by means of our own Isoeff2017 program [40].
Conclusions
A few general conclusions arise from the studies presented herein. The most important is the mechanistic finding that, opposite to previous interpretation, the mechanism of unimolecular thiol-thione isomerization of organic monothiopyrophosphates proceed via a cyclic transition state with the P-S bond breaking much more advanced than the formation of the new P-O bond. The lower value of the sulfur kinetic isotope effect observed in a polar solvent, propylene carbonate, most probably results from the participation of side bimolecular reaction of the reactant with phosphathiolate anion and is not the result of the change in the mechanism of the unimolecular reaction. It should be kept in mind that continuum solvent models neglect direct interactions of solvent molecules with the reactants. Due to molecular size of all solvents of interest, however, studies with explicit solvation are prohibitively time-consuming. We have, therefore, studied possibility of direct interactions between ionic fragments formed in the dissociative pathway and a single molecule of benzonitrile or propylene carbonate (data not shown) and found them to be energetically disfavored. In the studied system, interactions of 1-methylnaphtalene with reactants is rather unlikely.
A somewhat surprising observation has been made that atomic partial charge localization does not correlate directly with bond lengths. More studies are required to investigate this phenomenon in terms of the theory level used, especially the basis set, for other phosphorus–sulfur- and phosphorus–oxygen-containing organophosphorus compounds.
Results obtained using cheaper B3LYP/6-31+G(d) and ωB97xD/Def2-SVPP theory levels are very similar to those obtained with ωB97xD/6-311++G(d) for energetics and kinetic isotope effects. However, only at the triple-zeta level of the basis set it was possible to localize the transition state for the dissociative pathway.
Notes
Funding information
Computational grant at Cyfronet, Cracow, within the PL-Grid network is gratefully acknowledged.
Copyright information
© The Author(s) 2019
Open Access This article is distributed under the terms of the Creative Commons Attribution 4.0 International License (http://creativecommons.org/licenses/by/4.0/), which permits unrestricted use, distribution, and reproduction in any medium, provided you give appropriate credit to the original author(s) and the source, provide a link to the Creative Commons license, and indicate if changes were made.