Understanding the high reactivity of triazolinediones in Diels-Alder reactions. A DFT study
Abstract
The participation of 4-substituted-1,2,4-triazoline-3,5-diones (TADs) in Diels-Alder reactions toward a series of dienes is studied at the M05-2X/6-31+G(d,p) level. These reactions show very low activation energies and complete endo selectivity, in agreement with the experimental data. For a dienic steroid model, the reaction presents an α-facial selectivity. Analysis of reactivity indices explains the superelectrophilic character of TADs, and low activation energy. The substituent and solvent effects are also evaluated.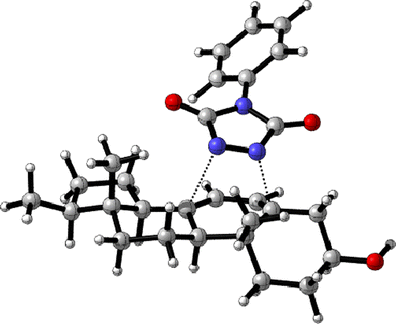 Keywords
DFT study 
Polar Diels-Alder reaction 
Steroidal diene 
TADs 
Notes
Acknowledgments
The authors gratefully thank Conacyt (Grants 176863, 176858, and INFRA-2013-01-204586) and VIEP-BUAP (Grants VIEP-247-2013 and VIEP-098-2014). Moshinsky Foundation supported the work in Mérida. The CGSTIC (Xiuhcoalt) at Cinvestav is gratefully acknowledged for generous allocation of computational resources. LRD thanks Universidad de Valencia (Grant UV-INV-AE13-139082). CZ acknowledges Conacyt for the PhD fellowship.
Copyright information
© Springer-Verlag Berlin Heidelberg 2014