Abstract
Vanadium compounds are known for a variety of pharmacological properties. Many of them display antitumoral and osteogenic effects in several cell lines. Free radicals induce the development of tumoral processes. Natural polyphenols such as flavonoids have antioxidant properties since they scavenge different free radicals. For these reasons it is interesting to investigate the effects of a new complex generated between the vanadyl(IV) cation and the flavonoid hesperidin. The complex has been synthesized and characterized by physicochemical methods. Spectroscopic analysis revealed a 1:1 stoichiometry of ligand:VO and coordination by deprotonated cis-hydroxyl groups to the disaccharide moiety of the ligand. The complex improves the superoxide dismutase (SOD)-like activity of the ligand, but the scavenging of other radicals tested does not change upon complexation. When tested on two tumoral cell lines in culture (one of them derived from a rat osteosarcoma UMR106 and the other from human colon adenocarcinoma Caco-2), the complex enhanced the antiproliferative effects of the free ligand, and this effect correlated with the morphological alterations toward apoptosis. Also, on the osteoblastic cell line the complex stimulated cell proliferation and collagen type I production at low concentrations. At higher doses the complex behaved as a cytotoxic compound for the osteoblasts.
Access options
Buy single article
Instant access to the full article PDF.
US$ 39.95
Tax calculation will be finalised during checkout.
Subscribe to journal
Immediate online access to all issues from 2019. Subscription will auto renew annually.
US$ 79
Tax calculation will be finalised during checkout.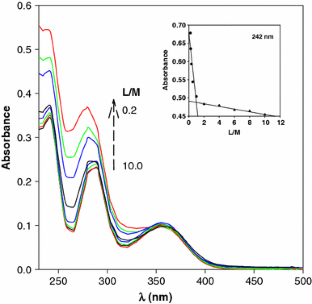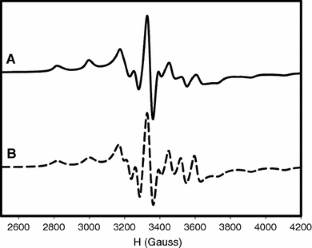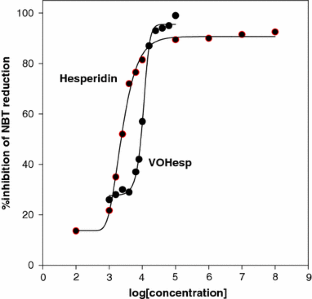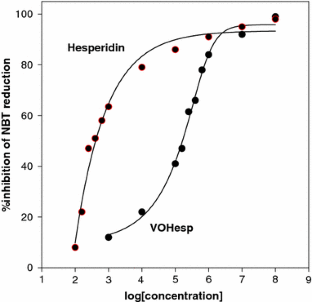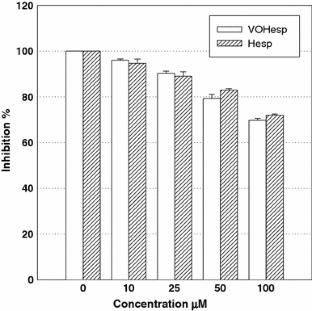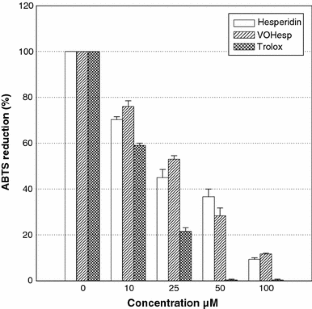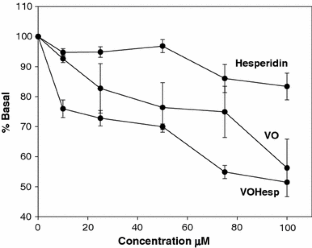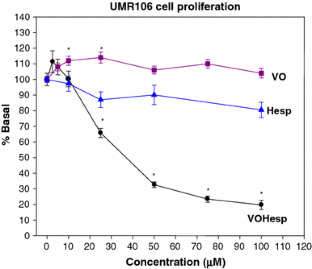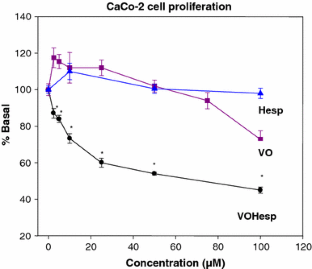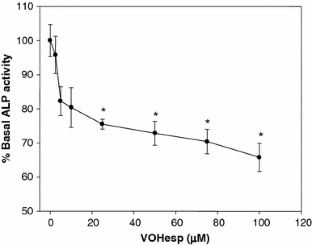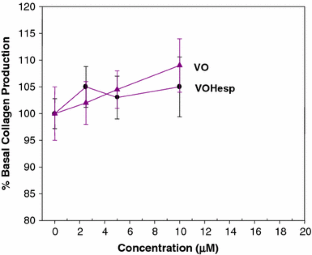 Abbreviations
ABTS:

2,2′-Azino-bis(3-ethyl-benzothiazoline-6-sulfonic acid diammonium salt)

ALP:

Alkaline phosphatase

DMEM:

Dulbecco's modified Eagles medium

DPPH· :

1,1-Diphenyl-2-picrylhydrazyl radical

EDTA:

Ethylenediaminetetraacetic acid

NADH:

Nicotinamide adenine dinucleotide

NBT:

Nitroblue tetrazolium

PMS:

Phenazine methosulfate

p-NP:

p-Nitrophenol

p-NPP:

p-Nitrophenylphosphate

SOD:

Superoxide dismutase

TEAC:

Trolox-equivalent antioxidant coefficient

Trolox:

6-Hydroxy-2,5,7,8-tetramethylchroman-2-carboxylic acid
References
1.

Hertog MG, Hollman PC, Katan MB, Kromhout D (1993) Nutr Cancer 20:21–29

2.

Moridani MY, Pourahmad J, Bui H, Siraki A, O'brien PJ (2003) Free Radic Biol Med 34:243–253

3.

Kostyuk VA, Potapovich AI, Vladykovskaya EN, Korkina LG, Afanas'ev IBA (2001) Arch Biochem Biophys 385:129–137

4.

Bors W, Heller W, Michel C, Saran M (1990) Methods Enzymol 186:334–355

5.

Peterson J, Dwyer M (1998) Nutr Res 18:1995–2018

6.

Vinson JA, Dabbagh YA, Serry MM, Jang JH (1995) J Agric Food Chem 48:2800–2802

7.

Kostyuk VA, Potapovich AI, Strigunova EN, Kostyuk TV, Afanas'ev IB (2004) Arch Biochem Biophys 428:204–208

8.

Afanas'ev IB, Ostrakhovitch EA, Mikhal'chik EV, Ibragimova GA, Korkina LG (2001) Biochem Pharmacol 61:677–684

9.

Middleton Jr E, Kandashwami C, Theoharides TC (2000) Pharmacol Rev 52:673–751

10.

Ska-Kordala MS, Kowska AB, Ski J, Gabrielska JO (2001) Cell Mol Biol Lett 6:277–281

11.

Ferrer EG, Salinas MV, Correa MJ, Naso L, Barrio DA, Etcheverry SB, Lezama L, Rojo T, Williams PAM (2006) J Biol Inorg Chem 11:791–801

12.

Zhang J, Brodbelt JS, Wang J (2005) J Am Soc Mass Spectrom 16:139–151

13.

Cos P, Ying L, Calomme M, Hu JP, Cimanga K, Poel BV, Pieters L, Vlietinck AJ, Berghe V (1998) J Nat Prod 61:71–76

14.

Harborne JB, Williams CA (2000) Phytochemistry 55:481–504

15.

Garg A, Garg S, Zaneveld LJ, Singla AK (2001) Phytother Res 15:655–669

16.

Chiba H, Uehara M, Wu J, Wang X, Masuyama R, Suzuki K, Kanazawa K, Ishimi Y (2003) J Nutr 133:1892–1897

17.

Miyagi Y, Om AS, Chee KM, Bennink MR (2000) Nutr Cancer 36:224–229

18.

Kohno H, Taima M, Sumida T, Azuma Y, Ogawa H, Tanaka T (2001) Cancer Lett 174:141–150

19.

Wilmsen PK, Spada DS, Salvador M (2005) J Agric Food Chem 53:4757–4761

20.

Nielsen FH (1995) In: Segel H, Sigel A (eds) Metal ions in biological systems, vol 31. Dekker, New York, pp 543–573

21.

Slebodnick C, Hamstra BJ, Pecoraro VL (1997) Struct Bonding 89:51–107

22.

Crans DC, Smee JJ, Gaidamauskas E, Yang L (2004) Chem Rev 104:949–902

23.

Williams PAM, Etcheverry SB (2007) Oxovanadium(IV) complexes with nonsteroidal antiinflammatory drugs (NSAIDs): pharmacological relevance. In: Aureliano Alves M (ed) Vanadium biochemistry. Research Signpost, India (in press)

24.

Heyliger CE, Tahiliani AG, McNeil JH (1985) Science 227:1474–1477

25.

Shechter Y (1990) Diabetes 39:1–5

26.

Lampronti I, Bianchi N, Borgatti M, Fabbri E, Vizziello L, Hassan Khan MT, Ather A, Brezena D, Mahroof Tahir M, Gambari R (2005) Oncol Rep 14:9–15

27.

Baran EJ (1997) Acta Farm Bonaerense 16:43–52

28.

Morinville A, Maysinger D, Shaver A (1998) Trends Pharmacol Sci 19:452–460

29.

Thompson KH, Orvig C (2001) Coord Chem Rev 219/221:1033–1053

30.

Rehder D (2003) Inorg Chem Commun 6:604–617

31.

Baran EJ (2003) J Braz Chem Soc 14:878–888

32.

Mukherjee B, Patra B, Mahaptra S, Banerjee P, Tiwari A, Chatterjee M (2004) Toxicol Lett 150:135–143

33.

Beauchamp C, Fridovich I (1971) Anal Biochem 44:276–287

34.

Iwamoto I, Mifuchi I (1982) Chem Pharm Bull 30:237–241

35.

Kuo CC, Shih M, Kuo Y, Chiang W (2001) J Agric Food Chem 49:1654–1570

36.

Yamaguchi T, Takamura H, Matoba TC, Terao J (1998) Biosci Biotechnol Biochem 62:1201–1204

37.

Pellegrini RN, Proteggente A, Pannala A, Yang M, Rice-Evans C (1999) Free Radic Biol Med 26:1231–1237

38.

Gorinstein S, Moncheva S, Katrich E, Toledo F, Arancibia P, Goshev I, Trakhtenberg S (2003) Mar Pollut Bull 46:1317–1325

39.

Okajima T, Nakamura K, Zhang H, Ling N, Tanabe T, Yasuda T, Rozenfeld RG (1992) Endocrinology 130:2201–2212

40.

Cortizo AM, Etcheverry SB (1995) Mol Cell Biochem 145:97–192

41.

Onishi M (1988) Photometric determination of traces of metals, part II, 4th edn. Wiley, New York

42.

Etcheverry SB, Crans DC, Keramidas AD, Cortizo AM (1997) Arch Biochem Biophys 338:7–1462

43.

Stein GS, Lian JB (1993) Endocr Rev 14:424–442

44.

Bradford M (1976) Anal Biochem 72:248–254

45.

Tullberg-Reinert H, Jundt G (1999) Histochem Cell Biol 112:271–276

46.

Sálice VC, Cortizo AM, Gómez Dumm CL, Etcheverry SB (1999) Mol Cell Biochem 198:119–128

47.

Tommasini S, Calabró ML, Stancanelli R, Donato P, Costa C, Catania S, Villari V, Ficarra P, Ficarra R (2005) J Pharm Biomed Anal 39:572–580

48.

Hororttz RR, Jurd L (1960) Acric Res Dev 26:2446–2447

49.

Zhou J, Wang L, Wang J, Tang N (2001) J Inorg Biochem 83:41–48

50.

Hartley FR, Burgess C, Alcock RM (1980) Solution equilibria. Ellis Horwood, Chichester, UK, pp 44–45

51.

Etcheverry SB, Williams PAM, Baran EJ (1997) Carbohydr Res 302:131–138

52.

Williams PAM, Etcheverry SB, Baran EJ (2000) Carbohydr Res 329:41–47

53.

Etcheverry SB, Barrio DA, Williams PAM, Baran EJ (2001) Biol Trace Elem Res 84:227–237

54.

Yang L, Weng S, Ferraro JR, Wu J (2001) Vib Spectrosc 25:57–62

55.

Barrio DA, Williams PAM, Cortizo AM, Etcheverry SB (2003) J Biol Inorg Chem 8:459–468

56.

Sreedhara A, Rao CP, Rao BJ (1996) Carbohydr Res 289:39–53

57.

Weder JE, Dillon CT, Hambley TW, Kennedy BJ, Lay PA, Biffin JR, Regtop HL, Davies NM (2002) Coord Chem Rev 232:95–126

58.

Gärtner A., Weser U (1986) Top Curr Chem 132:1–61

59.

Roberts NA, Robinson PA (1985) Br J Rheumatol 24:128–136

60.

Rajendran CM, Manisankar P, Gandhidasanm R, Murugesan R (2004) J Agric Food Chem 52:7389–7394

61.

Barrio DA, Cattáneo ER, Apezteguía MC, Etcheverry SB (2006) Can J Physiol Pharmacol 84:765–775

62.

Walter E, Kissel T (1995) Eur J Pharm Sci 3:215–230
Acknowledgments
The authors would like to gratefully acknowledge Dr. Luis Lezama (Departamento de Química Inorgánica, Facultad de Ciencia y Tecnología, Universidad del País Vasco, Apdo 644, 48080 Bilbao, Spain), who kindly measured the EPR spectrum. This work was supported by UNLP, CONICET (PIP6366), CICPBA, ANPCyT (PICT 10968). E.G.F. and S.B.E. are members of the Carrera del Investigador, CONICET. P.A.M.W is a member of the Carrera del Investigador CICPBA, Argentina. J.R. is a fellowship holder from CONICET and L.N. is a student fellow from CICPBA.
About this article
Cite this article
Etcheverry, S.B., Ferrer, E.G., Naso, L. et al. Antioxidant effects of the VO(IV) hesperidin complex and its role in cancer chemoprevention. J Biol Inorg Chem 13, 435 (2008). https://doi.org/10.1007/s00775-007-0332-9
Received:

Accepted:

Published:
Keywords
Antioxidants

Antitumoral

Vanadium hesperidin complex

Cellular morphology