Abstract
The aim of this study was to examine the effect of a supervised 6-week detraining period on bone metabolism markers, and their association with ergometrics, and components of the hypothalamic–pituitary–gonadal (HPG) axis in elite male professional soccer players. Sixty-seven soccer players (mean age ± SD 23.4 ± 5.2 years) that were following a supervised training program participated in this study. Players were tested twice: immediately after the conclusion of the competition period, and following the detraining period, for the determination of bone-turnover rates, ergometrics, and components of the HPG-axis. The detraining period resulted in significant reduction in osteocalcin [OC] (p < 0.001), C-terminal propeptide of collagen type-I [CICP] (p = 0.002), and bone-alkaline-phosphatase [b-ALP] (p < 0.001) values, while C-terminal telopeptide [CTX] was increased (p < 0.001). No significant relationships were apparent between bone biomarkers and body weight, body-fat %, total testosterone, free testosterone, estradiol, follicle-stimulating hormone, and luteinizing hormone in both experimental sessions (p > 0.05). Similarly, despite the deterioration in ergometrics after detraining (all p < 0.001), no significant correlations were evident (p > 0.05) between bone biomarkers and maximal oxygen consumption, squat jump, countermovement jump, and 20 m sprint performance, and also between % change of bone biomarkers and ergometrics, apart from a weak relationship (p = 0.041) between OC and VO2max of questionable value. Our results suggest that the 6-week soccer off-season detraining period in our study negatively affected bone physiology as reflected by the suppression of bone-formation rate and a parallel induction of bone resorption. The cause of this acute alteration of bone-turnover rates is not related to the examined components of the HPG-axis, although parallels is not associated with the changes in ergometrics.
Access options
Buy single article
Instant access to the full article PDF.
USD 39.95
Price excludes VAT (USA)
Tax calculation will be finalised during checkout.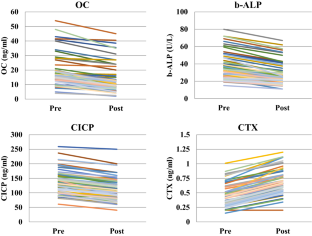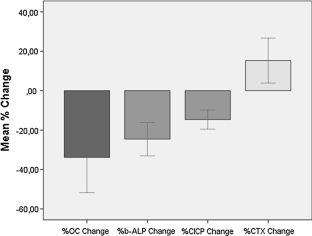 References
Banfi G, Lombardi G, Colombini A, Lippi G (2010) Bone metabolism markers in sports medicine. Sports Med 40:697–714

Maïmoun L, Simar D, Malatesta D, Caillaud C, Peruchon E, Couret I, Rossi M, Mariano-Goulart D (2005) Response of bone metabolism related hormones to a single session of strenuous exercise in active elderly subjects. Br J Sports Med 39:497–502

Banfi G, Colombini A, Lombardi G, Lubkowska A (2012) Metabolic markers in sports medicine. Adv Clin Chem 56:1–54

Maïmoun L, Sultan C (2011) Effects of physical activity on bone remodeling. Metabolism 60:373–388

Sartorio A, Jubeau M, Agosti F, Marazzi N, Rigamonti A, Müller EE, Maffiuletti NA (2006) A follow-up of GH-dependent biomarkers during a 6-month period of the sporting season of male and female athletes. J Endocrinol Invest 29:237–243

Karlsson KM, Karlsson C, Ahlborg HG, Valdimarsson O, Ljunghall S, Obrant KJ (2003) Bone turnover responses to changed physical activity. Calcif Tissue Int 72:675–680

Weiler R, Keen R, Wolman R (2012) Changes in bone turnover markers during the close season in elite football (soccer) players. J Sci Med Sport 15:255–258

Thorsen K, Kristoffersson A, Hultdin J, Lorentzon R (1997) Effects of moderate endurance exercise on calcium, parathyroid hormone, and markers of bone metabolism in young women. Calcif Tissue Int 60:16–20

Greenspan SL, Dresner-Pollak R, Parker RA, London D, Ferguson L (1997) Diurnal variation of bone mineral turnover in elderly men and women. Calcif Tissue Int 60:419–423

Ackerman KE, Skrinar GS, Medvedova E, Misra M, Miller KK (2012) Estradiol levels predict bone mineral density in male collegiate athletes: a pilot study. Clin Endocrinol 76:339–345

Sinnesael M, Boonen S, Claessens F, Gielen E, Vanderschueren D (2011) Testosterone and the male skeleton: a dual mode of action. J Osteoporos 2011:240328

Falahati-Nini A, Riggs BL, Atkinson EJ, O'Fallon WM, Eastell R, Khosla S (2000) Relative contributions of testosterone and estrogen in regulating bone resorption and formation in normal elderly men. J Clin Invest 106:1553–1560

Karlsson KM, Karlsson C, Ahlborg HG, Valdimarsson O, Ljunghall S (2003) The duration of exercise as a regulator of bone turnover. Calcif Tissue Int 73:350–355

Evans RK, Antczak AJ, Lester M, Yanovich R, Israeli E (2008) Moran DS (2008) Effects of a 4-month recruit training program on markers of bone metabolism. Med Sci Sports Exerc 40:S660–S670

Koundourakis NE, Androulakis NE, Malliaraki N, Tsatsanis C, Venihaki M, Margioris AN (2014) Discrepancy between exercise performance, body composition, and sex steroid response after a 6-week detraining period in professional soccer players. PLoS ONE 9:e87803

Cohen J (1988) Statistical power analysis for the behavioral sciences, 2nd edn. Lawrence Errlbaum Associates, Hillsdale

American College of Sports Medicine (2004) Position stand: physical activity and bone health. Med Sci Sports Exerc 36:1985–1996

Alghadir AH, Aly FA, Gabr SA (2014) Effect of moderate aerobic training on bone metabolism indices among adult humans. Pak J Med Sci 30:840–884

Jürimäe J, Purge P, Jürimäe T, von Duvillard S (2006) Bone metabolism in elite male rowers: adaptation to volume-extended training. Eur J Appl Physiol 97:127–132

Stølen T, Chamari K, Castagna C, Wisløff U (2005) Physiology of soccer: an update. Sports Med 35:501–536

Malm HT, Ronni-Sivula HM, Viinikka LU, Ylikorkala OR (1993) Marathon running accompanied by transient decreases in urinary calcium and serum osteocalcin levels. Calcif Tissue Int 52:209–211

Seibel MJ (2005) Biochemical markers of bone turnover: part I: biochemistry and variability. Clin Biochem Rev 26:97–122

Lester ME, Urso ML, Evans RK, Pierce JR, Spiering BA, Maresh CM, Hatfield DL, Kraemer WJ, Nindl BC (2009) Influence of exercise mode and osteogenic index on bone biomarker responses during short-term physical training. Bone 45:768–776

Vainionpää A, Korpelainen R, Väänänen HK, Haapalahti J, Jämsä T, Leppäluoto J (2009) Effect of impact exercise on bone metabolism. Osteoporos Int 20:1725–1733

Christenson RH (1997) Biochemical markers of bone metabolism: an overview. Clin Biochem 30:573–593

Eliakim A, Raisz LG, Brasel JA, Cooper DM (1997) Evidence for increased bone formation following a brief endurance-type training intervention in adolescent males. Bone Miner Res 12:1708–1713

Koura HM, Zaki SM, Ismail NA, Salama EE, El Lebedy DH, Effat LK (2014) Relationship between biochemical bone markers and bone mineral density in patients with phenylketonuria under restricted diet. Iran J Pediatr 24:23–28

Bevier WC, Wiswell RA, Pyka G, Kozak KC, Newhall KM, Marcus R (1989) Relationship of body composition, muscle strength, and aerobic capacity to bone mineral density in older men and women. J Bone Miner Res 4:421–432

Vicente-Rodriguez G, Dorado C, Perez-Gomez J, Gonzalez-Henriquez JJ, Calbet JA (2004) Enhanced bone mass and physical fitness in young female handball players. Bone 35:1208–1215

Ginty F, Rennie KL, Mills L, Stear S, Jones S, Prentice A (2005) Positive, site-specific associations between bone mineral status, fitness, and time spent at high-impact activities in 16- to 18-year-old boys. Bone 36:101–110

MacKelvie K, Taunton J, McKay H, Khan K (2000) Bone mineral density and serum testosterone in chronically trained, high mileage 40–55 year old male runners. Br J Sports Med 34:273–278

Lima F, De Falco V, Baima J, Carazzato JG, Pereira RM (2001) Effect of impact load and active load on bone metabolism and body composition of adolescent athletes. Med Sci Sports Exerc 33:1318–1323
Ethics declarations
Conflict of interest
All authors state that they have no conflict of interest.
Electronic supplementary material
Below is the link to the electronic supplementary material.
About this article
Cite this article
Koundourakis, N.E., Androulakis, N., Dermitzaki, E. et al. Effect of a 6-week supervised detraining period on bone metabolism markers and their association with ergometrics and components of the hypothalamic–pituitary–gonadal (HPG) axis in professional male soccer players. J Bone Miner Metab 37, 512–519 (2019). https://doi.org/10.1007/s00774-018-0947-7
Received:

Accepted:

Published:

Issue Date:

DOI: https://doi.org/10.1007/s00774-018-0947-7
Keywords
Bone metabolism

Detraining

Sex steroids

Ergometrics

Soccer