Zusammenfassung
Die zunehmende Ökonomisierung des Gesundheitswesens, anstehende gesetzliche Novellierungen und ein inhomogenes Patientenkollektiv verlangen nach leistungsfähigen Methoden der Qualitätssicherung und Versorgungsforschung in der Gefäßmedizin. Mehr als 12 etablierte internationale Registerprojekte zeigen bereits seit Jahren, wie wichtig klinische Register als komplementäre Methode zu den randomisierten kontrollierten Studien ("randomized controlled trial", RCT) sind. In Nordamerika beispielsweise konnte durch Ableitung von Behandlungsparametern die Rezidivstenoserate bei der Versorgung der extrakraniellen Karotisstenose signifikant gesenkt werden. In England führte die registerbasierte Qualitätssteigerung bei der elektiven Versorgung des Bauchaortenaneurysmas (BAA) zu einer Senkung der Mortalitätsrate von 7,5 auf etwa 2,4 % innerhalb von 4 Jahren. Im Gegensatz zu vielen Ländern im europäischen und außereuropäischen Ausland verfügt Deutschland derzeit noch über kein gemeinsames populationsbezogenes Register für alle vaskulären Behandlungen. Mit dem prospektiven BAA-Register wird derzeit nur ein kleiner Teil des vaskulären Versorgungsspektrums erfasst. Die verpflichtende sektorenübergreifende Qualitätssicherung zur Karotisrevaskularisation bietet mit jährlich etwa 33.000 Datensätzen zwar ein annähernd vollständiges Bild der deutschen Karotisversorgung, in die Auswertung gehen allerdings nur Sekundärdaten mit eingeschränkter Validität ein. Mit dem gemeinsamen Gefäßregister für Deutschland GermanVasc können die Versorgungsrealität des einwohnerreichsten europäischen Landes erfasst und bisher unbeantwortete Fragestellungen besser beantwortet werden.
Abstract
Increasing economic aspects of the healthcare system, forthcoming legislative amendments and an inhomogeneous patient population call for advanced methods of quality improvement and research in vascular medicine. More than 12 established international registry projects have proven the importance of clinical registries as a complementary method for randomized clinical trials (RCT). In the USA the restenosis rate after carotid endarterectomy (CEA) could also be decreased due to the results of register data. In the United Kingdom the mortality rate of elective surgery in 8380 patients with abdominal aortic aneurysms (AAA) has been reduced from 7,5 % to 2.4 % from 2008 to 2012 by the use of register data. Unlike in many other countries, Germany currently has no common population-based registry for vascular treatments. The prospective registry for AAA currently only records a small proportion of treatments. The mandatory data collection and analysis of approximately 33,000 CEAs by the AQUA Institute is an important part of quality insurance but has limitations because of the limited validity. An interdisciplinary common vascular registry for Germany, GermanVasc, allows a better and more accurate description of the actual medical care situation. With GermanVasc it will be possible to answer some of the key questions in vascular medicine in Germany.
This is a preview of subscription content, log in to check access.
Access options
Buy single article
Instant access to the full article PDF.
US$ 39.95
Price includes VAT for USA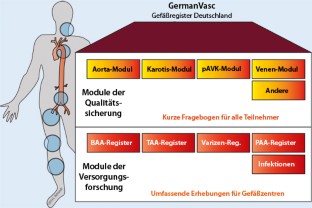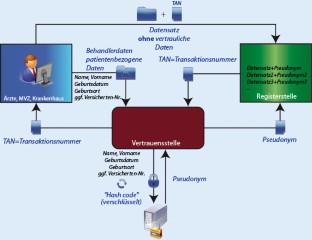 Literatur
1.

Eckstein H-H (2012) Epidemiologie und Versorgung von Gefäßpatienten in Deutschland. In: Debus ES, Gross-Fengels W (Hrsg) Operative und interventionelle Gefäßmedizin. Springer, Berlin Heidelberg New York Tokio

2.

Kühnl A, Söllner H, Flessenkämper I, Eckstein HH (2013) Status quo der Gefäßchirurgie in Deutschland. Gefasschirurgie 18:355–364

3.

http://www.gefaesschirurgie.de/zertifizierung/zertifizierte-gefaesszentren.html. DGG – Zertifizierte Gefäßzentren. 2014. Zugegriffen: 03. Mai 2014

4.

http://www.gesetze-im-internet.de/sgb_5/. Sozialgesetzbuch V. 2014. Zugegriffen: 03. Mai 2014

5.

Björck M, Bergqvist D, Eliasson K et al (2008) Twenty years with the Swedvasc registry. Eur J Vasc Endovasc Surg 35:129–130

6.

Troëng T, Malmstedt J, Björck M (2008) External validation of the Swedvasc registry: a first-time individual cross-matching with the unique personal identity number. Eur J Vasc Endovasc Surg 36:705–712

7.

Laustsen J, Jensen LP, Hansen AK, Registry DNV (2004) Accuracy of clinical data in a population based vascular registry. Eur J Vasc Endovasc Surg 27:216–219

8.

Dahl T, Rudjord K, Altreuther M, Myhre HO (2006) Data quality of surgery for carotid artery stenosis. Are the national vascular registries reliable? Eur J Vasc Endovasc Surg 31:381–385

9.

Haug ES, Romundstad P, Saether OD et al (2005) Quality of data reported on abdominal aortic aneurysm repair – a comparison between a national vascular and a national administrative registry. Eur J Vasc Endovasc Surg 29:571–578

10.

Tröeng T, Lundell A, Eliasson K et al (2011) Annual report 2011 on activities in 2010: vascular registry in Sweden (Swedvasc)

11.

Cronenwett JL, Kraiss LW, Cambria RP (2012) The Society for Vascular Surgery Vascular Quality Initiative. J Vasc Surg 55:1529–1537

12.

Cambria R (2013) Vascular quality initiative 2013 annual report

13.

Goodney PP, Nolan BW, Eldrup-Jorgensen J et al (2010) Restenosis after carotid endarterectomy in a multicenter regional registry. J Vasc Surg 52:897–904, 905.e1–2

14.

Goodney PP, Eldrup-Jorgensen J, Nolan BW et al (2011) A regional quality improvement effort to increase beta blocker administration before vascular surgery. J Vasc Surg 53:1316–1328.e1311

15.

Mani K, Lees T, Beiles B et al (2011) Treatment of abdominal aortic aneurysm in nine countries 2005–2009: a vascunet report. Eur J Vasc Endovasc Surg 42:598–607

16.

Waton S, Johal A, Groene O et al (2013) Outcomes after elective repair of infra-renal abdominal aortic aneurysm. The Royal College of Surgeons of England, London

17.

Chris Gibbons PW, Kinsman R, Björck M et al (2007) First vascular surgery database report 2007. Oxfordshire, UK

18.

Vikatmaa P, Mitchell D, Jensen LP et al (2012) Variation in clinical practice in carotid surgery in nine countries 2005–2010. Lessons from VASCUNET and recommendations for the future of national clinical audit. Eur J Vasc Endovasc Surg 44:11–17

19.

Trenner M, Haller B, Söllner H et al (2013) 12 Jahre "Qualitätssicherung BAA" der DGG. Gefasschirurgie 18:206–213

20.

Trenner M, Haller B, Söllner H et al (2013) 12 Jahre "Qualitätssicherung BAA" der DGG. Gefasschirurgie 18:372–380

21.

Institut A (2012) Bundesauswertung 2012 zur Karotis-Revaskularisation

22.

Laustsen J, Jensen LP (2012) Annual report 2011 from The Danish Vascular Registry. 2

23.

Kantonen I, Lepantalo M, Salenius JP et al (1997) Auditing a nationwide vascular registry – the 4-year Finnvasc experience. Finnvasc Study Group. Eur J Vasc Endovasc Surg 14:468–474

24.

Taha AG, Vikatmaa P, Albäck A et al (2008) Are adverse events after carotid endarterectomy reported comparable in different registries? Eur J Vasc Endovasc Surg 35:280–285

25.

Lozano FS, Marinello J, Moreno RM et al (2013) Monitoring the practice of vascular surgery: findings from a national registry (1996–2011). World J Surg 38:241–251

26.

Altreuther M, Berge C, Halbakken E et al (2013) NorKar annual report 2012

27.

Aylin P, Lees T, Baker S et al (2007) Descriptive study comparing routine hospital administrative data with the Vascular Society of Great Britain and Ireland's National Vascular Database. Eur J Vasc Endovasc Surg 33:461–465

28.

Mitchell D, Loftus IM, Waton S et al (2013) Outcomes after elective repair of infra-renal abdominal aortic aneurysm.

29.

Wigger P, Steiner W (2010) 7th annual report of the Swissvasc registry

30.

Bergqvist D, Björck M, Lees T, Menyhei G (2014) Validation of the VASCUNET registry – pilot study. Vasa 43:141–144

31.

Lees T, Troëng T, Thomson IA et al (2012) International variations in infrainguinal bypass surgery – a VASCUNET report. Eur J Vasc Endovasc Surg 44:185–192
Einhaltung ethischer Richtlinien
Interessenkonflikt. C.-A. Behrendt, N. Tsilimparis, H. Diener, A. Larena-Avellaneda, K.P. Walluscheck, E.S. Debus geben an, dass kein Interessenkonflikt besteht. Der Beitrag enthält keine Studien an Mensch oder Tier.
About this article
Cite this article
Behrendt, C., Tsilimparis, N., Diener, H. et al. Einführung des GermanVasc. Gefässchirurgie 19, 403–411 (2014). https://doi.org/10.1007/s00772-014-1351-9
Schlüsselwörter
Qualitätssicherung

Versorgungsforschung

Behandlungs-Outcome

Datenbanken

Benchmarking
Keywords
Quality assurance

Health services research

Treatment outcome

Databases

Benchmarking