Abstract
To review the available evidence about the prevalence and determinants of antenatal common mental disorders (antenatal CMDs) among women in India. We searched Ovid Medline, Embase and Psyinfo systematically from date of inception to Oct. 31, 2019 for publications in English language on the prevalence of antenatal CMDs and their determinants among women in India. All study designs were included. Quality was assessed with Standard Quality Assessment Criteria for Evaluating Primary Research Papers. We performed a meta-analysis using a random effects model. Twenty-seven studies involving 7780 women were analysed. There was a high degree of heterogeneity ((I2 = 97.53%). Publication bias [Egger bias = 0.65 (95% CI: 0.36; .94)] was evident. The overall pooled estimate of the prevalence of antenatal CMDs was 21.87% (95% CI: 17.46; 26.29). Significant risk factors reported in the 18 studies which examined them were negative reaction of husband or in-laws to the dowry, difficult relationship with husband/in-laws, lack of support or experiencing violence perpetrated by an intimate partner and preference for or feeling pressured to have a male child. Protective factors were having more education and being employed, having a supportive husband and opportunities for recreation during pregnancy. Antenatal CMDs are highly prevalent among women in India. There is an urgent need for locally developed policies and programmes for mental health promotion during pregnancy, preventive and early intervention for antenatal CMDs among women to be integrated into maternity care in India.
Access options
Buy single article
Instant access to the full article PDF.
USD 39.95
Price includes VAT (USA)
Tax calculation will be finalised during checkout.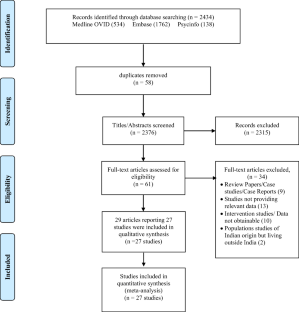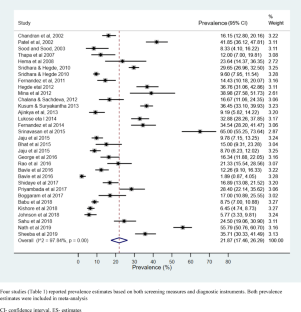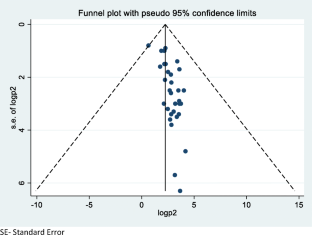 References
Ajinkya S, Jadhav P, Srivastava N (2013) Depression during pregnancy: prevalence and obstetric risk factors among pregnant women attending a tertiary care hospital in Navi Mumbai. Ind Psychiatry J 22:37–40

Ali B, Dhillon P, Mohanty SK (2019) Inequalities in the utilization of maternal health care in the pre-and post-National Health Mission periods in India. J Biosoc Sci:1–15

Austin, M.-P., N. Highet and the Expert Working Group (2017). Mental health Care in the Perinatal Period: Australian clinical practice guideline. Melbourne Centre of Perinatal Excellence

Austin M-P, Marcé Society Position Statement Advisory Committee (2014) Marcé international society position statement on psychosocial assessment and depression screening in perinatal women. Best Pract Res Clin Obstet Gynaecol 28(1):179–187

Ayano G, Tesfaw G, Shumet S (2019) Prevalence and determinants of antenatal depression in Ethiopia: a systematic review and meta-analysis. PLoS One 14(2):e0211764

Babu GR, Murthy GVS, Singh N, Nath A, Rathnaiah M, Saldanha N, Deepa R, Kinra S (2018) Sociodemographic and medical risk factors associated with antepartum depression. Front Public Health 6:127

Bagadia A, Chandra PS (2017) Starting the conversation-integrating mental health into maternal health care in India. Indian J Med Res 145(3):267–269

Banerjee PR (2014) Dowry in 21st-century India: the sociocultural face of exploitation. Trauma Violence Abuse 15(1):34–40

Baron EC, Hanlon C, Mall S, Honikman S, Breuer E, Kathree T, Luitel NP, Nakku J, Lund C, Medhin G (2016) Maternal mental health in primary care in five low-and middle-income countries: a situational analysis. BMC Health Serv Res 16(1):53

Bavle AD, Chandahalli AS, Phatak AS, Rangaiah N, Kuthandahalli SM, Nagendra PN (2016) Antenatal depression in a tertiary care hospital. Indian J Psychol Med 38(1):31–36

Bennett HA, Einarson A, Taddio A, Koren G, Einarson TR (2004) Prevalence of depression during pregnancy: systematic review. Obstet Gynecol 103(4):698–709

Benjamin D, Chandramohan A, Annie IK, Prasad J, Jacob KS (2005) Validation of the Tamil version of Edinburgh post-partum depression scale. J Obstet Gynecol India 55 (3): 241-43

Bhat AR, Chowdayya, Selvam S, Khan A, Kolts R and Srinivasan K (2015). "Maternal prenatal psychological distress and temperament in 1–4 month old infants - A study in a non-western population." Infant Behavior and Development 39(pp 35–41)

Boggaram SA, Singh H, Manikanta TS, Maheswari E (2017) An exploratory study of identification of psychiatric disorders during pregnancy. Minerva Psichiatr 58(4):203–208

Byatt, N., D. Carter, K. M. Deligiannidis, C. N. Epperson, S. Meltzer-Brody, J. L. Payne, G. Robinson, N. E. Silver, Z. Stowe, M. S. V. Niel, K. L. Wisner and K. Yonkers. (2018). "position statement on screening and treatment of mood and anxiety disorders during pregnancy and postpartum." 2019

Byrn MA, Penckofer S (2013) Antenatal depression and gestational diabetes: a review of Maternaland fetal outcomes. Nursing Women's Health 17(1):22–33

Chadda RK, Deb KS (2013) Indian family systems, collectivistic society and psychotherapy. Indian J Psychiatry 55(Suppl 2):S299–S309

Chalana H, Sachdeva JK (2012) A study of psychiatric morbidity during second trimester of pregnancy subsequent to abortion in the previous pregnancy. Asian J Psychiatr 5(3):215–219

Chandra PS (2004) Post-partum psychiatric care in India: the need for integration and innovation. World Psychiatry 3(2):99–100

Chandran M, Tharyan P, Muliyil J and Abraham S (2002) "Post-partum depression in a cohort of women from a rural area of Tamil Nadu, India. Incidence and risk factors."

Dandona R, Kumar GA, Dhaliwal R, Naghavi M, Vos T, Shukla D, Vijayakumar L, Gururaj G, Thakur J, Ambekar A (2018) Gender differentials and state variations in suicide deaths in India: the global burden of disease study 1990–2016. Lancet Public Health 3(10):e478–e489

Dennis C-L, Falah-Hassani K, Shiri R (2017) Prevalence of antenatal and postnatal anxiety: systematic review and meta-analysis. Br J Psychiatry 210(5):315–323

Fernandes M, Stein A, Srinivasan K, Menezes G, Renton M, Zani J, Ramchandani PG (2014) Maternal depression and foetal responses to novel stimuli: insights from a socio-economically disadvantaged Indian cohort. J Dev Orig Health Dis 5(3):178–182

Fernandes MC, Srinivasan K, Stein AL, Menezes G, Sumithra RS, Ramchandani PG (2011) Assessing prenatal depression in the rural developing world: a comparison of two screening measures. Arch Women Ment Hlth 14(3):209–216

Fisher J, Mello MC d, Patel V, Rahman A, Tran T, Holton S, Holmes W (2012) Prevalence and determinants of common perinatal mental disorders in women in low-and lower-middle-income countries: a systematic review. Bull World Health Organ 90:139–149

Fuhr DC, Weobong B, Lazarus A, Vanobberghen F, Weiss HA, Singla DR, Tabana H, Afonso E, De Sa A, D'Souza E (2019) Delivering the thinking healthy Programme for perinatal depression through peers: an individually randomised controlled trial in India. Lancet Psychiatry 6(2):115–127

Gavin NI, Gaynes BN, Lohr KN, Meltzer-Brody S, Gartlehner G, Swinson T (2005) Perinatal depression: a systematic review of prevalence and incidence. Obstet Gynecol 106(5):1071–1083

Gelaye B, Rondon MB, Araya R, Williams MA (2016) Epidemiology of maternal depression, risk factors, and child outcomes in low-income and middle-income countries. Lancet Psychiatry 3(10):973–982

George C, Lalitha AR, Antony A, Kumar AV, Jacob KS (2016) Antenatal depression in coastal South India: prevalence and risk factors in the community. Int J Soc Psychiatry 62(2):141–147

Glover V, O'Donnell KJ, O'Connor TG, Fisher J (2018) Prenatal maternal stress, fetal programming, and mechanisms underlying later psychopathology—a global perspective. Dev Psychopathol 30(3):843–854

Goldberg D, Huxley P (1991) Common mental disorders. Routledge, London

Grigoriadis S, Graves L, Peer M, Mamisashvili L, Tomlinson G, Vigod SN, Dennis C-L, Steiner M, Brown C, Cheung A (2018) A systematic review and meta-analysis of the effects of antenatal anxiety on postpartum outcomes. Arch Women Ment Hlth:1–14

Grote NK, Bridge JA, Gavin AR, Melville JL, Iyengar S, Katon WJ (2010) A meta-analysis of depression during pregnancy and the risk of preterm birth, low birth weight, and intrauterine growth restriction. Arch Gen Psychiatry 67(10):1012–1024

Hema D, Ramapriya GN, Chandra P, Gururaj G (2008) Use of Edinburgh postnatal depression scale (EPDS) in a private obstetric setting. J Obstet Gynecol India 58(1):41–44

Heyningen T, Myer L, Onah M, Tomlinson M, Field S, Honikman S (2016) Antenatal depression and adversity in urban South Africa. J Affect Disord 203:121–129

Hoffman S, Hatch MC (2000) Depressive symptomatology during pregnancy: evidence for an association with decreased fetal growth in pregnancies of lower social class women. Health Psychol 19(6):535–543

Horrigan TJ, Schroeder AV, Schaffer RM (2000) The triad of substance abuse, violence, and depression are interrelated in pregnancy. J Subst Abus Treat 18(1):55–58

Howard LM, Megnin-Viggars O, Symington I, Pilling S (2014) Antenatal and postnatal mental health: summary of updated NICE guidance. Bmj 349:g7394

Howard LM, Oram S, Galley H, Trevillion K, Feder G (2013) Domestic violence and perinatal mental disorders: a systematic review and meta-analysis. PLoS Med 10(5):e1001452

Jaju S, Al Kharusi L, Gowri V (2015) Antenatal prevalence of fear associated with childbirth and depressed mood in primigravid women. Indian J Psychiatry 57(2):158–161

Jha S, Salve HR, Goswami K, Sagar R, Kant S (2018) Burden of common mental disorders among pregnant women: a systematic review. Asian J Psychiatr 36:46–53

Johnson AR, George M, Goud BR, Sulekha T (2018) Screening for mental health disorders among pregnant women availing antenatal care at a government maternity hospital in Bengaluru city. Indian J Psychol Med 40(4):343–348

Kishore MT, Satyanarayana V, Ananthanpillai ST, Desai G, Bhaskarapillai B, Thippeswamy H, Chandra PS (2018) Life events and depressive symptoms among pregnant women in India: moderating role of resilience and social support. Int J Soc Psychiatry 64(6):570–577

Kmet LM, Cook LS and Lee RC (2004) "Standard quality assessment criteria for evaluating primary research papers from a variety of fields."

Kurki T, Hiilesmaa V, Raitasalo R, Mattila H, Ylikorkala O (2000) Depression and anxiety in early pregnancy and risk for preeclampsia. Obstet Gynecol 95(4):487–490

Kuruvilla A, Pothen M, Philip, Braganza D, Joseph A, Jacob, KS (1999) The validation of the Tamil version of the 12-item general health questionnaire. Indian J Psychiatry 41 (3): 217

Kusum MS, Suryakantha AH (2013) A study on mental health status among pregnant women and the social factors influencing. Indian J Public Health Res Dev 4(4):79–83

Lukose A, Ramthal A, Thomas T, Bosch R, Kurpad AV, Duggan C, Srinivasan K (2014) Nutritional factors associated with antenatal depressive symptoms in the early stage of pregnancy among urban south Indian women. Matern Child Health J 18(1):161–170

Milgrom J, Gemmill AW, Bilszta JL, Hayes B, Barnett B, Brooks J, Ericksen J, Ellwood D, Buist A (2008) Antenatal risk factors for postnatal depression: a large prospective study. J Affect Disord 108(1–2):147–157

Mina S, Singh Balhara YP, Verma R, Mathur S (2012) Study of anxiety and depression in antepartum and post partum period. Delhi Psychiatry Journal 15(2):347–351

Mohanraj R (2014) Psychometric data on Tamil Language PHQ-9. Unpublished data

Nath A, Venkatesh S, Balan S, Metgud CS, Krishna M, Murthy GVS (2019) The prevalence and determinants of pregnancy-related anxiety amongst pregnant women at less than 24 weeks of pregnancy in Bangalore, southern India. Int J Women's Health 11:241–248

Niaz U (2004) Women's mental health in Pakistan. World Psychiatry 3(1):60–62

Office of the Registrar General and Census Commissioner of India (2011). Census of India. Delhi, Government of India. Ministry of Home Affairs

Pai K, Hegde SS, Abhishekh HA and Sandeep KR (2013) "Prevalence of antenatal depression: A study from tertiary care hospital." Indian Journal of Psychiatry. Conference: 65th Annual National Conference of the Indian Psychiatric Society, ANCIPS 55(pp S100)

Parthasarathi R, Sinha S (2016) Towards a better health care delivery system: the Tamil Nadu model. Indian J Community Med 41(4):302–304

Patel V, Pereira J, Countinho, L, Fernandes J, Fernandes R, Mann A (1998) Poverty, psychological disorder and disability in primary care attenders in Goa, India. Br J Psychiatry 171: 533-536

Patel V, Rodrigues M, DeSouza N (2002) Gender, poverty, and postnatal depression: a study of mothers in Goa, India. Am J Psychiatr 159(1):43–47

Pathak PK, Singh A, Subramanian S (2010) Economic inequalities in maternal health care: prenatal care and skilled birth attendance in India, 1992–2006. PLoS One 5(10):e13593

Pavitra SK, Hegde G (2009) Antenatal depression: the prevalence and the impact on birth weight. Indian J Private Psychiatry 4(1):12–16

Priyambada K, Pattojoshi A, Baklava A (2017) A study of antenatal anxiety: comparison across trimesters. Int J Reprod Contracept Obstet Gynecol 6(5):1810–1813

Rahman A, Fisher J, Bower P, Luchters S, Tran T, Yasamy MT, Saxena S, Waheed W (2013) Interventions for common perinatal mental disorders in women in low-and middle-income countries: a systematic review and meta-analysis. Bull World Health Organ 91:593–601I

Rao D, Kumar S, Mohanraj R, Frey S, Manhart LE, Kaysen D (2016) The impact of domestic violence and depressive symptoms on preterm birth in South India. Soc Psychiatry Psychiatr Epidemiol 51(2):225–232

Ross GP, Falhammar H, Chen R, Barraclough H, Kleivenes O, Gallen I (2016) Relationship between depression and diabetes in pregnancy: a systematic review. World J Diabetes 7(19):554–571

Sahni M, Verma N, Narula D, Varghese RM, Sreenivas V, Puliyel JM (2008) Missing girls in India: infanticide, feticide and made-to-order pregnancies? Insights from hospital-based sex-ratio-at-birth over the last century. PLoS One 3(5):e2224

Sahu P, Hansa J, Mohanty DP, Mishra SN (2018) Prevalence and pattern of anxiety and depressive disorders in pregnant women attending antenatal clinic. Indian J Public Health Res Dev 9(9):52–58

Scottish Intercollegiate Guidelines Network (SIGN) (2012). Management of Perinatal Mood Disorders (publication no. 127). Edinburgh, Scottish Intercollegiate Guidelines Network

Sheeba B, Nath A, Metgud CS, Krishna M, Venkatesh S, Murthy GVS (2019) Prenatal depression and its associated risk factors among pregnant women in Bangalore: a hospital based prevalence study. Front Public Health 7:108

Shidhaye P, Shidhaye R, Phalke V (2017) Association of gender disadvantage factors and gender preference with antenatal depression in women: a cross-sectional study from rural Maharashtra. Soc Psychciatry Psychiatr Epidemiol 52:737–748

Sood M, Sood A (2003) Depression in pregnancy and postpartum. Indian J Psychiatry 45(1):48–51

Srinivasan N, Murthy S, Singh AK, Upadhyay V, Mohan SK, Joshi A (2015) Assessment of burden of depression during pregnancy among pregnant women residing in rural setting of Chennai. J Clin Diagn Res 9(4)

Sriram, TG, Chandrashekar CR, Isaac, MK, Shanmugham, V (1989) The general health questionnaire (GHQ). Social Psychiatry and Psychiatric Epidemiology 24 (6): 317-320

Stein A, Pearson RM, Goodman SH, Rapa E, Rahman A, McCallum M, Howard LM, Pariante CM (2014) Effects of perinatal mental disorders on the fetus and child. Lancet 384(9956):1800–1819

Stewart RC, Umar E, Tomenson B, Creed F (2014) A cross-sectional study of antenatal depression and associated factors in Malawi. Archi Women Ment Hlth 17(2):145–154

Supraja T, Thennarasu K, Satyanarayana VA, Seena T, Desai G, Jangam KV, Chandra PS (2016a) Suicidality in early pregnancy among antepartum mothers in urban India. Arch Women Ment Hlth 19(6):1101–1108

Supraja T, Varghese M, Desai G, Chandra PS (2016b) The relationship of gender preference to anxiety, stress and family violence among pregnant women in urban India. Int J Cult Ment Health 9(4):356–363

Thapa N, Gyaneshwar Sharma S, Tomba Singh K, Heramani Singh N, Lenin Singh RK, Bihari Singh T (2007) A study of "psychiatry morbidity during pregnancy and postpartum period in Manipuri women". JMS J Med Soc 21(1):18–21

UNESCO. (2017). "India - Education and Literacy - General Information." Retrieved December 16, 2019, from http://uis.unesco.org/en/country/in?theme=education-and-literacy

UNICEF. (2012). "India - Statistics." Retrieved December 16, 2019, from https://www.unicef.org/infobycountry/india_statistics.html

Upadhyay RP, Chowdhury R, Salehi A, Sarkar K, Singh SK, Sinha B, Pawar A, Rajalakshmi AK, Kumar A (2017) Postpartum depression in India: a systematic review and meta-analysis. Bull World Health Organ 95(10):706–717C

Verreault N, Da Costa D, Marchand A, Ireland K, Dritsa M, Khalifé S (2014) Rates and risk factors associated with depressive symptoms during pregnancy and with postpartum onset. J Psychosom Obstet Gynecol 35(3):84–91

WHO. (2015) "Thinking Healthy Program." Retrieved December 16, 2019, from https://www.who.int/mental_health/maternal-child/thinking_healthy/en/

Woody C, Ferrari A, Siskind D, Whiteford H, Harris M (2017) A systematic review and meta-regression of the prevalence and incidence of perinatal depression. J Affect Disord 219:86–92

World Health Organization (2008) Closing the gap in a generation: health equity through action on the social determinants of health: commission on social determinants of health final report. Organization, World Health

Youash S, Sharma V (2019) Depression, antidepressants and hypertensive disorders of pregnancy: a systematic review. Curr Drug Saf 14(2):102–108
Funding
No funding was received for this study. TT is supported by an Early Career Fellowship from the Australian National Health and Medical Research Council. JF is supported by a Professorial Fellowship from Finkel Family Foundation.
Ethics declarations
Conflict of interest
The authors declare that they have no conflict of interest.
Ethical approval
Ethical approval was not required for this study. This article does not contain any studies with human participants or animals performed by any of the authors. The protocol was registered and can be accessed online on Prospero (CRD42018078663).
Additional information
Publisher's note
Springer Nature remains neutral with regard to jurisdictional claims in published maps and institutional affiliations.
Electronic supplementary material
About this article
Cite this article
Kalra, H., Tran, T.D., Romero, L. et al. Prevalence and determinants of antenatal common mental disorders among women in India: a systematic review and meta-analysis. Arch Womens Ment Health 24, 29–53 (2021). https://doi.org/10.1007/s00737-020-01024-0
Received:

Accepted:

Published:

Issue Date:
Keywords
Pregnancy

Common mental disorders

Prevalence

India