Abstract
Adverse effects of perinatal depression on the mother–child interaction are well documented; however, the influence of maternal–fetal bonding during pregnancy on postpartum bonding has not been clearly identified. The subject of this study was to investigate prospectively the influence of maternal–fetal bonding and perinatal symptoms of anxiety and depression on postpartum mother–infant bonding. Data from 80 women were analyzed for associations of symptoms of depression and anxiety as well as maternal bonding during pregnancy to maternal bonding in the postpartum period using the Edinburgh Postnatal Depression Scale (EPDS), the State–Trait Anxiety Inventory (STAI), the Pregnancy Related Anxiety Questionnaire (PRAQ-R), the Maternal–Fetal Attachment Scale (MFAS) and the Postpartum Bonding Questionnaire (PBQ-16). Maternal education, MFAS, PRAQ-R, EPDS and STAI-T significantly correlated with the PBQ-16. In the final regression model, MFAS and EPDS postpartum remained significant predictors of postpartum bonding and explained 20.8 % of the variance. The results support the hypothesized negative relationship between maternal–fetal bonding and postpartum maternal bonding impairment as well as the role of postpartum depressive symptoms. Early identification of bonding impairment during pregnancy and postpartum depression in mothers plays an important role for the prevention of potential bonding impairment in the early postpartum period.
Access options
Buy single article
Instant access to the full article PDF.
USD 39.95
Price excludes VAT (USA)
Tax calculation will be finalised during checkout.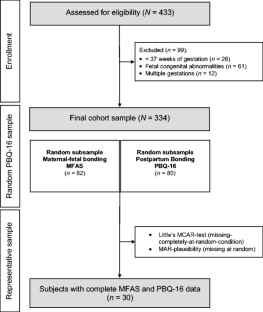 Notes
As "attachment" and "bonding" are often used synonymously we find it necessary to distinguish these terms. In this study, the term bonding refers to the feelings the mother has towards her fetus/infant, whereas the term attachment stands for the relationship a child has developed to its mother.
References
Alhusen JL (2008) A literature update on maternal–fetal attachment. J Obstet Gynecol Neonatal Nurs 37(3):315–328. doi:10.1111/j.1552-6909.2008.00241.x

Alhusen JL, Gross D, Hayat MJ, Woods AB, Sharps PW (2012) The influence of maternal-fetal attachment and health practices on neonatal outcomes in low-income, urban women. Res Nurs Health 35(2):112–120. doi:10.1002/nur.21464

Alhusen JL, Hayat MJ, Gross D (2013) A longitudinal study of maternal attachment and infant developmental outcomes. Arch Women Ment Health 16(6):521–529. doi:10.1007/s00737-013-0357-8

Andersson L, Sundstrom-Poromaa I, Wulff M, Astrom M, Bixo M (2006) Depression and anxiety during pregnancy and six months postpartum: a follow-up study. Acta Obstet Gynecol Scand 85(8):937–944. doi:10.1080/00016340600697652

Atkinson L, Paglia A, Coolbear J, Niccols A, Parker KC, Guger S (2000) Attachment security: a meta-analysis of maternal mental health correlates. Clin Psychol Rev 20(8):1019–1040

Bennett HA, Einarson A, Taddio A, Koren G, Einarson TR (2004) Prevalence of depression during pregnancy: systematic review. Obstet Gynecol 103(4):698–709

Bergant AM, Nguyen T, Heim K, Ulmer H, Dapunt O (1998) Deutschsprachige Fassung und Validierung der "Edinburgh postnatal depression scale". Dtsch Med Wochenzeitschr 123:35–40

Bonari L, Pinto N, Ahn E, Einarson A, Steiner M, Koren G (2004) Perinatal risks of untreated depression during pregnancy. Can J Psychiatry 49(11):726–735

Britton JR (2005) Pre-discharge anxiety among mothers of well newborns: prevalence and correlates. Acta Paediatr 94:1771–1776. doi:10.1080/08035250500192664

Britton JR (2011) Infant temperament and maternal anxiety and depressed mood in the early postpartum period. Womens Health 51(1):55–71. doi:10.1080/03630242.2011.540741

Brockington I (2004) Postpartum psychiatric disorders. The Lancet, 363(9405). doi:10.1016/S0140-6736(03)15390-1

Brockington IF, Oates J, George S, Turner D, Vostanis P, Sullivan M, Loh C, Murdoch C (2001) A screening questionnaire for mother–infant bonding disorders. Arch Womens Ment Health 3(4):133–140. doi:10.1007/s007370170010

Buist A, Morse CA, Durkin S (2003) Men's adjustment to fatherhood: implications for obstetric health care. J Obstet Gynecol Neonatal Nurs 32(2):172–180

Carneiro C, Corboz-Warnery A, Fivaz-Depeursinge E (2006) The prenatal Lausanne Trilogue Play: a new observational assessment tool of the prenatal co-parenting alliance. Infant Ment Health J 27(2):207–228

Carter CS, Keverne EB (2002) The neurobiology of social affiliation and pair bonding. In: Pfaff DW, Arnold AP, Etgen AM, Fahrbach SE, Rubin RT (eds) Hormones, brain and behaviour, Vol. 1, Academic Press, San Diego, pp 299–337

Cohen J (1988) Statistical power analysis for the behavioral sciences. Erlbaum, Hillsdale

Condon JT (1993) The assessment of antenatal emotional attachment: development of a questionnaire instrument. Br J Med Psychol 66(Pt 2):167–183

Condon JT, Corkindale C (1998) The assessment of parent-to-infant attachment: development of a self-report questionnaire instrument. J Reprod Infant Psychol 16(1):57–77

Cox JL, Holden JM, Sagovsky R (1987) Detection of postnatal depression. Development of the 10-item Edinburgh Postnatal Depression Scale. Br J Psychiatry 150:782–786. doi:10.1192/bjp.150.6.782

Cox JL, Chapman G, Murray D, Jones P (1996) Validation of the Edinburgh postnatal depression scale (EPDS) in non-postnatal women. J Affect Disord 39:185–189. doi:10.1016/0165-0327(96)00008-0

Cranley MS (1981) Development of a tool for the measurement of maternal attachment during pregnancy. Nurs Res 30(5):281–284

Edhborg M, Nasreen H-E, Kabir ZN (2011) Impact of postpartum depressive and anxiety symptoms on mothers' emotional tie to their infants 2–3 months postpartum: a population-based study from rural Bangladesh. Arch Womens Ment Health 14(4):307–316. doi:10.1007/s00737-011-0221-7

Faul F, Erdfelder E, Lang A-G, Buchner A (2007) GPower 3: a flexible statistical power analysis program for the social, behavioral, and biomedical sciences. Behav Res Methods 39(2):175–191

Faul F, Erdfelder E, Buchner A, Lang A-G (2009) Statistical power analyses using G*Power 3.1: tests for correlation and regression analyses. Behav Res Methods 41(4):1149–1160

Feldman R, Greenbaum CW, Mayes LC, Erlich SH (1997) Change in mother–infant interactive behavior: relations to change in the mother, the infant, and the social context. Infant Behav Dev 20(2):151–163. doi:10.1016/s0163-6383(97)90018-7

Feldman R, Weller A, Zagoory-Sharon O, Levine A (2007) Evidence for a neuroendocrinological foundation of human affiliation: plasma oxytocin levels across pregnancy and the postpartum period predict mother–infant bonding. Psychol Sci 18(11):965–970. doi:10.1111/j.1467-9280.2007.02010.x

Field T (1998) Maternal depression effects on infants and early interventions. Prev Med 27(2):200–203. doi:10.1006/pmed.1998.0293

Field T (2010) Postpartum depression effects on early interactions, parenting, and safety practices: a review. Infant Behav Dev 33(1):1–6. doi:10.1016/j.infbeh.2009.10.005

Figueiredo B, Costa R (2009) Mother's stress, mood and emotional involvement with the infant: 3 months before and 3 months after childbirth. Arch Womens Ment Health 12(3):143–153. doi:10.1007/s00737-009-0059-4

Frankel KA, Harmon RJ (1996) Depressed mothers: they don't always look as bad as they feel. J Am Acad Child Adolesc Psychiatry 35(3):289–298. doi:10.1097/00004583-199603000-00009

Gloger-Tippelt G (2005) Psychologischer Übergang zur Elternschaft. In: Thun-Hohenstein L (ed) Übergänge – Wendepunkte und Zäsuren in der kindlichen Entwicklung. Vandenhoeck & Ruprecht, Göttingen, pp 55–74

Goodman SH, Gotlib IH (1999) Risk for psychopathology in the children of depressed mothers: a developmental model for understanding mechanisms of transmission. Psychol Rev 106(3):458–490

Grant KA, McMahon C, Austin MP (2008) Maternal anxiety during the transition to parenthood: a prospective study. J Affect Disord 108:101–111. doi:10.1016/j.jad.2007.10.002

Grigoriadis S, Vonder Porten EH, Mamisashvili L, Tomlinson G, Dennis C-L, Koren G et al (2013) The impact of maternal depression during pregnancy on perinatal outcomes: a systematic review and meta-analysis. J Clin Psychiatry 74(4):e321–e341. doi:10.4088/JCP.12r07968

Grote NK, Bridge JA, Gavin AR, Melville JL, Iyengar S, Katon WJ (2010) A meta-analysis of depression during pregnancy and the risk of preterm birth, low birth weight, and intrauterine growth restriction. Arch Gen Psychiatry 67(10):1012–1024. doi:10.1001/archgenpsychiatry.2010.111

Hornstein C, Schenk S, Wortmann-Fleischer S, Downing G, Schwarz M (2006) Videotherapie bei postpartalen Störungen. Ein interaktionales Behandlungskonzept bei Müttern mit. Depressionen und Psychosen Psychotherapeutics 51(5):363–368. doi:10.1007/s00278-006-0484-z

Huizink AC, Mulder EJ, Robles de Medina PG, Visser GH, Buitelaar JK (2004) Is pregnancy anxiety a distinctive syndrome? Early Hum Dev 79(2):81–91. doi:10.1016/j.earlhumdev.2004.04.014

Laux L, Glanzmann P, Schaffner P, Spielberger CD (1970) Das State–Trait-Angstinventar. Beltz Test, Weinheim

Marcus SM (2009) Depression during pregnancy: rates, risks and consequences—Motherisk Update 2008. Can J Clin Pharmacol 16(1):e15–e22

Matthey S, Barnett B, Kavanagh DJ, Howie P (2001) Validation of the Edinburgh Postnatal Depression Scale for men, and comparison of item endorsement with their partners. J Affect Disord 64(2–3):175–184. doi:10.1016/S0165-0327(00)00236-6

Matthey S, Barnett B, Howie P, Kavanagh DJ (2003) Diagnosing postpartum depression in mothers and fathers: whatever happened to anxiety? J Affect Disord 74(2):139–147

Matthey S, Henshaw C, Elliott S, Barnett B (2006) Variability in use of cut-off scores and formats on the Edinburgh Postnatal Depression Scale—implications for clinical and research practice. Arch Womens Ment Health 9(6):309–315. doi:10.1007/s00737-006-0152-x

Matthey S, Ross-Hamid C (2012) Repeat testing on the Edinburgh Depression Scale and the HADS-A in pregnancy: Differentiating between transient and enduring distress. J Affect Disord 141(2–3):213–221. doi:10.1016/j.jad.2012.02.037

Moehler E, Brunner R, Wiebel A, Reck C, Resch F (2006) Maternal depressive symptoms in the postnatal period are associated with long-term impairment of mother–child bonding. Arch Womens Ment Health 9(5):273–278. doi:10.1007/s00737-006-0149-5

Moehler E, Kagan J, Parzer P, Brunner R, Reck C, Wiebel A, Poustka L, Resch F (2007) Childhood behavioral inhibition and maternal symptoms of depression. Psychopathology 40(6):446–452. doi:10.1159/000107429

Müller ME (1993) The development of the prenatal attachment inventory. Western J Nurs Res 15:199–211

Müller ME (1994) A questionnaire to measure mother-to-infant attachment. J Nurs Meas 2:129–141

Müller M (1996) Prenatal and postnatal attachment: a modest correlation. J Obstet Gynecol Neonatal Nurs 25(2):161–166

Raphael-Leff J (2001) Pregnancy: the inside story. Karnac Books, London

Reck C, Hunt A, Fuchs T, Weiss R, Noon A, Moehler E, Downing G, Tronick EZ, Mundt C (2004) Interactive regulation of affect in postpartum depressed mothers and their infants: an overview. Psychopathology 37(6):272–280. doi:10.1159/000081983

Reck C, Klier CM, Pabst K, Stehle E, Steffenelli U, Struben K, Backenstrass M (2006) The German version of the Postpartum Bonding Instrument: psychometric properties and association with postpartum depression. Arch Womens Ment Health 9(5):265–271. doi:10.1007/s00737-006-0144-x

Reck C, Struben K, Backenstrass M, Stefenelli U, Reinig K, Fuchs T, Sohn C, Mundt C (2008) Prevalence, onset and comorbidity of postpartum anxiety and depressive disorders. Acta Psychiatr Scand 118:459–468. doi:10.1111/j.1600-0447.2008.01264.x

Ross LE, McLean LM (2006) Anxiety disorders during pregnancy and the postpartum period: a systematic review. J Clin Psychiatry 67(8):1285–1298

Siddiqui A, Hägglöf B (2000) Does maternal prenatal attachment predict postnatal mother–infant interaction? Early Hum Dev 59(1):13–25. doi:10.1016/s0378-3782(00)00076-1

Spielberger CD, Gorsuch RL, Lushene RE (1970) State–Trait Anxiety Inventory, manual for the State–Trait Anxiety Inventory. Consulting Psychologist Press, Palo Alto

Taylor A, Atkins R, Kumar R, Adams D, Glover V (2005) A new Mother-to-Infant Bonding Scale: links with early maternal mood. Arch Womens Ment Health 8(1):45–51

Tronick E, Reck C (2009) Infants of depressed mothers. Harvard Rev Psychiatry 17(2):147–156. doi:10.1080/10673220902899714

van Bussel JCH, Spitz B, Demyttenaere K (2010) Three self-report questionnaires of the early mother-to-infant bond: reliability and validity of the Dutch version of the MPAS, PBQ and MIBS. Arch Womens Ment Health 13(5):373–384. doi:10.1007/s00737-009-0140-z

Van den Bergh B (1989) De emotionele toestand van de (zwangere) vrouw, obstetrische complicaties en het gedrag en de ontwikkeling van de foetus en van het kind tot de leeftijd van zeven maanden. Unpublished doctoral thesis, Catholic University of Leuven

Van den Bergh BR (1990) The influence of maternal emotions during pregnancy on fetal and neonatal behavior. J Prenat Perinat Psychol Health 5(2):119–130

Wan MW, Green J (2009) The impact of maternal psychopathology on child–mother attachment. Arch Womens Ment Health 12(3):123–134. doi:10.1007/s00737-009-0066-5

Waters E, Merrick S, Treboux D, Crowell J, Albersheim L (2003) Attachment security in infancy and early adulthood: a twenty-year longitudinal study. In: Hertzig ME, Farber EA (eds) Annual progress in child psychiatry and child development: 2000–2001. Brunner-Routledge, New York, pp 63–72
Acknowledgments
We would like to thank the women who were willing to participate in this study. Furthermore, we would like to thank Professor Bea Van den Bergh for providing us with her revised version of the MFAS.
Conflict of interest
The authors declare that they have no conflict of interest.
About this article
Cite this article
Dubber, S., Reck, C., Müller, M. et al. Postpartum bonding: the role of perinatal depression, anxiety and maternal–fetal bonding during pregnancy. Arch Womens Ment Health 18, 187–195 (2015). https://doi.org/10.1007/s00737-014-0445-4
Received:

Accepted:

Published:

Issue Date:

DOI: https://doi.org/10.1007/s00737-014-0445-4
Keywords
Postpartum depression

Anxiety

Pregnancy

Maternal–fetal attachment

Postpartum bonding