Abstract
Targeted cancer treatment is a promising, less invasive alternative to chemotherapy as it is precisely directed against tumor cells whilst leaving healthy tissue unaffected. The plant-derived enzyme horseradish peroxidase (HRP) can be used for enzyme prodrug cancer therapy with indole-3-acetic acid or the analgesic paracetamol (acetaminophen). Oxidation of paracetamol by HRP in the presence of hydrogen peroxide leads to N-acetyl-p-benzoquinone imine and polymer formation via a radical reaction mechanism. N-acetyl-p-benzoquinone imine binds to DNA and proteins, resulting in severe cytotoxicity. However, plant HRP is not suitable for this application since the foreign glycosylation pattern is recognized by the human immune system, causing rapid clearance from the body. Furthermore, plant-derived HRP is a mixture of isoenzymes with a heterogeneous composition. Here, we investigated the reaction of paracetamol with defined recombinant HRP variants produced in E. coli, as well as plant HRP, and found that they are equally effective in paracetamol oxidation at a concentration ≥ 400 µM. At low paracetamol concentrations, however, recombinant HRP seems to be more efficient in paracetamol oxidation. Yet upon treatment of HCT-116 colon carcinoma and FaDu squamous carcinoma cells with HRP–paracetamol no cytotoxic effect was observed, neither in the presence nor absence of hydrogen peroxide.
Graphic abstract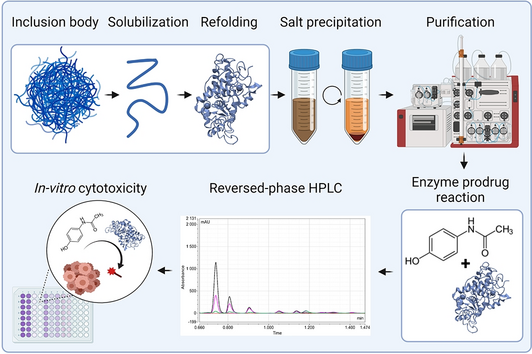 References
Veitch NC, Smith AT (2000) Adv Inorg Chem 51:107

Veitch NC (2004) Phytochemistry 65:249

Azevedo AM, Martins VC, Prazeres DM, Vojinovic V, Cabral JM, Fonseca LP (2003) Biotechnol Annu Rev 9:1387

Ryan BJ, Carolan N, O'Fagain C (2006) Trends Biotechnol 24:355

Spadiut O, Herwig C (2013) Pharm Bioprocess 1:283

Krainer FW, Glieder A (2015) Appl Microbiol Biotechnol 99:1611

Pandey VP, Awasthi M, Singh S, Tiwari S, Dwivedi UN (2017) Biochem Anal Biochem 6:308

Grigorenko VG, Andreeva IP, Rubtsova MY, Egorov AM (2015) Biochemistry (Mosc) 80:408

Romero MI, Romero MA, Smith GM (1999) J Histochem Cytochem 47:265

Zhang Z, Lai J, Wu K, Huang X, Guo S, Zhang L, Liu J (2018) Talanta 180:260

Moody M, Arsdell SV, Murphy K, Orencole S, Burns C (2001) Biotechniques 31:186

Van Gijlswijk RP, Talman EG, Peekel I, Bloem J, Van Velzen MA, Heetebrij RJ, Tanke HJ (2002) Clin Chem 48:1352

Bhunia A, Durani S, Wangikar PP (2001) Biotechnol Bioeng 72:562

Qiu H, Lu L, Huang X, Zhang Z, Qu Y (2010) Bioresour Technol 101:9415

Monier M, Ayad D, Wei Y, Sarhan A (2010) Int J Biol Macromol 46:324

Mohamed SA, Al-Harbi MH, Almulaiky YQ, Ibrahim IH, El-Shishtawy RM (2017) Electron J Biotechnol 27:84

Gholami-Borujeni F, Mahvi AH, Naseri S, Faramarzi MA, Nabizadeh R, Alimohammadi M (2011) Res J Chem Environ 15:217

Azevedo AM, Prazeres DMF, Cabral JM, Fonseca LP (2005) Biosens Bioelectron 21:235

Lomillo MAA, Ruiz JG, Pascual FJM (2005) Anal Chim Acta 547:209

Raghu P, Reddy TM, Reddaiah K, Jaidev L, Narasimha G (2013) Enzyme Microb Technol 52:377

Tatsumi K, Wada S, Ichikawa H (1996) Biotechnol Bioeng 51:126

Petenzi M, Bavaro T, Cornaggia C, Ubiali D, Pregnolato M, Pasini D (2012) Polym Int 61:1611

Pasini D, Filippini M, Pianetti I, Pregnolato M (2007) Adv Synth Catal 349:971

Kalra B, Gross RA (2000) Biomacromol 1:501

Kalra B, Gross R (2002) Green Chem 4:174

Gross RA, Kumar A, Kalra B (2001) Chem Rev 101:2097

Emery O, Lalot T, Brigodiot M, Maréchal E (1997) J Polym Sci. Part A: Polym Chem 35:3331

Singh A, Ma D, Kaplan DL (2000) Biomacromol 1:592

van de Velde F, van Rantwijk F, Sheldon RA (2001) Trends Biotechnol 19:73

Colonna S, Gaggero N, Carrea G, Pasta P (1992) J Chem Soc, Chem Commun 357

Colonna S, Gaggero N, Richelmi C, Pasta P (1999) Trends Biotechnol 17:163

Sakai S, Khanmohammadi M, Khoshfetrat AB, Taya M (2014) Carbohydr Polym 111:404

Veitch NC (2004) Phytochem Rev 3:3

Welinder KG (1976) FEBS Lett 72:19

Brooks SA (2004) Mol Biotechnol 28:241

De Marco A (2009) Microb Cell Fact 8:1

Gundinger T, Spadiut O (2017) J Biotechnol 248:15

Humer D, Ebner J, Spadiut O (2020) Int J Mol Sci 21:4625

Humer D, Spadiut O (2019) Int J Mol Sci 20:916

Eggenreich B, Willim M, Wurm DJ, Herwig C, Spadiut O (2016) Biotechnol Rep 10:75

Bardwell JC (2007) Disulfide bond formation enzymes. In: The Enzymes, vol 25. Elsevier, Amsterdam, p 111

Bardwell JC, McGovern K, Beckwith J (1991) Cell 67:581

Mahato R, Tai W, Cheng K (2011) Adv Drug Del Rev 63:659

Denny WA (2001) Eur J Med Chem 36:577

Giang I, Boland EL, Poon GM (2014) AAPS J 16:899

Kratz F, Müller IA, Ryppa C, Warnecke A (2008) ChemMedChem 3:20

de Albuquerque Silva AT, Chung MC, Castro LF, Carvalho Guido RV, Ferreira EI (2005) Mini Rev Med Chem 5:893

Singh Y, Palombo M, Sinko PJ (2008) Curr Med Chem 15:1802

Han H-K, Amidon GL (2000) AAPS PharmSci 2:48

Bashraheel SS, Domling A, Goda SK (2020) Biomed Pharmacother 125:110009

Greco O, Scott SD, Marples B, Dachs G (2002) Front Biosci 7:d1516

Kubizek F, Eggenreich B, Spadiut O (2017) Protein Peptide Lett 24:686

Mishra AP, Chandra S, Tiwari R, Srivastava A, Tiwari G (2018) Open J Med Chem 12:111

Schellmann N, Deckert P, Bachran D, Fuchs H, Bachran C (2010) Mini Rev Med Chem 10:887

Xu G, McLeod HL (2001) Clin Cancer Res 7:3314

Folkes L, Candeias L, Wardman P (1998) Int J Radiat Oncol Biol Phys 42:917

Tupper J, Greco O, Tozer GM, Dachs GU (2004) Cancer Gene Ther 11:508

Tupper J, Tozer GM, Dachs GU (2004) Br J Cancer 90:1858

Bonifert G, Folkes L, Gmeiner C, Dachs G, Spadiut O (2016) Cancer Med 5:1194

Dalmazzo LF, Santana-Lemos BA, Jácomo RH, Garcia AB, Rego EM, da Fonseca LM, Falcão RP (2011) Leukemia Res 35:657

Greco O, Dachs GU, Tozer GM, Kanthou C (2002) J Cell Biochem 87:221

Greco O, Folkes LK, Wardman P, Tozer GM, Dachs GU (2000) Cancer Gene Ther 7:1414

Greco O, Marples B, Dachs G, Williams KJ, Patterson AV, Scott SD (2002) Gene Ther 9:1403

Greco O, Rossiter S, Kanthou C, Folkes LK, Wardman P, Tozer GM, Dachs GU (2001) Mol Cancer Ther 1:151

Greco O, Tozer G, Dachs G (2002) Int J Rad Biol 78:173

Greco O, Tozer G, Folkes L, Wardman P, Scott SD, Marples B, Joiner M, Dachs G (2001) Br J Cancer 85:15

Tafazoli S, O'Brien PJ (2004) Chem Res Toxicol 17:1350

Jeong Y-M, Oh MH, Kim SY, Li H, Yun H-Y, Baek KJ, Kwon NS, Kim WY, Kim D-S (2010) Pharmazie 65:122

Kim D-S, Jeon S-E, Jeong Y-M, Kim S-Y, Kwon S-B, Park K-C (2006) FEBS Lett 580:1439

Kim D-S, Kim S-Y, Jeong Y-M, Jeon S-E, Kim M-K, Kwon S-B, Park K-C (2006) Biol Pharm Bull 29:1625

Kim DS, Jeon SE, Park KC (2004) Cell Signal 16:81

Folkes LK, Wardman P (2001) Biochem Pharmacol 61:129

Dai M, Liu J, Chen DE, Rao Y, Tang ZJ, Ho WZ, Dong CY (2012) Cancer Gene Ther 19:77

Rossiter S, Folkes LK, Wardman P (2002) Bioorg Med Chem Lett 12:2523

Liao Z, Huang C, Zhou F, Xiong J, Bao J, Zhang H, Sun W, Xie C, Zhou Y (2009) Cancer Lett 283:20

Xiong J, Sun WJ, Wang WF, Liao ZK, Zhou FX, Kong HY, Xu Y, Xie CH, Zhou YF (2012) Cancer 118:536

Josephy P, Eling TE, Mason RP (1983) Mol Pharmacol 23:461

Potter DW, Hinson JA (1987) J Biol Chem 262:966

Potter DW, Hinson JA (1989) Drug Metab Rev 20:341

Potter DW, Miller DW, Hinson J (1986) Mol Pharmacol 29:155

Potter DW, Miller DW, Hinson JA (1985) J Biol Chem 260:12174

Thatcher NJ, Edwards RJ, Lemoine NR, Doehmer J, Davies DS (2000) Cancer Gene Ther 7:521

Dos Santos FdJN, Ximenes VF, Da Fonseca LM, de Faria Oliveira OMM, Brunetti IL (2005) Biol Pharm Bull 28:1822

Szatrowski TP, Nathan CF (1991) Cancer Res 51:794

Sambrook J, Fritsch EF, Maniatis T (1989) Molecular cloning: a laboratory manual, vol 2. Cold spring harbor laboratory press, New York
Acknowledgements
We are grateful for Open Access Funding provided by the Austrian Science Fund (FWF), grant number P30872-B26 and the support provided by the Chemical Monthly Fellowship (MoChem).
Funding
Open access funding provided by TU Wien (TUW).
Additional information
Publisher's Note
Springer Nature remains neutral with regard to jurisdictional claims in published maps and institutional affiliations.
Supplementary Information
Below is the link to the electronic supplementary material.
Rights and permissions
Open Access This article is licensed under a Creative Commons Attribution 4.0 International License, which permits use, sharing, adaptation, distribution and reproduction in any medium or format, as long as you give appropriate credit to the original author(s) and the source, provide a link to the Creative Commons licence, and indicate if changes were made. The images or other third party material in this article are included in the article's Creative Commons licence, unless indicated otherwise in a credit line to the material. If material is not included in the article's Creative Commons licence and your intended use is not permitted by statutory regulation or exceeds the permitted use, you will need to obtain permission directly from the copyright holder. To view a copy of this licence, visit http://creativecommons.org/licenses/by/4.0/.
About this article
Cite this article
Humer, D., Spadiut, O. Enzyme prodrug therapy: cytotoxic potential of paracetamol turnover with recombinant horseradish peroxidase. Monatsh Chem 152, 1389–1397 (2021). https://doi.org/10.1007/s00706-021-02848-x
Received:

Accepted:

Published:

Issue Date:

DOI: https://doi.org/10.1007/s00706-021-02848-x
Keywords
Antitumor agents

Enzyme engineering

High-pressure liquid chromatography

Radicals

Targeted cancer treatment