Abstract
Cyclobutane thymine dimerization is the most prominent DNA photoinduced damage. While the ultrafast mechanism that proceeds in the singlet manifold is nowadays well established, the triplet-state pathway is not completely understood. Here we report the underlying mechanism of the photosensitized dimerization process in the triplet state. Quantum chemical calculations, combined with wavefunction analysis, and nonadiabatic molecular dynamics simulations demonstrate that this is a stepwise reaction, traversing a long-lived triplet biradical intermediate, which is characterized as a Frenkel exciton with very small charge-transfer character. The low yield of the reaction is regulated by two factors: (i) a relatively large energy barrier that needs to be overcome to form the exciton intermediate, and (ii) a bifurcation of the ground-state potential-energy surface that mostly leads back to the Franck–Condon region because dimerization requires a very restricted combination of coordinates and velocities at the event of non-radiative decay to the ground state.
Graphical abstract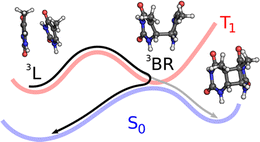 References
Beukers R, Eker APM, Lohman PHM (2008) DNA Repair 7:530

Schreier WJ, Kubon J, Regner N, Haiser K, Schrader TE, Zinth W, Clivio P, Gilch P (2009) J Am Chem Soc 131:5038

Schreier WJ, Schrader TE, Koller FO, Gilch P, Crespo-Hernández CE, Swaminathan VN, Carell T, Zinth W, Kohler B (2007) Science 315:625

Desnous C, Babu BR, Moriou C, Mayo JUO, Favre A, Wengel J, Clivio P (2008) J Am Chem Soc 130:30

Liu L, Pilles BM, Gontcharov J, Bucher DB, Zinth W (2016) J Phys Chem B 120:292

Pilles BM, Bucher DB, Liu L, Clivio P, Gilch P, Zinth W, Schreier WJ (2014) J Phys Chem Lett 5:1616

Kwok WM, Ma C, Phillips DL (2008) J Am Chem Soc 130:5131

Conti I, Martínez-Fernández L, Esposito L, Hofinger S, Nenov A, Garavelli M, Improta R (2017) Chem Eur J 23:15177

Boggio-Pasqua M, Groenhof G, Schäfer LV, Grubmüler H, Robb MA (2007) J Am Chem Soc 129:10996

Blancafort L, Migani A (2007) J Am Chem Soc 129:14540

Spata VA, Lee W, Matsika S (2016) J Phys Chem Lett 7:976

Rauer C, Nogueira JJ, Marquetand P, González L (2016) J Am Chem Soc 138:15911

Mendieta-Moreno JI, Trabada DG, Mendieta J, Lewis JP, Gómez-Puertas P, Ortega J (2016) J Phys Chem Lett 7:4391

Climent T, González-Ramírez I, González-Luque R, Merchán M, Serrano-Andrés L (2010) J Phys Chem Lett 1:2072

Wang H, Chen X (2017) Molecules 22:60

Banyasz A, Douki T, Improta R, Gustavsson T, Onidas D, Vayá I, Perron M, Markovitsi D (2012) J Am Chem Soc 134:14834

Cuquerella MC, Lhiaubet-Vallet V, Bosca F, Miranda MA (2011) Chem Sci 2:1219

Miro P, Lhiaubet-Vallet V, Marin ML, Miranda MA (2015) Chem Eur J 21:17051

Douki T, Bérard I, Wack A, Andrä S (2014) Chem Eur J 20:5787

Moore DE (2002) Drug Saf 25:345

Plasser F, Lischka H (2012) J Chem Theory Comput 8:2777

Giussani A, Serrano-Andrés L, Merchán M, Roca-Sanjuán D, Garavelli M (2013) J Phys Chem B 117:1999

Melaccio F, Olivucci M, Lindh R, Ferré N (2011) Int J Quantum Chem 111:3339

Finley J, Malmqvist PA, Roos BO, Serrano-Andrés L (1998) Chem Phys Lett 288:299

Jorgensen WL, Chandrasekhar J, Madura JD, Impey RW, Klein ML (1983) J Chem Phys 79:926

Maier JA, Martinez C, Kasavajhala K, Wickstrom L, Hauser KE, Simmerling C (2015) J Chem Theory Comput 11:3696

Knowles PJ, Werner HJ (1985) Chem Phys Lett 115:259

Plasser F, Mewes SA, Dreuw A, González L (2017) J Chem Theory Comput 13:5343

Plasser F, Wormit M, Dreuw A (2014) J Chem Phys 141:024106

Nogueira JJ, Plasser F, González L (2017) Chem Sci 8:5682

Scholes GD, Ghiggino KP (1994) J Phys Chem 98:4580

Mai S, Marquetand P, González L (2015) Int J Quantum Chem 115:1215

Rodriguez-Serrano A, Daza MC, Doerr M, Marian CM (2012) Photochem Photobiol Sci 11:397

Weingart O (2008) Chem Phys 349:348

Boggio-Pasqua M, Burmeister CF, Robb MA, Groenhof G (2012) Phys Chem Chem Phys 14:7912

Salomon-Ferrer R, Götz AW, Poole D, Le Grand S, Walker RC (2013) J Chem Theory Comput 9:3878

Case DA, Berryman JT, Betz RM, Cerutti DS, Cheatham TE III, Darden TA, Duke RE, Giese TJ, Gohlke H, Goetz AW, Homeyer N, Izadi S, Janowski P, Kaus J, Kovalenko A, Lee TS, LeGrand S, Li P, Luchko T, Luo R, Madej B, Merz KM, Monard G, Needham P, Nguyen H, Nguyen HT, Omelyan I, Onufriev A, Roe DR, Roitberg A, Salomon-Ferrer R, Simmerling CL, Smith W, Swails J, Walker RC, Wang J, Wolf RM, Wu X, York DM, Kollman PA (2015) AMBER 2015. University of California, San Francisco

Becke AD (1993) J Chem Phys 98:5648

Grimme S, Antony J, Ehrlich S, Krieg H (2010) J Chem Phys 132:154104

Hariharan PC, Pople JA (1973) Theoret Chimica Acta 28:213

Francl MM, Petro WJ, Hehre WJ, Binkley JS, Gordon MS, DeFrees DJ, Pople JA (1982) J Chem Phys 77:3654

Ufimtsev IS, Martinez TJ (2009) J Chem Theory Comput 5:2619

TeraChem v 1.9, PetaChem, LLC (2009, 2015)

Dunning TH Jr (1989) J Chem Phys 90:1007

Woon DE, Dunning TH Jr (1993) J Chem Phys 98:1358

Zobel JP, Nogueira JJ, González L (2017) Chem Sci 8:1482

Aquilante F, Autschbach J, Carlson RK, Chibotaru LF, Delcey MG, De Vico L, Galván IF, Ferré N, Frutos LM, Gagliardi L, Garavelli M, Giussani A, Hoyer CE, Li Manni G, Lischka H, Ma D, Malmqvist PÃ, Müller T, Nenov A, Olivucci M, Pedersen TB, Peng D, Plasser F, Pritchard B, Reiher M, Rivalta I, Schapiro I, Segarra-Martí J, Stenrup M, Truhlar DG, Ungur L, Valentini A, Vancoillie S, Veryazov V, Vysotskiy VP, Weingart O, Zapata F, Lindh R (2016) J Comput Chem 37:506

Wigner E (1932) Phys Rev 40:749

Møller C, Plesset MS (1934) Phys Rev 46:618

Werner HJ, Knowles PJ, Lindh R, Manby FR, Schätz M, Celani P, Korona T, Mitrushenkov A, Rauhut G, Adler TB, Amos RD, Bernhardsson A, Berning A, Cooper DL, Deegan MJO, Dobbyn AJ, Eckert F, Goll E, Hampel C, Hetzer G, Hrenar T, Knizia G, Käppl C, Liu Y, Lloyd AW, Mata RA, May AJ, McNicholas SJ, Meyer W, Mura ME, Nicklass A, Palmieri P, Pfläger K, Pitzer R, Reiher M, Schumann U, Stoll H, Stone AJ, Tarroni R, Thorsteinsson T, Wang M, Wolf A. MOLPRO, Version 2010.1, a package of ab initio programs

Richter M, Marquetand P, González-Vázquez J, Sola I, González L (2011) J Chem Theory Comput 7:1253

Tully JC (1990) J Chem Phys 93:1061

Granucci G, Persico M (2007) J Chem Phys 126:134114

Plasser F, Ruckenbauer M, Mai S, Oppel M, Marquetand P, González L (2016) J Chem Theory Comput 12:1207

Granucci G, Persico M, Zoccante A (2010) J Chem Phys 133:134111
Acknowledgements
Open access funding provided by University of Vienna. CR gratefully acknowledges the University of Vienna within the uni:docs programme for financial support. CR also thanks Chemical Monthly, Springer, the Austrian Academy of Sciences, and the Austrian Chemical Society (GÖCH) for a mobility fellowship. The authors thank Felix Plasser for fruitful discussions. The computational results have been achieved in part using the Vienna Scientific Cluster (VSC).
Rights and permissions
Open Access This article is distributed under the terms of the Creative Commons Attribution 4.0 International License (http://creativecommons.org/licenses/by/4.0/), which permits unrestricted use, distribution, and reproduction in any medium, provided you give appropriate credit to the original author(s) and the source, provide a link to the Creative Commons license, and indicate if changes were made.
About this article
Cite this article
Rauer, C., Nogueira, J.J., Marquetand, P. et al. Stepwise photosensitized thymine dimerization mediated by an exciton intermediate. Monatsh Chem 149, 1–9 (2018). https://doi.org/10.1007/s00706-017-2108-4
Received:

Accepted:

Published:

Issue Date:

DOI: https://doi.org/10.1007/s00706-017-2108-4
Keywords
DNA

Thymine dimerization

Quantum chemical calculations

Non-adiabatic dynamics

Wavefunction analysis

Charge transfer