Abstract
A self-powered photoelectrochemical (PEC) aptamer probe is presented for the determination of oxytetracycline (OTC). The assay is based on the use of g-C3N4 and NiO nanocrystals (NCs) which form a heterojunction. The latter was prepared by two-step hydrothermal pyrolysis by using the ionic liquid 1-hydroxyethyl-3-methylimidazole chloride which functions as a morphological template to form NiO NCs. The heterojunction exhibits much better electronic conductivity, wider absorption range, higher electron-hole-separation productivity, and stronger photocurrent compared to plain g-C3N4. The heterojunction was adopted to construct a self-powered PEC aptamer probe for OTC detection. An OTC-binding aptamer was immobilized on the heterojunction and the probe was constructed. The aptamer on the probe binding with OTC can form steric hindrance for transmitting of electrons and cause the PEC signal change depending on the OTC concentration. The photocurrent decreases with increasing OTC concentration in the 0.01 to 100 nM concentration range and its detection limit is 4 pM (at S/N = 3).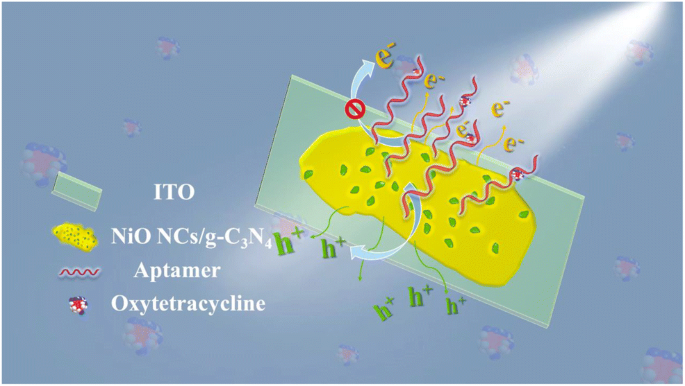 This is a preview of subscription content, log in to check access.
Access options
Buy single article
Instant access to the full article PDF.
US$ 39.95
Tax calculation will be finalised during checkout.
Subscribe to journal
Immediate online access to all issues from 2019. Subscription will auto renew annually.
US$ 119
Tax calculation will be finalised during checkout.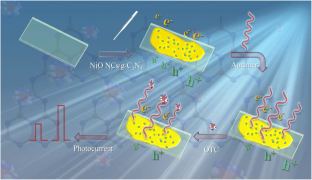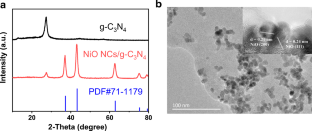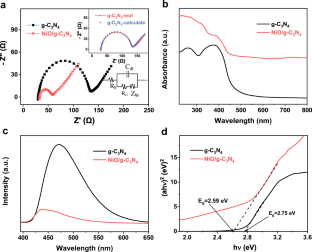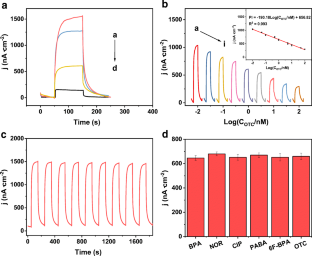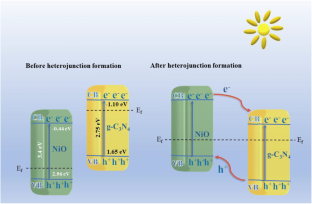 Acknowledgements
This work has been financially supported by the National Natural Science Foundation of China (No. 21705058), Six Talent Peaks Project of Jiangsu Province (XNY-009), the Provincial Natural Science Foundation of Jiangsu (No. BK20170524, BK20160492), Chinese Postdoctoral Foundation (2018 T110450), High-tech Research Key laboratory of Zhenjiang (SS2018002) and a Project Funded by the Priority Academic Program Development of Jiangsu Higher Education Institutions, Jiangsu University Scientific Research Funding (17JDG007).
Additional information
Publisher's note
Springer Nature remains neutral with regard to jurisdictional claims in published maps and institutional affiliations.
Electronic supplementary material
About this article
Cite this article
Duan, W., Yan, P., Dong, J. et al. A self-powered photoelectrochemical aptamer probe for oxytetracycline based on the use of a NiO nanocrystal/g-C3N4 heterojunction. Microchim Acta 186, 737 (2019). https://doi.org/10.1007/s00604-019-3856-0
Received:

Accepted:

Published:
Keywords
NiO

g-C3N4

Heterojunction

Ionic liquid

Self-power

Nanocrystals

PEC

Aptamer

Oxytetracycline

High sensitivity