Abstract
Purpose
To evaluate the MRI findings of the craniocervical junction ligaments and compare the 2D TSE sequence and 3D SPACE sequence on cervical spine MRI.
Methods
Eighty cervical spine MRIs were retrospectively analyzed, including 2D TSE and 3D SPACE sequences. The visibility and morphology of the transverse ligament (TL) and alar ligament (AL) were evaluated by two readers using a five-point grading scale for visibility (1 = not visible, 2 = barely visible, 3 = adequately visible, 4 = good visibility, 5 = excellent visibility) and a four-point grading scale for morphology (0 = homogeneous low SI with normal thickness, 1 = high SI with normal thickness, 2 = reduced thickness, 3 = full-thickness rupture or indistinguishable from surrounding structures). The grades of the two sequences were compared. Reader agreements were measured using the percentage of exact agreement.
Result
The visibility grade of TL was significantly higher in 3D, indicating better visualization. The morphology grade of TL was significantly lower in the 3D, indicating more normal-appearing ligament. The exact agreements of visibility and morphology grade of TL tended to be higher in 3D. On the other hand, there was no significant difference in visibility grade of AL between the two sequences. The morphological grade of AL was significantly higher in 3D. The agreement of the morphological grade of AL tended to be lower in 3D.
Conclusion
The utilization of 3D sequences significantly improves the visibility of TL and could potentially reduce false-positive diagnoses of ligament injury.
Access options
Buy single article
Instant access to the full article PDF.
USD 39.95
Price excludes VAT (USA)
Tax calculation will be finalised during checkout.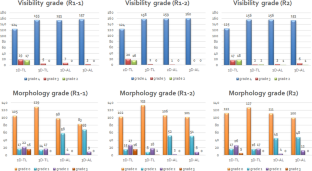 Abbreviations
CCJ:

Craniocervical junction

TL:

Transverse ligament

AL:

Alar ligament

TSE:

Turbo spin echo

SPACE:

Sampling perfection with application-optimized contrasts using flip angle evolution

3D:

Three-dimensional

2D:

Two-dimensional
References
Riascos R, Bonfante E, Cotes C, Guirguis M, Hakimelahi R, West C (2015) Imaging of atlanto-occipital and atlantoaxial traumatic injuries: what the radiologist needs to know. Radiographics 35:2121–2134. https://doi.org/10.1148/rg.2015150035

Tubbs RS, Hallock JD, Radcliff V, Naftel RP, Mortazavi M, Shoja MM, Loukas M, Cohen-Gadol AA (2011) Ligaments of the craniocervical junction. J Neurosurg Spine 14:697–709. https://doi.org/10.3171/2011.1.SPINE10612

Krakenes J, Kaale BR, Moen G, Nordli H, Gilhus NE, Rorvik J (2002) MRI assessment of the alar ligaments in the late stage of whiplash injury–a study of structural abnormalities and observer agreement. Neuroradiology 44:617–624. https://doi.org/10.1007/s00234-002-0799-6

Ulbrich EJ, Eigenheer S, Boesch C, Hodler J, Busato A, Schraner C, Anderson SE, Bonel H, Zimmermann H, Sturzenegger M (2011) Alterations of the transverse ligament: an MRI study comparing patients with acute whiplash and matched control subjects. AJR Am J Roentgenol 197:961–967. https://doi.org/10.2214/AJR.10.6321

Myran R, Kvistad KA, Nygaard OP, Andresen H, Folvik M, Zwart JA (2008) Magnetic resonance imaging assessment of the alar ligaments in whiplash injuries: a case-control study. Spine (Phila Pa 1976) 33:2012–2016. https://doi.org/10.1097/BRS.0b013e31817bb0bd

Kwan O (2003) MRI assessment of the alar ligaments in the late stage of whiplash injury. Neuroradiology 45:197–198. https://doi.org/10.1007/s00234-002-0905-9

Peters B, Parizel PM, Van Goethem JW (2020) Age-related changes to the craniocervical ligaments in asymptomatic subjects: a prospective MR study. Eur Spine J 29:1029–1035. https://doi.org/10.1007/s00586-020-06302-0

Lummel N, Zeif C, Kloetzer A, Linn J, Bruckmann H, Bitterling H (2011) Variability of morphology and signal intensity of alar ligaments in healthy volunteers using MR imaging. AJNR Am J Neuroradiol 32:125–130. https://doi.org/10.3174/ajnr.A2255

Wenz H, Kerl HU, Maros ME, Wenz R, Kalvin K, Groden C, Nolte I (2015) Signal changes of the alar ligament in a healthy population: A dispositional or degenerative consequence? J Neurosurg Spine 23:544–550. https://doi.org/10.3171/2015.1.SPINE141214

Baumert B, Wortler K, Steffinger D, Schmidt GP, Reiser MF, Baur-Melnyk A (2009) Assessment of the internal craniocervical ligaments with a new magnetic resonance imaging sequence: three-dimensional turbo spin echo with variable flip-angle distribution (SPACE). Magn Reson Imaging 27:954–960. https://doi.org/10.1016/j.mri.2009.01.012

Melhem ER (2000) Technical challenges in MR imaging of the cervical spine and cord. Magn Reson Imaging Clin N Am 8:435–452

Kwon JW, Yoon YC, Choi SH (2012) Three-dimensional isotropic T2-weighted cervical MRI at 3T: comparison with two-dimensional T2-weighted sequences. Clin Radiol 67:106–113. https://doi.org/10.1016/j.crad.2011.06.011

Pfirrmann CW, Binkert CA, Zanetti M, Boos N, Hodler J (2001) MR morphology of alar ligaments and occipitoatlantoaxial joints: study in 50 asymptomatic subjects. Radiology 218:133–137. https://doi.org/10.1148/radiology.218.1.r01ja36133

Meindl T, Wirth S, Weckbach S, Dietrich O, Reiser M, Schoenberg SO (2009) Magnetic resonance imaging of the cervical spine: comparison of 2D T2-weighted turbo spin echo, 2D T2*weighted gradient-recalled echo and 3D T2-weighted variable flip-angle turbo spin echo sequences. Eur Radiol 19:713–721. https://doi.org/10.1007/s00330-008-1175-7

Banjar M, Nor FEM, Singh P, Horiuchi S, Quek ST, Yoshioka H (2021) Comparison of visibility of ulnar sided triangular fibrocartilage complex (TFCC) ligaments between isotropic three-dimensional and two-dimensional high-resolution FSE MR images. Eur J Radiol 134:109418. https://doi.org/10.1016/j.ejrad.2020.109418

Horiuchi S, Nozaki T, Tasaki A, Ohde S, Deshpande GA, Starkey J, Hara T, Kitamura N, Yoshioka H (2018) Comparison between isotropic 3-dimensional fat-suppressed T2-weighted fast spin echo (FSE) and conventional 2-dimensional fat-suppressed proton-weighted FSE shoulder magnetic resonance imaging at 3-T in patients with shoulder pain. J Comput Assist Tomogr 42:559–565. https://doi.org/10.1097/RCT.0000000000000721

Graham M, Milanowski A, Miller J (2012) Measuring and promoting inter-rater agreement of teacher and principal performance ratings center for educator compensation reform

Fu MC, Buerba RA, Neway WE 3rd, Brown JE, Trivedi M, Lischuk AW, Haims AH, Grauer JN (2016) Three-dimensional isotropic MRI of the cervical spine: a diagnostic comparison with conventional MRI. Clin Spine Surg 29:66–71. https://doi.org/10.1097/BSD.0b013e3182a355e5

Chokshi FH, Sadigh G, Carpenter W, Allen JW (2017) Diagnostic quality of 3D T2-SPACE compared with T2-FSE in the evaluation of cervical spine MRI anatomy. AJNR Am J Neuroradiol 38:846–850. https://doi.org/10.3174/ajnr.A5080
Ethics declarations
Conflict of interest
None of the authors has any potential conflict of interest.
Additional information
Publisher's Note
Springer Nature remains neutral with regard to jurisdictional claims in published maps and institutional affiliations.
Rights and permissions
Springer Nature or its licensor (e.g. a society or other partner) holds exclusive rights to this article under a publishing agreement with the author(s) or other rightsholder(s); author self-archiving of the accepted manuscript version of this article is solely governed by the terms of such publishing agreement and applicable law.
About this article
Cite this article
Chung, B.M., Kim, S., Yim, Y. et al. Comparison between 2D TSE and 3D SPACE in the evaluation of craniocervical ligaments. Eur Spine J 32, 361–367 (2023). https://doi.org/10.1007/s00586-022-07459-6
Received:

Revised:

Accepted:

Published:

Issue Date:

DOI: https://doi.org/10.1007/s00586-022-07459-6
Keywords
3D

SPACE

TSE

Ligaments

Craniocervical junction