Abstract
Purpose
This study aimed to compare clinical results and fusion rates of uncoated polyetheretherketone (PEEK) cages with titanium-coated PEEK cages in posterior lumbar interbody fusion (PLIF) surgery.
Methods
A prospective randomised study including 60 patients with one- or two-segment lumbar degenerative diseases. Patients received either titanium-coated PEEK cages (group A) or uncoated PEEK cages (group B). Fusion rates were evaluated on plain X-rays and CT scans after 6 and 12 months. Clinical follow-up (visual analogue scale, VAS; Oswestry Disability Index score, ODI; EQ-5D) was performed for 24 months.
Results
Fifty-five patients (92%) (36 female, 19 male) had a complete follow-up. There were no statistically significant differences in demographic, peri- or intraoperative data between groups A and B. ODI, VAS and EQ-5D improved significantly (p < 0.001) after surgery without statistically significant differences between the two groups. Overall, 65 operated segments could be evaluated for fusion (group A: 29 segments, group B: 36 segments, p = 0.6). Osseous integration of the cage surface improved significantly (p < 0.001) in both groups between 6 and 12 months after surgery. At 12-month follow-up, neither radiolucency nor signs of instability or dislocation were noted. Fusion was present in CT scans as follows: (a) bone growth through cage pores (A: 100%, B: 100%); (b) bone growth outside the cages (A: 48%, B: 61%; p = 0.3).
Conclusions
PEEK and titanium-coated PEEK cages for PLIF produce equally favourable clinical and radiological results up to 24 months post-surgery. The fusion rate was not different.
Access options
Buy single article
Instant access to the full article PDF.
US$ 39.95
Tax calculation will be finalised during checkout.
Subscribe to journal
Immediate online access to all issues from 2019. Subscription will auto renew annually.
US$ 119
Tax calculation will be finalised during checkout.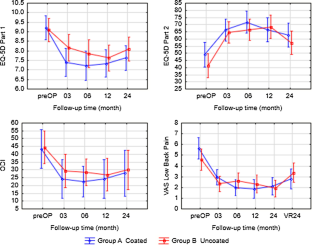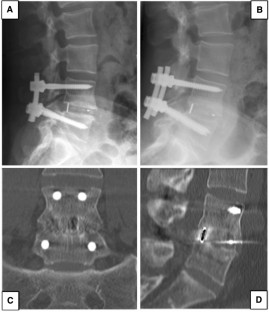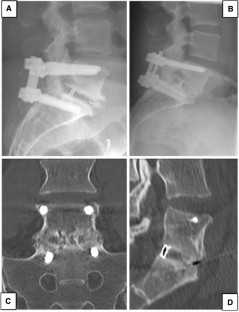 References
1.

Agazzi S, Reverdin A, May D (1999) Posterior lumbar interbody fusion with cages: an independent review of 71 cases. J Neurosurg 91:186–192

2.

Fritzell P, Hägg O, Wessberg P, Nordwall A, Swedish Lumbar Spine Study Group (2002) Chronic low back pain and fusion: a comparison of three surgical techniques: a prospective multicenter randomized study from the Swedish lumbar spine study group. Spine 27:1131–1141

3.

Kim KT, Lee SH, Lee YH, Bae SC, Suk KS (2006) Clinical outcomes of 3 fusion methods through the posterior approach in the lumbar spine. Spine 31:1351–1357

4.

Abbushi A, Cabraja M, Thomale UW, Woiciechowsky C, Kroppenstedt SN (2009) The influence of cage positioning and cage type on cage migration and fusion rates in patients with monosegmental posterior lumbar interbody fusion and posterior fixation. Eur Spine J 18:1621–1628

5.

Jiya T, Smit T, Deddens J, Mullender M (2009) Posterior lumbar interbody fusion using nonresorbable poly-ether-ether-ketone versus resorbable poly-L-lactide-co-D, L-lactide fusion device: a prospective, randomized study to assess fusion and clinical outcome. Spine 34:233–237

6.

Cutler AR, Siddiqui S, Mohan AL, Hilard VH, Cerabona F, Das K (2006) Comparison of polyetheretherketone cages with femoral cortical bone allograft as a single-piece interbody spacer in transforaminal lumbar interbody fusion. J Neurosurg Spine 5:534–539

7.

Okuyama K, Kido T, Unoki E, Chiba M (2007) PLIF with a titanium cage and excised facet joint bone for degenerative spondylolisthesis—in augmentation with a pedicle screw. J Spinal Disord Tech 20:53–59

8.

Kurtz SM, Devine JN (2007) PEEK biomaterials in trauma, orthopedic, and spinal implants. Biomaterials 28:4845–4869

9.

Ferguson SJ, Visser JM, Polikeit A (2006) The long-term mechanical integrity of non-reinforced PEEK-OPTIMA polymer for demanding spinal applications: experimental and finite-element analysis. Eur Spine J 15:149–156

10.

Vadapalli S, Sairyo K, Goel VK, Robon M, Biyani A, Khanda A, Ebraheim NA (2006) Biomechanical rationale for using polyetheretherketone (PEEK) spacers for lumbar interbody fusion—a finite element study. Spine 31:E992-998

11.

Disegi JA (2000) Titanium alloys for fracture fixation implants. Injury 31(Suppl 4):14–17

12.

Kienapfel H, Sprey C, Wilke A, Griss P (1999) Implant fixation by bone ingrowth. J Arthroplasty 14:355–368

13.

Gittens RA, Olivares-Navarrete R, Schwartz Z, Boyan BD (2014) Implant osseointegration and the role of microroughness and nanostructures: lessons for spine implants. Acta Biomater 10:3363–3371

14.

Assem Y, Mobbs RJ, Pelletier MH, Phan K, Walsh WR (2017) Radiological and clinical outcomes of novel Ti/PEEK combined spinal fusion cages: a systematic review and preclinical evaluation. Eur Spine J 26:593–605

15.

McAfee PC (1999) Interbody fusion cages in reconstructive operations on the spine. J Bone Joint Surg Am 81:859–880

16.

Nemoto O, Asazuma T, Yato Y, Imabayashi H, Yasuoka H, Fujikawa A (2014) Comparison of fusion rates following transforaminal lumbar interbody fusion using polyetheretherketone cages or titanium cages with transpedicular instrumentation. Eur Spine J 23:2150–2155

17.

Blumenthal SL, Gill K (1993) Can lumbar spine radiographs accurately determine fusion in postoperative patients? Correlation of routine radiographs with a second surgical look at lumbar fusions. Spine Phila Pa 1976 18:1186–1189

18.

Siambanes D, Mather S (1998) Comparison of plain radiographs and CT scans in instrumented posterior lumbar interbody fusion. Orthopedics 21:165–167

19.

Cook SD, Patron LP, Christakis PM, Bailey KJ, Banta C, Glazer PA (2004) Comparison of methods for determining the presence and extent of anterior lumbar interbody fusion. Spine Phila Pa 1976 29:1118–1123

20.

Huang H, Jiang C, Feng Z, Jiang X (2014) Comparing the process of creeping substitution between allograft bone and local bone grafting in lumbar interbody fusion. Eur Spine J 23:2068–2074

21.

Tuchman A, Brodke DS, Youssef JA, Meisel HJ, Dettori JR, Park JB, Yoon ST, Wang JC (2016) Iliac crest bone graft versus local autograft or allograft for lumbar spinal fusion: a systematic review. Glob Spine J 6:592–606

22.

Lan T, Hu SY, Zhang YT, Zheng YC, Zhang R, Shen Z, Yang XJ (2018) Comparison between posterior lumbar interbody fusion and transforaminal lumbar interbody fusion for the treatment of lumbar degenerative diseases: a systematic review and meta-analysis. World Neurosurg 112:86–93

23.

Borgeat A, Ofner C, Saporito A, Farshad M, Aguirre J (2018) The effect of nonsteroidal anti-inflammatory drugs on bone healing in humans: a qualitative, systematic review. J Clin Anesth 49:92–100

24.

Sakaura H, Ohnishi A, Yamagishi A, Ohwada T (2019) Early fusion status after posterior lumbar interbody fusion with cortical bone tajectory screw fixation: a comparison of titanium-coated polyetheretherketone cages and carbon polyetheretherketone cages. Asian Spine J 13:248–253

25.

Manabe H, Sakai T, Morimoto M, Tezuka F, Yamashita K, Takata Y, Sairyo K (2019) Radiological outcomes of posterior lumbar interbody fusion using a titanium-coated PEEK cage. J Med Invest 66:119–122

26.

Rickert M, Fleege C, Tarhan T, Schreiner S, Makowski MR, Rauschmann M, Arabmotlagh M (2017) Transforaminal lumbar interbody fusion using polyetheretherketone oblique cages with and without a titanium coating: a randomised clinical pilot study. Bone Joint J 99-B:1366–1372

27.

Hasegawa T, Ushirozako H, Shigeto E, Ohba T, Oba H, Mukaiyama K, Shimizu S, Yamato Y, Ide K, Shibata Y, Ojima T, Takahashi J, Haro H, Matsuyama Y (2020) The titanium-coated PEEK cage maintains better bone fusion with the endplate than the PEEK cage 6 months after PLIF surgery—a multicenter, prospective, randomized study. Spine Phila Pa 1976. https://doi.org/10.1097/BRS.0000000000003464
Acknowledgement
We would like to thank our colleagues Stephan Weil, Wolfgang Dube, and Sarah Winkelkotte for their invaluable support for this study.
Funding
This study was supported with a financial grant by Advanced Medical Technologies AG, Germany.
Ethics declarations
Conflict of interest
Dr. Schnake received renumeration for consulting from Advanced Medical Technology AG, Germany. The other authors report no conflict of interest.
Additional information
Publisher's Note
Springer Nature remains neutral with regard to jurisdictional claims in published maps and institutional affiliations.
About this article
Cite this article
Schnake, K.J., Fleiter, N., Hoffmann, C. et al. PLIF surgery with titanium-coated PEEK or uncoated PEEK cages: a prospective randomised clinical and radiological study. Eur Spine J (2020). https://doi.org/10.1007/s00586-020-06642-x
Received:

Revised:

Accepted:

Published:
Keywords
Titanium-coated cage

PEEK cage

Lumbar spine

Randomised controlled trial

Posterior lumbar interbody fusion