Abstract
Purpose
Abnormal stress in the lumbar vertebra, also known as bony stress, can be a precursor to degenerative changes which may manifest as low back pain (LBP). However, the prevalence of bony stress in the lumbar spine and its relationship with degenerative changes and LBP is unclear. The purpose of this study was to evaluate the prevalence of bony stress in the lumbar spine and its relationship with intervertebral disc (IVD) degeneration, facet osteoarthritis and LBP in patients under 25 years of age.
Methods
A retrospective case–control study of 130 patients under 25 years of age was conducted from a population of 493 patients who had lumbar MRI across three imaging centres over three years. A cohort of 55 consecutive patients with bony stress was identified. A control group of consecutive patients (n = 75) without bony stress was also selected from the population.
Results
Bony stress was prevalent in 11% (95% CI [8.4–14.5%]) of patients and was not diagnosed in 36% (95% CI [22–55%]) of these cases. Patients with bony stress had over twofold (OR 2.3, 95% CI [1.1–4.8]) and fivefold (OR 5.3, 95% CI [2.11–13.3]) higher likelihood of having IVD degeneration and LBP, respectively, when compared with the control group. Bony stress was not found to be associated with facet osteoarthritis.
Conclusion
Bony stress in the lumbar spine was prevalent in 11% of patients under 25 years of age. It was commonly undiagnosed in radiology reports (not reported in 36% of the cases). Being significantly associated and with an increased likelihood of IVD degeneration and LBP, we posit that bony stress is likely a symptomatic and clinically meaningful diagnostic entity in the assessment of LBP.
Graphic abstract
These slides can be retrieved under Electronic Supplementary Material.

Access options
Buy single article
Instant access to the full article PDF.
US$ 39.95
Tax calculation will be finalised during checkout.
Subscribe to journal
Immediate online access to all issues from 2019. Subscription will auto renew annually.
US$ 119
Tax calculation will be finalised during checkout.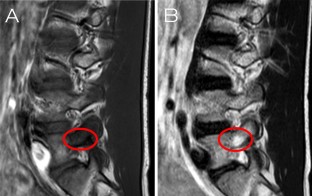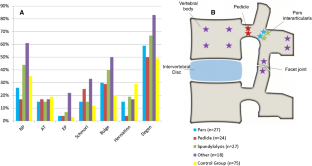 References
1.

Fredrickson BE, Baker D, McHolick WJ, Yuan HA, Lubicky JP (1984) The natural history of spondylolysis and spondylolisthesis. J Bone Joint Surg Am 66(5):699–707

2.

Beutler WJ, Fredrickson BE, Murtland A, Sweeney CA, Grant WD, Baker D (2003) The natural history of spondylolysis and spondylolisthesis: 45-year follow-up evaluation. Spine 28:1027–1035

3.

Iorio JA, Jakoi AM, Singla A (2016) Biomechanics of degenerative spinal disorders. Asian Spine J 10:377–384. https://doi.org/10.4184/asj.2016.10.2.377

4.

Pollintine P, Dolan P, Tobias JH, Adams MA (2004) Intervertebral disc degeneration can lead to "stress-shielding" of the anterior vertebral body: a cause of osteoporotic vertebral fracture? Spine 29:774–782

5.

Benoist M (2003) Natural history of the aging spine. Eur Spine J 12:S86–S89. https://doi.org/10.1007/s00586-003-0593-0

6.

Hollenberg GM, Beattie PF, Meyers SP, Weinberg EP, Adams MJ (2002) Stress reactions of the lumbar pars interarticularis: the development of a new MRI classification system. Spine 27:181–186

7.

Sharma A, Lancaster S, Bagade S, Hildebolt C (2014) Early pattern of degenerative changes in individual components of intervertebral discs in stressed and nonstressed segments of lumbar spine: an in vivo magnetic resonance imaging study. Spine 39:1084–1090. https://doi.org/10.1097/brs.0265

8.

Sharma A, Sargar K, Salter A (2017) Temporal evolution of disc in young patients with low back pain and stress reaction in lumbar vertebrae. Am J Neuroradiol 38:1647–1652. https://doi.org/10.3174/ajnr.A5237

9.

Suthar P, Patel R, Mehta C, Patel N (2015) MRI evaluation of lumbar disc degenerative disease. J Clin Diagn Res 9:TC04–TC09. https://doi.org/10.7860/JCDR/2015/11927.5761

10.

Blum A, Roch D, Loeuille D, Louis M, Batch T, Lecocq S, Witte Y (2009) Bone marrow edema: definition, diagnostic value and prognostic value. J Radiol 90(12):1789–1811

11.

Choi Y-S (2009) Pathophysiology of degenerative disc disease. Asian Spine J 3:39–44. https://doi.org/10.4184/asj.2009.3.1.39

12.

Rea W, Kapur S, Mutagi H (2012) Intervertebral disc as a source of pain. Contin Educ Anaesth Crit Care Pain 12:279–282. https://doi.org/10.1093/bjaceaccp/mks028

13.

Congeni J, McCulloch J, Swanson K (1997) Lumbar spondylolysis. A study of natural progression in athletes. Am J Sports Med 25:248–253

14.

Maurer M, Soder RB, Baldisserotto M (2011) Spine abnormalities depicted by magnetic resonance imaging in adolescent rowers. Am J Sports Med 39:392–397. https://doi.org/10.1177/0363546510381365

15.

Ranson CA, Burnett AF, Kerslake RW (2010) Injuries to the lower back in elite fast bowlers: acute stress changes on MRI predict stress fracture. J Bone Joint Surg Br 92:1664–1668. https://doi.org/10.1302/0301-620X.92B12.24913

16.

Griffith JF, Wang YX, Antonio GE, Choi KC, Yu A, Ahuja AT, Leung PC (2007) Modified Pfirrmann grading system for lumbar intervertebral disc degeneration. Spine 32(24):E708–E712

17.

Deyo RA, Rainville J, Kent DL (1992) What can the history and physical examination tell us about low back pain? JAMA 268:760–765

18.

Krismer M, van Tulder M (2007) Low back pain (non-specific). Best Pract Res Clin Rheumatol 21:77–91. https://doi.org/10.1016/j.berh.2006.08.004

19.

Taher F, Essig D, Lebl DR, Hughes AP, Sama AA, Cammisa FP, Girardi FP (2012) Lumbar degenerative disc disease: current and future concepts of diagnosis and management. Adv Orthop 2012:970752. https://doi.org/10.1155/2012/970752

20.

Lee JW, Shin HI, Park SY, Lee GY, Kang HS (2010) Therapeutic trial of fluoroscopic interlaminar epidural steroid injection for axial low back pain: effectiveness and outcome predictors. Am J Neuroradiol 31:1817

21.

Urrutia J, Besa P, Campos M, Cikutovic P, Cabezon M, Molina M, Cruz JP (2016) The Pfirrmann classification of lumbar intervertebral disc degeneration: an independent inter- and intra-observer agreement assessment. Eur Spine J 25(9):2728–2733. https://doi.org/10.1007/s00586-016-4438-z

22.

Vialle LR, Vialle EN, Suárez Henao JE, Giraldo G (2010) Lumbar disc herniation. Revista Brasileira de Ortopedia 45:17–22. https://doi.org/10.1016/S2255-4971(15)30211-1

23.

Williams FMK, Manek NJ, Sambrook PN, Spector TD, Macgregor AJ (2007) Schmorl's nodes: common, highly heritable, and related to lumbar disc disease. Arthritis Care Res 57:855–860. https://doi.org/10.1002/art.22789

24.

Zhang Y-H, Zhao C-Q, Jiang L-S, Chen X-D, Dai L-Y (2008) Modic changes: a systematic review of the literature. Eur Spine J 17:1289–1299. https://doi.org/10.1007/s00586-008-0758-y

25.

Sabnis AB, Chamoli U (2018) Diwan AD Is L5–S1 motion segment different from the rest? A radiographic kinematic assessment of 72 patients with chronic low back pain. Eur Spine J 27(5):1127–1135. https://doi.org/10.1007/s00586-017-5400-4

26.

Landis JR, Koch GG (1977) The measurement of observer agreement for categorical data. Biometrics 33:159174

27.

Anderson K, Sarwark JF, Conway JJ, Logue ES, Schafer MF (2000) Quantitative assessment with SPECT imaging of stress injuries of the pars interarticularis and response to bracing. J Pediatr Orthop 20:28–33

28.

Campbell RS, Grainger AJ, Hide IG, Papastefanou S, Greenough CG (2005) Juvenile spondylolysis: a comparative analysis of CT, SPECT and MRI. Skeletal Radiol 34:63–73

29.

Yamaguchi KT, Skaggs DL, Acevedo DC, Myung KS, Choi P, Andras L (2012) Spondylolysis is frequently missed by MRI in adolescents with back pain. J Child Orthop 6:237–240. https://doi.org/10.1007/s11832-012-0409-z

30.

Teraguchi M, Yoshimura N, Hashizume H, Muraki S, Yamada H, Oka H, Minamide A, Nakagawa H, Ishimoto Y, Nagata K, Kagotani R, Tanaka S, Kawaguchi H, Nakamura K, Akune T, Yoshida M (2015) The association of combination of disc degeneration, end plate signal change, and Schmorl node with low back pain in a large population study: the Wakayama Spine Study. Spine J 15(4):622–628. https://doi.org/10.1016/j.spinee.2014.11.012

31.

Millson HB, Gray J, Stretch RA, Lambert MI (2004) Dissociation between back pain and bone stress reaction as measured by CT scan in young cricket fast bowlers. Br J Sports Med 38:586

32.

Bouras T, Korovessis P (2015) Management of spondylolysis and low-grade spondylolisthesis in fine athletes. A comprehensive review. Eur J Orthop Surg Traumatol 25:S167–S175. https://doi.org/10.1007/s00590-014-1560-7

33.

Lee GW, Lee SM, Ahn MW, Kim HJ, Yeom JS (2015) Comparison of surgical treatment with direct repair versus conservative treatment in young patients with spondylolysis: a prospective, comparative, clinical trial. Spine J 15:1545–1553. https://doi.org/10.1016/j.spinee.2015.02.019

34.

Mohriak R, Vargas Silva PD, Trandafilov M Jr, Martins DE, Wajchenberg M, Cohen M, Puertas EB (2010) Spondylolysis and spondylolisthesis in young gymnasts. Rev Bras Ortop 45:79–83. https://doi.org/10.1016/S2255-4971(15)30221-4

35.

Morita T, Ikata T, Katoh S, Miyake R (1995) Lumbar spondylolysis in children and adolescents. J Bone Joint Surg Br 77:620–625

36.

Scheepers MS, Streak Gomersall J, Munn Z (2015) The effectiveness of surgical versus conservative treatment for symptomatic unilateral spondylolysis of the lumbar spine in athletes: a systematic review. JBI Database System Rev Implement Rep 13(3):137–173. https://doi.org/10.11124/jbisrir-2015-1926

37.

Maher C, Underwood M, Buchbinder R (2017) Non-specific low back pain. Lancet 389:736–747. https://doi.org/10.1016/S0140-6736(16)30970-9

38.

Adams MA, Freeman BJ, Morrison HP, Nelson IW, Dolan P (2000) Mechanical initiation of intervertebral disc degeneration. Spine 25:1625–1636

39.

Duncan NA, Ahmed AM (1991) The role of axial rotation in the etiology of unilateral disc prolapse. An experimental and finite-element analysis. Spine (Phila Pa 1976) 16:1089–1098

40.

Veres SP, Robertson PA, Broom ND (2010) The influence of torsion on disc herniation when combined with flexion. Eur Spine J 19:1468–1478. https://doi.org/10.1007/s00586-010-1383-0
Acknowledgements
The authors thank Sue Pohlmann at St. George MRI and Healthcare Imaging for providing logistical support and access to de-identified patient MRI data, Ritin Fernandes and Laura Ellwood at the Centre for Research in Nursing and Health for advice on statistical analyses and valuable inputs on this manuscript.
Funding
This work was supported by an Australian Government Research Training Program Scholarship and a University Postgraduate Award to KS, a National Health and Medical Research Council Australia Career Development Fellowship (GNT1123014) to DS, and internal research funds from Spine Service.
Ethics declarations
Ethical approval
Ethical approval was obtained from the Human Research Ethics Committee of the University of NSW (NRR-HC180423) prior to conducting this study.
Additional information
Publisher's Note
Springer Nature remains neutral with regard to jurisdictional claims in published maps and institutional affiliations.
Electronic supplementary material
Below is the link to the electronic supplementary material.
About this article
Cite this article
Chepurin, D., Chamoli, U., Sheldrick, K. et al. Bony stress in the lumbar spine is associated with intervertebral disc degeneration and low back pain: a retrospective case–control MRI study of patients under 25 years of age. Eur Spine J 28, 2470–2477 (2019). https://doi.org/10.1007/s00586-019-06148-1
Received:

Revised:

Accepted:

Published:

Issue Date:
Keywords
Bony stress

MRI

Lumbar spine

Disc degeneration

Facet osteoarthritis