Abstract
Main Problem: The purpose of this study was to validate the psychometric properties of the functional rating index (FRI), establish the instrument's minimum clinically important difference (MCID), and compare its psychometric properties with the Oswestry questionnaire. Methods: This was a cohort study of patients with low back pain (LBP) undergoing physical therapy. One thirty one patients with a primary complaint of LBP participating in a clinical trial were assessed at baseline and at a 1- and 4-week follow-up. Test-re-test reliability was examined using the intraclass correlation coefficient, and validity was examined by determining the association between the FRI and Oswestry, a concurrent measure of disability. Responsiveness was examined by calculating the standard error of the measure, minimum detectable change, area under a receiver operating characteristic curve, and minimum clinically important difference. Changes in clinical status at each follow-up period were compared to the average of the patient and therapist's perceived improvement using the 15-point global rating of change scale. Results: Test-retest reliability of the FRI was moderate, with an intraclass correlation coefficient equal to 0.63 (0.35, 0.80). Validity of the FRI was supported by a moderate correlation between the FRI and Oswestry (r=0.67, P<0.001). Area under the curve for the FRI was 0.93 (0.89, 0.98), and the minimum clinically important difference was approximately nine points. Conclusions: The FRI is less reliable than the Oswestry but appears to have comparable validity and responsiveness. Before the FRI can be recommended for widespread use in patients with neck and low back pain, it should be further tested in patients with neck pain.
Access options
Buy single article
Instant access to the full article PDF.
US$ 39.95
Tax calculation will be finalised during checkout.
Subscribe to journal
Immediate online access to all issues from 2019. Subscription will auto renew annually.
US$ 119
Tax calculation will be finalised during checkout.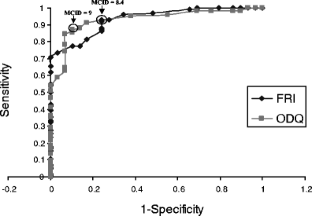 References
1.

Deyo RA, Phillips WR (1996) Low back pain. A primary care challenge. Spine 21:2826–2832

2.

Cote P, Cassidy JD, Carroll L (2000) The factors associated with neck pain and its related disability in the Saskatchewan population. Spine 25:1109–1117

3.

Fairbank JC, Pynsent PB (2000) The Oswestry Disability Index. Spine 25:2940–2953

4.

Vernon H, Mior S (1991) The neck disability index: a study of reliability and validity. J Manipulative Physiol Ther 14:409–415

5.

Feise RJ, Michael MJ (2001) Functional rating index: a new valid and reliable instrument to measure the magnitude of clinical change in spinal conditions. Spine 26:78–86

6.

Bayar B, Bayar K, Yakut E, Yakut Y (2004) Reliability and validity of the Functional Rating Index in older people with low back pain: preliminary report. Aging Clin Exp Res 16:49–52

7.

Childs JD, Fritz JM, Flynn TW, Irrgang JJ, Delitto A, Johnson KK, Majkowski GR (2004) Validation of a clinical prediction rule to identify patients likely to benefit from spinal manipulation: a randomized clinical trial. Ann Intern Med (in Press)

8.

Fritz JM, Irrgang JJ (2001) A comparison of a modified oswestry low back pain disability questionnaire and the quebec back pain disability scale. Phys Ther 81:776–788

9.

Jaeschke R, Singer J, Guyatt GH (1989) Measurement of health status. Ascertaining the minimal clinically important difference. Control Clin Trials 10:407–415

10.

Goldsmith CH, Boers M, Bombardier C, Tugwell P (1993) Criteria for clinically important changes in outcomes: development scoring and evaluation of rheumatoid arthritis patient and trial profiles. OMERACT Committee. J Rheumatol 20:561–565

11.

Juniper EF, Guyatt GH, Willan A, Griffith LE (1994) Determining a minimal important change in a disease-specific quality of life questionnaire. J Clin Epidemiol 47:81–87

12.

Shrout PE, Fleiss JL (1979) Intraclass correlations: uses in assessing rater reliability. Psychol Bull 86:420–428

13.

Wyrwich KW, TierneyWM, Wolinsky FD (1999) Further evidence supporting an SEM-based criterion for identifying meaningful intra-individual changes in health-related quality of life. J Clin Epidemiol 52:861–873

14.

Eliasziw M, Young SL, Woodbury MG, Fryday-Field K (1994) Statistical methodology for the concurrent assessment of interrater and intrarater reliability: using goniometric measurements as an example. Phys Ther 74:777–788

15.

Roebroeck ME, Harlaar J, Lankhorst GJ (1993) The application of generalizability theory to reliability assessment: an illustration using isometric force measurements. Phys Ther 73:386–395

16.

Wyrwich KW, Nienaber NA, Tierney WM, Wolinsky FD (1999) Linking clinical relevance and statistical significance in evaluating intra-individual changes in health-related quality of life. Med Care 37:469–478

17.

Altman DG, Machin D, Bryant TN, Gardner MJ (2000) Statistics with confidence 2nd edn. British Medical Journal Bristol

18.

Deyo RA, Centor RM (1986) Assessing the responsiveness of functional scales to clinical change: an analogy to diagnostic test performance. J Chronic Dis 39:897–906

19.

Kopec JA, Esdaile JM (1995) Functional disability scales for back pain. Spine 20:1943–1949

20.

Stratford PW, Binkley FM, Riddle DL (1996) Health status measures: strategies and analytic methods for assessing change scores. Phys Ther 76:1109–1123

21.

Cherkin D (2001) Point of view: functional rating index: a new valid and reliable instrument to measure the magnitude of clinical change in spinal conditions. Spine 26:87

22.

Wells G, Beaton D, Shea B, Boers M, Simon L, Strand V, Brooks P, Tugwell P (2001) Minimal clinically important differences: review of methods. J Rheumatol 28:406–412

23.

Stratford PW, Binkley JM, Riddle DL, Guyatt GH (1998) Sensitivity to change of the Roland-Morris Back Pain Questionnaire: part 1. Phys Ther 78:1186–1196

24.

Beurskens AJ, de Vet HC, Koke AJ (1996) Responsiveness of functional status in low back pain: a comparison of different instruments. Pain 65:71–76

25.

Stratford PW, Finch E, Solomon P (1996) Using the Roland-Morris Questionnaire to make decisions about individual patients. Physiother Can 48:107–110

26.

Stratford PW, Binkley J, Solomon P, Finch E, Gill C, Moreland J (1996) Defining the minimum level of detectable change for the Roland-Morris questionnaire. Phys Ther 76:359–365
Acknowledgements
The authors would like to acknowledge the physical therapy staff at the following sites for their assistance with data collection: (1) Wilford Hall Medical Center, Lackland Air Force Base (AFB); (2) Malcolm Grow Medical Center, Andrews AFB; (3) Wright-Patterson Medical Center, Wright-Patterson AFB; (4) Eglin Hospital, Eglin AFB; (5) Luke Medical Clinic, Luke AFB; (6) Hill Medical Clinic, Hill AFB; (7) F.E. Warren Medical Clinic, F.E. Warren AFB; and (8) University of Pittsburgh Medical Center Health System's Centers for Rehab Services. This study was supported by a grant from the Foundation for Physical Therapy, Inc. and the Wilford Hall Medical Center Commander's Intramural Research Funding Program.
About this article
Cite this article
Childs, M.J.D., Piva, S.R. Psychometric properties of the functional rating index in patients with low back pain. Eur Spine J 14, 1008–1012 (2005). https://doi.org/10.1007/s00586-005-0900-z
Received:

Revised:

Accepted:

Published:

Issue Date:
Keywords
Responsiveness

Minimum clinically important difference

Self-report measure

Outcome measure

Reliability