Abstract
De-molding is one of the most crucial steps for successful mass production of high aspect ratio microstructures in microreplication technologies of LIGA process. With a proper taper angle in mold structure, normal contact pressure on the structure will be abated; this will facilitate the de-molding procedure and at the same time prevent the microstructures of mold from being damaged. However, in the case of UV lithography, the top area of the patterned SU-8 resist is observed to be larger than the bottom area especially in cases of thick layer and high aspect ratio structures. In order to obtain an applicable metal mold for hot-embossing process, we purpose here several novel methods with backside exposure which can fabricate different taper angles with proper direction on the mold structures easily. In this paper, we described the technology concept, process details and related experimental results both in mold structures and molded PMMA replicas. In addition, various interesting 3D microstructures can be produced by combining these exposure methods. On-chip microneedle arrays were selected to demonstrate this ability.
Access options
Buy single article
Instant access to the full article PDF.
US$ 39.95
Tax calculation will be finalised during checkout.
Subscribe to journal
Immediate online access to all issues from 2019. Subscription will auto renew annually.
US$ 119
Tax calculation will be finalised during checkout.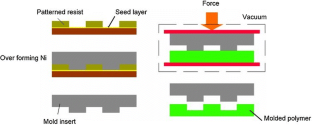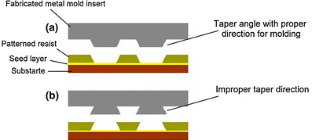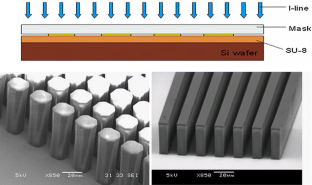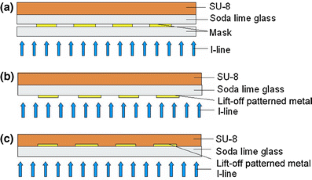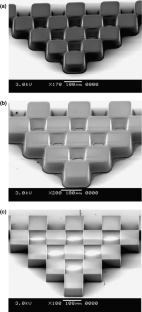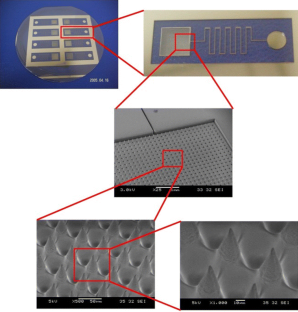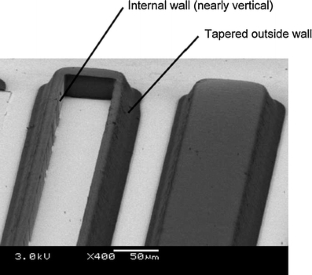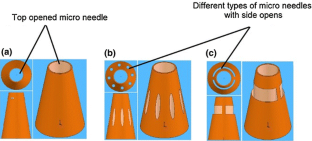 Reference
Becker EW, Ehrfeld W, Hagman P, Maner A, Muenchmeyer D (1986) Fabrication of microstructures with high aspect ratios and great structural height. Microelectron Eng 4:35–56

Fu C, Rummler Z, Schomburg WK (2003) Magnetic driven micro ball valve fabricated by multilayer adhesive film bonding. J Micromech Microeng 13:96–102

Lorenz H, Despont M, Vettiger P, Renaud P (1998) Fabrication of photoplastic high-aspect ratio microparts and micromolds using SU8 UV resist. Microsyst Technol 4:143–146

Mohr J (1986) Analyze der Defektursachen und der Genauigkeit der Struktur- uebertragung bei der Roentgentiefenlithographie mit Synchrotronstrahlung. Diplom Arbeit, University of Karlsruhe

Tabata O, You H, Matsuzuka N, Yamaji T, Uemura S, Dama I (2002) Moving mask deep X-ray lithography system with multi state for 3-D microfabrication. Microsyst Technol 8:93–8

Trausch G (1979) New photolithographic pattern generation process for producing precision flat parts by the electroforming method. Siemens Forsch Entw 8(6):347–351

Turner R, Desta Y, Kelly K, Zhang J, Geiger E, Cortez S, Mancini DC (2003) Tapered LIGA HARMs. J Micromech Microeng 13:367–372
Acknowledgement
This research is supported partially by National Science Council Taiwan with a Grant of No. NSC 93-2212-E-007-058. In addition, the author would like to thank especially National Synchrotron Radiation Center in Taiwan (NSRRC) and Precision Instrument Development Center (PIDC) for their support in expensive facilities
About this article
Cite this article
Fu, C., Huang, H. Different methods for the fabrication of UV-LIGA molds using SU-8 with tapered de-molding angles. Microsyst Technol 13, 293–298 (2007). https://doi.org/10.1007/s00542-006-0197-9
Received:

Accepted:

Published:

Issue Date:
Keywords
Soda Lime Glass

Metal Mold

Microneedle Array

Transparent Substrate

Normal Contact Pressure