Abstract
Purpose
To explore advance care planning (ACP) awareness, experiences, and preferences of people with cancer and support people of someone with cancer, in Australia.
Methods
Descriptive analysis and independent group t tests were used to examine data from a national, online cross-sectional survey.
Results
Of 705 respondents (440 people with cancer, 265 support people), 48.5% of participants had heard of ACP prior to the survey and 65% had discussed their values or preferences with someone. Significantly more people aged under 65 years had discussed their preferences than their older counterparts. Most (93%) discussions occurred with family or friends, but only 3.7% occurred with a health professional. A total of 33% had documented their preferences, with support people, women, and people aged under 65 years significantly more likely to have signed a legal document appointing someone to make medical decisions on their behalf. Views varied about the preferred timing of ACP and end-of-life care discussions (38.3% when cancer is incurable compared to 20% at diagnosis). Only 3.0% did not want to discuss ACP at all. Topics discussed were significantly different based on cohort, gender, age group, treatment status, and region.
Conclusion
Despite increasing community awareness of ACP, understanding remains low amongst cancer patients and support people, who generally rely on discussions with family and friends rather than health professionals. ACP should be introduced early across multiple interactions with health professionals, discuss a broad range of ACP relevant topics, and involve the cancer patient and their support person.
Access options
Buy single article
Instant access to the full article PDF.
USD 39.95
Price excludes VAT (USA)
Tax calculation will be finalised during checkout.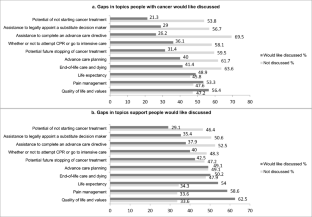 Data availability
The corresponding author should be contacted directly for any queries related to the availability of data and material.
References
Australian Institute of Health and Welfare 2019. Cancer in Australia: in brief 2019. Cancer Series No. 122. Cat No. CAN 126. Canberra: AIHW

World Health Organisation (2018) International Agency for Research on Cancer: latest global cancer data. Geneva. Cited 1 May 2020. Available https://www.who.int/cancer/PRGlobocanFinal.pdf

American Cancer Society (2018) Global cancer facts and figures 4th edition. Cited 26 June 2020. Available www.cancer.org/content/dam/cancer-org/research/cancer-facts-and-statistics/global-cancer-facts-and-figures/global-cancer-facts-and-figures-4th-edition.pdf

Langton JM, Srasuebkul P, Reeve R, Parkinson B, Gu Y, Buckley NA, Haas M, Viney R, Pearson S-A (2015) Resource use, costs and quality of end-of-life care: observations in a cohort of elderly Australian cancer decedents. Implement Sci 10(1):25

Langton JM, Reeve R, Srasuebkul P, Haas M, Viney R, Currow D, Pearson S-A (2016) Health service use and costs in the last 6 months of life in elderly decedents with a history of cancer: a comprehensive analysis from a health payer perspective. Brit J Cancer 114(11):1293–1302

Johnson S, Butow P, Kerridge I, Tattersall M (2016) Advance care planning for cancer patients: a systematic review of perceptions and experiences of patients, families, and healthcare providers. Psycho-Oncol. 25(4):362–386

Lawlor PG, Gagnon B, Mancini IL, Pereira JL, Hanson J, Suarez-Almazor ME, Bruera ED (2000) Occurrence, causes, and outcome of delirium in patients with advanced cancer: a prospective study. Arch Intern Med 160(6):786–794

Reeve R, Srasuebkul P, Langton JM, Haas M, Viney R, Pearson S-A (2018) Health care use and costs at the end of life: a comparison of elderly Australian decedents with and without a cancer history. BMC Palliat Care 17(1):1

Network NCI (2015) Older people and cancer. NHS England

Australian Commission on Safety and Quality in Health Care (2015) National Consensus Statement: essential elements for safe and high-quality end-of-life care. ACSQHC, Sydney Cited 25 Jul 2019. Available https://www.safetyandquality.gov.au/sites/default/files/migrated/National-Consensus-Statement-Essential-Elements-forsafe-high-quality-end-of-life-care.pdf

Wright AA, Zhang B, Ray A, Mack JW, Trice E, Balboni T, Mitchell SL, Jackson VA, Block SD, Maciejewski PK (2008) Associations between end-of-life discussions, patient mental health, medical care near death, and caregiver bereavement adjustment. JAMA 300(14):1665–1673

Mack JW, Weeks JC, Wright AA, Block SD, Prigerson HG (2010) End-of-life discussions, goal attainment, and distress at the end of life: predictors and outcomes of receipt of care consistent with preferences. J Clin Oncol 28(7):1203–1208

Rhee JJ, Zwar NA, Kemp LA (2013) Why are advance care planning decisions not implemented? Insights from interviews with Australian general practitioners. J Palliat Med 16(10):1197–1204

Silvester W, Fullam RS, Parslow RA, Lewis VJ, Sjanta R, Jackson L, White V, Gilchrist J (2013) Quality of advance care planning policy and practice in residential aged care facilities in Australia. BMJ Support Palliat 3(3):349–357

Rodi H, Sellars M, Todd J, Detering KM, Nolte L (2020) Advance care planning for people with cancer: a rapid review of the literature. Advance Care Planning Australia, Austin Health

Gamertsfelder EM, Seaman JB, Tate J, Buddadhumaruk P, Happ MB (2015) Prevalence of advance directives among older adults admitted to intensive care units and requiring mechanical ventilation. J Gerontol Nurs 42(4):34–41

Meeussen K, Van den Block L, Echteld M, Bossuyt N, Bilsen J, Van Casteren V, Abarshi E, Donker G, Onwuteaka-Philipsen B, Deliens L (2011) Advance care planning in Belgium and The Netherlands: a nationwide retrospective study via sentinel networks of general practitioners. J Pain Symptom Manag 42(4):565–577

Yadav KN, Gabler NB, Cooney E, Kent S, Kim J, Herbst N, Mante A, Halpern SD, Courtright KR (2017) Approximately one in three US adults completes any type of advance directive for end-of-life care. Health Aff 36(7):1244–1251

White B, Tilse C, Wilson J, Rosenman L, Strub T, Feeney R, Silvester W (2014) Prevalence and predictors of advance directives in Australia. Intern Med J 44(10):975–980. https://doi.org/10.1111/imj.12549

Buck K, Detering KM, Sellars M, Sinclair C, White B, Kelly H, Nolte L (2019) Prevalence of advance care planning documentation in Australian health and residential aged care services. Advance Care Planning Australia, Austin Health

Detering KM, Sellars M, Kelly H, Clayton JM, Buck K, Nolte L (2020) Prevalence of advance care planning documentation and self-reported uptake in older Australians with a cancer diagnosis. J Geriatr Oncol

Spelten ER, Geerse O, van Vuuren J, Timmis J, Blanch B, Duijts S, MacDermott S (2019) Factors influencing the engagement of cancer patients with advance care planning: a scoping review. Eur J Cancer Care (Engl) 28(3):e13091. https://doi.org/10.1111/ecc.13091

Bestvina CM, Polite BN (2017) Implementation of advance care planning in oncology: a review of the literature. J Oncol Pract 13(10):657–662

Starr LT, Ulrich CM, Corey KL, Meghani SH (2019) Associations among end-of-life discussions, health-care utilization, and costs in persons with advanced cancer: a systematic review. Am J Hosp Palliat Me 1049909119848148. https://doi.org/10.1177/1049909119848148

Levoy K, Salani D (2018) A systematic review of advance care planning interventions for clients with cancer using the transtheoretical model of behavior change. J Pain Symptom Manag 55(2):667–668

Kiely BE, Tattersall MH, Stockler MR (2010) Certain death in uncertain time: Informing hope by quantifying a best case scenario. J Clin Oncol 28(16):2802–2804

Peppercorn JM, Smith TJ, Helft PR, DeBono DJ, Berry SR, Wollins DS, Hayes DM, Von Roenn JH, Schnipper LE (2011) American society of clinical oncology statement: toward individualized care for patients with advanced cancer. J Clin Oncol 29(6):755–760

Fried TR, O'Leary JR (2008) Using the experiences of bereaved caregivers to inform patient-and caregiver-centered advance care planning. J Gen Intern Med 23(10):1602–1607

Robinson CA, Fyles G, McKenzie M (2017) Oncologist experience implementing goals of care discussions in everyday ambulatory oncology practice: implications for education. J Cancer Ed 32(2):301–307

Baile WF, Kudelka AP, Beale EA, Glober GA, Myers EG, Greisinger AJ, Bast RC Jr, Goldstein MG, Novack D, Lenzi R (1999) Communication skills training in oncology: description and preliminary outcomes of workshops on breaking bad news and managing patient reactions to illness. Cancer: Interdisc Int J Am Cancer Soc 86(5):887–897

Block SD (2002) Medical education in end-of-life care: the status of reform. J Palliat Med 5(2):243–248

Boyd K, Mason B, Kendall M, Barclay S, Chinn D, Thomas K, Sheikh A, Murray SA (2010) Advance care planning for cancer patients in primary care: a feasibility study. Brit J Gen Pract 60(581):e449–e458

Bernacki RE, Block S (2014) American College of Physicians High Value Care Task Force. Communication about serious illness care goals: a review and synthesis of best practices. JAMA Intern Med 174(12):1994–2003

Hudson P, Payne S. The future of family caregiving: research, social policy and clinical practice. Family carers in palliative care: a guide for health and social care professionals. 2009:2009

Edwards SB, Olson K, Koop PM, Northcott HC (2012) Patient and family caregiver decision making in the context of advanced cancer. Cancer Nurs 35(3):178–186

Australian Bureau of Statistics. Australian Demographic Statistics (2019) Cited 17 Apil 2020. Available https://www.abs.gov.au/Population

Ugalde A, O'Callaghan C, Byard C, Brean S, MacKay J, Boltong A, Davoren S, Lawson D, Parente P, Michael N, Livingston P (2018) Does implementation matter if comprehension is lacking? A qualitative investigation into perceptions of advance care planning in people with cancer. Support Care Cancer 26(11):3765–3771. https://doi.org/10.1007/s00520-018-4241-y

Díaz-Montes TP, Johnson MK, Giuntoli RL, Brown AJ (2013) Importance and timing of end-of-life care discussions among gynecologic oncology patients. Am J Hosp Palliat Me 30(1):59–67

Barnes KA, Barlow CA, Harrington J, Ornadel K, Tookman A, King M, Jones L (2011) Advance care planning discussions in advanced cancer: analysis of dialogues between patients and care planning mediators. Palliat Support Care 9(1):73–79

Barakat A, Barnes SA, Casanova MA, Stone MJ, Shuey KM, Miller AM (2013) Advance care planning knowledge and documentation in a hospitalized cancer population. In: Baylor University Medical Center Proceedings, vol 4. Taylor & Francis, pp 368–372

Waller A, Turon H, Bryant J, Zucca A, Evans TJ, Sanson-Fisher R (2019) Medical oncology outpatients' preferences and experiences with advanced care planning: a cross-sectional study. BMC Cancer 19(1):63. https://doi.org/10.1186/s12885-019-5272-6

Weeks JC, Catalano PJ, Cronin A, Finkelman MD, Mack JW, Keating NL, Schrag D (2012) Patients' expectations about effects of chemotherapy for advanced cancer. N Engl J Med 367(17):1616–1625

Waller A, Douglas C, Sanson-Fisher R, Zdenkowski N, Pearce A, Evans T, Walsh J (2018) Dances with denial: have medical oncology outpatients conveyed their end-of-life wishes and do they want to? J Natl Compr Cancer Netw 16(5):498–505. https://doi.org/10.6004/jnccn.2017.7054

Dionne-Odom JN, Ejem D, Azuero A, Taylor RA, Rocque GB, Turkman Y, Thompson MA, Knight SJ, Martin MY, Bakitas MA (2018) Factors associated with family caregivers' confidence in future surrogate decision making for persons with cancer. J Palliat Med 21(12):1705–1712

Verbakel E, Tamlagsrønning S, Winstone L, Fjær EL, Eikemo TA (2017) Informal care in Europe: findings from the European Social Survey (2014) special module on the social determinants of health. Eur J Publ Health 27(suppl_1):90–95. https://doi.org/10.1093/eurpub/ckw229

Detering K, Tran J, Nolte L, Sellars M (2020) The Australian public's knowledge, attitudes and experiences regarding substitute decision-making for medical decisions: a national cross-sectional survey study. Advance Care Planning Australia, Austin Health

Houben CH, Spruit MA, Groenen MT, Wouters EF, Janssen DJ (2014) Efficacy of advance care planning: a systematic review and meta-analysis. J Am Med Dir Assoc 15(7):477–489

Caplan GA, Meller A, Squires B, Chan S, Willett W (2006) Advance care planning and hospital in the nursing home. Age Ageing 35(6):581–585
Funding
This study is a Cancer Australia Supporting people with cancer Grant initiative, funded by the Australian Government. The study was delivered under the auspices of Advance Care Planning Australia which is funded by the National Palliative Care Projects within the Public Health and Chronic Disease Program, Australian Government Department of Health.
Ethics declarations
Conflict of interest
The authors declare that they have no conflict of interest.
Ethics approval
The study was approved by Austin Health Human Research Ethics Committee, Melbourne, Australia (reference number: HREC/57061/Austin-2019).
Consent to participate
Participants were informed that consent was implied by completing the survey, which was voluntary and anonymous and allowed participants were able to withdraw from the survey at any time.
Code availability
Not relevant to this study.
Additional information
Publisher's note
Springer Nature remains neutral with regard to jurisdictional claims in published maps and institutional affiliations.
About this article
Cite this article
Rodi, H., Detering, K., Sellars, M. et al. Exploring advance care planning awareness, experiences, and preferences of people with cancer and support people: an Australian online cross-sectional study. Support Care Cancer 29, 3677–3688 (2021). https://doi.org/10.1007/s00520-020-05878-z
Received:

Accepted:

Published:

Issue Date:

DOI: https://doi.org/10.1007/s00520-020-05878-z
Keywords
Advance care planning

Advance care directive

Oncology

Survey

Caregiver

End-of-life care