Abstract
Purpose
Desmoid fibromatosis (DF) is a rare, unpredictable disease with no established, evidence-based treatments. Individual management is based on consensus algorithms. This study aimed to examine the specific health-related quality of life challenges faced by DF patients, current experiences and expectations of care.
Methods
Twenty-seven DF patients were purposively sampled from The Royal Marsden Hospital. Two focus groups and 13 interviews (males 12, females 15; mean age at study 39.5 years) explored health-related quality of life issues and experiences of healthcare. Thematic content was analysed.
Results
Discussions revealed four key themes (diagnostic pathway; treatment pathway; living with DF; supportive care). Diagnostic delay resulted from lack of recognition by patients and healthcare professionals. Some patients received an initial diagnosis of cancer, causing significant distress. Treatment decisions were challenging, and patients experienced uncertainty among clinicians about optimal therapies. Side-effects of treatment were severe, including fatigue, nausea, anorexia, low libido and depression. Pain was the most debilitating symptom and dependency on painkillers was a significant concern. Functional limitation and restricted mobility frequently affected daily activities. Patients experienced difficulty accomplishing their role in society; relationship problems, caring for children, employment and financial difficulties. Social isolation and lack of understanding were common. The psychological impact of this "life-changing and life-long" condition was profound. All patients requested knowledgeable healthcare professionals, more information, continuity of care and peer support.
Conclusions
DF patients face complex physical, psychological and practical challenges. Comprehensive care services are needed. Increasing awareness may help to improve diagnostic pathways and overall patient experience.
References
Otero S, Moskovic EC, Strauss DC, Benson C, Miah AB, Thway K, Messiou C (2015) Desmoid-type fibromatosis. Clin Radiol 70:1038–1045

WHO Classification of Tumours, Volume 5 IARC WHO Classification of Tumours, No 5 Fletcher, C. D.M., Bridge, J.A., Hogendoorn, P., Mertens, F Desmoid-type fibromatosis. Lyon: IARC Press, 2013

Reitamo JJ, Hayry P, Nykyri E, Saxen E (1982) The desmoid tumor. I. Incidence, sex-, age- and anatomical distribution in the Finnish population. Am J Clin Pathol 77:665–673

Kasper B, Strobel P, Hohenberger P (2011) Desmoid tumors: clinical features and treatment options for advanced disease. Oncologist 16:682–693

Kasper B, Baumgarten C, Garcia J, Bonvalot S, Haas R, Haller F, Hohenberger P, Penel N, Messiou C, van der Graaf WT, Gronchi A, Desmoid Working Group, Bauer S, Blay JY, van Coevorden F, Dileo P, Dürr HR, Fiore M, Grünwald V, Jones R, Judson I, Kettelhack C, Kopeckova K, Lazar A, Lindner LH, Martin-Broto J, Rutkowski P, Stacchiotti S, Stoeckle E, Valverde C, Verhoef K, Wardelmann E, Wartenberg M (2017) An update on the management of sporadic desmoid-type fibromatosis: a European consensus initiative between sarcoma PAtients EuroNet (SPAEN) and European Organization for Research and Treatment of Cancer (EORTC)/Soft Tissue and Bone Sarcoma Group (STBSG). Ann Oncol 28:2399–2408

Kasper B, Baumgarten C, Bonvalot S, Haas R, Haller F, Hohenberger P, Moreau G, van der Graaf W, Gronchi A, Desmoid Working Group (2015) Management of sporadic desmoid-type fibromatosis: a European consensus approach based on patients' and professionals' expertise - a sarcoma patients EuroNet and European Organisation for Research and Treatment of Cancer/Soft Tissue and Bone Sarcoma Group initiative. Eur J Cancer 51:127–136

Potter BK, Forsberg JA (2014) Is hope a method? Commentary on an article by Sylvain Briand, MD, et al.: Wait-and-see policy as a first-line management for extra-abdominal desmoid tumors. J Bone Joint Surg Am 96:e69–1-2

Salas S, Dufresne A, Bui B, Blay JY, Terrier P, Ranchere-Vince D, Bonvalot S, Stoeckle E, Guillou L, le Cesne A, Oberlin O, Brouste V, Coindre JM (2011) Prognostic factors influencing progression-free survival determined from a series of sporadic desmoid tumors: a wait-and-see policy according to tumor presentation. J Clin Oncol 29:3553–3558

Bonvalot S, Eldweny H, Haddad V, Rimareix F, Missenard G, Oberlin O, Vanel D, Terrier P, Blay JY, le Cesne A, le Péchoux C (2008) Extra-abdominal primary fibromatosis: aggressive management could be avoided in a subgroup of patients. Eur J Surg Oncol 34:462–468

Szucs Z, Messiou C, Wong HH, Hatcher H, Miah A, Zaidi S, van der Graaf WTA, Judson I, Jones RL, Benson C (2017) Pazopanib, a promising option for the treatment of aggressive fibromatosis. Anti-Cancer Drugs 28:421–426

Kummar S, O'Sullivan Coyne G, Do KT, et al. (2017) Clinical Activity of the gamma-Secretase Inhibitor PF-03084014 in Adults With Desmoid Tumors (Aggressive Fibromatosis). Journal of clinical oncology : official journal of the American Society of Clinical Oncology 35(14):1561–1569

Villalobos VM, Hall F, Jimeno A, et al. (2018) Long-Term Follow-Up of Desmoid Fibromatosis Treated with PF-03084014, an Oral Gamma Secretase Inhibitor. Ann Surg Oncol https://doi.org/10.1245/s10434-017-6082-1

Aaronson NK, Ahmedzai S, Bergman B, Bullinger M, Cull A, Duez NJ, Filiberti A, Flechtner H, Fleishman SB, Haes JCJM, Kaasa S, Klee M, Osoba D, Razavi D, Rofe PB, Schraub S, Sneeuw K, Sullivan M, Takeda F (1993) The European Organization for Research and Treatment of Cancer QLQ-C30: a quality-of-life instrument for use in international clinical trials in oncology. J Natl Cancer Inst 85:365–376

Fayers P, Aaronson NK, Bjordal K, Group. ObotEQoL. The EORTC QLQ-C30 scoring manual. Brussels: EORTC,2001

Braun VCV (2006) Using thematic analysis in psychology. Qual Res Psychol 3:77–101

Joffe H YL (2004) Content and thematic analysis. Methods Clin Health Psychol; 56

Elliott E, Zurynski Y (2015) Rare diseases are a 'common' problem for clinicians. Aust Fam Physician 44:630–633

Forbes LJ, Warburton F, Richards MA, Ramirez AJ (2014) Risk factors for delay in symptomatic presentation: a survey of cancer patients. Br J Cancer 111:581–588

Kostopoulou O, Delaney BC, Munro CW (2008) Diagnostic difficulty and error in primary care--a systematic review. Fam Pract 25:400–413

Buvarp Dyrop H, Vedsted P, Raedkjaer M et al (2016) Routes to diagnosis for suspected sarcoma: the impact of symptoms and clinical findings on the diagnostic process. Sarcoma 2016:8639272

Risberg T, Sorbye SW, Norum J, Wist EA (1996) Diagnostic delay causes more psychological distress in female than in male cancer patients. Anticancer Res 16:995–999

Goldstein JA, Cates JM (2015) Differential diagnostic considerations of desmoid-type fibromatosis. Adv Anat Pathol 22:260–266

Nandra R, Forsberg J, Grimer R (2015) If your lump is bigger than a golf ball and growing, think sarcoma. Eur J Surg Oncol 41:1400–1405

Kasper B, Gruenwald V, Reichardt P, Bauer S, Rauch G, Limprecht R, Sommer M, Dimitrakopoulou-Strauss A, Pilz L, Haller F, Hohenberger P (2017) Imatinib induces sustained progression arrest in RECIST progressive desmoid tumours: final results of a phase II study of the German interdisciplinary sarcoma group (GISG). Eur J Cancer 76:60–67

Eastley N, McCulloch T, Esler C, Hennig I, Fairbairn J, Gronchi A, Ashford R (2016) Extra-abdominal desmoid fibromatosis: a review of management, current guidance and unanswered questions. Eur J Surg Oncol 42:1071–1083

Rittenmeyer L, Huffman D, Alagna M, Moore E (2016) The experience of adults who choose watchful waiting or active surveillance as an approach to medical treatment: a qualitative systematic review. JBI Database System Rev Implement Rep 14:174–255

Di Maio M, Gallo C, Leighl NB et al (2015) Symptomatic toxicities experienced during anticancer treatment: agreement between patient and physician reporting in three randomized trials. J Clin Oncol 33:910–915

Di Maio M, Basch E, Bryce J, Perrone F (2016) Patient-reported outcomes in the evaluation of toxicity of anticancer treatments. Nat Rev Clin Oncol 13:319–325

Glare PA, Davies PS, Finlay E, Gulati A, Lemanne D, Moryl N, Oeffinger KC, Paice JA, Stubblefield MD, Syrjala KL (2014) Pain in cancer survivors. J Clin Oncol 32:1739–1747

Williams JE, Peacock J, Gubbay AN, Kuo PY, Ellard R, Gupta R, Riley J, Sauzet O, Raftery J, Yao G, Ross J (2015) Routine screening for pain combined with a pain treatment protocol in head and neck cancer: a randomised controlled trial. Br J Anaesth 115:621–628

Gordon DB, Dahl JL, Miaskowski C, McCarberg B, Todd KH, Paice JA, Lipman AG, Bookbinder M, Sanders SH, Turk DC, Carr DB (2005) American pain society recommendations for improving the quality of acute and cancer pain management: American Pain Society Quality of Care Task Force. Arch Intern Med 165:1574–1580

Miaskowski C (2005) The next step to improving cancer pain management. Pain Manag Nurs 6:1–2

Oldenmenger WH, Sillevis Smitt PA, van Montfort CA et al (2011) A combined pain consultation and pain education program decreases average and current pain and decreases interference in daily life by pain in oncology outpatients: a randomized controlled trial. Pain 152:2632–2639

Stone DS, Ganz PA, Pavlish C, Robbins WA (2017) Young adult cancer survivors and work: a systematic review. J Cancer Surviv 11:765–781

Roberts CS, Piper L, Denny J, Cuddeback G (1997) A support group intervention to facilitate young adults' adjustment to cancer. Health Soc Work 22:133–141

Beale IL, Kato PM, Marin-Bowling VM, Guthrie N, Cole SW (2007) Improvement in cancer-related knowledge following use of a psychoeducational video game for adolescents and young adults with cancer. J Adolesc Health 41:263–270

Zebrack BJ, Oeffinger KC, Hou P, Kaplan S (2006) Advocacy skills training for young adult cancer survivors: the young adult survivors conference at camp Mak-a-dream. Support Care Cancer 14:779–782
Ethics declarations
Conflict of interest
The authors have no conflicts of interest to declare.
Appendices
Appendix 1: Quotes theme 1—diagnostic pathway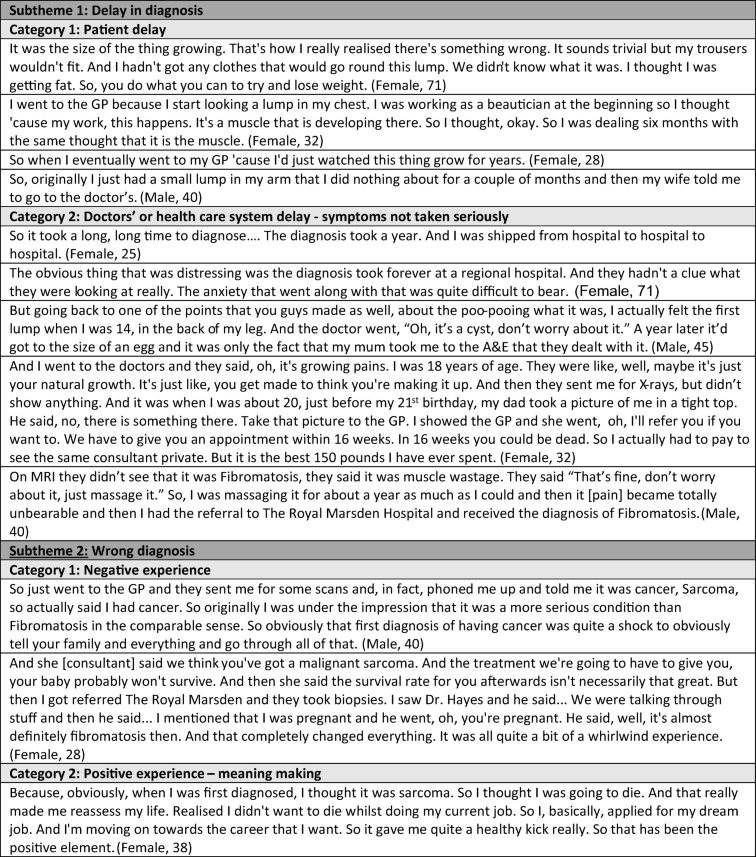 Appendix 2: Quotes Theme 2—treatment pathway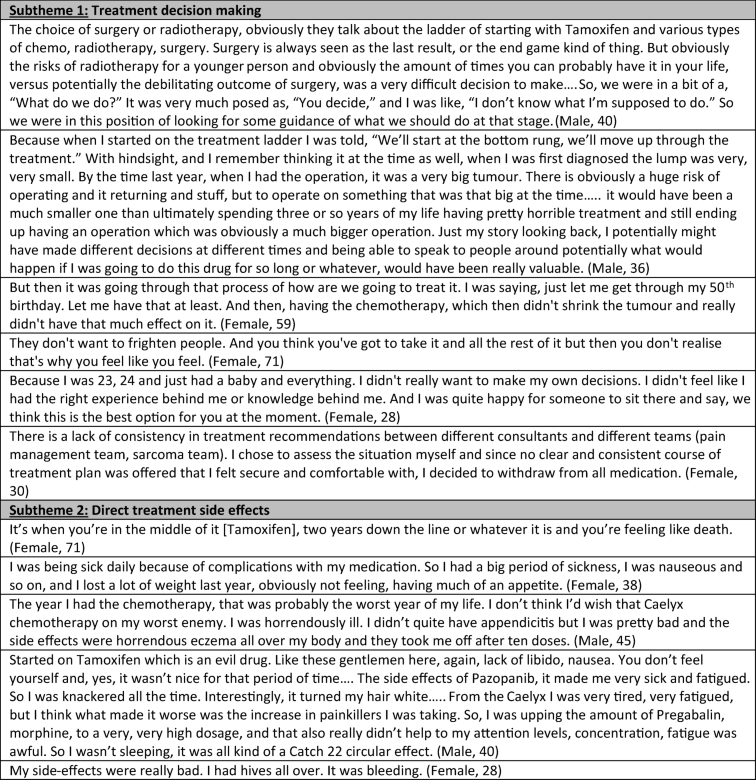 Appendix 3: Quotes Theme 3—living with desmoid-type fibromatosis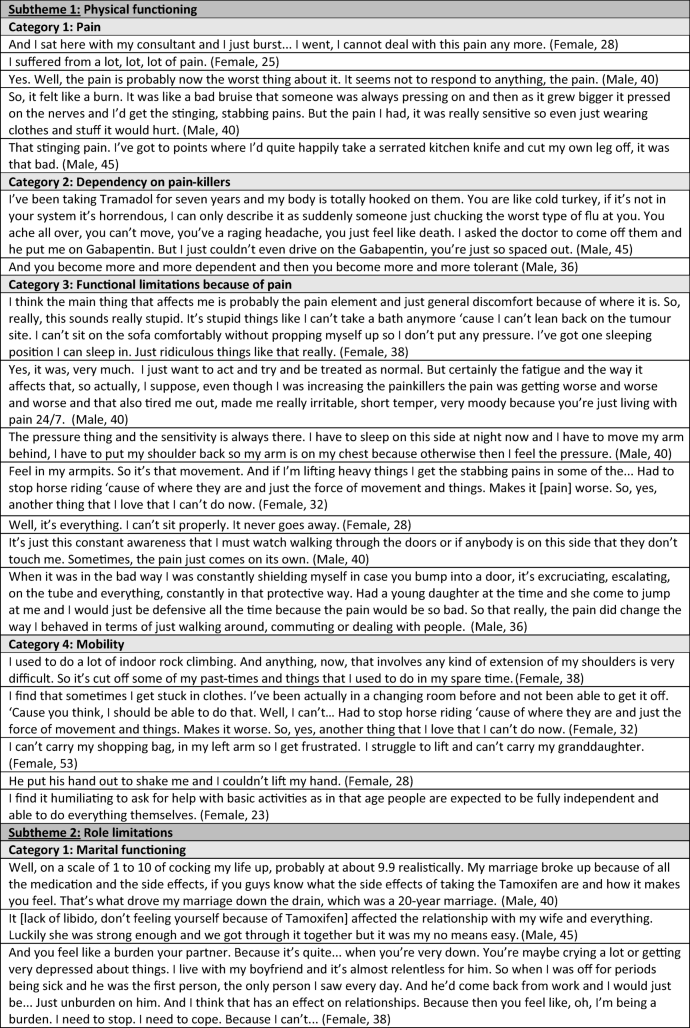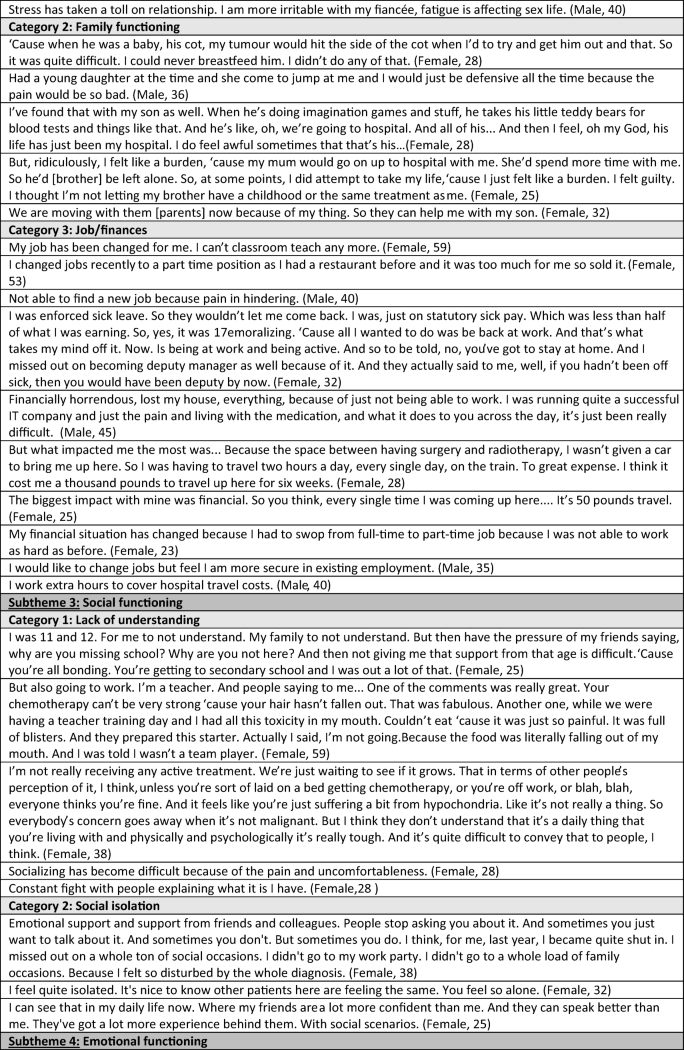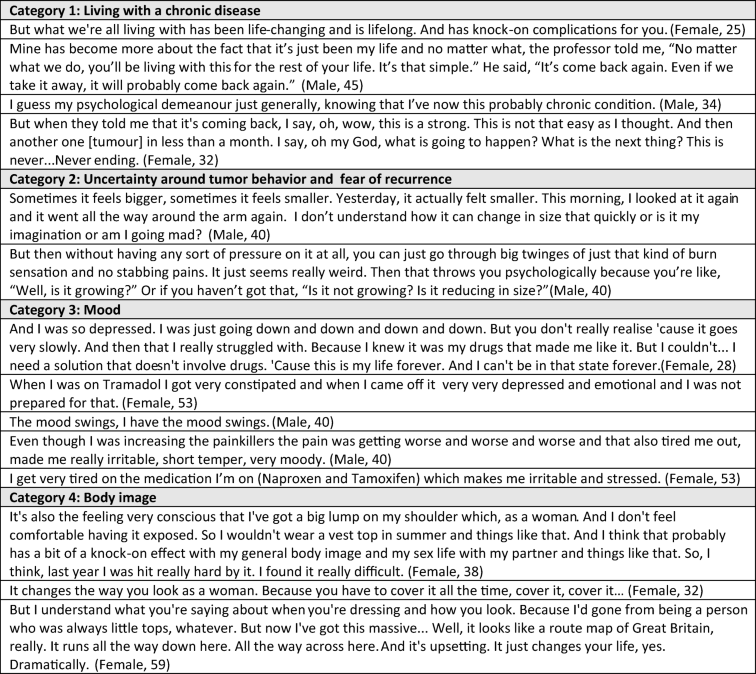 Appendix 4: Quotes theme 4—supportive care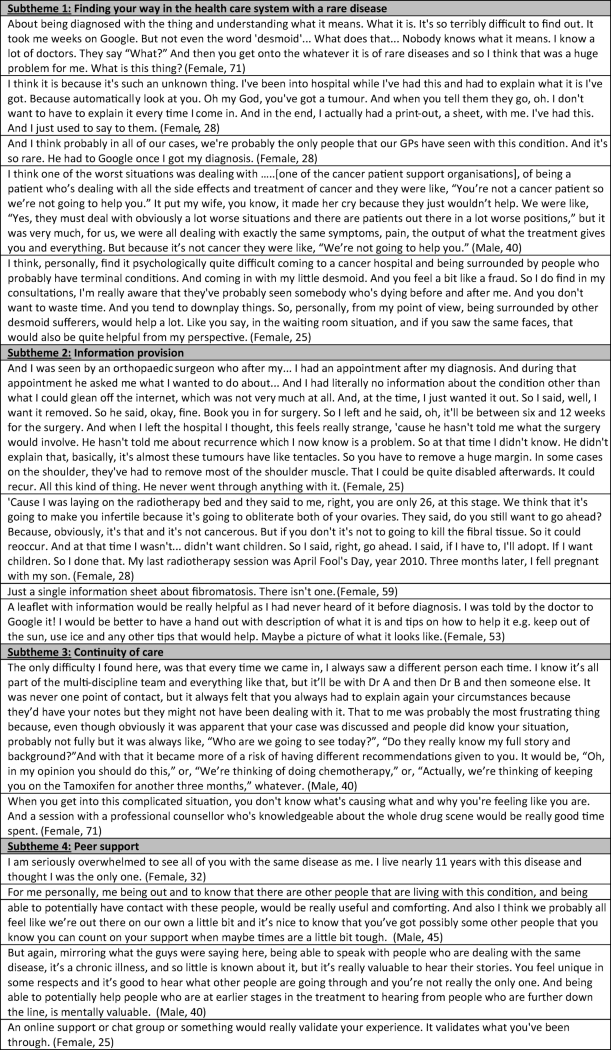 Appendix 5: Semi-structured interview template
1. Introductory remarks to explain the nature and purpose of the study.
Good afternoon/evening. Thank you for taking the time to join our discussion on the supportive care needs of patients with desmoid fibromatosis. My name is ____MODERATOR____, and I am __ASST MODERATOR____.
In particular, we hope to learn more about the physical, psychosocial and practical challenges you face as a desmoid fibromatosis patient and on how your experience has been of the healthcare system: What kinds of things have been helpful to you and what kinds of things you might have wanted or needed but did not receive.
Before we begin, let me suggest some things to make our discussion more productive. Because we'll be recording for an accurate record, it is important that you speak up and that you only speak one at a time. We do not want to miss any of your comments. We'll only use first names here. No reports will link what you say to your name. In this way, we will maintain your confidentiality. In addition, we ask that you also respect the confidentiality of everyone here. Please do not repeat who said what when you leave this room. During the two hours we'll be here, I will ask you questions, and I will listen to what you have to say. I will not participate in the discussion. So please, feel free to respond to each other and to speak directly to others in the group. We want to hear from all of you. We are interested in both majority and minority viewpoints, common and uncommon experiences. So I may sometimes act as a traffic cop by encouraging someone who has been quiet to talk, or by asking someone to hold off for a few minutes.
Does anyone have a problem with audio recording of this focus group? Okay, then we will turn on the recorder and start now.
2. Introduction participants.
First of all, can you briefly introduce yourself (first name, age, tumour localisation, treatment received).
3. Main open-ended questions CHALLENGES.
-When we think about your health, what would you say the term quality of life means to you?
* What factors would you say contribute to your quality of life?
* Which factor would you say is / are the most important to you?
-With that in mind, in what ways has your desmoid fibromatosis diagnosis affected your quality of life?
-With that in mind, in what ways has your treatment for desmoid fibromatosis diagnosis affected your quality of life?
-With that in mind, in what ways has the watch and wait policy affected your quality of life?
PROBE AS NECESSARY:
e.g. in these areas, how has it affected you ….
-Physically: e.g. symptoms … .. how?
-Functionally: e.g. ability to get about / wash / dress …. How?
-Psychologically: e.g. feeling worried/ stressed / tense ….. How?
-Socially: e.g. impact on relationships, social life …….How.
- Other: (Financial/ Spiritual).
-Could you tell me more about that and how you deal(t) with challenges/problems?
-What would you say has been the most important / biggest factor(s) influencing your quality of life since your diagnosis?
-What is the meaning of symptoms for you in relation to disease activity (e.g. fear of progression) and response to treatment?
4. Main open-ended questions (UNMET) CARE NEEDS.
-I would like to ask you to talk about the various needs you have as a desmoid fibromatosis patient. -What has your experience been with receiving healthcare services/supportive care for your desmoid fibromatosis?
PROBE AS NECESSARY:
What was good about that care you received till now? Why?
What was bad about the care you received till now? Why?
What did you miss? Why?
What is your experience with referral to supportive care and use of supportive care options?
-I'll now ask you to talk about your needs for a number of different areas. I would be interested to learn for each area whether you have needs in this area and whether or not your needs have been addressed (what is/was helpful and what is/was missing).
Informational needs.
Psychological/Emotional needs positive and negative.
Physical needs.
Risk behaviour needs.
Practical needs.
Social needs.
Spiritual needs.
Health care needs.
5. Main open-ended questions EXPECTATIONS AND PREFERECES.
-What are your expectations of care for patients with desmoid fibromatosis?
-What are your preferences for care for patients with desmoid fibromatosis?
PROBE AS NECESSARY:
If you could design the perfect expert center for desmoid fibromatosis patients what would it look like for patients that are undergoing treatment? What would it look like patients in watch and wait phase? Please be as creative as possible as we are interested in your ideas.
What kind of programs would be helpful to you in dealing with the challenges of desmoid fibromatosis?
What formats are you most interested in? Would you prefer groups, individual, face-to-face, online, or a combination?
6. Summarise the issues raised during the interview and identify which issues are the most important.
-We have discussed a number of things. These are…MODERATOR SUMMARISES POINTS…..
-Out of everything we have talked about today, what are your top three needs and how could they be better met?
- Is there anything else about needs related to desmoid fibromatosis that you can think of that we have not already discussed?
Thank you again for taking the time to participate in this discussion.
Rights and permissions
Open Access This article is distributed under the terms of the Creative Commons Attribution-NonCommercial 4.0 International License (http://creativecommons.org/licenses/by-nc/4.0/), which permits any noncommercial use, distribution, and reproduction in any medium, provided you give appropriate credit to the original author(s) and the source, provide a link to the Creative Commons license, and indicate if changes were made.
About this article
Cite this article
Husson, O., Younger, E., Dunlop, A. et al. Desmoid fibromatosis through the patients' eyes: time to change the focus and organisation of care?. Support Care Cancer 27, 965–980 (2019). https://doi.org/10.1007/s00520-018-4386-8
Received:

Accepted:

Published:

Issue Date:

DOI: https://doi.org/10.1007/s00520-018-4386-8
Keywords
Desmoid-type fibromatosis

Health-related quality of life

Pain

Functional limitation

Supportive care