Abstract
Background
Autosomal recessive polycystic kidney disease is a cystic kidney disease with early onset and clinically characterized by enlarged echogenic kidneys, hypertension, varying degrees of kidney dysfunction, and liver fibrosis. It is most frequently caused by sequence variants in the PKHD1 gene, encoding fibrocystin. In more rare cases, sequence variants in DZIP1L are seen, encoding the basal body protein DAZ interacting protein 1-like protein (DZIP1L). So far, only four different DZIP1L variants have been reported.
Methods
Four children from three consanguineous families presenting with polycystic kidney disease were selected for targeted or untargeted exome sequencing.
Results
We identified two different, previously not reported homozygous DZIP1L sequence variants: c.193 T > C; p.(Cys65Arg), and c.216C > G; p.(Cys72Trp). Functional analyses of the c.216C > G; p.(Cys72Trp) variant indicated mislocalization of mutant DZIP1L.
Conclusions
In line with published data, our results suggest a critical role of the N-terminal domain for proper protein function. Although patients with PKHD1-associated autosomal recessive polycystic kidney disease often have liver abnormalities, none of the present four patients showed any clinically relevant liver involvement. Our data demonstrate the power and efficiency of next-generation sequencing-based approaches. While DZIP1L-related polycystic kidney disease certainly represents a rare form of the disease, our results emphasize the importance of including DZIP1L in multigene panels and in the data analysis of whole-exome sequencing for cystic kidney diseases.
Graphical abstract
A higher resolution version of the Graphical abstract is available as Supplementary information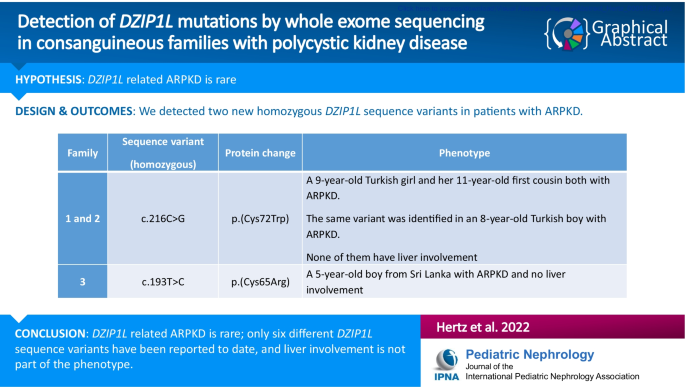 Data availability
All data are available upon request by contact with the corresponding author.
References
Sweeney WE, Avner ED (2019) Polycystic Kidney Disease, Autosomal Recessive. 2001 Jul 19 [Updated 2019 Feb 14]. In: Adam MP et al, editors. GeneReviews® [Internet]. Seattle (WA): University of Washington, Seattle; 1993–2019. https://www.ncbi.nlm.nih.gov/books/. Assessed 31 January 2021

Bergmann C (2018) Genetics of Autosomal Recessive Polycystic Kidney Disease and Its Differential Diagnoses. Front Pediatr 5:221

Lu H, Galeano MCR, Ott E, Kaeslin G, Kausalya PJ, Kramer C, Ortiz-Brüchle N, Hilger N, Metzis V, Hiersche M, Tay SY, Tunningley R, Vij S, Courtney AD, Whittle B, Wühl E, Vester U, Hartleben B, Neuber S, Frank V, Little MH, Epting D, Papathanasiou P, Perkins AC, Wright GD, Hunziker W, Gee HY, Otto EA, Zerres K, Hildebrandt F, Roy S, Wicking C, Bergmann C (2017) Mutations in DZIP1L, which encodes a ciliary-transition-zone protein, cause autosomal recessive polycystic kidney disease. Nat Genet 49:1025–1034

Schrezenmeier E, Kremerskothen E, Halleck F, Staeck O, Liefeldt L, Choi M, Schüler M, Weber U, Bachmann N, Grohmann M, Wagner T, Budde K, Bergmann C (2021) The underestimated burden of monogenic kidney disease in adults waitlisted for kidney transplantation. Genet Med 23:1219–1224

Klock HE, Lesley SA (2009) The Polymerase Incomplete Primer Extension (PIPE) method applied to high-throughput cloning and site-directed mutagenesis. Methods Mol Biol 498:91–103

Schindelin J, Arganda-Carreras I, Frise E, Kaynig V, Longair M, Pietzsch T, Preibisch S, Rueden C, Saalfeld S, Schmid B, Tinevez JY, White DJ, Hartenstein V, Eliceiri K, Tomancak P, Cardona A (2012) Fiji: an open-source platform for biological-image analysis. Nat Methods 9:676–682

Beggs MR, Appel I, Svenningsen P, Skjødt K, Alexander RT, Dimke H (2017) Expression of transcellular and paracellular calcium and magnesium transport proteins in renal and intestinal epithelia during lactation. Am J Physiol Renal Physiol 13:F629–F640

Firth HV, Richards SM, Bevan AP, Clayton S, Corpas M, Rajan D, Van Vooren S, Moreau Y, Pettett RM, Carter NP (2009) DECIPHER: Database of chromosomal imbalance and phenotype in humans using Ensemble using resources. Am J Hum Genet 84:524–533
Funding
This study was funded by authors' institutions.
Ethics declarations
Ethics approval and consent to participate and publication
Blood samples from family members of all three families were obtained after signed informed consent. The Regional Committees on Health Research Ethics for Southern Denmark approved the use of kidney tissue for the functional analysis (S-20140159).
Competing interests
The authors declare no competing interests.
Additional information
Publisher's note
Springer Nature remains neutral with regard to jurisdictional claims in published maps and institutional affiliations.
Supplementary Information
Below is the link to the electronic supplementary material.
Rights and permissions
Open Access This article is licensed under a Creative Commons Attribution 4.0 International License, which permits use, sharing, adaptation, distribution and reproduction in any medium or format, as long as you give appropriate credit to the original author(s) and the source, provide a link to the Creative Commons licence, and indicate if changes were made. The images or other third party material in this article are included in the article's Creative Commons licence, unless indicated otherwise in a credit line to the material. If material is not included in the article's Creative Commons licence and your intended use is not permitted by statutory regulation or exceeds the permitted use, you will need to obtain permission directly from the copyright holder. To view a copy of this licence, visit http://creativecommons.org/licenses/by/4.0/.
About this article
Cite this article
Hertz, J.M., Svenningsen, P., Dimke, H. et al. Detection of DZIP1L mutations by whole-exome sequencing in consanguineous families with polycystic kidney disease. Pediatr Nephrol 37, 2657–2665 (2022). https://doi.org/10.1007/s00467-022-05441-4
Received:

Revised:

Accepted:

Published:

Issue Date:

DOI: https://doi.org/10.1007/s00467-022-05441-4
Keywords
ARPKD

Polycystic kidney disease

DZIP1L

Whole-exome sequencing

Primary cilia