Abstract
Background
During the initial COVID-19 pandemic, young United Kingdom (UK) kidney patients underwent lockdown and those with increased vulnerabilities socially isolated or 'shielded' at home. The experiences, information needs, decision-making and support needs of children and young adult (CYA) patients or their parents during this period is not well known.
Methods
A UK-wide online survey co-produced with patients was conducted in May 2020 amongst CYA aged 12–30, or parents of children aged < 18 years with any long-term kidney condition. Participants answered qualitative open text alongside quantitative closed questions. Thematic content analysis using a three-stage coding process was conducted.
Results
One-hundred and eighteen CYA (median age 21) and 197 parents of children (median age 10) responded. Predominant concerns from CYA were heightened vigilance about viral (68%) and kidney symptoms (77%) and detrimental impact on education or work opportunities (70%). Parents feared the virus more than CYA (71% vs. 40%), and had concerns that their child would catch the virus from them (64%) and would have an adverse impact on other children at home (65%). CYA thematic analysis revealed strong belief of becoming seriously ill if they contracted COVID-19; lost educational opportunities, socialisation and career development; and frustration with the public for not following social distancing rules. Positive outcomes included improved family relationships and community cohesion. Only a minority (14–21% CYA and 20–31% parents, merged questions) desired more support. Subgroup analysis identified greater negative psychological impact in the shielded group.
Conclusions
This survey demonstrates substantial concern and need for accurate tailored advice for CYA based on individualised risks to improve shared decision making.
Graphical abstract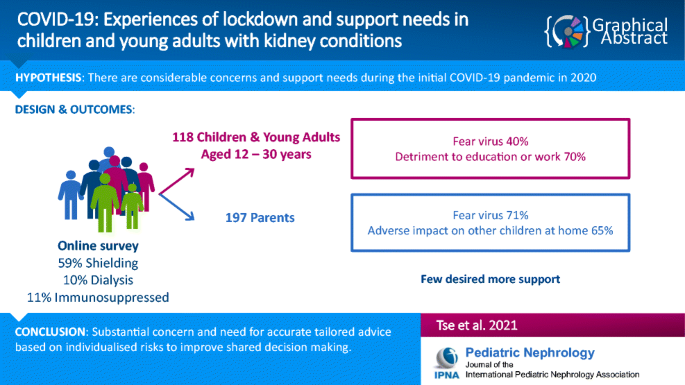 References
Brooks SK, Webster RK, Smith LE, Woodland L, Wessely S, Greenberg N, Rubin GJ (2020) The psychological impact of quarantine and how to reduce it: rapid review of the evidence. Lancet 395:912–920

Zhou S-J, Zhang L-G, Wang L-L, Guo Z-C, Wang J-Q, Chen J-C, Liu M, Chen X, Chen J-X (2020) Prevalence and socio-demographic correlates of psychological health problems in Chinese adolescents during the outbreak of COVID-19. Eur Child Adolesc Psychiatry 29:749–758

Bakr A, Amr M, Sarhan A, Hammad A, Ragab M, El-Refaey A, El-Mougy A (2007) Psychiatric disorders in children with chronic renal failure. Pediatr Nephrol 22:128–131

Fukunishi I, Honda M (1995) School adjustment of children with end-stage renal disease. Pediatr Nephrol 9:553–557

Kilicoglu AG, Bahali K, Canpolat N, Bilgic A, Mutlu C, Yalçın Ö, Pehlivan G, Sever L (2016) Impact of end-stage renal disease on psychological status and quality of life. Pediatr Int 58:1316–1321

Amr M, Bakr A, El Gilany AH, Hammad A, El-Refaey A, El-Mougy A (2009) Multi-method assessment of behavior adjustment in children with chronic kidney disease. Pediatr Nephrol 24:341–347

Hamilton AJ, Caskey FJ, Casula A, Ben-Shlomo Y, Inward CD (2019) Psychosocial health and lifestyle behaviors in young adults receiving renal replacement therapy compared to the general population: findings from the SPEAK study. Am J Kidney Dis 73:194–205

Public Health England (2020) Guidance on shielding and protecting people who are clinically extremely vulnerable from COVID-19 (First published 21 March 2020). https://www.gov.uk/government/publications/guidance-on-shielding-and-protecting-extremely-vulnerable-persons-from-covid-19. Accessed 19 February 2021

Tse Y, Plumb L, Hulton S, Inward C (2020) Information and guidance for children on haemodialysis, peritoneal dialysis and immune suppression including renal transplants (Updated 20 August 2020). British Association for Paediatric Nephrology. https://renal.org/health-professionals/covid-19/bapn-resources. Accessed 19 February 2021

Ravanan R, Callaghan CJ, Mumford L, Ushiro-Lumb I, Thorburn D, Casey J, Friend P, Parameshwar J, Currie I, Burnapp L, Baker R, Dudley J, Oniscu GC, Berman M, Asher J, Harvey D, Manara A, Manas D, Gardiner D, Forsythe JLR (2020) SARS-CoV-2 infection and early mortality of waitlisted and solid organ transplant recipients in England: a national cohort study. Am J Transplant 20:3008–3018

Chen K, Didsbury M, van Zwieten A, Howell M, Kim S, Tong A, Howard K, Nassar N, Barton B, Lah S, Lorenzo J, Strippoli G, Palmer S, Teixeira-Pinto A, Mackie F, McTaggart S, Walker A, Kara T, Craig JC, Wong G (2018) Neurocognitive and educational outcomes in children and adolescents with CKD: a systematic review and meta-analysis. Clin J Am Soc Nephrol 13:387–397

Green P (2020) Risks to children and young people during COVID-19 pandemic. BMJ 369:m1669

Hill R (1998) What sample size is "enough" in internet survey research. Interpersonal Comput Technol 6:1–12

Gay LR, Diehl PL (1992) Research methods for business and management. Macmillan, New York

Safdar N, Abbo LM, Knobloch MJ, Seo SK (2016) Research methods in healthcare epidemiology: survey and qualitative research. Infect Control Hosp Epidemiol 37:1272–1277

Morgan JE, Cleminson J, Stewart LA, Phillips RS, Atkin K (2018) Meta-ethnography of experiences of early discharge, with a focus on paediatric febrile neutropenia. Support Care Cancer 26:1039–1050

Morgan JE, Phillips B, Stewart LA, Atkin K (2018) Quest for certainty regarding early discharge in paediatric low-risk febrile neutropenia: a multicentre qualitative focus group discussion study involving patients, parents and healthcare professionals in the UK. BMJ Open 8:e020324. https://doi.org/10.1136/bmjopen-2017-020324

Robertson EG, Wakefield CE, Shaw J, Darlington AS, McGill BC, Cohn RJ, Fardell JE (2019) Decision-making in childhood cancer: parents' and adolescents' views and perceptions. Support Care Cancer 27:4331–4340

Mason J (2017) Qualitative researching. Sage, London

Wagland R, Bracher M, Drosdowsky A, Richardson A, Symons J, Mileshkin L, Schofield P (2017) Differences in experiences of care between patients diagnosed with metastatic cancer of known and unknown primaries: mixed-method findings from the 2013 cancer patient experience survey in England. BMJ Open 7:e017881. https://doi.org/10.1136/bmjopen-2017-017881

Plumb L, Benoy-Deeney F, Casula A, Braddon FE, Tse Y, Inward C, Marks S, Steenkamp R, Medcalf J, Nitsch D (2020) COVID-19 in children with chronic kidney disease: findings from the UK renal registry. Arch Dis Child 106:e16

Marlais M, Wlodkowski T, Vivarelli M, Pape L, Tönshoff B, Schaefer F, Tullus K (2020) The severity of COVID-19 in children on immunosuppressive medication. Lancet Child Adolesc Health 4:e17–e18

Zhao R, Zhou Q, Wang X-W, Liu C-H, Wang M, Yang Q, Zhai Y-H, Zhu D-Q, Chen J, Fang X-Y (2020) COVID-19 outbreak and management approach for families with children on long-term kidney replacement therapy. Clin J Am Soc Nephrol 15:1259–1266

Plumb L, Casula A, Magadi W, Braddon F, Lewis M, Marks SD, Shenoy M, Sinha MD, Maxwell H (2018) UK Renal Registry 20th Annual Report: Chapter 11 Clinical, Haematological and Biochemical Parameters in Patients on Renal Replacement Therapy in Paediatric Centres in the UK in 2016: National and Centre-specific Analyses. Nephron 139:273–286

Phares V, Lopez E, Fields S, Kamboukos D, Duhig AM (2005) Are fathers involved in pediatric psychology research and treatment? J Pediatr Psychol 30:631–643

Gage-Bouchard EA, LaValley S, Warunek M, Beaupin LK, Mollica M (2018) Is cancer information exchanged on social media scientifically accurate? J Cancer Educ 33:1328–1332

Limaye RJ, Sauer M, Ali J, Bernstein J, Wahl B, Barnhill A, Labrique A (2020) Building trust while influencing online COVID-19 content in the social media world. Lancet Digit Health 2:e277–e278
Acknowledgements
We would like to thank all children, young adults and parents who contributed their time and experiences to this study especially Southampton Children's Hospital patients and families (Thomas Allfree, Alisia Coles, Jack Howe, Amy Kinrade, Madison Parffett, Alisa Braha, Leon Bicknell, Sian Roberts, Sarah Allfree, Angela Kinrade, Lisa Coles, Emma Roberts, Christopher Bicknell) and the Young Adult Kidney Group (Madeleine Warren, Sarah Green, Holly Loughton). We would also like to thank Kidney Care UK (Paul Bristow, Suzan Yianni), Kidney Research UK (Sandra Currie, Aisling McMahon) and the young adult and youth workers who supported the dissemination of the study. Special thanks to colleagues in the Renal Association and British Association for Paediatric Nephrology (including patient representative Kamal Dhesi) and in our units for championing the study, and apologies for any omissions: Alder Hey Children's Hospital Liverpool (Louise Oni, Caroline Jones), Birmingham Children's Hospital (Larissa Kerecuk), Bristol Royal Hospital for Children (Janet Dudley, Lucy Plumb), Evelina London Children's Hospital (Grainne Walsh, Christopher Reid), Great Ormond Street Hospital London (Kjell Tullus, Daljit Hothi), Leeds Children's Hospital (Amanda Newnham), Newcastle Hospital (Lauren Mawn, Helen Ritson), Nottingham Children's Hospital (Andrew Lunn), Royal Belfast Hospital for Sick Children (Mairead Convery), Royal Hospital for Children Glasgow (Ben Reynolds), Southampton Children's Hospital (Caroline Anderson, Rosemary Dempsey, Sarah Shameti, Eleanor Stubbs), University Hospitals Southampton NHS Foundation Trust and Queen Alexandra Hospital Portsmouth (Kirsten Armstrong) and University Hospital of Wales (Shivaram Hegde).
Data availability statement
The data underlying this article will be shared on reasonable request to the corresponding author.
Funding
We thank Kidney Care UK and Kidney Research UK for funding and publicising the survey. Funders had no part in data collection, interpretation or reporting.
Ethics declarations
Conflict of interest statement
The authors declare no competing interests.
Additional information
Publisher's note
Springer Nature remains neutral with regard to jurisdictional claims in published maps and institutional affiliations.
Supplementary Information
Rights and permissions
Open Access This article is licensed under a Creative Commons Attribution 4.0 International License, which permits use, sharing, adaptation, distribution and reproduction in any medium or format, as long as you give appropriate credit to the original author(s) and the source, provide a link to the Creative Commons licence, and indicate if changes were made. The images or other third party material in this article are included in the article's Creative Commons licence, unless indicated otherwise in a credit line to the material. If material is not included in the article's Creative Commons licence and your intended use is not permitted by statutory regulation or exceeds the permitted use, you will need to obtain permission directly from the copyright holder. To view a copy of this licence, visit http://creativecommons.org/licenses/by/4.0/.
About this article
Cite this article
Tse, Y., Darlington, AS.E., Tyerman, K. et al. COVID-19: experiences of lockdown and support needs in children and young adults with kidney conditions. Pediatr Nephrol 36, 2797–2810 (2021). https://doi.org/10.1007/s00467-021-05041-8
Received:

Revised:

Accepted:

Published:

Issue Date:

DOI: https://doi.org/10.1007/s00467-021-05041-8
Keywords
Age

Paediatrics

Quality of life

COVID-19