Abstract
Background
Distal renal tubular acidosis (dRTA), due to impaired acid secretion in the urine, can lead to severe long-term consequences. Standard of care (SoC) oral alkalizers, requiring several daily intakes, are currently used to restore normal plasma bicarbonate levels. A new prolonged-release formulation, ADV7103, has been developed to achieve a sustained effect with an improved dosing scheme.
Methods
In a multicenter, open-label, non-inferiority trial (n = 37), patients with dRTA were switched from SoC to ADV7103. Mean plasma bicarbonate values and proportion of responders during steady state therapy with both treatments were compared, as were other blood and urine parameters, as well as acceptability, tolerability, and safety.
Results
When switching from SoC to ADV7103, the number of daily intakes was reduced from a median of three to twice daily. Mean plasma bicarbonate was increased and non-inferiority of ADV7103 was demonstrated (p < 0.0001, per protocol), as was statistical superiority (p = 0.0008, intention to treat [ITT]), and the response rate increased from 43 to 90% with ADV7103 (p < 0.001, ITT). Urine calcium/citrate ratio was reduced below the threshold for risk of lithogenesis with ADV7103 in 56% of previously non-responders with SoC (p = 0.021, ITT). Palatability was improved (difference [95% CI] of 25 [10.7, 39.2] mm) and gastrointestinal discomfort was reduced (difference [95% CI] of − 14.2 [− 25.9, − 2.6] mm) with ADV7103.
Conclusions
Plasma bicarbonate levels and response rate were significantly higher with ADV7103 than with SoC. Urine calcium/citrate ratio, palatability, and gastrointestinal safety were significantly improved, supporting the use of ADV7103 as first-line treatment for dRTA.
Trial registration
Registered as EudraCT 2013-002988-25 on the 1st July 2013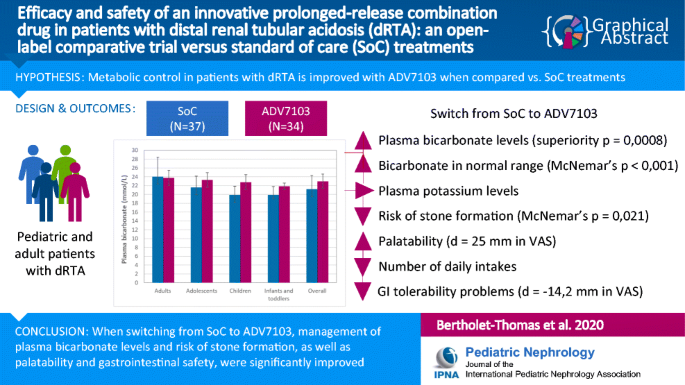 References
Trepiccione F, Prosperi F, de la Motte LR et al (2017) New findings on the pathogenesis of distal renal tubular acidosis. Kidney Dis 3:98–105

Rodriguez SJ (2002) Renal tubular acidosis: the clinical entity. J Am Soc Nephrol 13:2160–2170

Batlle D, Haque SK (2012) Genetic causes and mechanisms of distal renal tubular acidosis. Nephrol Dial Transplant 27:3691–3704

Alonso-Varela M, Gil-Pena H, Coto E et al (2018) Distal renal tubular acidosis. Clinical manifestations in patients with different underlying gene mutations. Pediatr Nephrol 33:1523–1529

Saito T, Hayashi D, Shibata S et al (2010) Novel compound heterozygous ATP6V0A4 mutations in an infant with distal renal tubular acidosis. Eur J Pediatr 169:1271–1273

Park E, Cho MH, Hyun HS et al (2018) Genotype-phenotype analysis in pediatric patients with distal renal tubular acidosis. Kidney Blood Press Res 43:513–521

Shahbaz A, Shahid MF, Saleem HMK et al (2018) Hypokalemic paralysis secondary to renal tubular acidosis revealing underlying Sjögren's syndrome. Cureus 8:e3128

Pessler F, Emery H, Dai L et al (2006) The spectrum of renal tubular acidosis in paediatric Sjögren syndrome. Rheumatology 45:85–91

Jain A, Srinivas BH, Emmanuel D et al (2018) Renal involvement in primary Sjogren's syndrome: a prospective cohort study. Rheumatol Int 12:2251–2262

Batlle D, Ghanekar H, Jain S, Mitra A (2001) Hereditary distal renal tubular acidosis: new understandings. Annu Rev Med 52:471–484

Lopez-Garcia SC, Emma F, Walsh SB et al (2019) Treatment and long-term outcome in primary distal renal tubular acidosis. Nephrol Dial Transplant 34:981–991

Palazzo V, Provenzano A, Becherucci F et al (2017) The genetic and clinical spectrum of a large cohort of patients with distal renal tubular acidosis. Kidney Int 91:1243–1255

Chan JCM, Santos F (2007) Renal tubular acidosis in childhood. World J Pediatr 3:92–97

Sharifian M, Esfandiar N, Mazaheri S et al (2010) Distal renal tubular acidosis and its relationship with hearing loss in children: preliminary report. Iran J Kidney Dis 4:202–206

McSherry E (1981) Renal tubular acidosis in childhood. Kidney Int 20:799–809

Both T, Zietse R, Hoorn EJ et al (2014) Everything you need to know about distal renal tubular acidosis in autoimmune disease. Rheumatol Int 34:1037–1045

Chan JC, Scheinman JI, Roth KS (2001) Consultation with the specialist: renal tubular acidosis. Pediatr Rev 22:277–287

Guittet C, Roussel-Maupetit C, Manso MA, et al. (2020) Innovative prolonged-release oral alkalising formulation allowing sustained urine pH increase with twice daily administration: randomised trial in healthy adults. Sci Rep 10:13960. https://doi.org/10.1038/s41598-020-70549-2

Frey J, Daudon M, Raby N et al (2001) Valeur sémiologique des paramètres biochimiques urinaires. Ann Biol Clin 59:13–25

Matos V, van Melle G, Boulat O et al (1997) Urinary phosphate/creatinine, calcium/creatinine, and magnesium/creatinine ratios in a healthy pediatric population. J Pediatr 131:252–257

Kirejczyk JK, Porowski T, Konstantynowicz J et al (2014) Urinary citrate excretion in healthy children depends on age and gender. Pediatr Nephrol 29:1575–1582

Parent X, Boess G, Brignon P (1999) Lithiase oxalocalcique. Relation entre facteurs de risque biochimiques et phase cristalline du calcul. Prog Urol 9:1051–1056

EMA (2000) Points to consider on switching between superiority and non-inferiority (CPMP/EWP/482/99)

FDA (2016) Non-inferiority clinical trials to establish effectiveness. Guidance for industry

Zhang C, Ren H, Shen P et al (2015) Clinical evaluation of Chinese patients with primary distal renal tubular acidosis. Intern Med 54:725–730

Batlle D, Moorthi KM, Schlueter W et al (2006) Distal renal tubular acidosis and the potassium enigma. Semin Nephrol 26:471–478

Vasquez-Rios G, Westrich DJ Jr, Philip I et al (2019) Distal renal tubular acidosis and severe hypokalemia: a case report and review of the literature. J Med Case Rep 13:103–109

Sebastian A, McSherry E, Morris RC Jr (1971) Renal potassium wasting in renal tubular acidosis (RTA): its occurrence in types 1 and 2 RTA despite sustained correction of systemic acidosis. J Clin Invest 50:667–678

Preminger GM, Sakhaee K, Pak CY (1988) Alkali action on the urinary crystallization of calcium salts: contrasting responses to sodium citrate and potassium citrate. J Urol 139:240–242

Arrabal-Polo MA, Arrabal-Martin M, Arias-Santiago S et al (2013) Importance of citrate and the calcium:citrate ratio in patients with calcium renal lithiasis and severe lithogenesis. BJU Int 111:622–627

Rodriguez A, Saez-Torres C, Mir C et al (2018) Effect of sample time on urinary lithogenic risk indexes in healthy and stone-forming adults and children. BMC Urol 18:116
Acknowledgements
The authors acknowledge L. Archambeaud and the teams of the investigators in the B21CS study, M. Boivin, S. Chiron, P. Feghali, I. Gautier, C. Harpon, H. Martin, G. Mingardi, J.B. Pretalli, V. Saintignan, M. Soubielle, and S. Zarrabian, for their involvement in conducting the clinical trial.
Availability of data and material
Data available under request.
Code availability
Not applicable.
Funding
This study was funded by Advicenne.
Ethics declarations
Conflict of interest
C. Guittet, M.A. Manso-Silván, and L.A. Granier are employees of Advicenne and hold stock options or shares in the company. A. Castang is also an employee of Advicenne. C. Stylianou was paid (contract research) for his contribution to statistical analyses. A. Bertholet perceived support from Advicenne for traveling to meetings and/or funding for lectures.
Ethics approval
The study was approved by regional independent ethics committees and national regulatory health authorities, and conducted in accordance with Good Clinical Practice and the Declaration of Helsinki.
Consent to participate
Written informed consent was obtained from all adult patients, and from the parents or legal guardians of all children. When possible, the assent from pediatric patients themselves was also obtained.
Consent for publication
Not applicable.
Additional information
Publisher's note
Springer Nature remains neutral with regard to jurisdictional claims in published maps and institutional affiliations.
Rights and permissions
Open Access This article is licensed under a Creative Commons Attribution 4.0 International License, which permits use, sharing, adaptation, distribution and reproduction in any medium or format, as long as you give appropriate credit to the original author(s) and the source, provide a link to the Creative Commons licence, and indicate if changes were made. The images or other third party material in this article are included in the article's Creative Commons licence, unless indicated otherwise in a credit line to the material. If material is not included in the article's Creative Commons licence and your intended use is not permitted by statutory regulation or exceeds the permitted use, you will need to obtain permission directly from the copyright holder. To view a copy of this licence, visit http://creativecommons.org/licenses/by/4.0/.
About this article
Cite this article
Bertholet-Thomas, A., Guittet, C., Manso-Silván, M.A. et al. Efficacy and safety of an innovative prolonged-release combination drug in patients with distal renal tubular acidosis: an open-label comparative trial versus standard of care treatments. Pediatr Nephrol 36, 83–91 (2021). https://doi.org/10.1007/s00467-020-04693-2
Received:

Revised:

Accepted:

Published:

Issue Date:

DOI: https://doi.org/10.1007/s00467-020-04693-2
Keywords
dRTA

Plasma bicarbonate

Plasma potassium

Palatability

Gastrointestinal tolerability