Abstract
Background
The impact of well-controlled or historical psychiatric diagnoses in patients seeking bariatric surgery (BS) on perioperative outcomes is unclear. The primary objective of this study was to determine the impact of psychiatric diagnoses on hospital length of stay (LOS), 30-day readmission rates after BS, and post-operative weight loss outcomes.
Methods
Patients who underwent laparoscopic sleeve gastrectomy (LSG) or Roux-en-Y gastric bypass (LRNYGB) from 2014 to 2016 at a single academic institution were retrospectively reviewed. Baseline demographic data and psychiatric history including depression, anxiety, and/or bipolar disorder (DAB) were obtained from the electronic medical record. Hospital LOS, 30-day readmissions, and % excess body weight loss (%EBWL) were obtained on all patients and compared between DAB patients and those without any psychiatric history.
Results
During the study period, 354 patients were reviewed, of which 78% were female; 60% underwent LSG. The mean preoperative BMI was 48.9 ± 8.4 m/kg2. Major depression was the leading diagnosis (42%), and 13% had both depression and anxiety. The 30-day readmission rate was significantly higher than the control (10.5% vs. 3.7%, p = 0.02). Mean hospital LOS and the incidence of long hospital LOS (≥ 4 days) was not different between the groups, although within LSG patients, the incidence of long hospital LOS trended towards being higher for DAB patients (9.2% vs. 4%, p = 0.10). Patients with depression and anxiety had a higher incidence of long LOS (23.4% vs. 9.2%, p < 0.005). While 6-month %EBWL was significantly lower for DAB patients (41% vs. 46%, p = 0.004), 1-year weight loss outcomes were not different, even when adjusting for surgical procedure.
Conclusion
Patients with baseline or historical DAB had significantly higher early readmission rates, and those with multiple diagnoses were associated with a hospital LOS ≥ 4 days. Future studies should focus on elucidating the impact of psychiatric diagnoses on these quality metrics.
Access options
Buy single article
Instant access to the full article PDF.
USD 39.95
Price excludes VAT (USA)
Tax calculation will be finalised during checkout.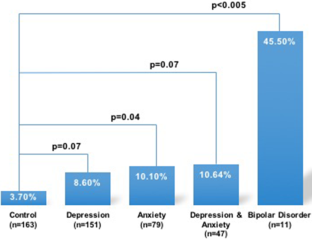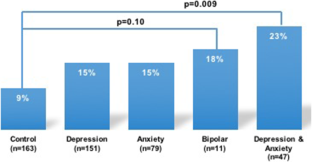 References
Lin HY1, Huang CK, Tai CM, Lin HY, Kao YH, Tsai CC, Hsuan CF, Lee SL, Chi SC, Yen YC (2013) Psychiatric disorders of patients seeking obesity treatment. BMC Psychiatry 13(1):1

Kalarchian MA1, Marcus MD, Levine MD, Soulakova JN, Courcoulas AP, Wisinski MS (2008) Relationship of psychiatric disorders to 6-month outcomes after gastric bypass. Surg Obes Relat Dis 4:533–541

Kouidrat Y, Amad A, Stubbs B, Moore S, Gaughran F (2017) Surgical management of obesity among people with schizophrenia and bipolar disoder: a systematic review of outcomes and recommendations. Obes Surg 27(7):1889–1895

Duarte-Guerra LS, Coêlho BM, Santo MA, Lotufo-Neto F, Wang YP (2017) Morbidity persistence and comorbidity of mood, anxiety, and eating disorders in preoperative bariatric patients. Psychiatry Res 257:1–6

Fisher D, Coleman KJ, Arterburn DE, Fischer H, Yamamoto A, Young DR, Sherwood NE, Trinacty CM, Lewis KH (2017) Mental illness in bariatric surgery: a cohort study from the PORTAL network. Obesity 25(5):850–856

Sogg S, Lauretti J, West-Smith L (2016) Recommendations for the presurgical psychosocial evaluation of bariatric surgery patients: ASMBS guidelines/statements. Surg Obes Relat Dis 12:731–749

Heinberg LJ, Marek R, Haskins IN, Bucak E, Nor Hanipah Z, Brethauer S (2017) 30-day readmission Following weight loss Surgery: can psychological risk factors predict nonspecific indications for readmission? Surg Obes Relat Dis 13:1376–1383

Dawes AJ, Maggard-Gibbons M, Maher AR, Booth MJ, Miake-Lye I, Beroes JM, Shekelle PG (2016) Mental health conditions among patients seeking and undergoing bariatric surgery. JAMA 315(2):150–163

Shelby SR, Labott S, Stout RA (2015) Bariatric surgery a viable treatment for patients with severe mental illness. Surg Obes Relat Dis 11(6):1342–1348

Steinmann WC1, Suttmoeller K, Chitima-Matsiga R, Nagam N, Suttmoeller NR, Halstenson NA (2011) Bariatric surgery: 1-year weight loss outcomes in patients with bipolar and other psychiatric disorders. Obes Surg 21(9):1323–1329

Litz M, Rigby A, Rogers AM, Leslie DL, Hollenbeak CS (2018) The impact of mental health disorders on 30-day readmission after bariatric surgery. Surg Obes Relat Dis 4(3):325–331

Jalilvand A, Suzo A, Hornor M, Layton K, Mahmoud AR, Macadam L, Mikami D, Needleman B, Noria S (2016) Impact of care coaching on hospital length of stay, readmission rates, post discharge phone calls, and patient satisfaction after bariatric surgery. Surg Obes Relat Dis 12(9):1737–1745

Doumouras AG, Saleh F, Hong D (2016) 30-day readmission after bariatric surgery in a publicly funded regionalized center of excellence system. Surg Endosc 30(5):2066–2072

Lois AW, Frelich MJ, Sahr NA, Hohmann SF, Wang T, Gould JC (2015) The relationship between duration of stay and readmissions in patients undergoing bariatric surgery. Surgery 158(2):501–507

Fabricatore AN, Crerand CE, Wadden TA, Sarwer DB, Krasucki JL (2006) How do mental health professionals evaluate candidates for bariatric surgery? Survey results. Obes Surg 16(5):567–573
Ethics declarations
Disclosures
Dr. Anahita Jalilvand, Dr. Bradley Needleman, Dr. Sabrena Noria, Jane Dewire, and Andrew Detty have no conflicts of interest or financial ties to disclose.
About this article
Cite this article
Jalilvand, A., Dewire, J., Detty, A. et al. Baseline psychiatric diagnoses are associated with early readmissions and long hospital length of stay after bariatric surgery. Surg Endosc 33, 1661–1666 (2019). https://doi.org/10.1007/s00464-018-6459-7
Received:

Accepted:

Published:

Issue Date:

DOI: https://doi.org/10.1007/s00464-018-6459-7
Keywords
Mental-health

Bariatric surgery

Early readmission

Length-of-stay