Abstract
Studies have demonstrated oxidative stress in peritoneal fluid (PF) from women with endometriosis and the importance of enzymatic antioxidant machinery to avoid oocyte oxidative damage. Considering that PF constantly surrounds the ovaries and has direct contact with the oocyte at ovulation, we wonder if PF from women with endometriosis may affect antioxidant enzyme gene expression. Thus, the present study aims to evaluate the PF impact from infertile women with minimal and mild endometriosis and from fertile control women without endometriosis on SOD1, CAT, GSR gene's expression in experimental bovine oocytes matured in vitro. Samples of PF were obtained from women who underwent videolaparoscopy—7 infertile with EI/II and 7 fertile without endometriosis. Immature bovine oocytes underwent in vitro maturation in the absence of PF and in the presence of three concentrations (1, 5 and 10%) of PF from fertile and from infertile women with EI/II. After 22 to 24 h of IVM, oocytes were denuded and stored for analysis of SOD1, CAT and GSR by real-time polymerase chain reaction. Oocyte SOD1 expression was significantly lower in the 10% endometriosis group (0.67 ± 0.32) when compared with no-peritoneal fluid (1.05 ± 0.24, p < 0.008) and 10% control groups (1.06 ± 0.22, p < 0.006). These findings raise the possibility of a deleterious influence of PF from women with EI/II on the oocyte, not only after ovulation but also during the maturation process, which could contribute to worsening oocyte quality, being one of the mechanisms related to infertility in patients with endometriosis.
Access options
Buy single article
Instant access to the full article PDF.
USD 39.95
Price excludes VAT (USA)
Tax calculation will be finalised during checkout.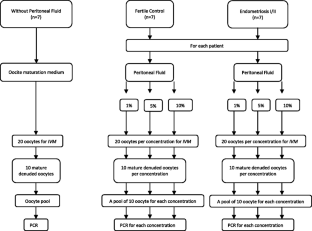 References
Acién P, Velasco I (2013) Endometriosis: a disease that remains enigmatic. ISRN Obstet Gynecol 2013:242149

Adona PR, Lima Verde Leal C (2004) Meiotic inhibition with different cyclin-dependent kinase inhibitors in bovine oocytes and its effects on maturation and embryo development. Zygote 12(3):197–204

Agarwal A, Gupta S, Sharma RK (2005) Role of oxidative stress in female reproduction. Reprod Biol Endocrinol: RB&E 3:28

Agarwal A, Gupta S, Sikka S (2006) The role of free radicals and antioxidants in reproduction. Curr Opin Obstet Gynecol Curr Opin Obstet Gynecol 18:325–332

Albertini DF, Sanfins A, Combelles CMH (2003) Origins and manifestations of oocyte maturation competencies. Reprod BioMed Online 6:410–415

Ali AA, Bilodeau JF, Sirard MA (2003) Antioxidant enzyme activity and oxidative stress in bovine oocyte in vitro maturation. Theriogenology 59:939–949

Alizadeh M, Mahjoub S, Esmaelzadeh S, Hajian K, Basirat Z, Ghasemi M (2015) Evaluation of oxidative stress in endometriosis: a case-control study. Caspian J Intern Med 6:25–29

American Society for Reproductive Medicine (1996) Revised American Society for Reproductive Medicine classification of endometriosis:1996. Fertil Steril 67:817-821

Andrade AZ, Rodrigues JK, Dib LA, Romão GS, Ferriani RA, Jordão Junior AA, Navarro PA (2010) Marcadores séricos de estresse oxidativo em mulheres inférteis com endometriose. Revista Brasileira de Ginecologia e Obstetrícia 32(6):279-85

Barckmann B, Simonelig M (2013) Control of maternal mRNA stability in germ cells and early embryos. Biochim Biophys Acta 1829:714–724

Bettegowda A, Patel OV, Ireland JJ, Smith GW (2006) Quantitative analysis of messenger RNA abundance for ribosomal protein L-15, cyclophilin-A, phosphoglycerokinase, beta-glucuronidase, glyceraldehyde 3-phosphate dehydrogenase, beta-actin, and histone H2A during bovine oocyte maturation and early embryogenesis. Mol Reprod Dev 73:267–278

Braza-Boïls A, Salloum-Asfar S, Marí-Alexandre J, Arroyo ABDS, González-Conejero R, Barceló-Molina M, García-Oms J, Vicente V, Estellé A, Gilabert-Estellé J et al (2015) Peritoneal fluid modifies the microRNA expression profile in endometrial and endometriotic cells from women with endometriosis. Hum Reprod 30:2292–2302

Bricou A, Batt RE, Chapron C (2008) Peritoneal fluid flow influences anatomical distribution of endometriotic lesions: why Sampson seems to be right. Eur J Obstet Gynecol Reprod Biol 138:127–134

Bulletti C, Coccia ME, Battistoni S, Borini A (2010) Endometriosis and infertility. J Assist Reprod Genet 27:441–447

Bungum HF, Nygaard U, Vestergaard C, Martensen PM, Knudsen UB (2016) Increased IL-25 levels in the peritoneal fluid of patients with endometriosis. J Reprod Immunol 114:6–9

Carvalho LFP, Samadder AN, Agarwal A, Fernandes LFC, Abrão MS (2012) Oxidative stress biomarkers in patients with endometriosis: systematic review. Arch Gynecol Obstet 286:1033–1040

Choi WJ, Banerjee J, Falcone T, Bena J, Agarwal A, Sharma RK (2007) Oxidative stress and tumor necrosis factor-alfa-induced alterations in metaphase II mouse oocyte spindle structure. Fertil Steril 88:1220–1231

Cohen J (1988) Statistical power analysis for the behavioral sciences. Lawrence Erlbaum, New York

Cooper TG, Noonan E, von Eckardstein S, Auger J, Baker HWG, Behre HM, Haugen TB, Kruger T, Wang C, Mbizvo MT et al (2009) World Health Organization reference values for human semen characteristics. Hum Reprod Update 16:231–245

Coticchio G, Dal Canto M, Renzini MM, Guglielmo MC, Brambillasca F, Turchi D, Novara PV, Fadini R (2014) Oocyte maturation: gamete-somatic cells interactions, meiotic resumption, cytoskeletal dynamics and cytoplasmic reorganization. Hum Reprod Update 21:427–454

Da Broi MG, Navarro PA (2016) Oxidative stress and oocyte quality: ethiopathogenic mechanisms of minimal/mild endometriosis-related infertility. Cell Tissue Res 364:1–7

Da Broi MG, De Albuquerque FO, De Andrade AZ, Jordão Junior AA, Navarro PA (2014a) Estresse oxidativo sistêmico e folicular em mulheres inférteis com endometriose submetidas à injeção intracitoplasmática de espermatozoide. Reproducao E Climaterio 29:112–122

Da Broi MG, Malvezzi H, Paz CCP, Ferriani RA, Navarro PAAS (2014b) Follicular fluid from infertile women with mild endometriosis may compromise the meiotic spindles of bovine metaphase II oocytes. Hum Reprod 29:315–323

Da Broi MG, de Albuquerque FO, de Andrade AZ, Cardoso RL, Jordao Junior AA, Navarro PA (2016) Increased concentration of 8-hydroxy-2′-deoxyguanosine in follicular fluid of infertile women with endometriosis. Cell Tissue Res 366:231–242

Ding GL, Chen XJ, Luo Q, Dong MY, Wang N, Huang HF (2010) Attenuated oocyte fertilization and embryo development associated with altered growth factor/signal transduction induced by endometriotic peritoneal fluid. Fertil Steril 93:2538–2544

Donabela FC, Meola J, Padovan CC, de Paz CCP, Navarro PA (2015) Higher SOD1 gene expression in cumulus cells from infertile women with moderate and severe endometriosis. Reprod Sci 22:1452–1460

Donnez J, Binda MM, Donnez O, Dolmans MM (2016) Oxidative stress in the pelvic cavity and its role in the pathogenesis of endometriosis. Fertil Steril 106:1011–1017

Dunselman GAJ, Vermeulen N, Becker C, Calhaz-Jorge C, D'Hooghe T, De Bie B, Heikinheimo O, Horne AW, Kiesel L, Nap A et al (2014) ESHRE guideline: management of women with endometriosis. Hum Reprod 29:400–412

Ferreira EM,Vireque AA,Adona PR, Ferriani RA,Navarro PA (2009) Prematuration of bovine oocytes with butyrolactone I reversibly arrests meiosis without increasing meiotic abnormalities after in vitro maturation. Eur J Obstet Gynecol Reprod Biol 145:76–80

Fuldeore M, Yang H, Du EX, Soliman AM, Wu EQ, Winkel C (2015) Healthcare utilization and costs in women diagnosed with endometriosis before and after diagnosis: a longitudinal analysis of claims databases. Fertil Steril 103:163–171

Giorgi VSI, Da Broi MG, CCP P, Ferriani RA, Navarro PA (2016) N-acetyl-cysteine and l-carnitine prevent meiotic oocyte damage induced by follicular fluid from infertile women with mild endometriosis. Reproductive Sciences (Thousand Oaks, Calif) 23:342–351

Gomes FM, Navarro PAAS, de Abreu LG, Ferriani RA, dos Reis RM, de Moura MD (2008) Effect of peritoneal fluid from patients with minimal/mild endometriosis on progesterone release by human granulosa-lutein cells obtained from infertile patients without endometriosis: a pilot study. Eur J Obstet Gynecol Reprod Biol 138:60–65

Gomez-Torres MJ, Acien P, Campos A, Velasco I (2002) Embryotoxicity of peritoneal fluid in women with endometriosis. Its relation with cytokines and lymphocyte populations. Hum Reprod 17:777–781

Harlev A, Gupta S, Agarwal A (2015) Targeting oxidative stress to treat endometriosis. Expert Opin Ther Targets 19:1447–1464

Hashimoto S, Minami N, Takakura R, Imai H (2002) Bovine immature oocytes acquire developmental competence during meiotic arrest in vitro. Biol Reprod 66:1696–1701

Holoch KJ, Lessey BA (2010) Endometriosis and infertility. Clin Obstet Gynecol 2:429–438

Jianini BTGM, Giorgi VSI, Da Broi MG, de Paz CCP, Rosa e Silva JC, Ferriani RA, Navarro PA (2017) Peritoneal fluid from infertile women with minimal/mild endometriosis compromises the meiotic spindle of metaphase II bovine oocytes: a pilot study. Reprod Sci 24:1304–1311

Leonardi M, Papaleo E, Reschini M, Pagliardini L, Benaglia L, Candotti G, Viganó P, Quaranta L, Munaretto M, Candiani M et al (2016) Risk of miscarriage in women with endometriosis: insights from in vitro fertilization cycles. Fertil Steril 106:386–392.e3

Lonergan P, Fair T (2016) Maturation of oocytes in vitro. Ann Rev Anim Biosci 4:255–268

Ma CH, Yan LY, Qiao J, Sha W, Li L, Chen Y, Sun QY (2010) Effects of tumor necrosis factor-alpha on porcine oocyte meiosis progression, spindle organization, and chromosome alignment. Fertil Steril 93:920–926

Mansour G, Abdelrazik H, Sharma RK, Radwan E, Falcone T, Agarwal A (2009) L-carnitine supplementation reduces oocyte cytoskeleton damage and embryo apoptosis induced by incubation in peritoneal fluid from patients with endometriosis. Fertil Steril 91:2079–2086

Mansour G, Sharma RK, Agarwal A, Falcone T (2010) Endometriosis-induced alterations in mouse metaphase II oocyte microtubules and chromosomal alignment: a possible cause of infertility. Fertil Steril 94:1894–1899

Moussa M, Shu J, Zhang XH, Zeng F (2015) Maternal control of oocyte quality in cattle 'a review'. Anim Reprod Sci 155:11–27

Nandi S, Tripathi SK, Gupta PSP, Mondal S (2017) Effect of metabolic stressors on survival and growth of in vitro cultured ovine preantral follicles and enclosed oocytes. Theriogenology 104:80–86

Nasiri N, Moini A, Eftekhari-Yazdi P, Karimian L, Salman-Yazdi R, Arabipoor A (2016) Oxidative stress statues in serum and follicular fluid of women with endometriosis. Cell J 18:582–587

Nesbitt-Hawes EM, Ledger W (2015) Endometriosis and infertility. Reprod Surg Assist Conception 86:29–35

Polak G, Wertel I, Barczyński B, Kwaśniewski W, Bednarek W, Kotarski J (2013) Increased levels of oxidative stress markers in the peritoneal fluid of women with endometriosis. Eur J Obstet Gynecol Reprod Biol 168:187–190

Practice T, Medicine R (2012) Endometriosis and infertility: a committee opinion. Fertil Steril 98:591–598

Singh AK, Chattopadhyay R, Chakravarty B, Chaudhury K (2013) Markers of oxidative stress in follicular fluid of women with endometriosis and tubal infertility undergoing IVF. Reprod Toxicol 42:116–124

Stochino-loi E, Darwish B, Mircea O, Touleimat S (2017) Does preoperative antimüllerian hormone level influence postoperative pregnancy rate in women undergoing surgery for severe endometriosis? Fertil Steril 107:707–713

Wang X, Falcone T, Attaran M, Goldberg JM, Agarwal A, Sharma RK (2002) Vitamin C and vitamin E supplementation reduce oxidative stress-induced embryo toxicity and improve the blastocyst development rate. Fertil Steril 78:1272–1277

Wang X, Sharma R, Sikka S, Thomas A, Falcone T, Agarwal A (2003) Oxidative stress is associated with increased apoptosis leading to spermatozoa DNA damage in patients with male factor infertility. Fertil Steril 80:531–535

Wingfield M (2000) Minimal/mild endome triosis and infertility. 2:21–24

Young VJ, Brown JK, Saunders PTK, Horne AW (2013) The role of the peritoneum in the pathogenesis of endometriosis. Hum Reprod Update 19:558–569

Young VJ, Ahmad SF, Brown JK, Duncan WC, Horne AW (2015) Peritoneal VEGF-A expression is regulated by TGF-β1 through an ID1 pathway in women with endometriosis. Sci Rep 5:16859

Yuan Y, Wheeler MB, Krisher RL (2012) Disrupted redox homeostasis and aberrant redox gene expression in porcine oocytes contribute to decreased developmental competence. Biol Reprod 87:78
Acknowledgements
The authors thank the staff of the Human Reproduction Laboratory, University Hospital, Department of Gynecology and Obstetrics, Ribeirão Preto Medical School, University of São Paulo (FMRP-USP) and the Multi-User Laboratory, Faculty of Medicine Ribeirão Preto, University of São Paulo (FMRP-USP), especially Cristiana Padovan for technical support.
Funding
This work was supported by the National Council for Scientific and Technological Development (CNPq), Brazil.
Ethics declarations
Conflict of interest
The authors declare that they have no conflicts of interest.
Electronic supplementary material
About this article
Cite this article
Malvezzi, H., Da Broi, M.G., Meola, J. et al. Peritoneal fluid of women with endometriosis reduces SOD1 in bovine oocytes in vitro maturation. Cell Tissue Res 372, 621–628 (2018). https://doi.org/10.1007/s00441-018-2805-2
Received:

Accepted:

Published:

Issue Date:

DOI: https://doi.org/10.1007/s00441-018-2805-2
Keywords